Troubleshoot chat issues
If you are a Dynatrace customer, you can chat directly with our product specialists through in-product assistance (Dynatrace chat). Simply sign in to your account, select the chat button in the upper-right corner, and start a new conversation.
Use this page to learn how to troubleshoot issues with Dynatrace chat.
Chat loading issues
Why can't I see the chat button?
If you're a Dynatrace SaaS customer and you don't see the chat button, please contact Dynatrace Support.
If you're a Dynatrace Managed customer and you don't see the chat button, see Chat issues specific to Dynatrace Managed.
"Chat is still loading" message
Please contact Dynatrace support if this issue persists for more than a few seconds.
"Dynatrace in-product assistance failed to load" message
This message indicates that a proper connection to the chat servers can't be established.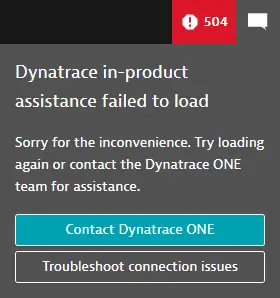 To troubleshoot this issue, select Troubleshoot connection issues in the message pane.
Make sure that you allow the following endpoints in your firewall configuration:

https://cdn.chat-one.dynatrace.com
https://chat-one.dynatrace.com
wss://chat-one.dynatrace.com

Make sure that there's no interference from browser plugins or your network firewall (such as blocking all web socket connections).
Chat issues specific to Dynatrace Managed
Your admin has the option to disable chat for your Dynatrace Managed environment. If you can't see the chat button, ask your admin to verify the configuration as follows.
In the Cluster Management Console, go to Settings > Preferences.
Make sure Enable Dynatrace ONE live chat is turned on.
"You're not authenticated" message
Every six months, you must sign in to your Dynatrace Managed cluster via SaaS SSO to verify your user credentials across clusters. Sign in using the Login button in the message pane.
"Missing Dynatrace account" message
You're missing a Dynatrace community account or don't have an email address configured. Please reach out to your Dynatrace admin to configure Dynatrace community accounts as described in Data privacy and exchange in Managed deployments.
"Custom url detected" message
Dynatrace users can only be authorized to access chat via the public domains configured by your Dynatrace admin. For details on configuring these public endpoints, see DNS configuration for Dynatrace Managed.