OpenTelemetry collector for metrics
The OpenTelemetry collector exporter provides you with a vendor-agnostic implementation showing how to receive, process, and export telemetry data. It comes with its own protocol (OTLP) and removes the need to run a dedicated exporter inside the application.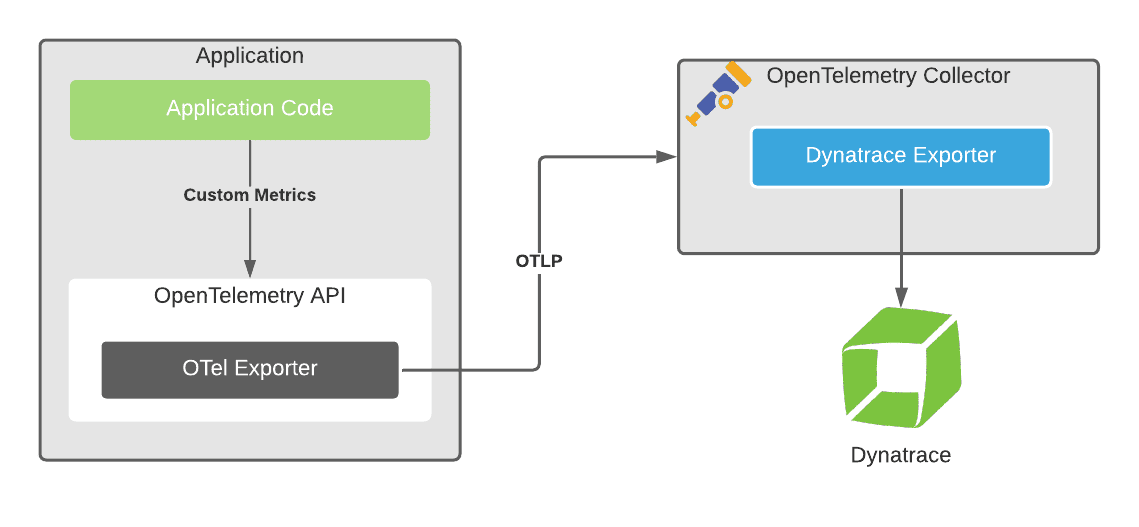 Extend collector data
Automatic metadata enrichment and topology awareness are not available when using the collector. However, you can manually enrich your metrics with Dynatrace-specific metadata by adding a topology-related dimension, such as host ID. For more information, see Dimension format in the metrics ingestion protocol reference documentation.
Metrics exporter
The OpenTelemetry collector comes with the Dynatrace metrics exporter. To enable the Dynatrace metric exporter, follow the instructions in the Dynatrace Exporter README in the OpenTelemetry Collector GitHub repository.
AWS Distro for OpenTelemetry
AWS provides a secure, production-ready, AWS-supported distribution of the OpenTelemetry project.
The Dynatrace metrics exporter is part of the collector component. For more information, see Dynatrace Exporter in the AWS Distro for OpenTelemetry documentation.