Dynatrace configuration
In addition to the application-side configuration, several Dynatrace-specific settings let you control how OpenTelemetry data is used in Dynatrace.
Enabling automatic OneAgent instrumentation
As described in Instrumentation, OneAgent supports the automatic instrumentation and ingestion of OpenTelemetry data for a number of technologies, which can be configured individually at Settings > Preferences > OneAgent features.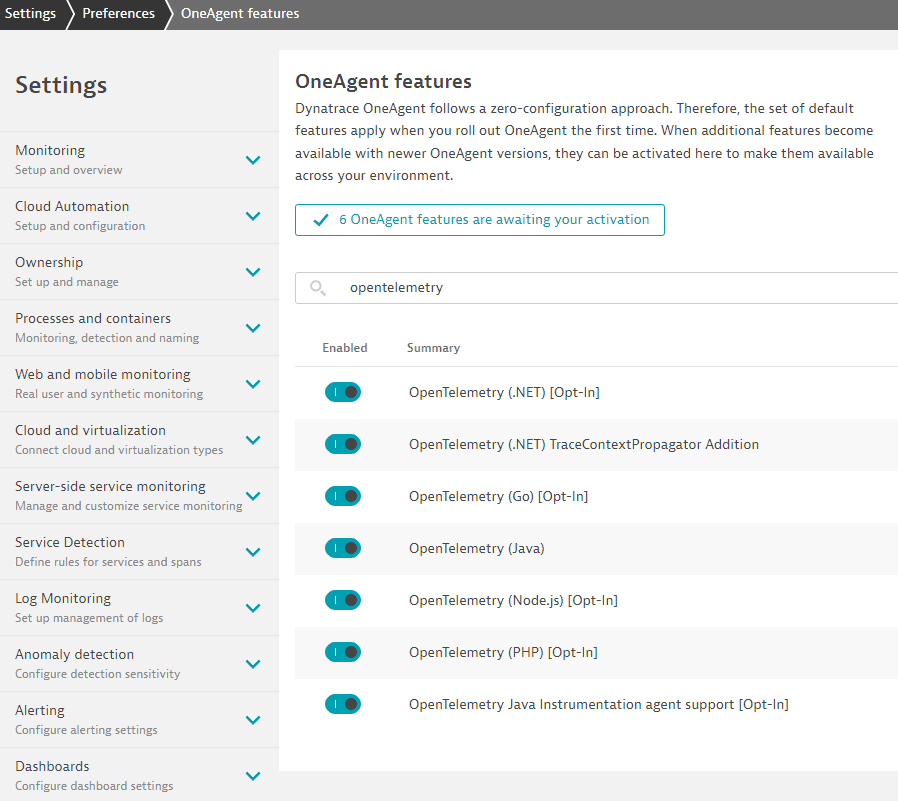 Attribute redaction
OpenTelemetry does not have an innate concept of data redaction. Data is collected and published to the backend as is.
For data safety purposes, and to prevent the accidental storage of personal or confidential data, the Dynatrace backend automatically filters supplied attributes and omits them in the web UI unless an attribute name is explicitly added to the allowlist. This enables you to meet your organization's privacy requirements and control the amount of monitoring data that is stored.
To add an attribute name to the allowlist
In the Dynatrace menu, go to Settings.
Select Server-side service monitoring and then either Span attributes or Resource attributes.

Dynatrace recommends a few basic attributes to generally be included, such as service.name or service.version.
For ease of use, Dynatrace comes with a default configuration that can easily be adjusted.

Select Add item to add a new key to the allowlist.

Enter the key
Set Masking

Select Save changes.
Trace search limitations
Resource attributes
Searching by resource attribute is limited to the service name: filter by Service name on the Distributed traces page.
Span attributes
Searching by span attribute is limited to the span name: filter by Request on the Distributed traces page.