How do I install Dynatrace OneAgent?
To install Dynatrace OneAgent go to Dynatrace.com and Login using the username and password you received from Dynatrace in your signup confirmation email. The basic installation steps are simple.
Check the following requirements:
You need administrator rights for the servers where Dynatrace OneAgent will be installed as well as for changing firewall settings (necessary only if your internal routing policy may prevent Dynatrace software from reaching the Internet).
You need permissions and credentials for restarting all your application services.
All hosts that are to be monitored need to be able to send data to the Dynatrace cluster. Depending on whether your Dynatrace deployment is on SaaS, or on Managed environment, and on your network layout and security settings, you may choose to either provide a direct access to Dynatrace cluster, or to set up an ActiveGate.
Select Deploy Dynatrace from the navigation menu.
Click the Start installation button.
Select the operating system that your applications run on and then follow the instructions provided.
Restart all processes that you want to monitor. You'll be prompted with a list of the processes that need to be restarted. Note that you can restart your processes at any time, even during your organization's next planned maintenance period. Though until all processes have been restarted, you'll only see a limited set of metrics, for example CPU or memory consumption.
Processes not detected?
One of the following may have occurred
The process isn't supported by our monitoring technology. You can always check which process types Dynatrace supports.
The process isn't working on your server. Please ensure that your servers are running and that the processes are operational.
There is delay in communication between Dynatrace and your Dynatrace OneAgent. If this is the case, please wait a few moments and try again.
Your Dynatrace OneAgent isn't working properly. Go to Settings > Monitoring overview to confirm that monitoring is enabled for the host running your software.
If you're still unable to resolve this issue, please contact us at Dynatrace answers. Also, consider installing Dynatrace OneAgent on a different machine.
You've arrived!
Great, setup is complete! Now take a look around your new home dashboard. You can access your new Dynatrace home dashboard anytime by going to Dynatrace website and clicking the Login button in the upper-right corner.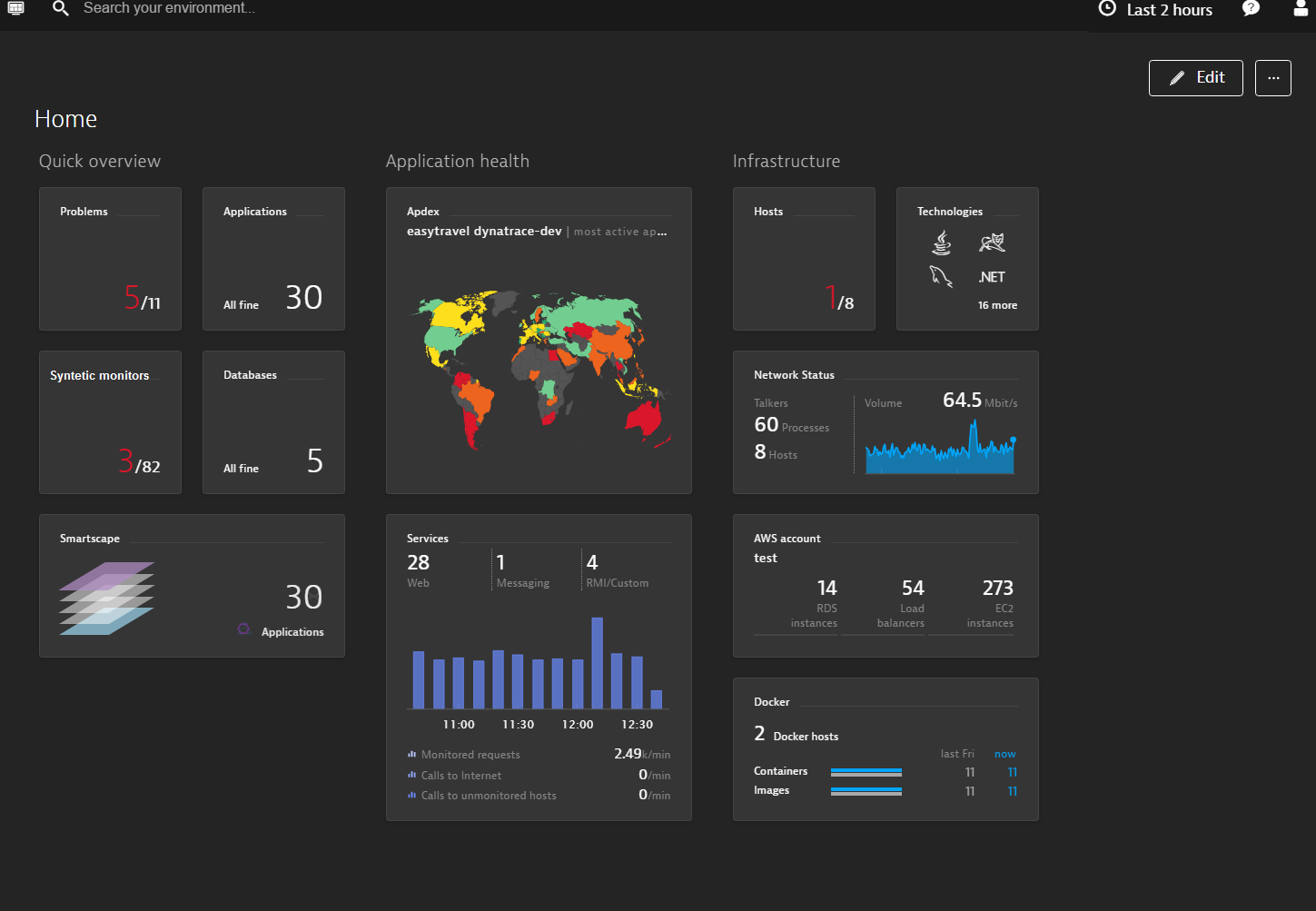 OneAgent installation on other platforms
In case your infrastructure isn't based on one of the operating systems mentioned above, Dynatrace supports also the following installation options: