Synthetic Monitoring Platform 2017 April release notes
The Dynatrace team is proud to announce the latest release of Dynatrace Synthetic available on April 5, 2017! This release includes:
What's new in Dynatrace Synthetic?
Faster performance, more analytics: the Dynatrace Synthetic Monitoring Platform redefined on Big Data
The Dynatrace Synthetic platform has been completely redefined on Big Data. We've improved the performance of our overall platform, added error analytics, improved our waterfall analysis, redesigned our network diagnostics capabilities, and re-engineered our APIs, all powered by Big Data.
The new Big Data powered capabilities include:
Operational summary
Operations dashboards
Error analysis
Waterfall analysis
Custom dashboards, charting, and more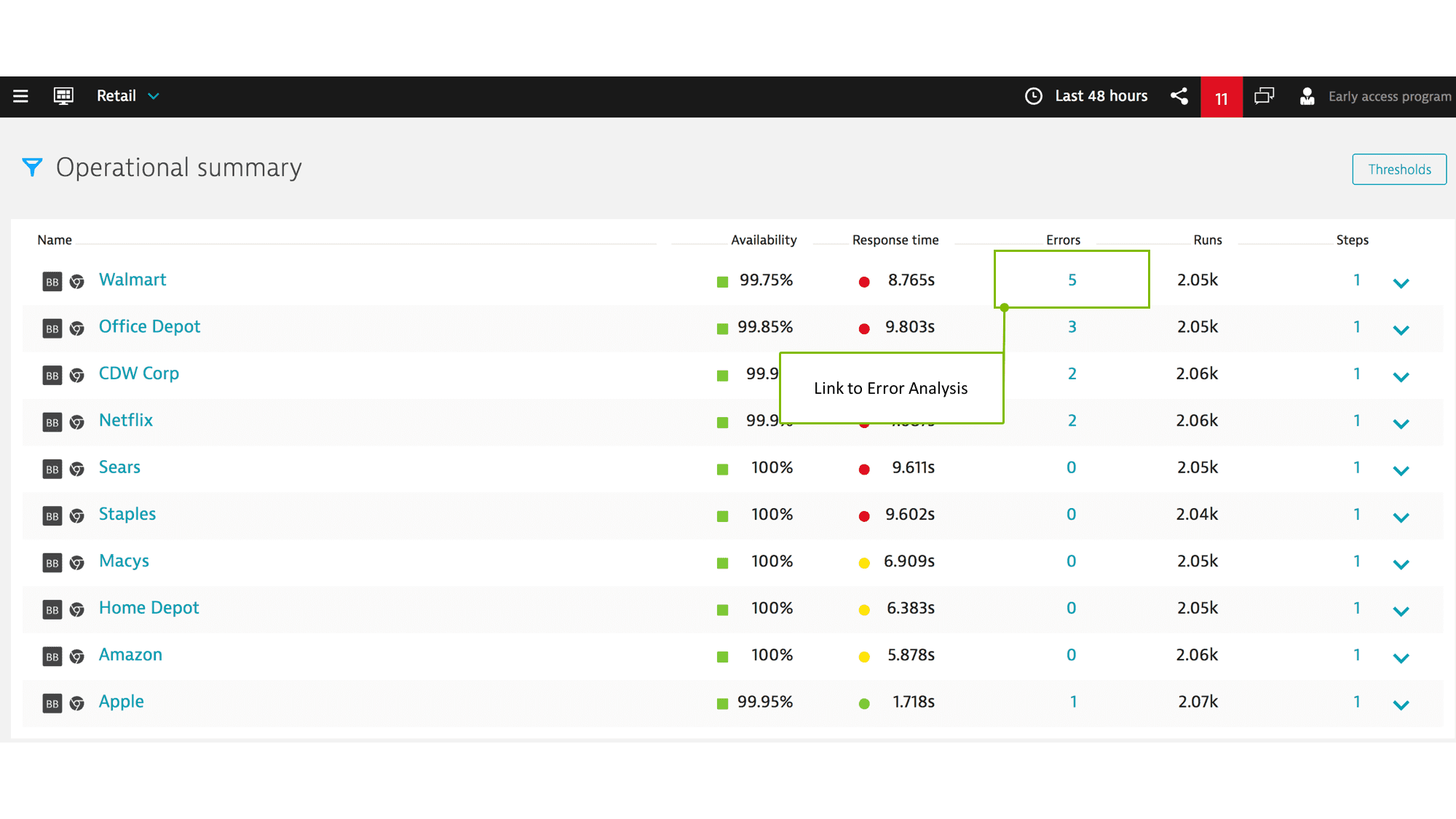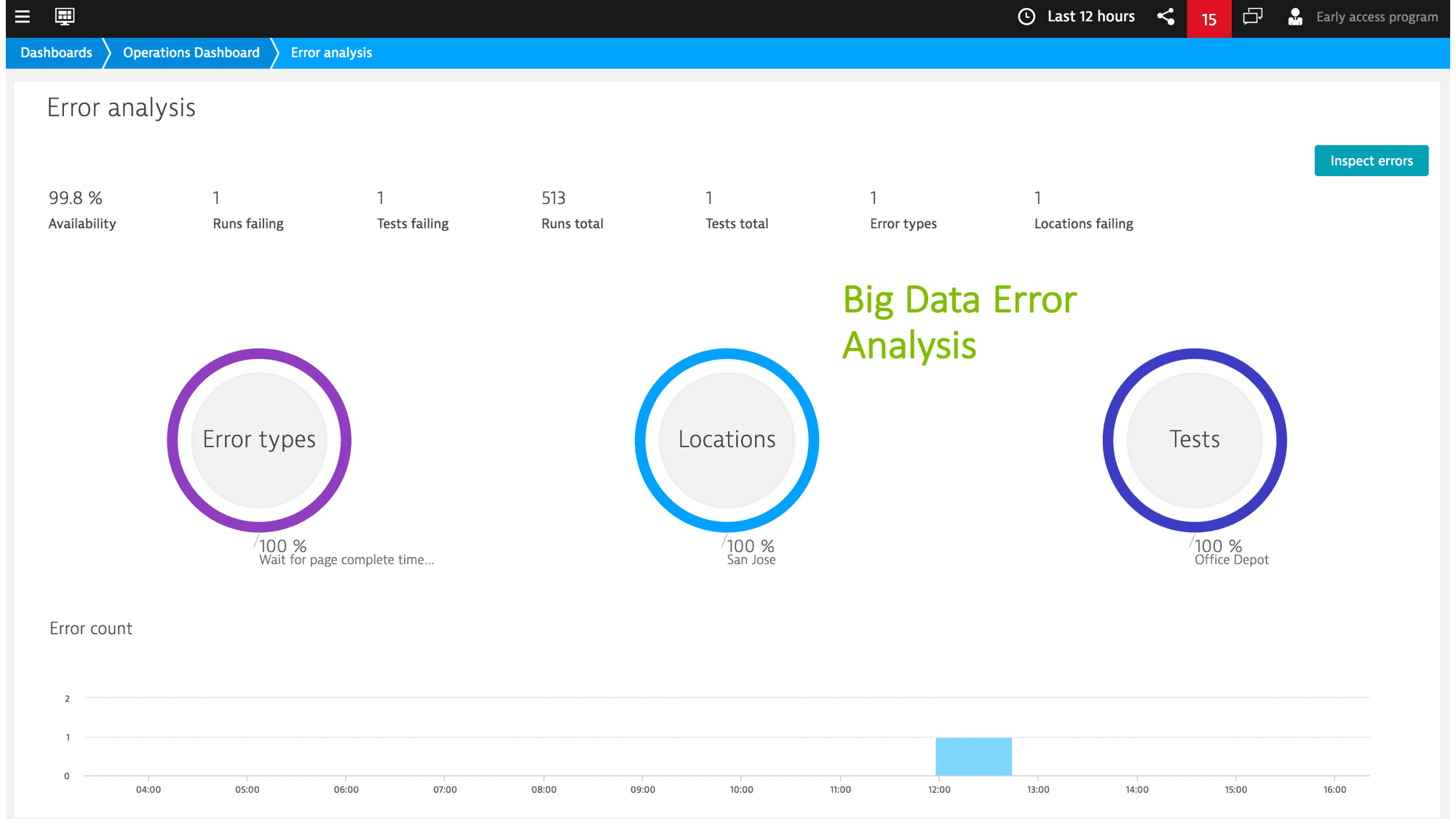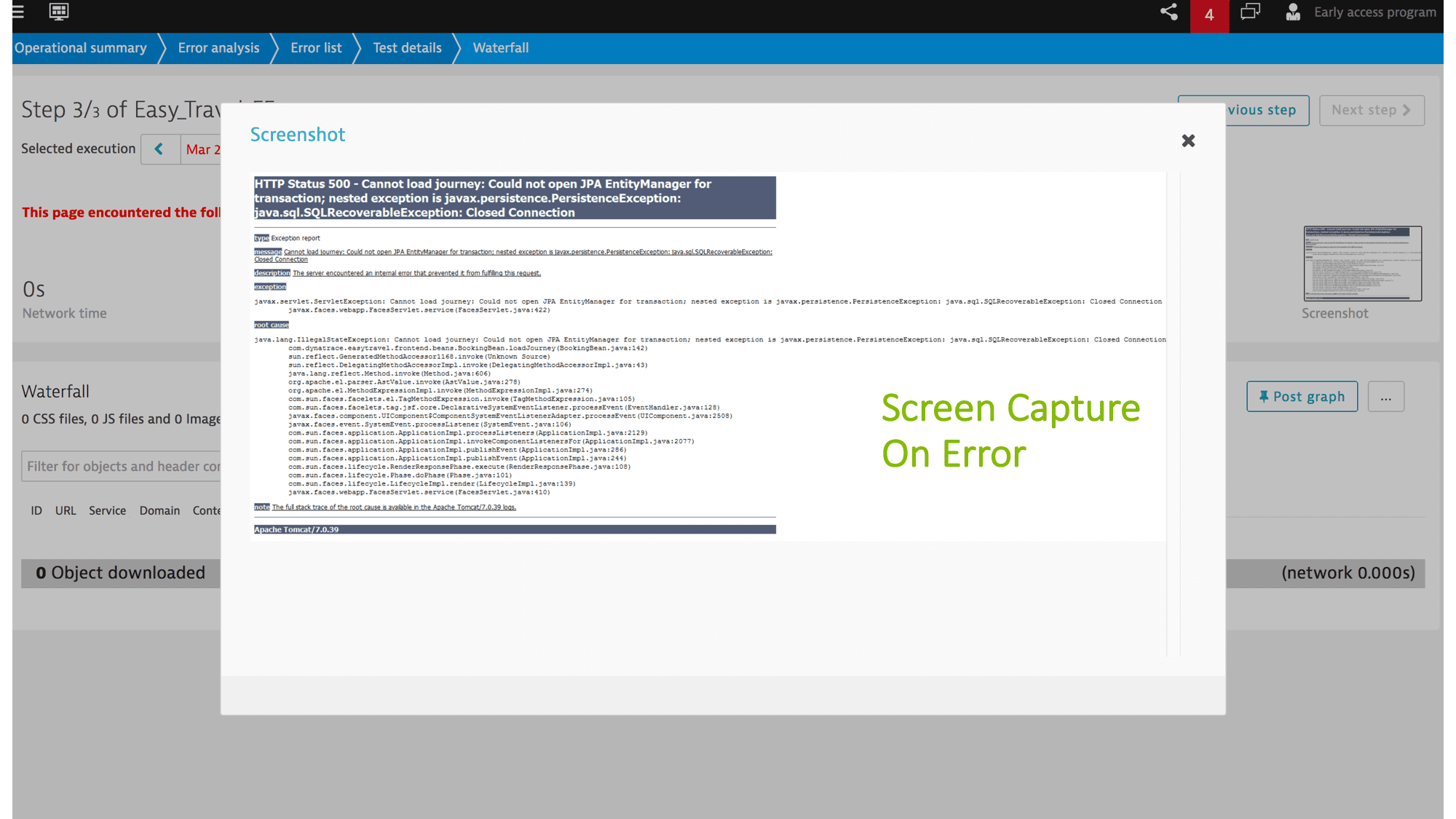 Pinpoint availability issues quickly with new error enalysis
The new Big Data platform for Dynatrace Synthetic opens up many new possibilities for analytics, from availability to performance to industry comparisons. In this release, Dynatrace introduces a brand new Error Analysis capability that enables operations and performance teams to analyze errors across a wide variety of dimensions, in seconds.
With the new error analysis capabilities, you can:
Inspect errors within the last 45 days.
Interactively filter errors based upon time, location, error type, and test.
Drill into error analysis in context from the Operational summary or the new Operations dashboard views.
Quickly inspect each error, including with screen shots on error and our new interactive waterfall analysis.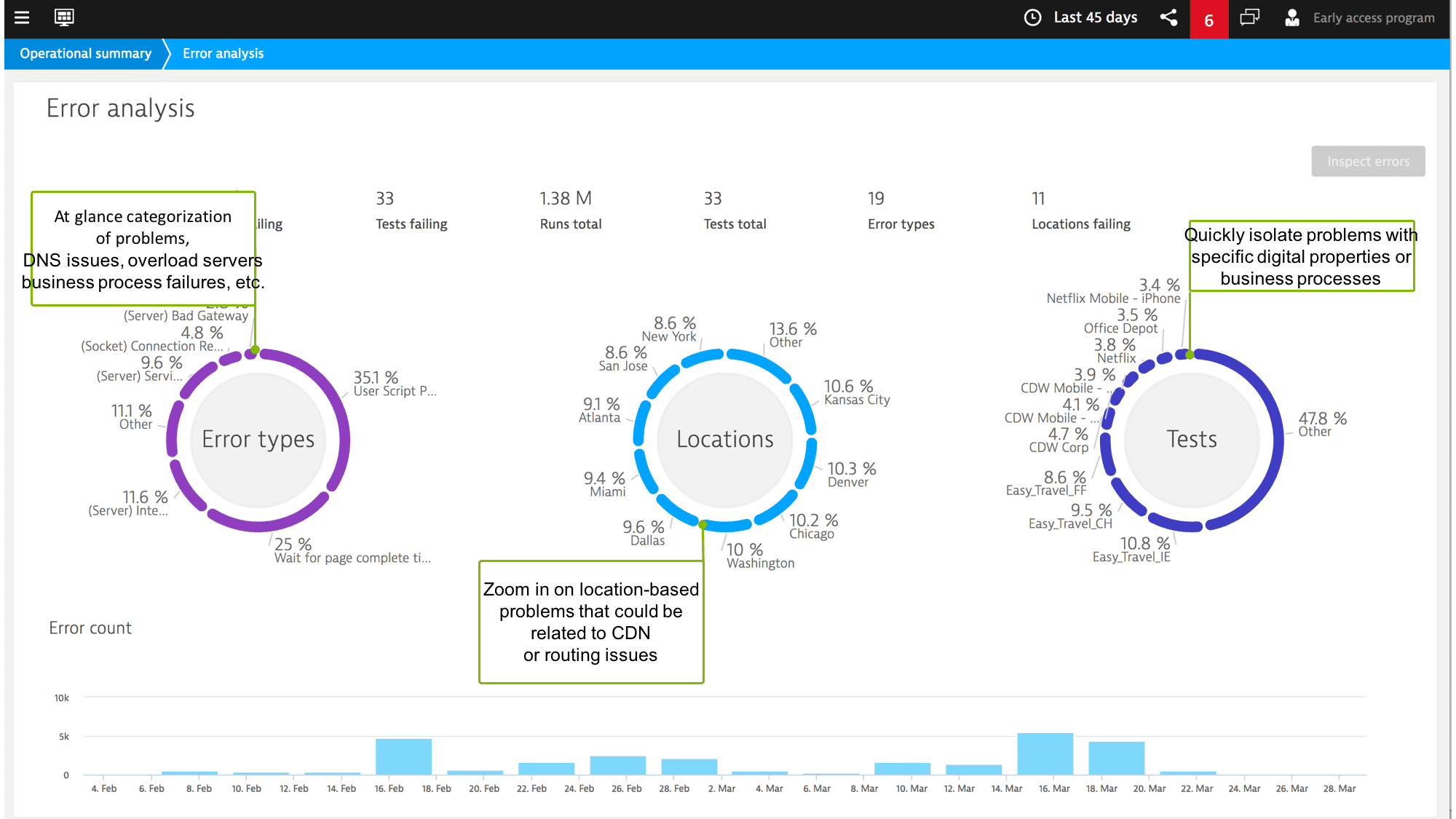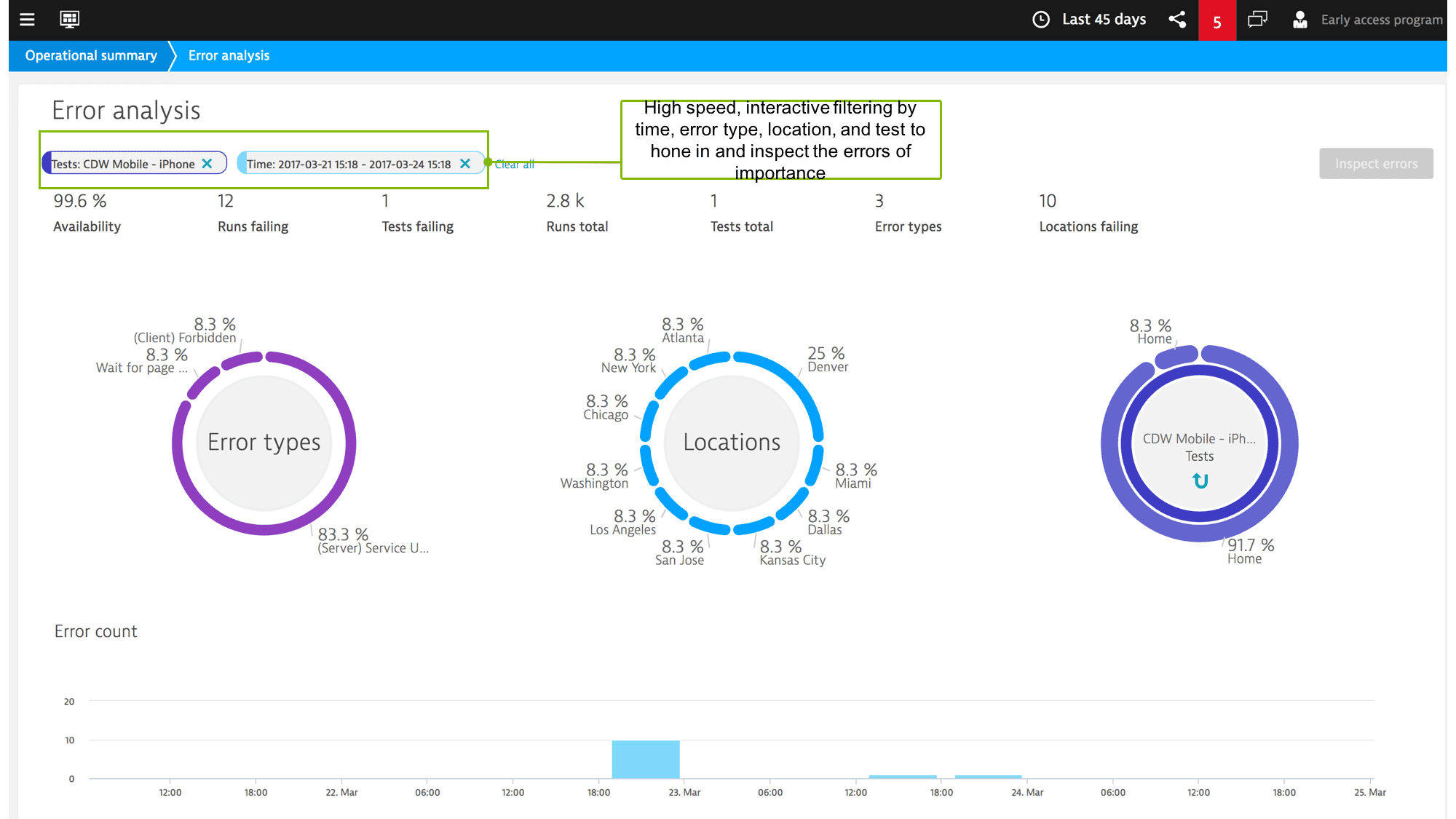 Operations accelerated: new efficient workflows from dashboards to network diagnostics
Our new Big Data platform enables faster identification of issues and analysis or errors. Further detail often requires additional network diagnostics, so we've enhanced our workflows to include:
Network diagnostics launched on demand in the context of an error.
Immediate results of trace route, ping, and DNS lookups from the point of origin, i.e. the node from which the problem was observed.
Easy to interpret visual representations.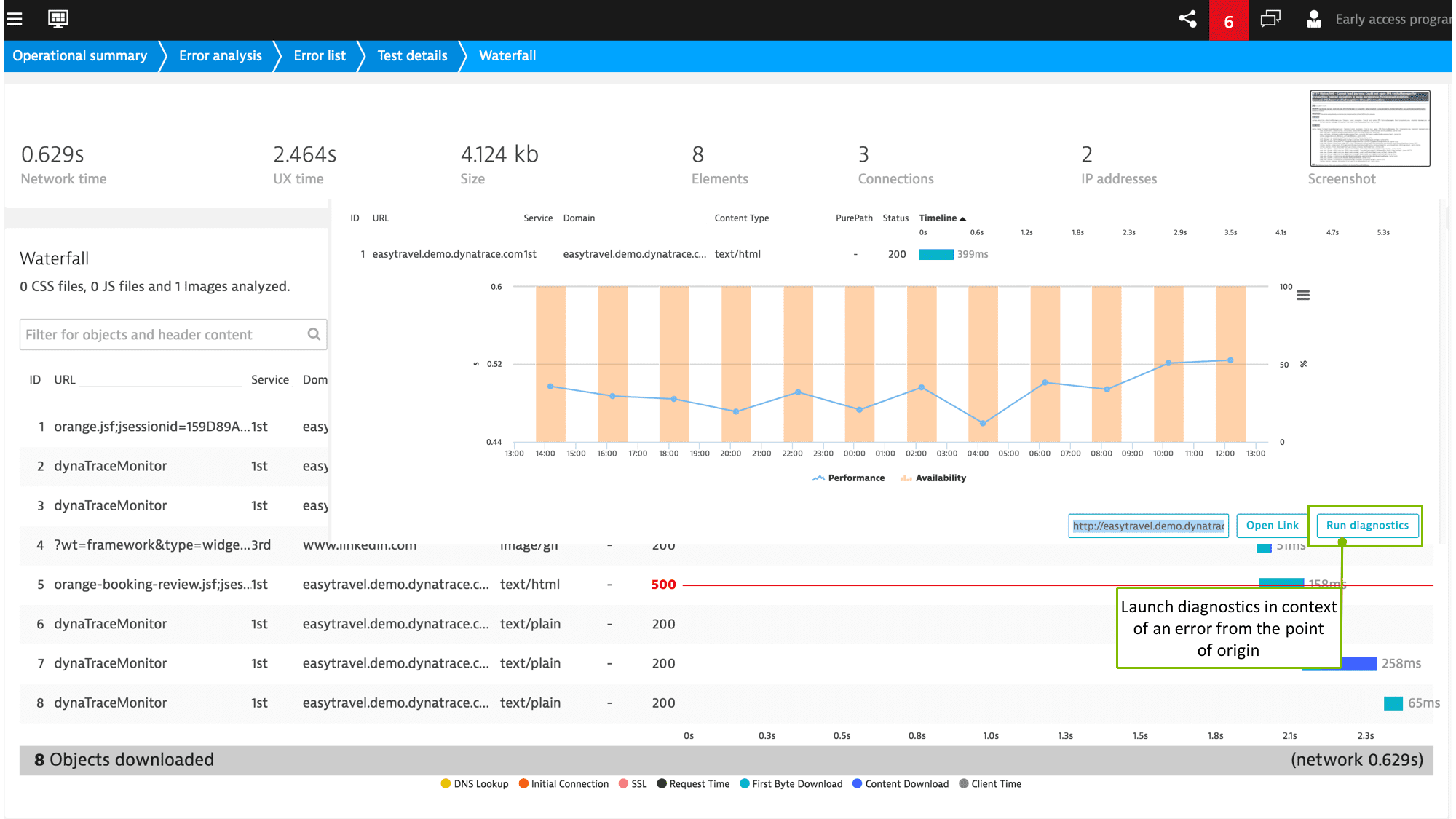 Front-end performance optimization made easy with interactive waterfall analysis
Our new interactive waterfall analysis provides many key capabilities for optimizing the front-end performance of your digital properties, including:
Interactive highlighting and filtering to focus on key areas of improvement.
Automatic identification of the third party service category of service and owner.
Key W3C browser timing events in the context of the page load, providing valuable insight on where optimization can have the greatest impact on user experience.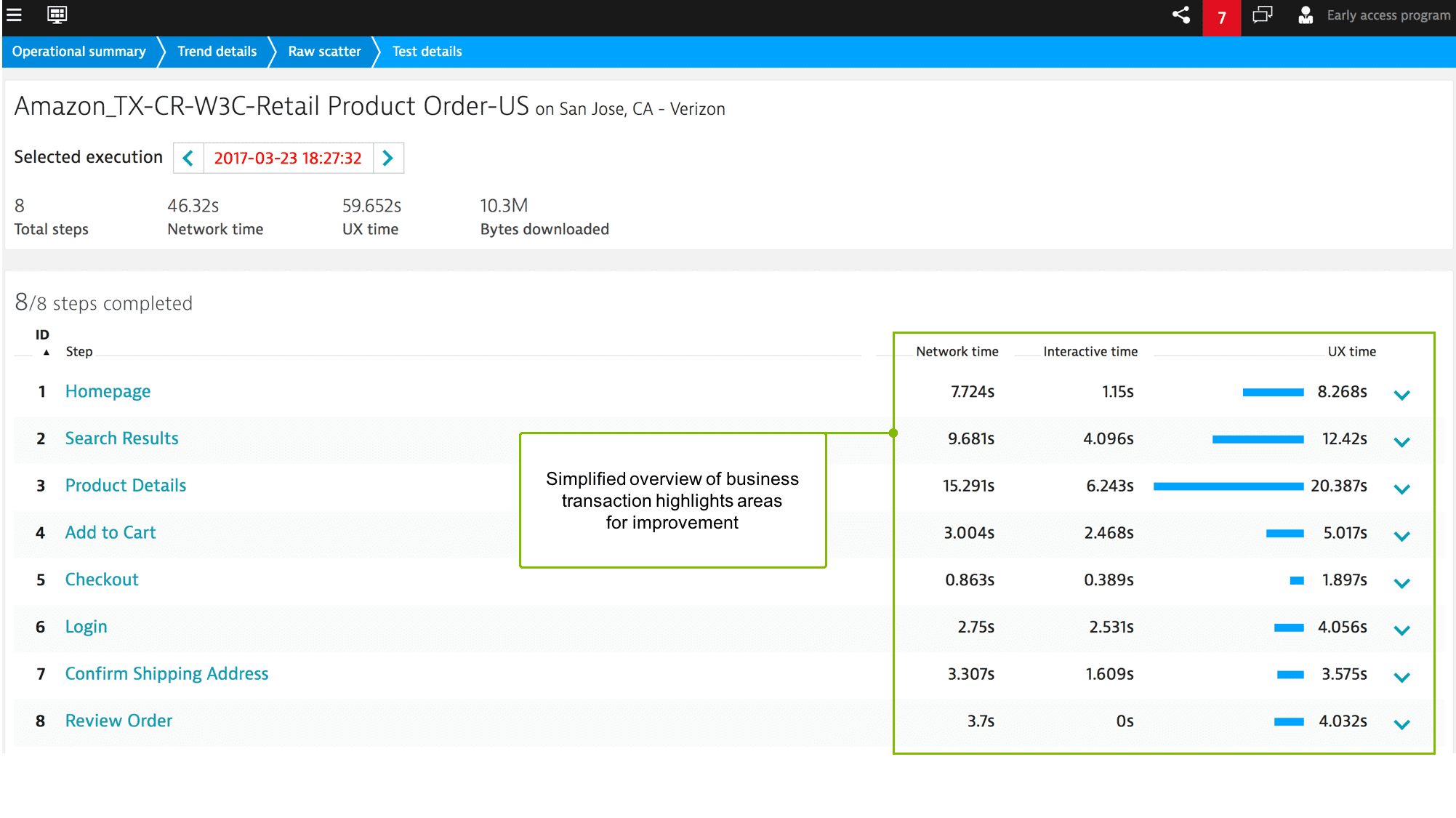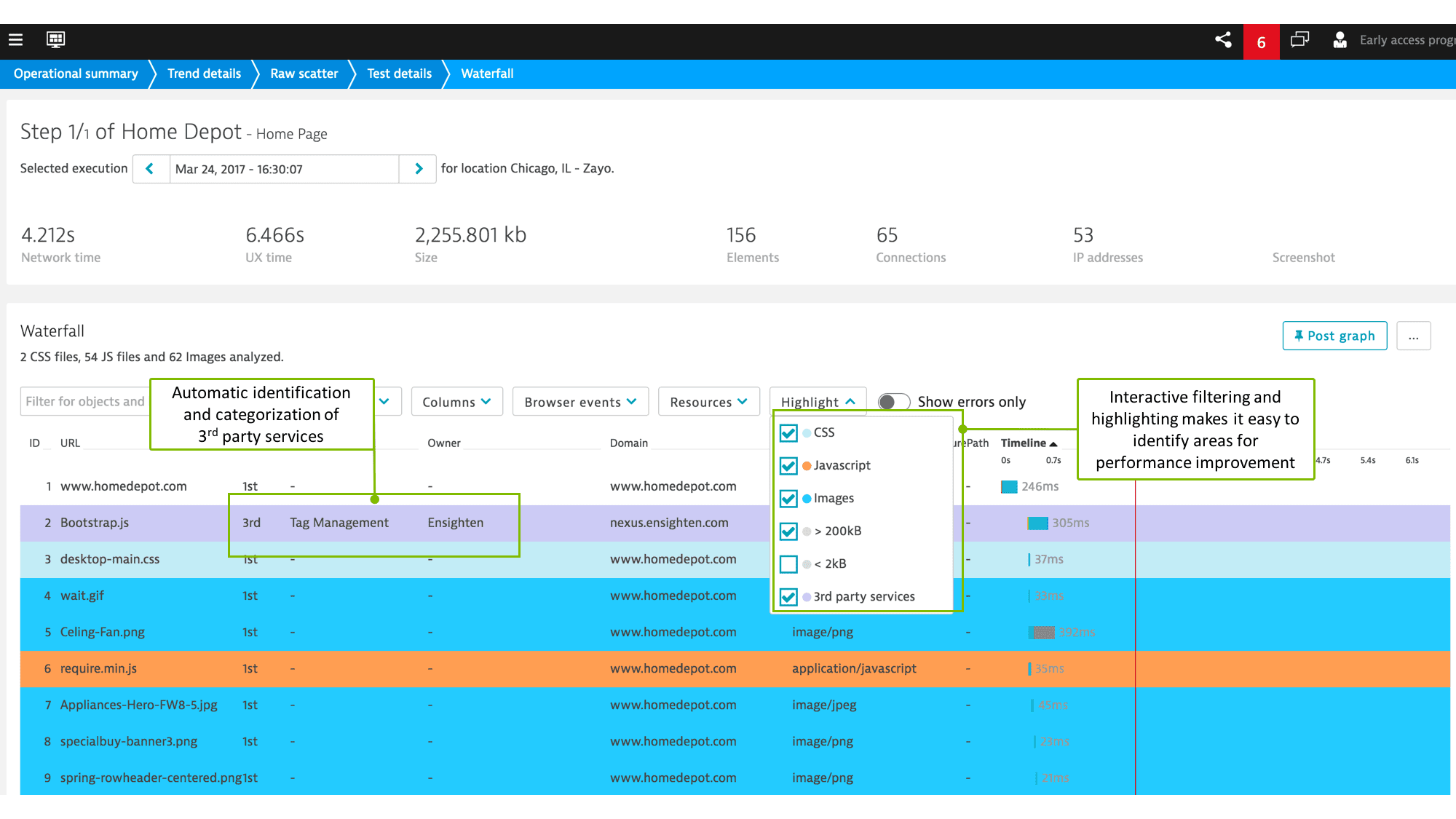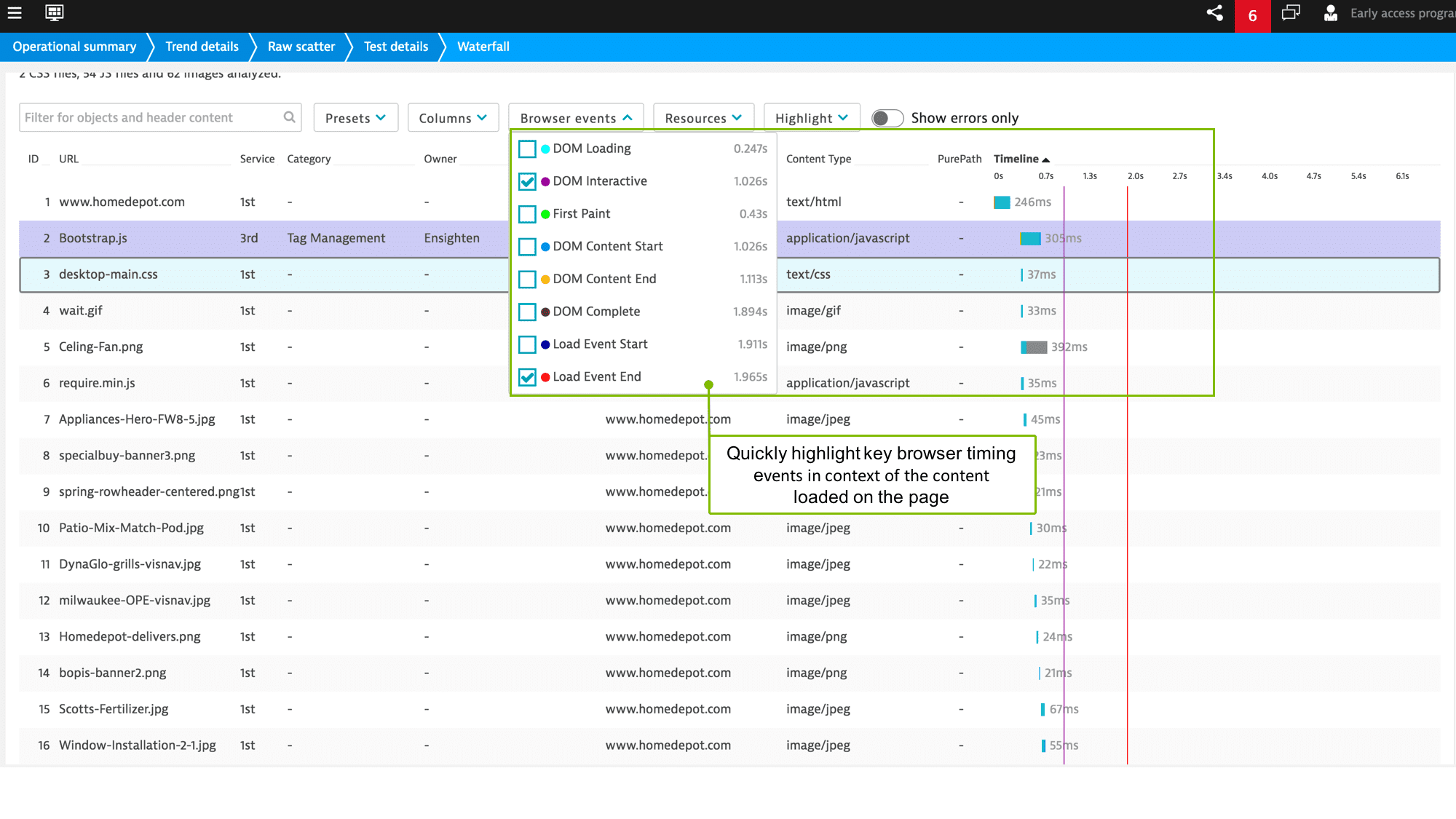 Optimize digital experience for Mobile with network emulation
Our new Mobile emulation capability allows you to emulate any mobile connection across our global Backbone performance network. You can control the upload, download, and latency speed of the connection used by the test, providing you with consistent measurements that can be used to set accurate performance baselines and alerts. This new capability allows you to conduct what-if scenarios across different connection types in addition to the already supported device emulation capabilities in the Dynatrace solution. Our complete synthetic mobile solution includes:
Mobile device emulation support
Replay support on backbone, last mile, and carrier networks
Gesture support
Mobile network emulation support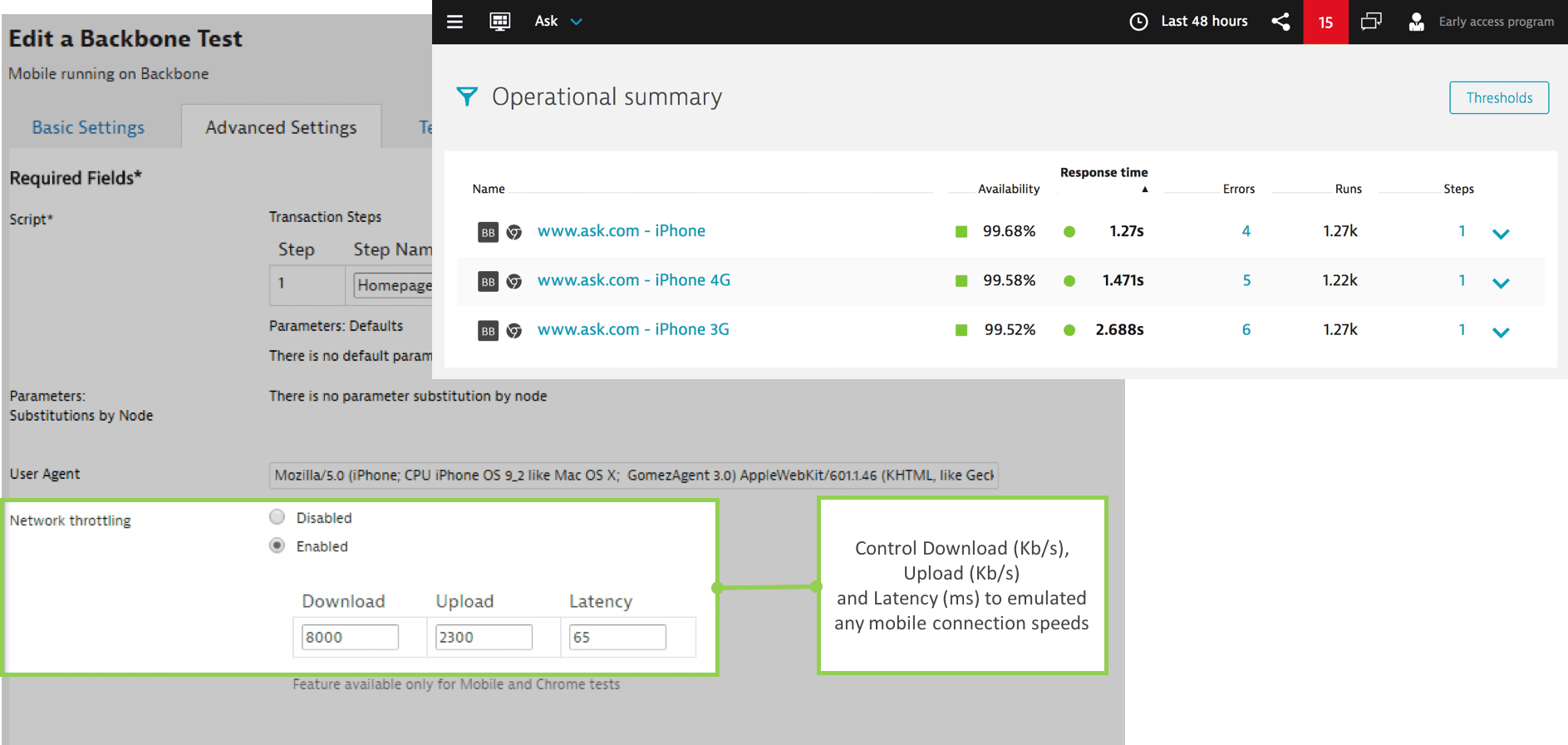 Web Recorder adds the flexibility of custom scripting and simplifies script debugging and maintenance
We've added capabilities to make the Web Recorder the single go-to place for creation and editing of synthetic transactions:
Custom script support allows you to add and edit advanced JavaScript commands to augment the test.
Support for the Navigate function has been improved, so you can add Navigate commands anywhere in your test during recording or insert the action manually into the transaction.
You can now disable (comment out) and re-enable (uncomment) actions in a transaction, for debugging and script maintenance.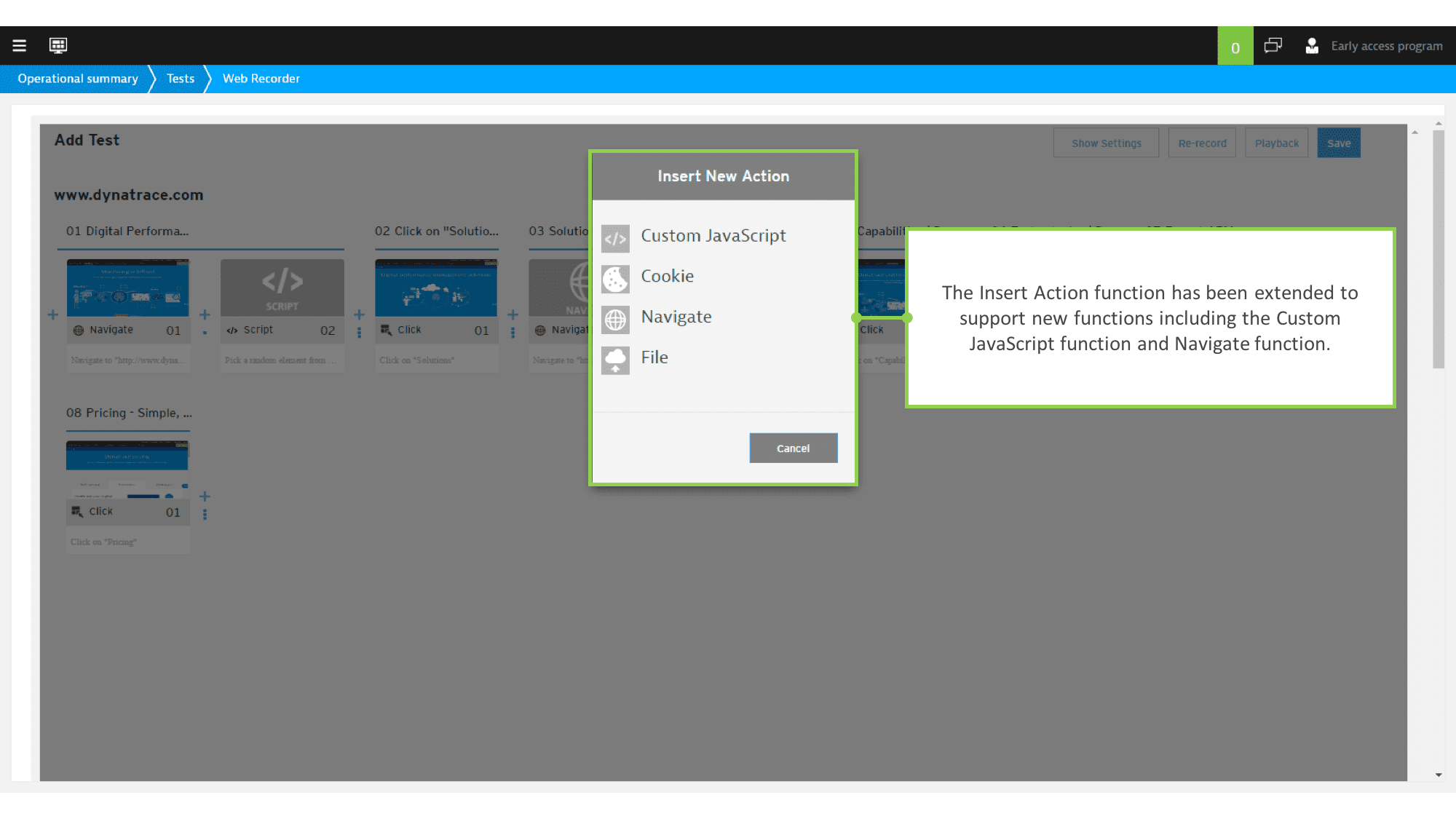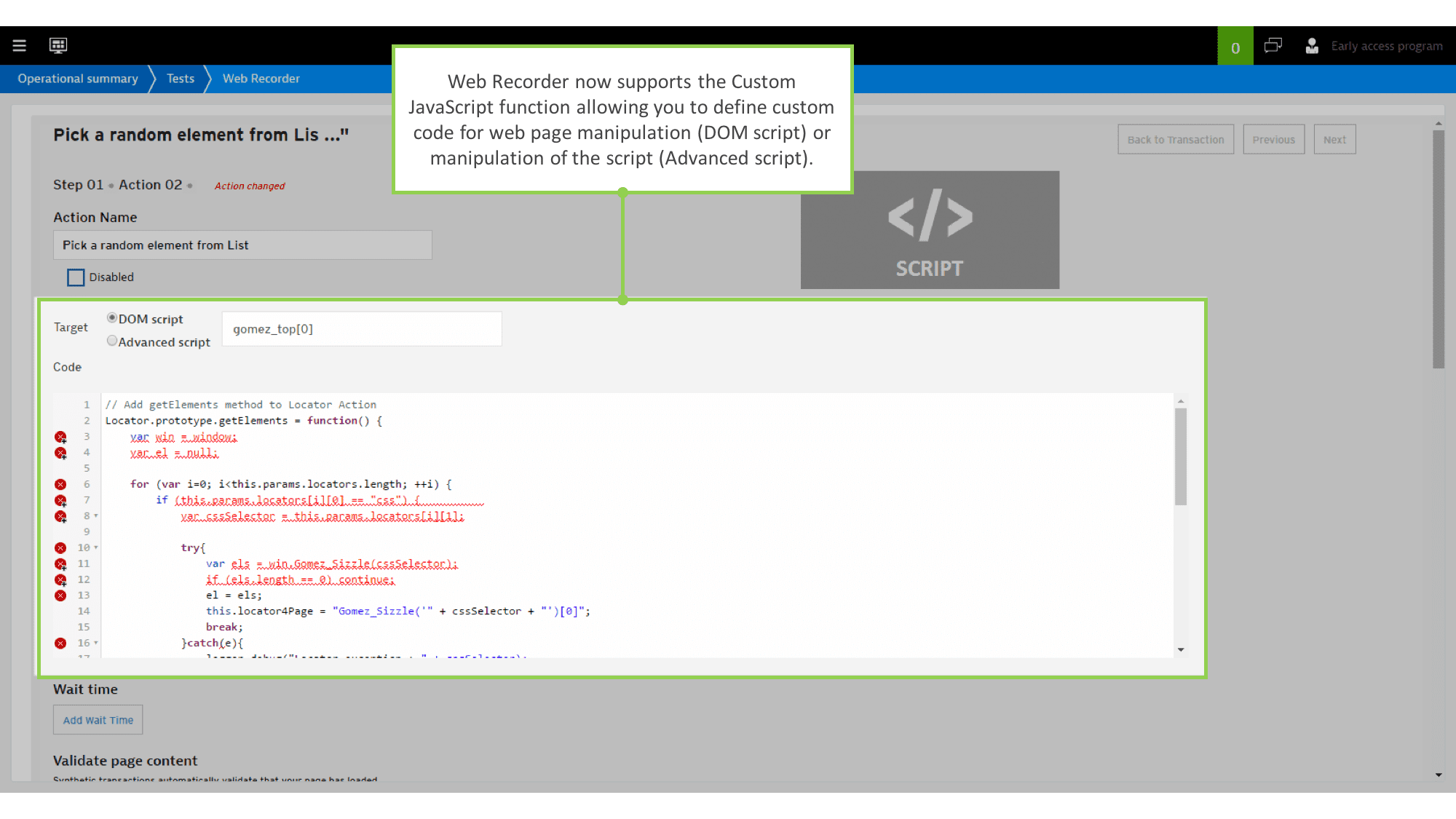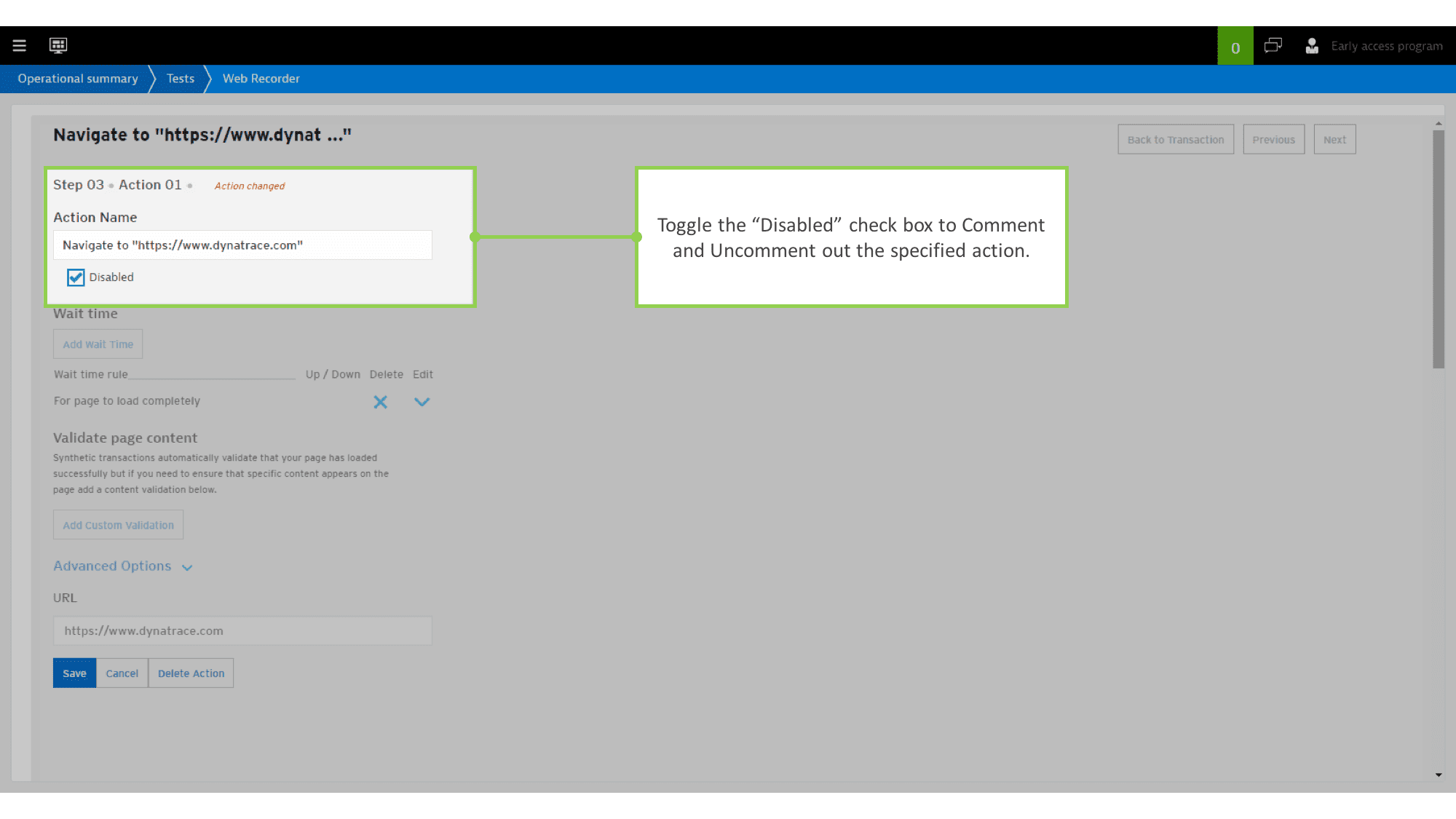 Enhanced REST data APIs powered by Big Data, not just raw data anymore
Up until now the REST API has only provided raw data. With this release, you can use the REST API to return only the data that you need. Data is available at all levels: test, page, and object.
This release offers brand new capabilities in these areas:
Retrieve aggregate data on more than 350 metrics.
Retrieve data grouped by up to 80 dimensions.
Retrieve metadata on metrics, dimensions, monitors, and sites.
Retrieve page- and test-level data, up to 2 years' worth.
Retrieve data as "table" like data or as a time series.
Retrieve metrics for raw data points.
Retrieve HAR file format for individual data points.
We're listening to your product ideas: folder management, alert log, usage reporting, and more
Dynatrace thanks you for actively engaging in making our product better by submitting your ideas to our Product Ideas forum. Here are some of the highlighted product enhancements that are included in this release:
Alert log – Simplified filtering to easily isolate problems of interest.
Folder management – Quickly create and edit folders for easy administration and dashboard filtering.
Operations dashboard –  In-line interactive analysis from the dashboard enables faster problem resolution, including drilldown to Big Data error analytics.
Charting power – Interactive filtering and "investigate by" options allow for fast "slicing and dicing" of the test data for fast analysis.
Scatter plot – Scatter plot charts can now be displayed from various parts of the workflow, including custom dashboard tiles. We've added the ability to quickly adjust timeframes that provide huge amounts of flexibility for analysis.
Usage report – Up-to-date FX measurement usage reporting with real-time access to 12 months of historical data including usage allowances, projections, and overages. (Note: This report does not currently support customers that manage multiple child accounts.)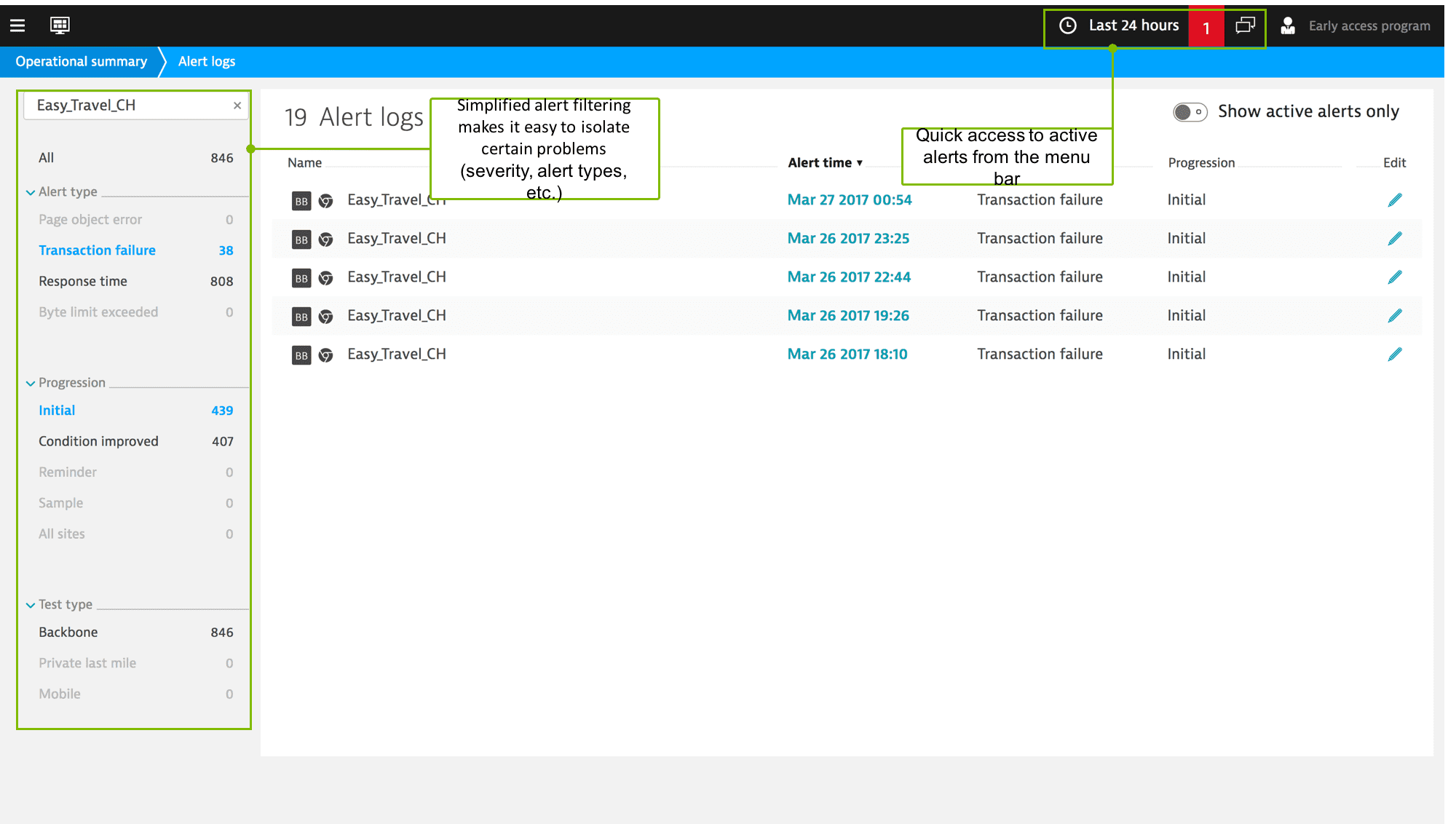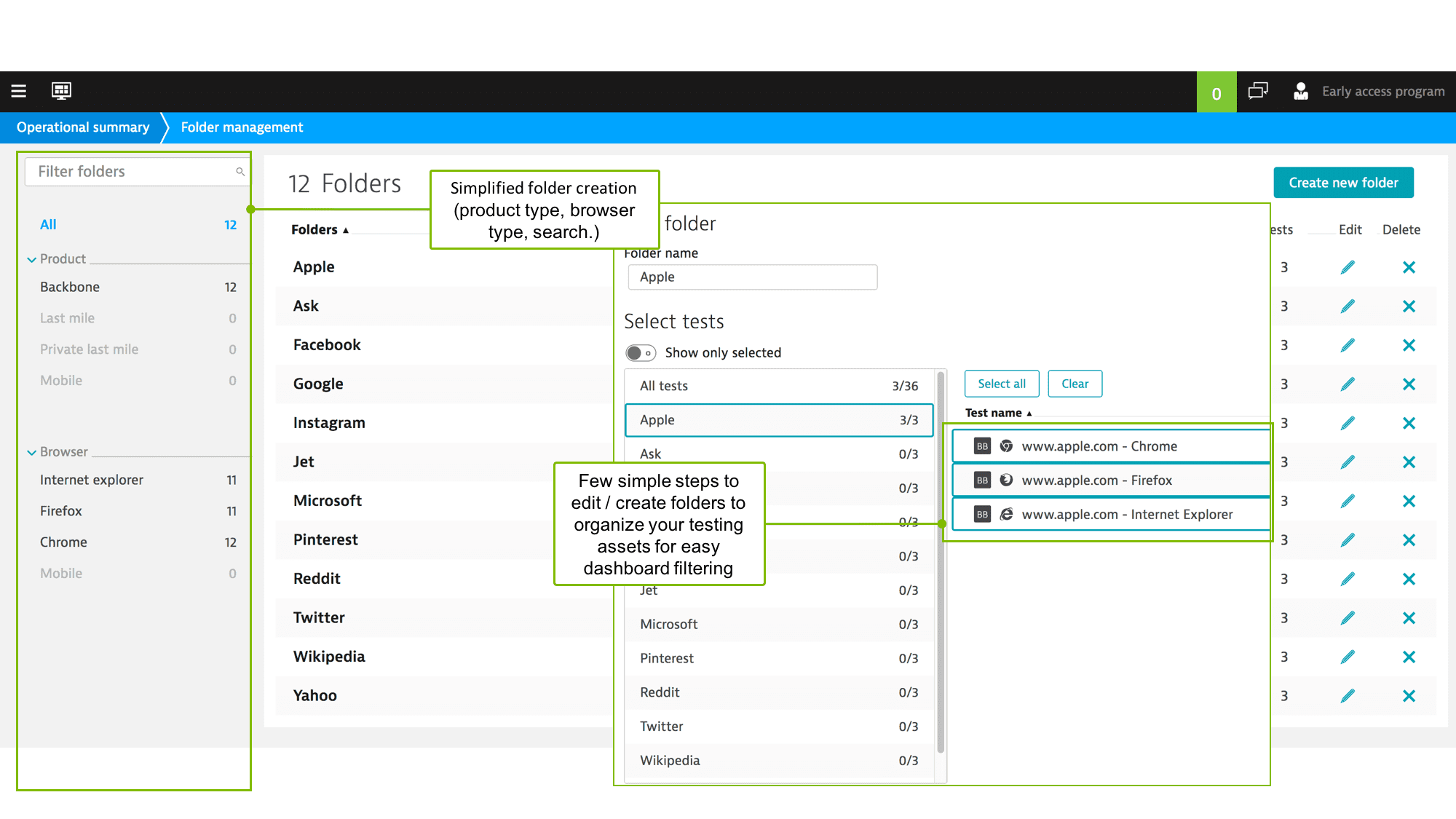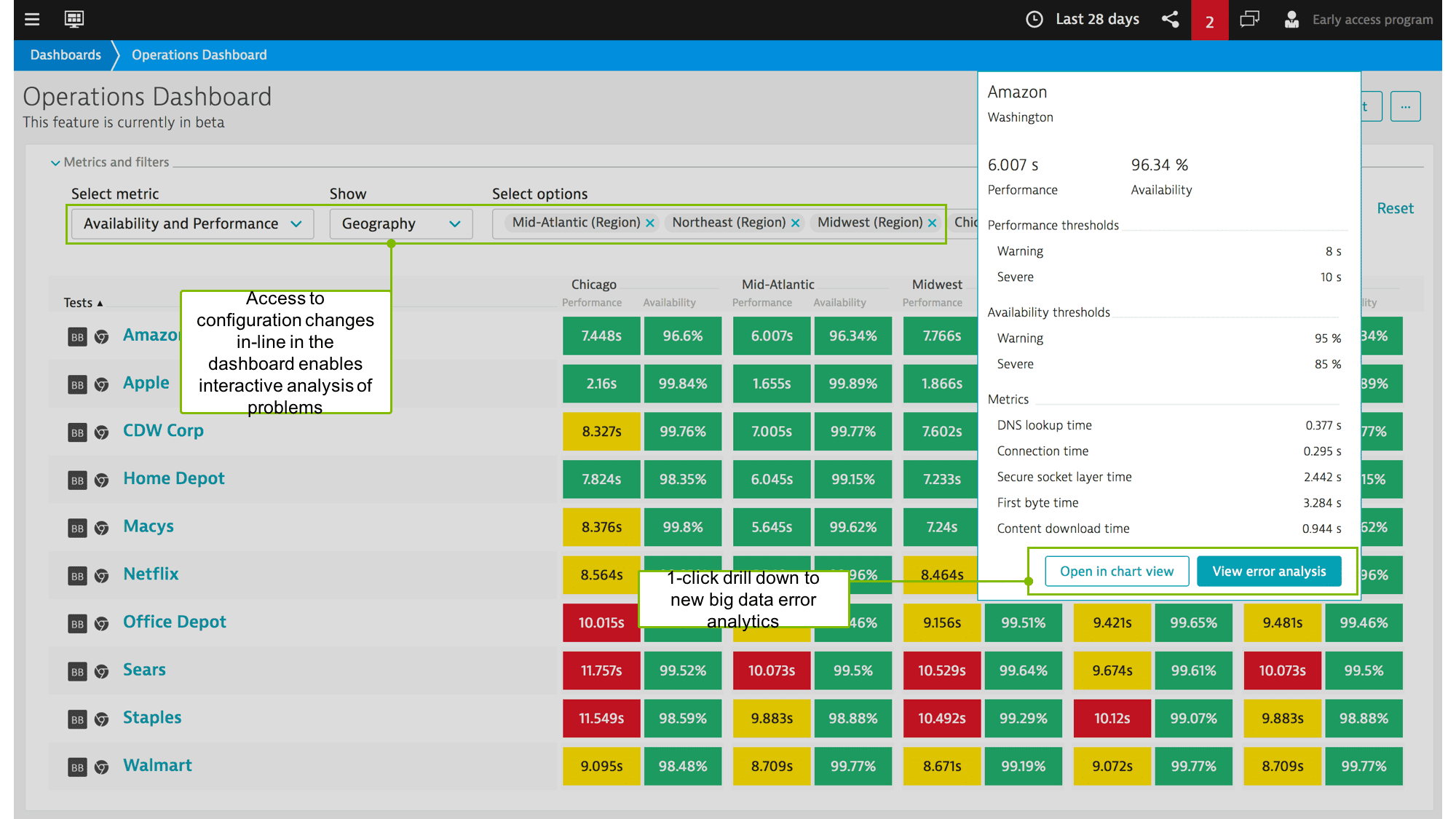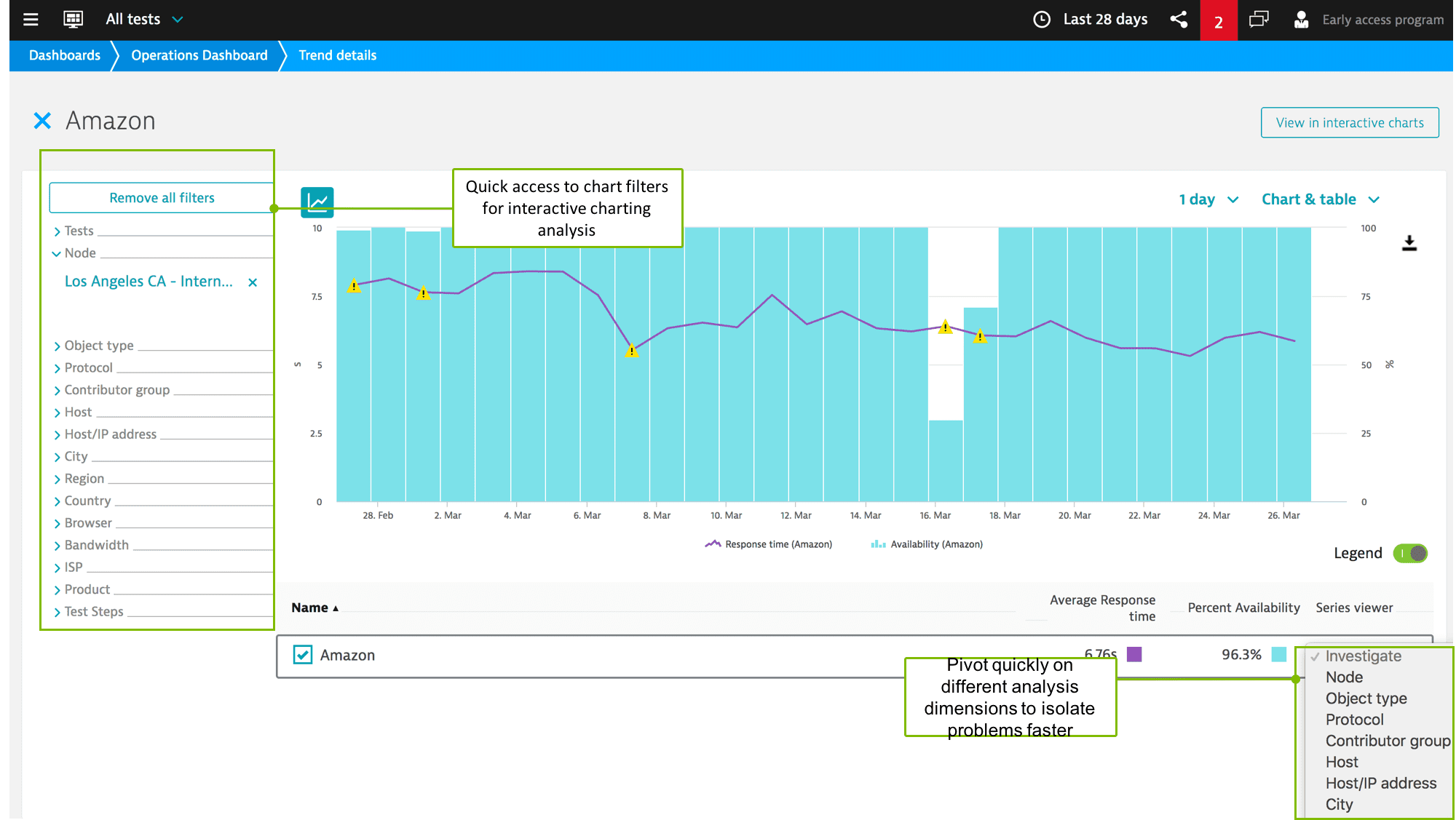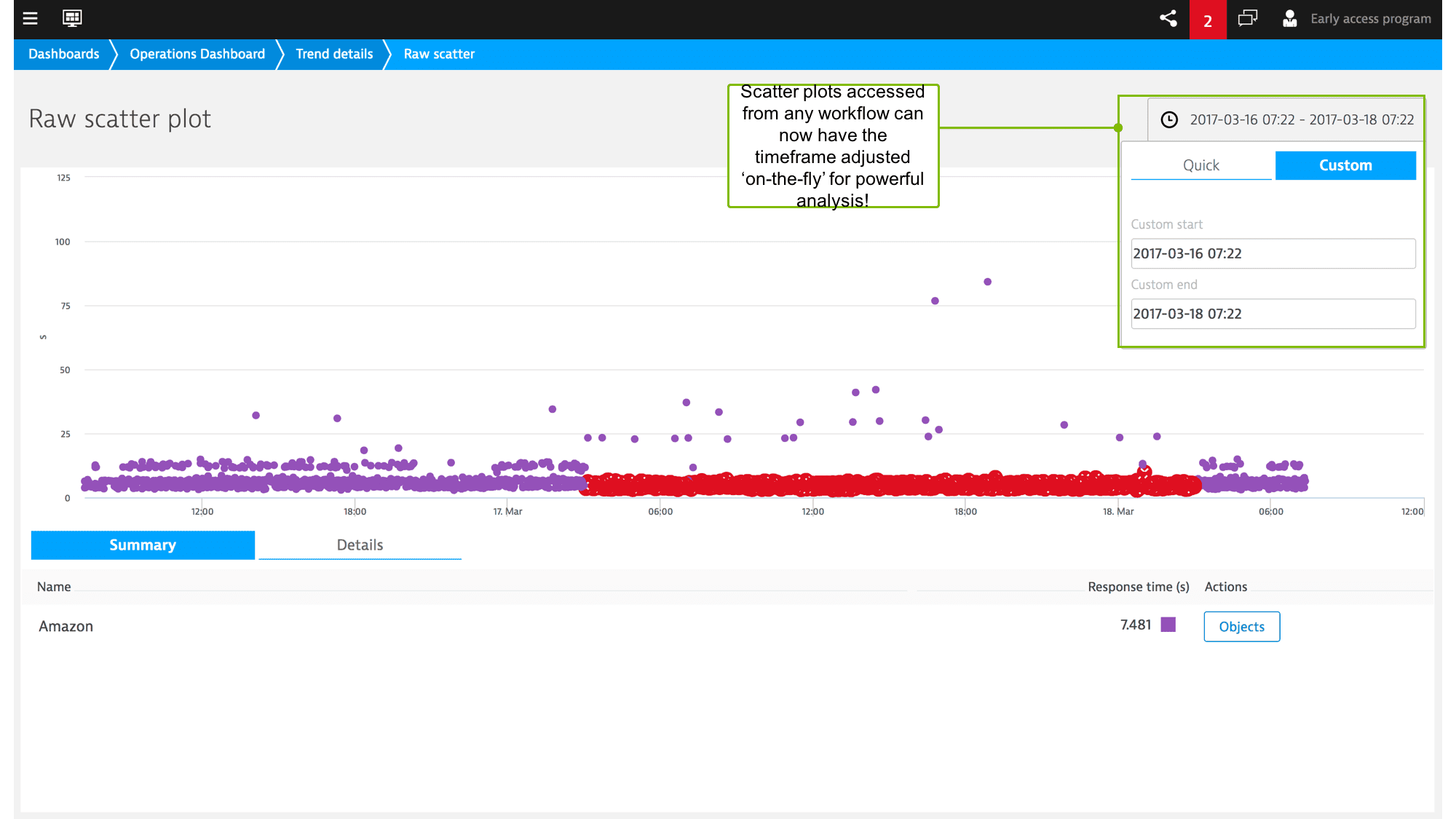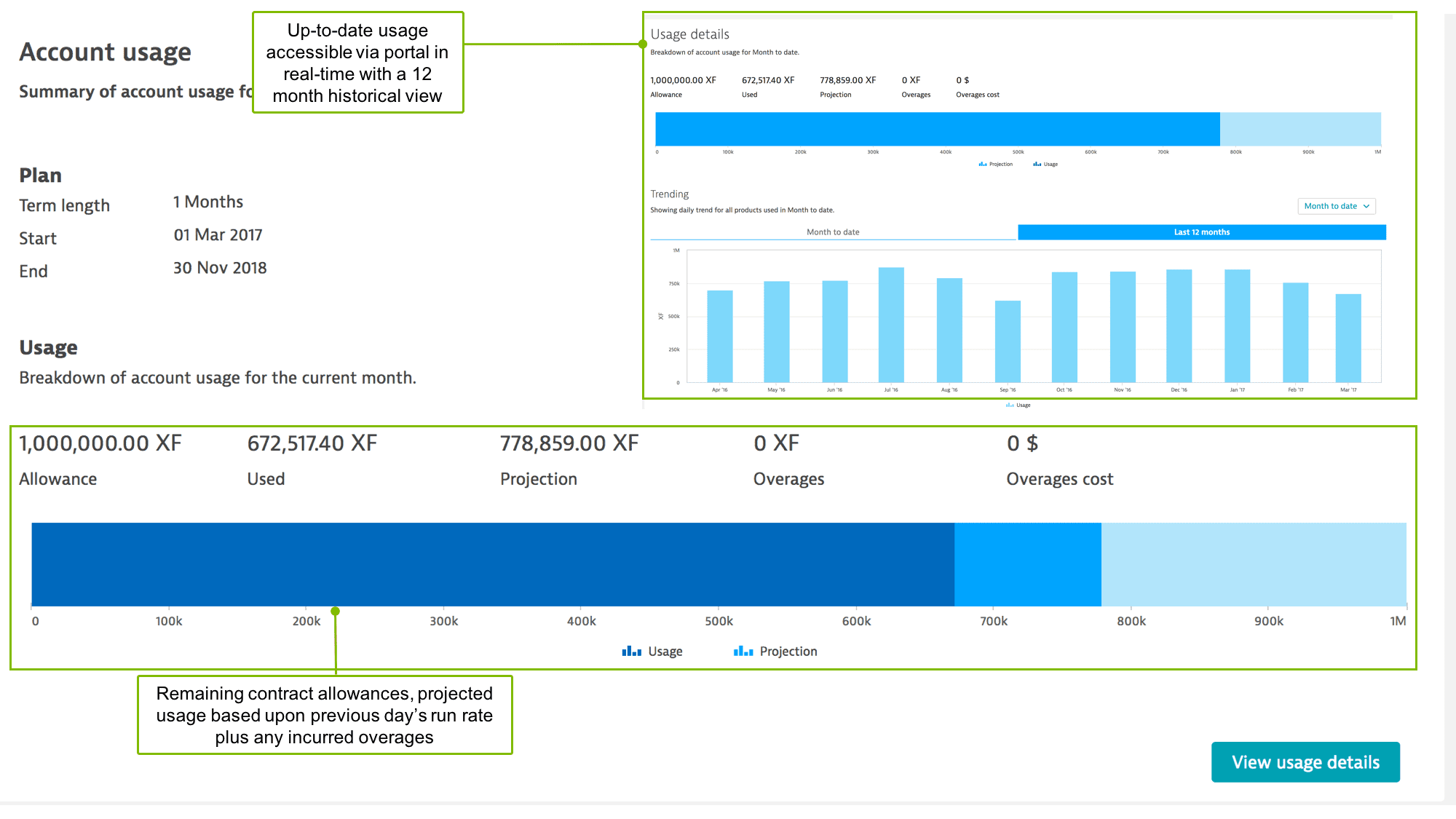 Early Access: Next Generation Backbone architecture increases reliability, improves scheduling, lowers latency
Automatic distribution of tests across nodes improves test coverage and availability reporting.
Reduced latency from slower geographies improves test reliability and alerting.
Instant test scheduling and result analysis.
Faster upgrades and maintenance for higher node availability.
More information on our Early Access Programs can be found here.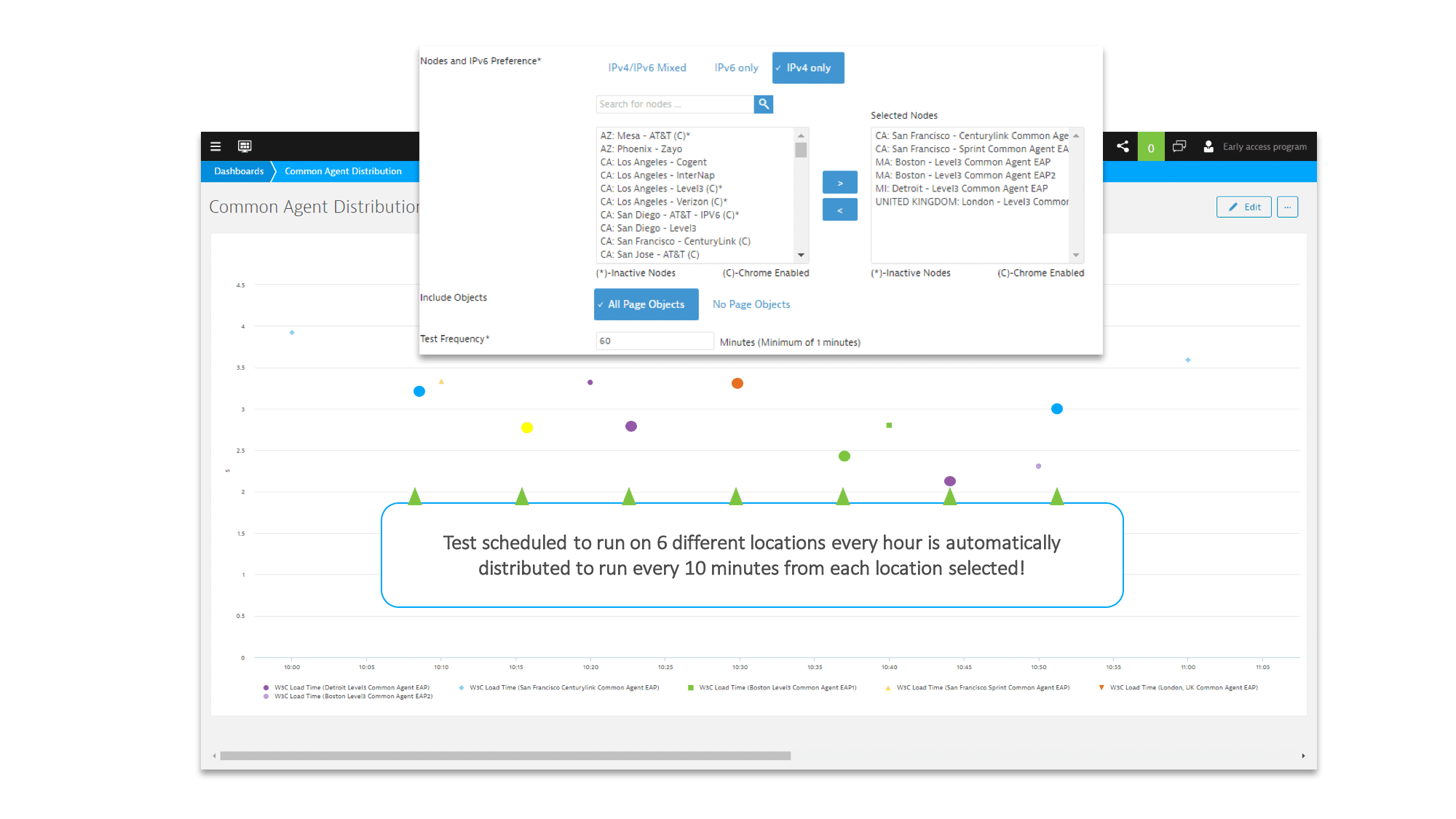 Early Access: Software Private Agent – simple, secure, high-throughput monitoring of internal applications
The Software Private Agent delivers on the promise to bring a highly scalable, secure version of our Backbone node to the enterprise. It provides these key features and benefits:
The private agent is based on Common Agent Next Generation Backbone architecture.
Measure your internal application performance and availability with Software Private Agent.
The simple and secure software-based agent supports physical, virtual, and cloud-based installations.
The private agent works like a private Backbone node once installed.
The private agent supports execution of thousands of tests per hour, with flexible configuration options.
More information on our Early Access Programs can be found here.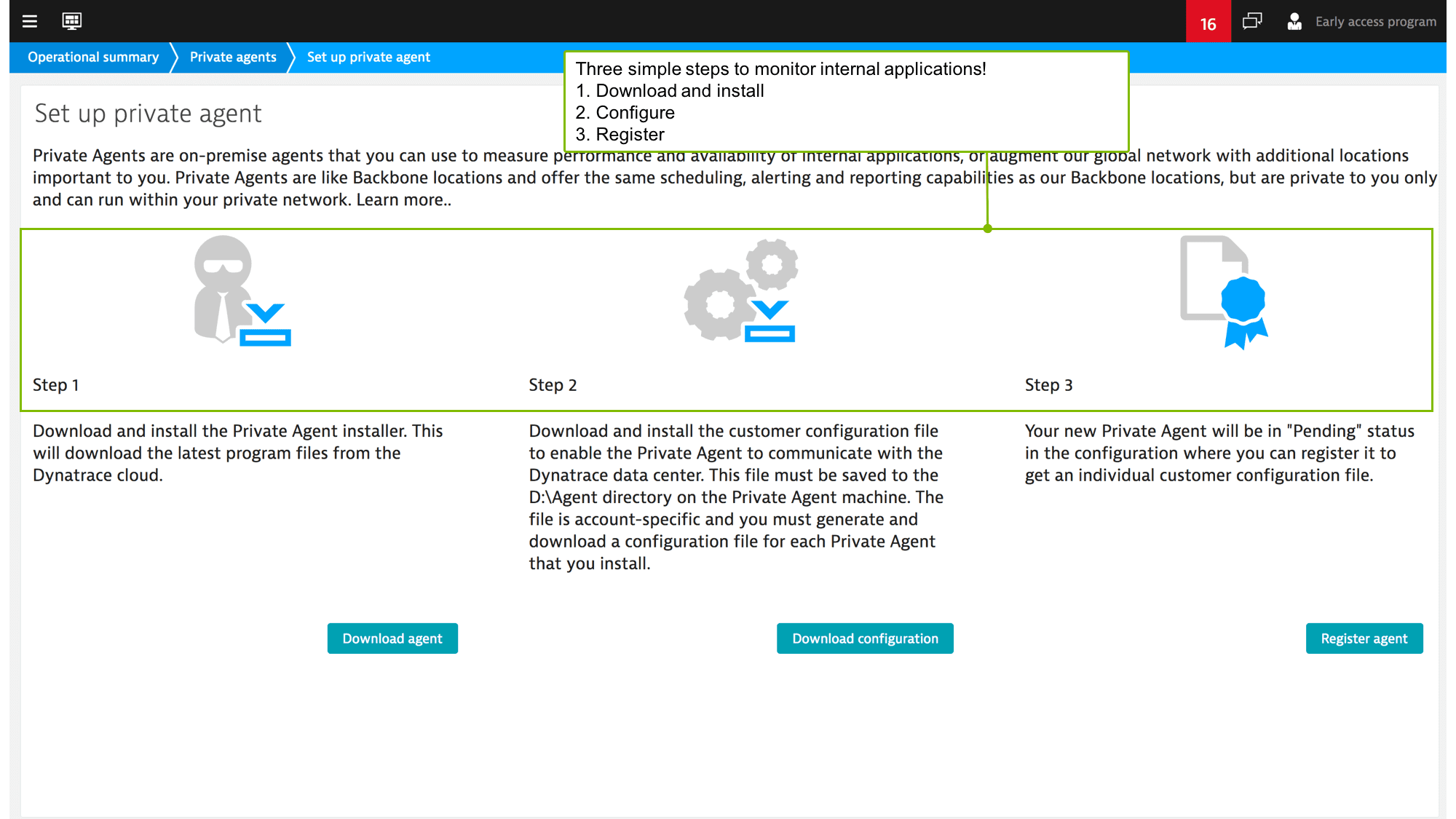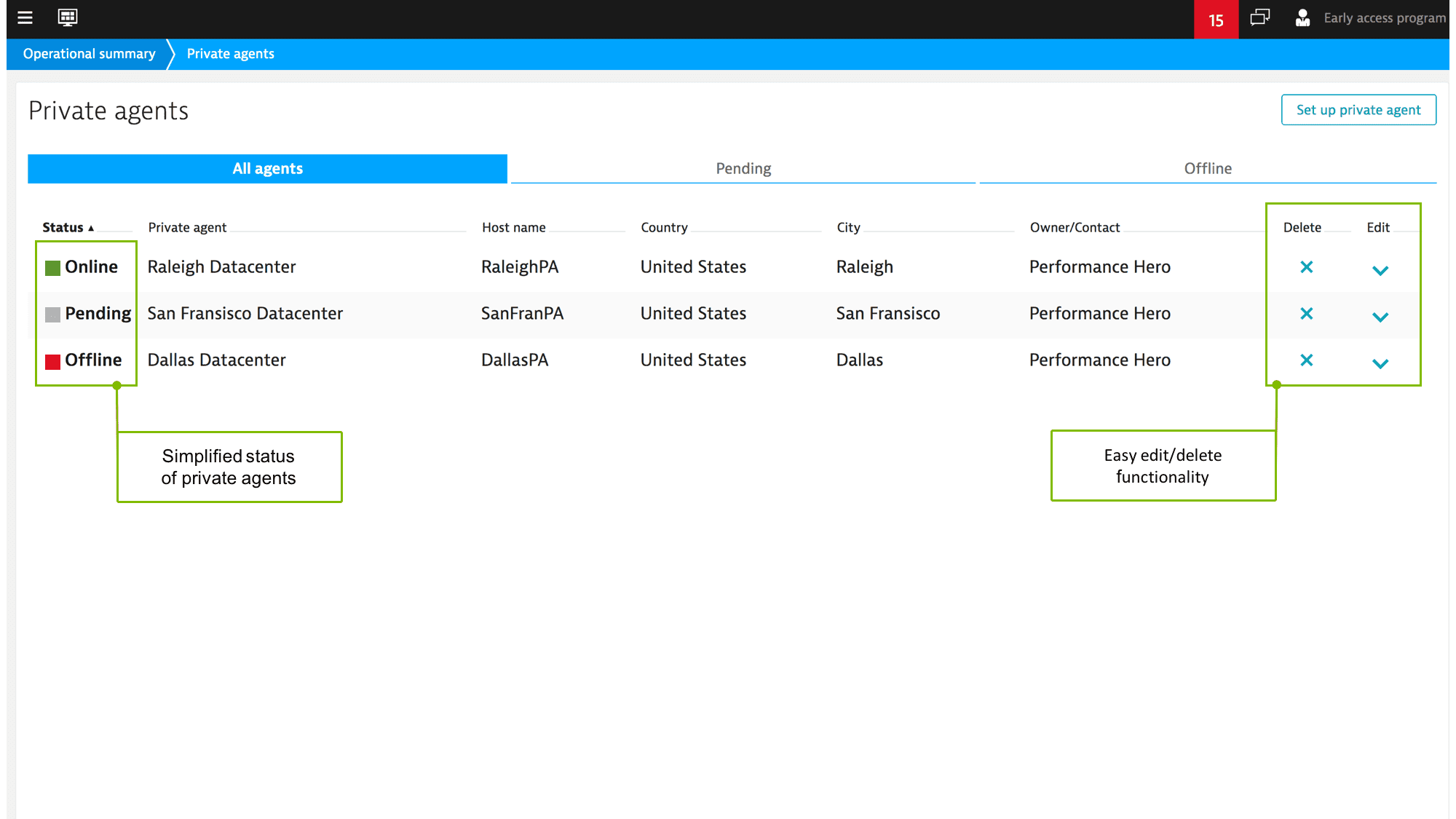 Resolved issues
These issues have been resolved in the Dynatrace Portal since the April 5, 2017 release:
In a My views dashboard with multiple charts, not all charts show data at the same time.
Unable to change account time zone settings.
Unable to edit folders in the Folder management page.
No image was available for screen captures.
Incorrect data was reported for Average DNS Time grouped by host.
MDW-7339 – Unable to filter the Trend details chart by Protocol.
MDW-7449 – Data was inaccurate in interactive charts.
PORTAL-6301 – In the Alert logs page, selecting Edit for an alert on a Private Last Mile test doesn't open the settings page for the test.
PORTAL-6306 – In the Trend details view, when a test is charted by steps and drilled down to the Raw scatter chart, clicking Summary for a test execution in the Details table doesn't open the Test details (Waterfall summary) page.
PORTAL-6320 – XF Usage allowance values were reported as zero (0).
PORTAL-6388 – In interactive charts, clicking the Interactive chart breadcrumb did not return to the main chart
The following issues were resolved in the April 5, 2017 release of Dynatrace Synthetic Monitoring.
PORTAL-2576 – Unable to search for Private Last Mile network machine profiles when no Private Last Mile agents are configured yet.
PORTAL-4926 – Improved support for non-English characters in the Dynatrace Portal.
PORTAL-5086 – Incorrect localization for some items in the Dynatrace Portal's navigation menu.
PORTAL-5219 – Could not send a sample alert to a newly created alert destination.
PORTAL-5252 – User account without admin permissions was able to change Account Settings.
PORTAL-5267 – In interactive charts, the tooltip for a data point displayed data for the previous day.
PORTAL-5374 – In the Maintenance windows page, could not add tests to a maintenance window that ends at Midnight.
PORTAL-5405 – The Dynatrace Portal locked out a user after the third failed login, but should only lock out after the fifth failure.
PORTAL-5439 – Editing a shared interactive chart changed its status to private instead of keeping it shared.
PORTAL-5710 – The Performance dashboard did not show errors or step detail for Last Mile and Private Last Mile tests.
SMRP-3217 – Playing back a transaction in the Web Recorder failed because login credentials were reset.
SMRP-3605 – When a Web Recorder transaction ran on the Chrome or IE Agent, DOM Complete metric data was not included in results.
SMRP-3947 – Private Last Mile PEER service running on Windows Service 2012 did not clean up old processes.
SMRP-3987 – Web Recorder transactions provisioned as Backbone Chrome or Firefox tests were incorrectly identified as Backbone IE.
Technical notes and known issues
While this release has been tested extensively to ensure that it works with all supported platforms and technologies, certain issues cannot be addressed from the product side. See the technical notes and known issues page for supported environments, significant technical details, and product limitations. Refer to our knowledge base for tips and workarounds.
News from the Dynatrace Community
Subscribe to the Synthetic Monitoring News feed to receive email notifications of new items.
To be notified of outages, planned maintenance, and scheduled upgrades, click Watch on these pages:
Check out the Dynatrace Synthetic Monitoring training modules available from Dynatrace University. Look for the series about monitoring best practices as well as other recently recorded training courses that will show you how to become more productive with Dynatrace Synthetic Monitoring.