Opening an Availability test into the Windows Recorder is not supported.
Scripts can be opened in two ways, depending on where they were saved:
From your local machine

From the Synthetic Classic Portal when the script has been uploaded
Open a local script
To open a script that is saved on your computer:
Click OPEN

at the top of the Recorder window. In the dialog box that appears, click Open Local.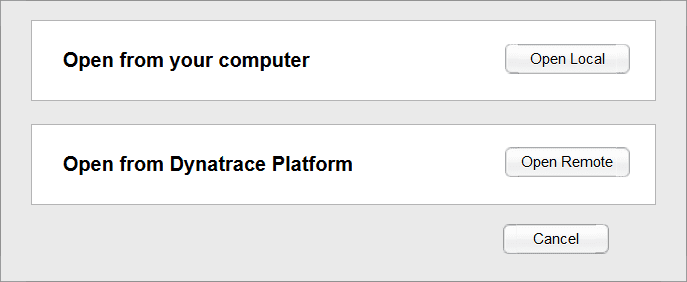 You can also select File > Open (local) in the menu bar.
In the Open Script dialog box, next to the File name field, select GSL or JSON, depending on the file format of the saved script. The default is GSL.


Navigate to and select the script, then click Open.
Open a remote script
Click OPEN  

. In the dialog box that appears, click Open Remote.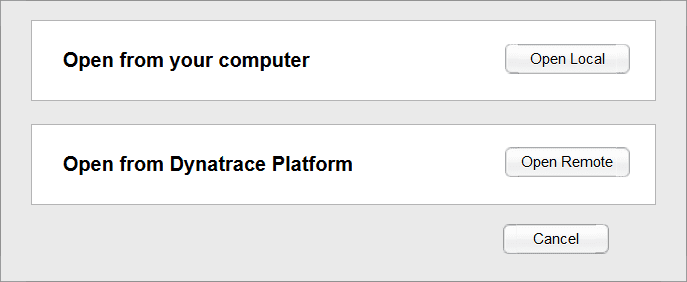 You can also select File > Open (remote).
Enter your username and password and click Log In.



If you are already logged in, you will not be prompted for this information and you can skip this step.If a username and password are specified in the Save tab of the Global Preferences screen, that user will be logged in automatically, if you are not already logged in.
If you select Remember this username / password, the login information will automatically be added to the Global Preferences.
A dialog box displays a list of tests in your account. Each test's monitor ID, agent, script name, and status are listed.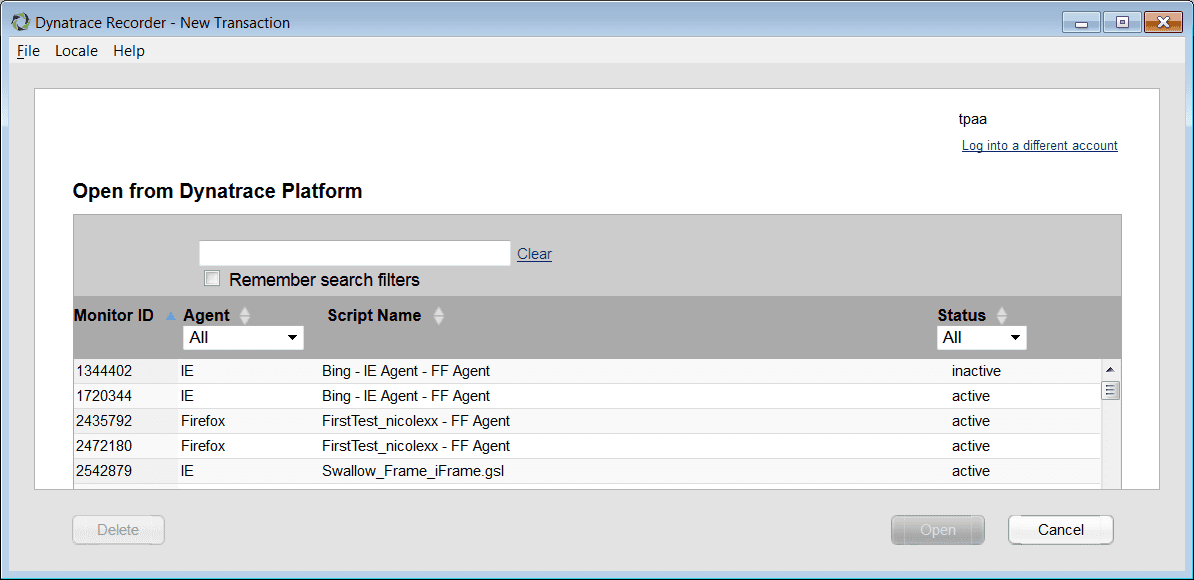 The username for this list of tests appears in the upper right-hand corner. To view the list of scripts from a different account, select Log into a different account below the username. A dialog box appears where you can enter the username and password of that account. After you enter that information, the dialog box reappears with the list of scripts for that account.
Click a column head to sort the table by that column.
To filter the list by Agent and/or Status, select the filter criterion from the drop-down list below the column head. The default selection is All (unfiltered).
To find a test by name, use the field above the test list. As you type a string, the list is filtered to show only the tests that contain that string; the string can be anywhere in the test name.

Select Clear to remove the search criteria from the field. If you select Remember search filters, the next time you open this dialog box the list will be filtered by the saved criterion.
Select the test in the table and click Open.