Creating an advanced script
Use the Create Advanced Script command in the Web Recorder to create a test that doesn't begin by navigating to a web page.
A common use for this command is creating a web services test.
Select

> Tests, then click Create test at the top of the page.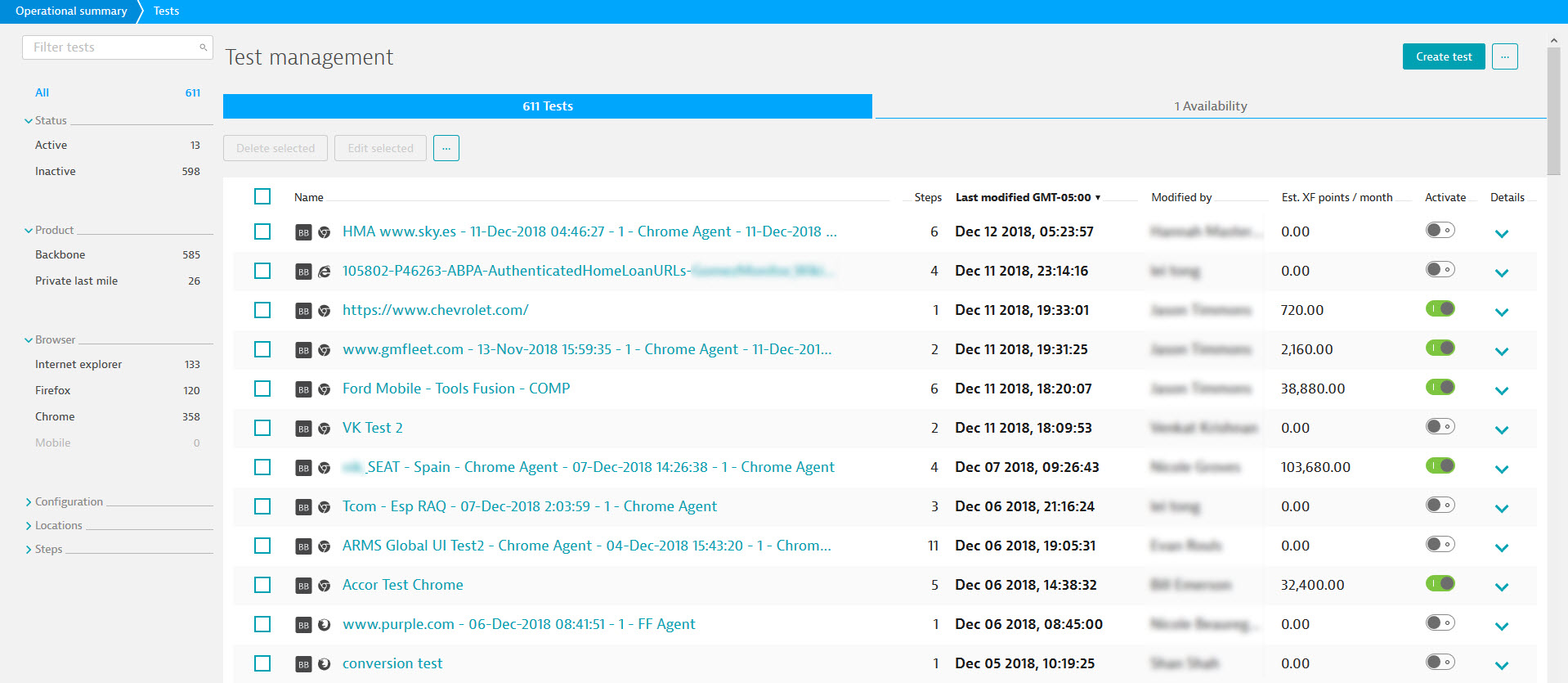 Select the test type:
Browser tests—Select the desired combination of Backbone or Private Last Mile tests and agents, then click Continue.

Mobile tests—Select Mobile, click Continue to proceed to the Choose Networks page. Backbone network is automatically selected. Click Continue.
On the Specify Scripts page, select Record a Transaction, then click Open Web Recorder to go to the Record a Transaction page.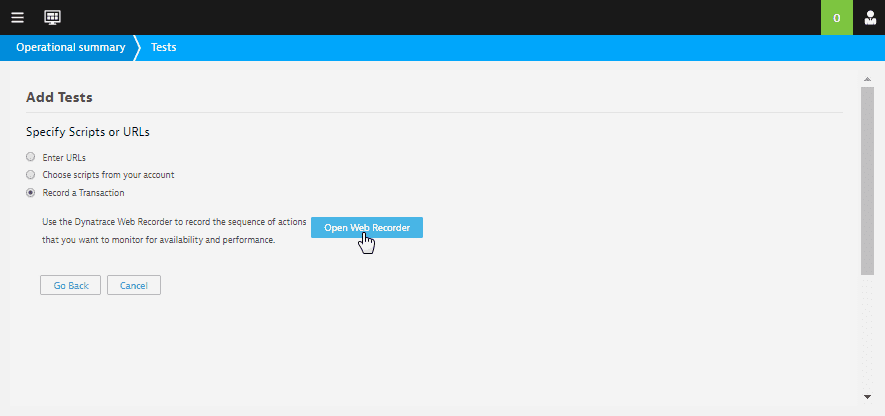 For mobile tests, you can select the mobile device and optionally define the geolocation on the Record a Transaction page.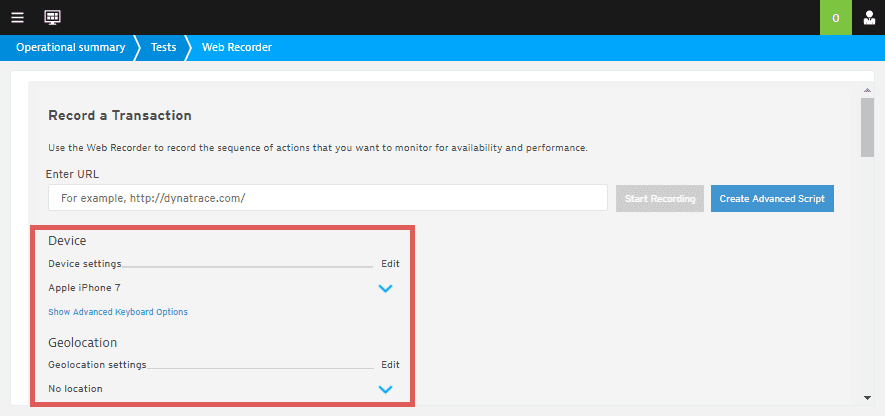 Click Create Advanced Script.
The Insert New Action popup window appears.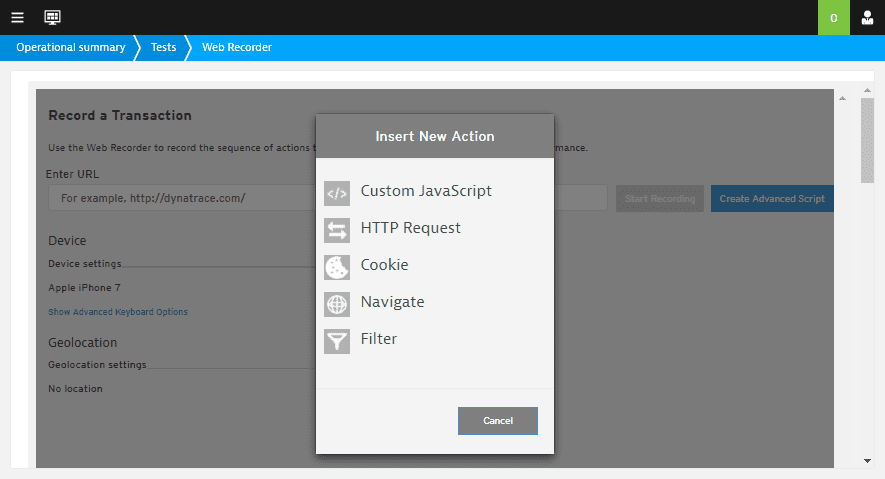 Select the action to begin the transaction.
For example, for a web services test, you may begin with a Custom JavaScript (Script) action that sets JavaScript variables to be used in the POST body of an HTTP request.
Edit the action settings. See Web Recorder actions for details.
When finished, click Back to Transaction at the top of the action's editing screen.
Click the plus sign

to the right of the action to insert the next action.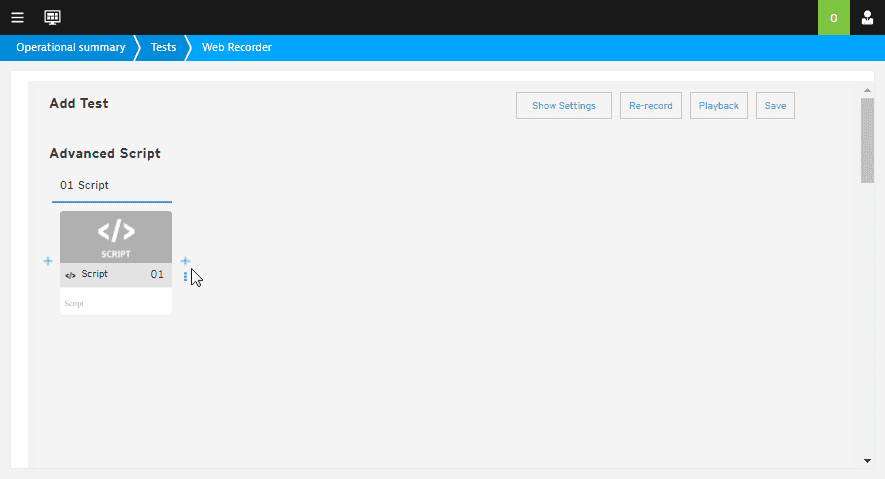 For example, in a web services test, you might follow the Script action with an HTTP Request action that uses the JavaScript results.
When you've added all the necessary actions, click Playback to verify that the transaction completes successfully.
Click Save to finalize the test.
The screen displays the default test name: Advanced Script <timestamp> - # - <agent>
The best practice is to change Advanced Script to a brief description of the test's purpose.
Click Submit.
The test is added at the top of the list on the Tests page.