Creating native application scripts from imported data
If you are accustomed to using a third-party proxy recording tool to capture web service calls from your native application, you can create Recorder scripts by exporting the third-party data as HAR files and importing those files into the Recorder.
This procedure uses Charles Proxy as an example third-party tool. For information on installing and configuring Charles Proxy and on using it to record HTTP traffic for your native application, refer to the product website at http://www.charlesproxy.com/.
We cannot guarantee support for operations that involve third-party products.
Record your application's actions.
Best practice is to record each action as a separate session, so each action will be a separate step in the Recorder script and the data can be managed more easily.
If you are using Charles Proxy, the activity is displayed as shown in the following figure.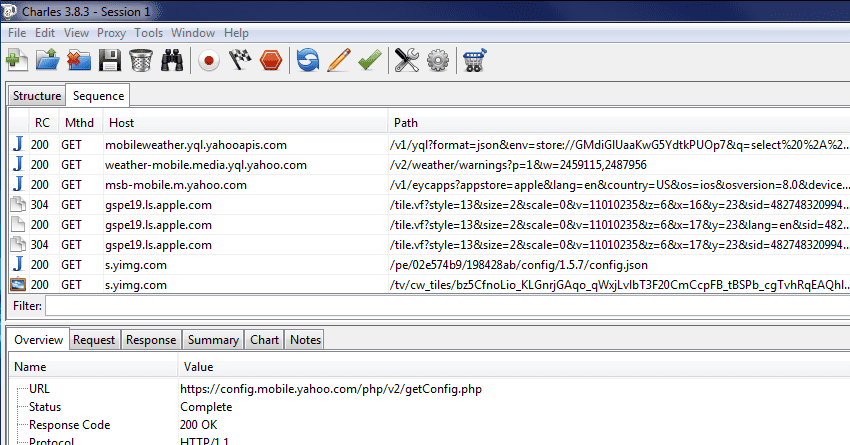 Save each session as a HAR file.
When the action is complete and no more data is added to the session, save the session.
For example, in the Charles Proxy interface, select File > Export. In the Save dialog box, select HTTP Archive (.har) in the Files of type field.
It is helpful to use file names that identify the application and the sequence of the sessions, so you can import the files into the Recorder in the correct order. For example: 01myapp.har, 02myapp.har, etc.
Import the HAR files into the Recorder.
Select File > Import from HAR.
In the Select a File dialog box, navigate to and open the first .har file.
Importing the file creates a new script with the default name New Transaction. The HAR file becomes a New Step consisting of an HTTP action and a Wait action, reflecting the action you performed in the native application and the pause after the action is completed.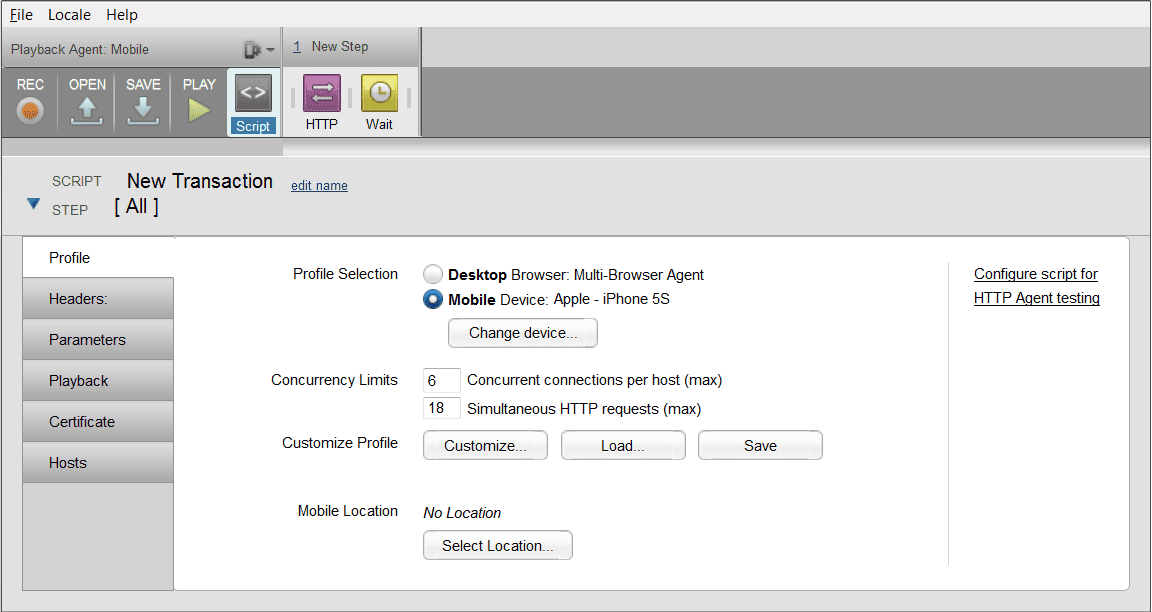 Select the HTTP icon

to view the data associated with the action, in the HTTP Requests tab. This tab lists the same HTTP requests that you saw in the proxy recorder window.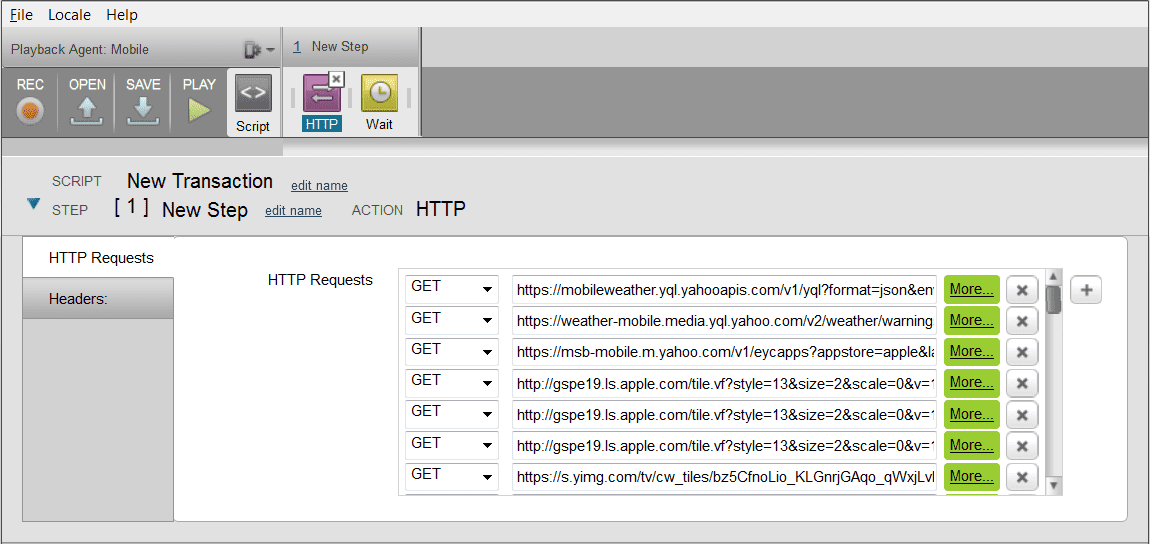 Name the step.
Select the step header in the timeline, click edit name, and type a brief, meaningful name in the name field. For example, if you were using a weather app, your first step might be Select City, to view the forecast for that city.
Repeat Step 3 and Step 4 as needed, in the order the sessions were recorded.
Each imported file is added as a new step at the end of the script timeline.

Configure the script.
Select Mobile for the Playback Agent.
Select the script icon

to access the script configuration tabs. Make sure the profile settings match your mobile device. See Mobile web scripts.
Click Play

to play back the script.
Review the script results to make sure the script ran correctly.