Private Last Mile requirements for Internet Explorer 10 and 11
This procedure is not required if:
You install Private Last Mile using the (non-default) installer than includes a built-in virtual machine.

Internet Explorer 7 or 8 is installed on the peer machine.
If you are going to run tests on Internet Explorer 10 or 11, you must configure security settings on the peer machine.
Because of limitations in these versions of Internet Explorer, it is not possible for the Private Last Mile peer to manage the browser cache separately from the user account. You must assign a user account to the private peer so that the Internet Explorer agent tests can be performed correctly.
Any user account can be assigned to the peer.
The user for the Internet Explorer account must be different from the user configured for the private peer (gomezpeer.exe).
We recommend a dedicated user account, because the user will share the Internet Explorer browser cache with the peer. If the user frequently uses Internet Explorer, the user's updates to the cache and the IE Agent's clearing of the cache may cause varying results in the Private Last Mile data.
If the peer machine uses a proxy to connect to the Internet, make sure the IE account user has access to use the proxy.
For details of creating a user account, refer to Windows help.
To add a user account to the IE configuration settings for the peer:
Open the Private Last Mile peer UI.
Select Options > IE account settings.
In the Configuration Setting for IE dialog box, enter the Account user name and Password for the new user account.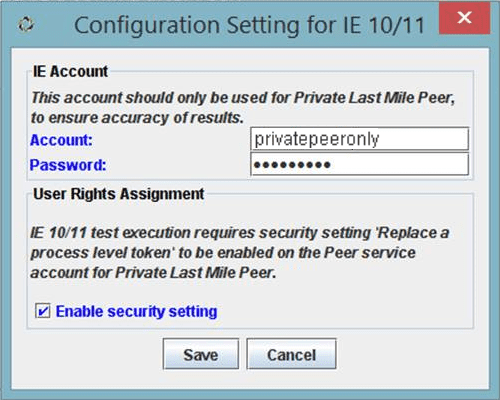 If the password for the account is changed, you must update the password in this configuration.
Select Enable security setting.
This option enables the Windows security setting Replace a process level token on the peer's service account. For more information about this setting, refer to the Microsoft TechNet page Replace a process level token.
Click Save to apply the configuration settings to the peer.