To go to the My profile page, click 

at the top right corner of the Portal, then click your username at the top of the menu.

Use the My profile page to define your login information and select your Portal preferences.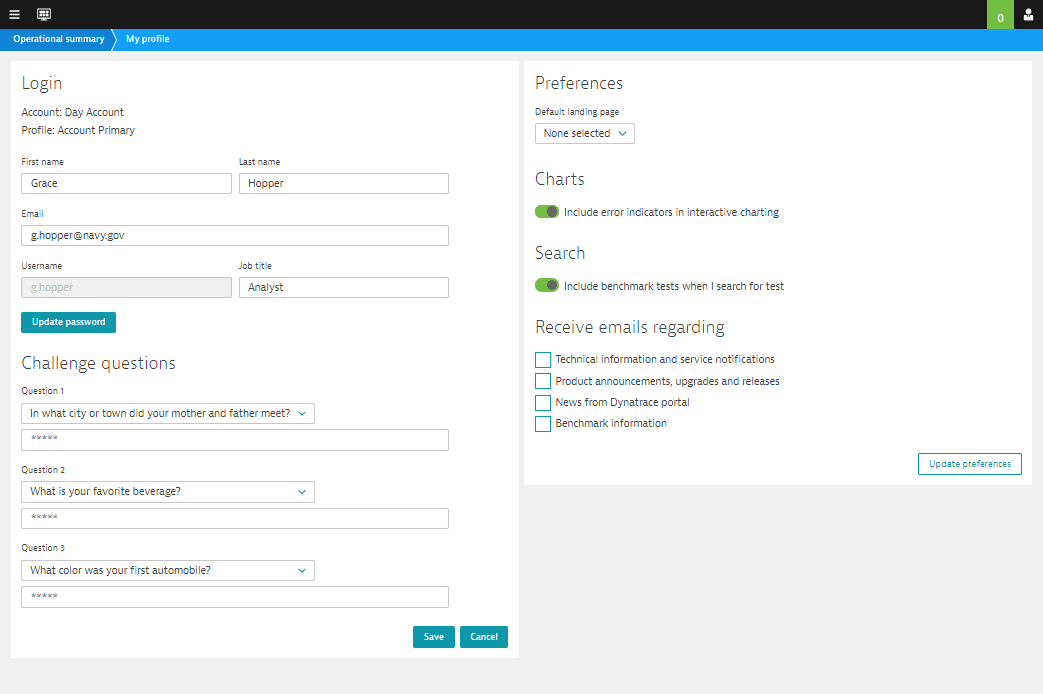 Login
The Login section lists your account name and associated profile(s), and shows the following information:
First and last name
Email address
Username
Job title
Password (encrypted)
Challenge questions and answers (encrypted)
All information can be changed except:
Account
Profile – The Account Primary user can change your profile if needed.
Username
Update password
To change your password, click Update password.
In the Update password page, you must provide your Old password before providing and confirming the new password. The passwords are obscured in the fields for additional security.

Use these guidelines when creating a password:
The password must have a minimum of eight characters with at least one letter, one number, and one special character.
The password must be different than your username.
A new password cannot be identical to your previous password.
Valid characters are alpha-numeric (A–Z, a–z, 0–9) and these characters:

Dash ( - )
Period ( . )
Forward slash ( / )
Underscore ( _ )
Colon ( : )
Percent ( % )
At ( @ )
Challenge questions
You must select and answer three challenge questions. These questions and answers are used if you forget your password: you must answer two challenge questions to receive an email with a link to reset your password.
Select a question and enter the answer in the field. Answers are not case sensitive and must be between three and 30 characters. Asterisks appear in the field as you type the answer.
Preferences
You can set preferences for:
Default landing page
Select the page that will appear automatically when you log in to the Portal.
Your default landing page overrides the account landing page.
You can make any Portal page your landing page by creating a browser bookmark/favorite for that page. When you use this bookmark/favorite to open the Portal, that page is displayed after you log in.
For example: your landing page can be a custom dashboard or an expanded chart tile, a raw scatter chart or waterfall chart, or the Test overview page for a selected test.
Charts
Select whether error indicators should appear in interactive charts. This setting does not affect charts in the Trend details page.
When Include Error indicators in charting is enabled, tests that have errors and tests that fail are identified by these icons in:

The test run completed but errors occurred.

The test run failed.
Search
Select whether Benchmark tests should always be included when searching for tests.
Receive emails regarding
When your username is created, the options to receive emails from Dynatrace are selected by default:
Technical information and service notifications
Product announcements, upgrade and releases
News from the Synthetic Classic Portal
Benchmark information
Clear the check box for any emails that you don't want to receive.
You can set a Watch on these Community pages to receive email notifications of page updates: