Last Mile, Private Last Mile, or Mobile tests can be set up as a batch order to make it easier to manage and configure your tests.
For Last Mile and Private Last Mile tests, a batch order can contain up to six URLs or three transactions.
Tests configured in a batch order will be executed sequentially from the same set of peers (for Last Mile and Private Last Mile tests) or nodes (for Mobile tests) to provide comparative measurements. Batch orders always execute tests in Monitor ID order, from lowest ID number (the oldest tests) to highest.
Batch orders table
Click 

> Tests and select the Batch Order tab.
The batch orders table displays the following information:
Name
Last modified – If the batch order was never modified, this column displays the date and time it was created. The column head lists the account time zone relative to GMT.
Modified by – The user who most recently modified (or created) the batch order.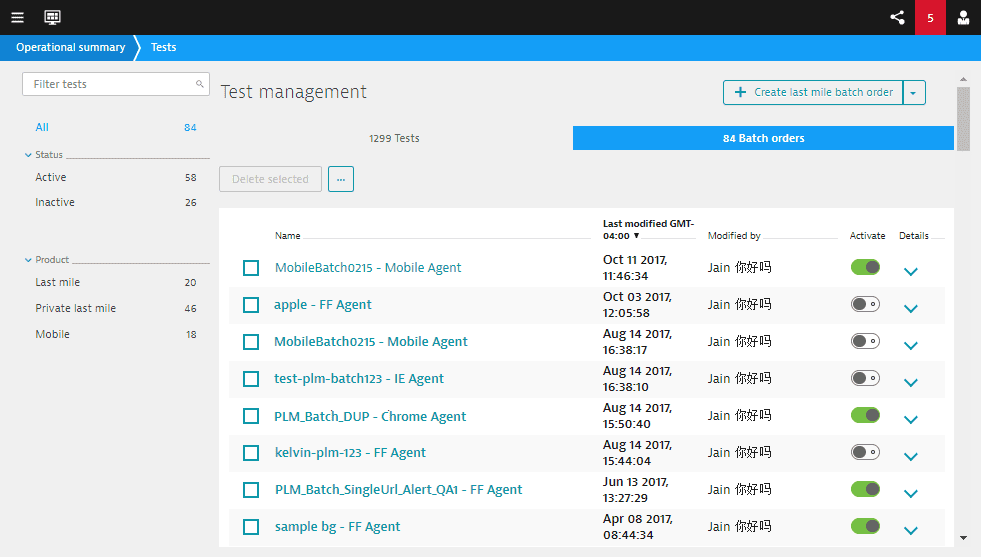 To view the details for a batch order, click the expand icon

in the Details column.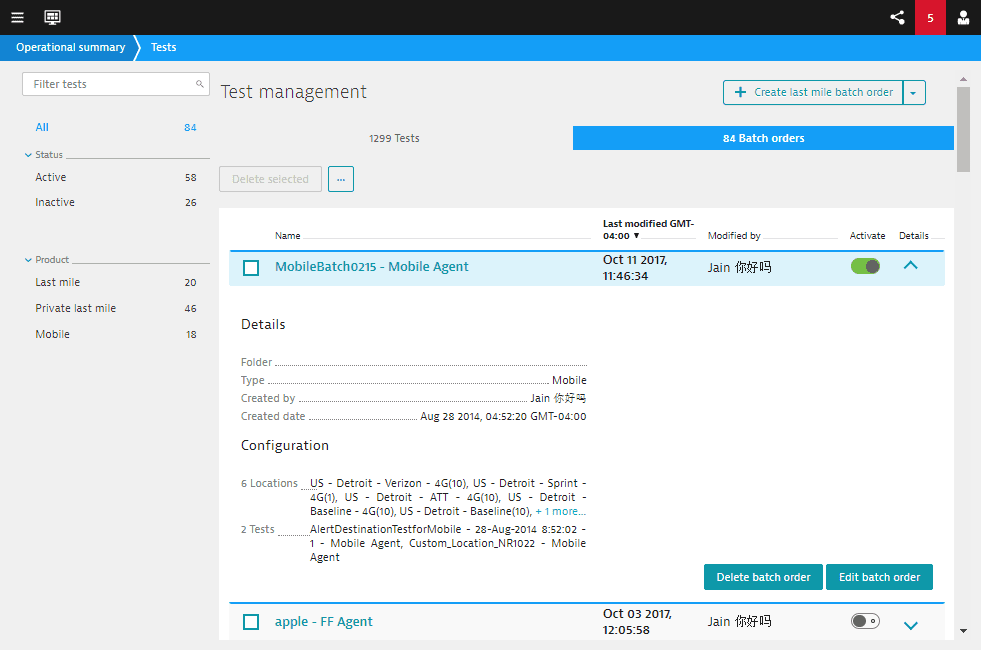 Filter the Batch orders table
Use the filters in the left sidebar to quickly find a specific batch order.
To search for a specific batch order, type any part of the name in the Filter tests field.
To filter the list by one or more configuration details, click the appropriate filters. You can filter by:
Status – Whether the batch orders are active or inactive
Product – The test type
Manage batch orders
In the Batch orders tab, you can:
Create a new batch order – Click the list at the top right corner of the page and select the batch order type to go to the Create Batch Group page.

Activate or deactivate a batch order. Click the switch to change the status.

Edit a batch order – Expand the batch order and click Edit batch order to go to the Edit Batch Group page.

Delete a batch order – Expand the batch order and click Delete batch order. Note that deleting a batch order cannot be undone, and you will not be prompted to confirm the deletion.
To manage multiple batch orders at the same time:
Select the check boxes for the batch orders.

Click the control above the batch order list:

Delete selected
Edit selected
– Activate or deactivate the batch orders