Your custom dashboards are available through the Dashboards page. Click the Dashboard icon

, or click

> My dashboards.
A custom dashboard contains tiles to display the measures (metrics) that provide the data you need for the tests of most interest to you, in the chart styles that best illustrate the data. You can arrange and resize the tiles to optimize the data display.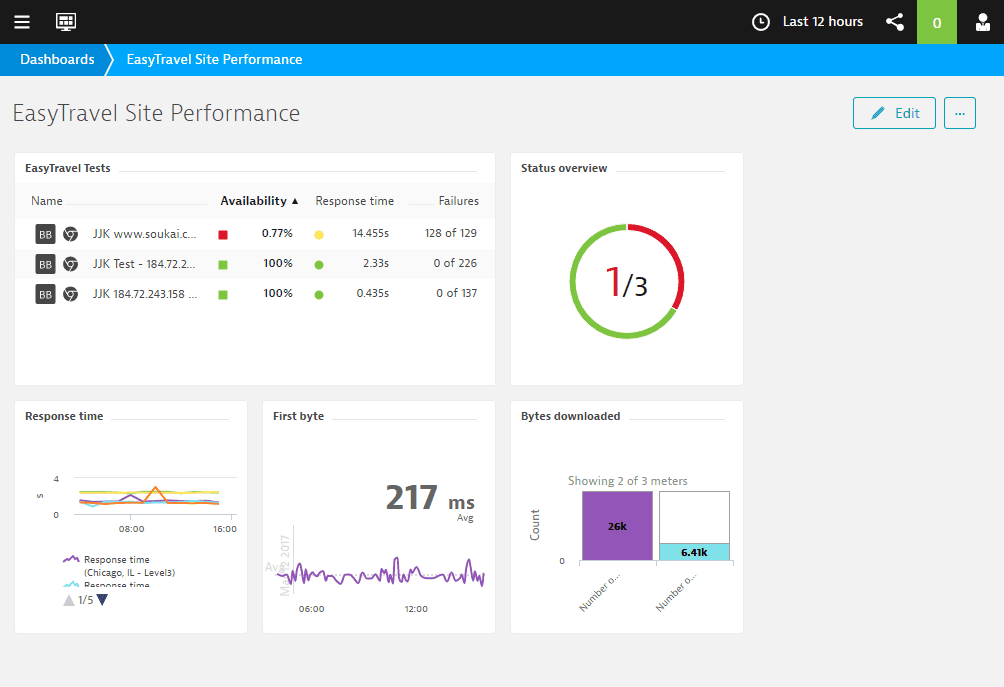 Expand a tile
For information about the tiles you can add to a dashboard, see Custom Dashboard Tiles.
Click a tile to expand it. For information about viewing and analyzing the data, see Trend Details.
Click the dashboard name in the breadcrumb trail to return to the dashboard.
The data in dashboard tiles is automatically refreshed every 5 minutes.
You can change the time frame and resolution in the Trend details view. See Dashboards for details.
Create a custom dashboard
In the Dashboards page, click Add dashboard.

The new dashboard contains one blank tile.

Type a name in the New dashboard field.
Make sure the name is not already used; you will not be prevented from assigning a duplicate name.

Click the default tile to configure it. For details, see Custom Dashboard Tiles.

To add another tile, click Add tile, then click Edit tile to configure the tile.
Repeat this step as needed. You can add a maximum of 16 tiles.

Optional: To add a logo to the dashboard, click the logo icon  to the left of the title field and enter the URL for the image.

The image must be hosted online and must be GIF, PNG, or JPG format. The image will be scaled to a width of 40 pixels.
Click Done.
Edit a custom dashboard
You can only edit dashboards that you created.
Open the dashboard, then click Edit in the top right corner. Make the desired changes, then click Done at the top right of the dashboard.
Warning
Changes to the dashboard are saved automatically, and cannot be undone.
Add or edit the logo – Click the logo icon. To add or replace a logo, enter the new image's URL in the Set dashboard image field. To remove the logo, delete the URL.
Rename the dashboard – Delete the current name and type the new name in the title field.
Rearrange the tiles – Click the move control at the top right corner of the tile and drag the tile to the new location. The other tiles adjust their positions automatically.
Resize a tile – Click and drag the control at the bottom right corner of the tile. The other tiles adjust their position relative to the resized tile.
Edit a tile – Click the tile to open it in the Tile configurator. See Custom Dashboard Tiles.
Add a tile – Click Add tile at the top right of the dashboard. See Custom Dashboard Tiles.
Delete a tile – Click the checkmark at the top of the tile to select it, then click Delete tile at the top right of the dashboard. Deleting a tile cannot be undone.
Manage custom dashboards
See Dashboards for information about:
Copying a dashboard
Sharing a dashboard with other users in your account
Adding a dashboard to your Favorites tab
Deleting a dashboard