Searching for tests or steps for reports
Use the test search page to select tests or steps for reports.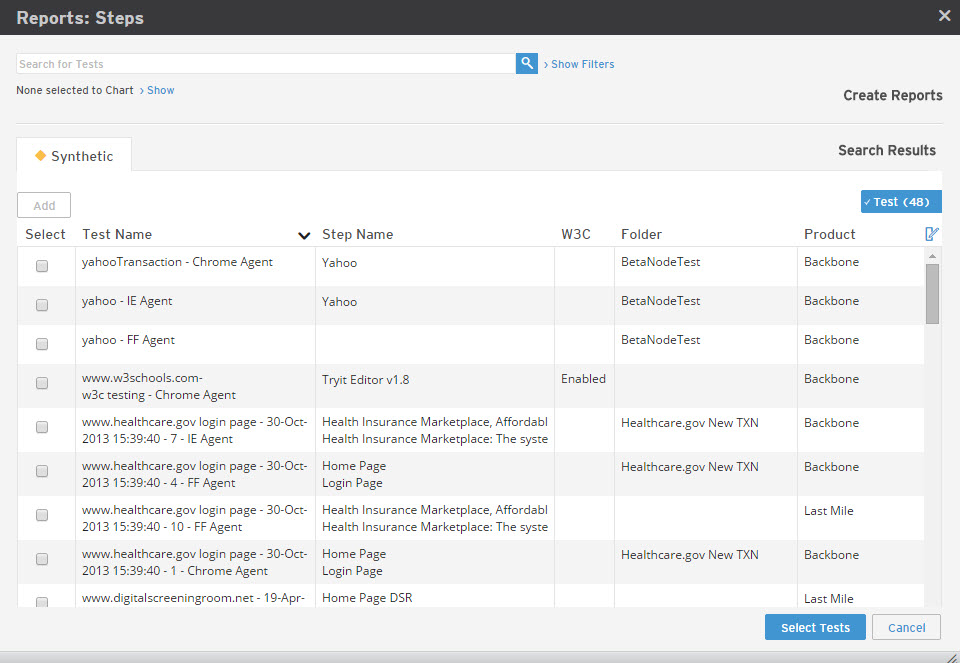 Search results are updated dynamically as search criteria are entered or changed. Search results may include benchmarks.
Test search page
This search page is divided into three sections:
The search field for entering search criteria.
The Create Reports section that displays the items to chart. This section only appears if the report template includes one or more charts.
The Search Results section that displays search results.
For all tables shown on this page:
Customize the columns that appear in any table by clicking located in the far right corner of the table.
Select a column to sort it.
Selecting tests or steps for a report
Select the items to chart in the Search Results section.
Do one of the following:

Click Select Tests. The tests or steps selected in the Search Results section or those listed in the Create Reports section, if enabled, appear in the Define Your Report page.
Click Add. The items appear in the Create Reports section of the page.
Edit the selection or add additional tests or steps.
Click Select Tests when complete.
Search section
At the top of the page is a search field to enter the search criteria.
Basic search searches for active tests in all categories for all products. Filters are also available to search for tests.
Enter the search criteria in the field.

Optionally, select filters to make it easier to find tests.

Click Show Filters, located to the right of the search field, to display the filters.
Click Hide Filters to hide these filters.
Click Reset to reset the filters to their default values.

Select the filters to use.
The items that match the search criteria appear in the table.
Create Reports section
In the middle of the page, the Create Reports section lists all of the tests or steps selected for the report.
If the report is for one test only, this section does not appear.
This section is empty if no tests or steps have been selected.
Depending on the report, the following information may be shown by default for each test selected:
Product Type
Project/ Folder/Application Name
Test/Path Name
Step/Page Name
Event Name
Product
In this section:
Click Hide to hide this section on the page.
Click Show to redisplay this section.
To remove an item, select it and click Remove.
Search Results section
Search results are listed in the

Synthetic tab.
A Test or Step tab appears on the right side of this section showing the number of search results found.
The Test tab shows the following information by default for each test:
Test Name
Step Name
W3C
Folder
Product
The Step tab shows the following information by default for each step in a test:
Step
Step Name
Step URL
Test Name
Folder
Product