Using filters for interactive charts
To open the Filters window, click the Filters link above the interactive chart. When one or more filters have been selected, the link text is the filter names. If no filter is selected, the link text is None.
By default, all values for each filter are selected is the Filters window.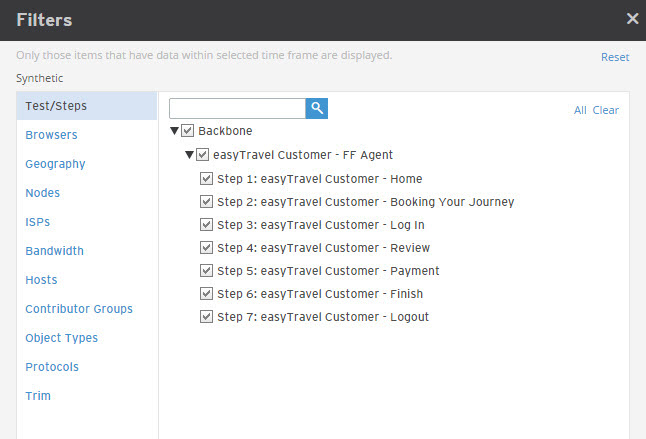 The tabs and filters that appear in this window depend on the metrics and types of tests you selected to chart. The filters are listed in the left pane.
To filter the chart:
Select a filter. See below for information about the filters.

Optional: Within a filter, search for a specific item by entering search criteria in the search field. Search results are updated dynamically as the search criteria is entered or changed.

Select the items for each filter.

Click All to select all items shown for this filter. Click Clear to clear all selections. As you filter the information, a filter icon appears on the tab.

Optional:

Repeat steps 2–4 to select additional filters for this test type.
Click Reset to reset all filters to their original values.

Click Update. The chart is refreshed with all filters applied.
Filter types
Which filters are available depends on the test type: Backbone or Private Last Mile.
When selecting to exclude contributor groups, additional contributor groups may be removed from the chart. This is because a contributor group can contain hosts that are included in other contributor groups. Selecting to remove a contributor group automatically removes all contributor groups that have the same hosts.
Filters for all test types
These filters may be available for all test types:
Test/Steps
Browsers
Geography
Bandwidth
Hosts
Contributor Groups
Object Type
Protocol
ISPs|Carriers

ISPs for Backbone and Private Last Mile tests
Backbone test filters
Additional filters for Backbone tests are:
Private Last Mile filters
Additional filters for Private Last Mile tests are:
Using the trim filter
Frequently, it is convenient to remove or trim unusually high or low values to make a chart clearer and interpretation easier. By default, values in the chart are not trimmed.
Depending on the metrics and groupings of the original chart, you can trim results for Backbone and Private Last Mile tests by:
To trim results:
Select the Trim filter for Backbone and Private Last Mile tests:

In the Above field, enter the lowest value to use to trim results.

In the Below field, enter the highest value to use to trim result.