The Http summary page shows you the critical measurements for an Availability test.
Drill down to the Http summary from these pages:
Trend details – Click a data point and select Http summary from the tooltip.
Raw scatter – Click a data point and select Http summary from the tooltip. You can also click Http summary in the Summary table or Details table.
Error analysis – In the Error list, expand an error and click Http summary.
In the Http summary page, data is available for all test executions within the same hour as the selected execution, even if the parent chart's time frame is longer than 1 hour. For example, from a test that ran at 11:40, you can go back or forward to other test executions (if any) between 11:00 and 12:00.
Test summary information
The Http summary page provides the following information:
The test name and measurement location.
The URL for the monitored page.
The date and time of the selected test execution.
Click the timestamp for the Selected execution to see a list of all available test executions; click a timestamp in the list to go to that test execution.
If the test failed, a brief description of the error that caused the failure is displayed below the timestamp.
Summary statistics:
A timeline that graphically depicts the metrics collected for the step, using a different color for each metric.
Hover over a color section of the timeline to view the metric name and its value.
The request header.
The response header.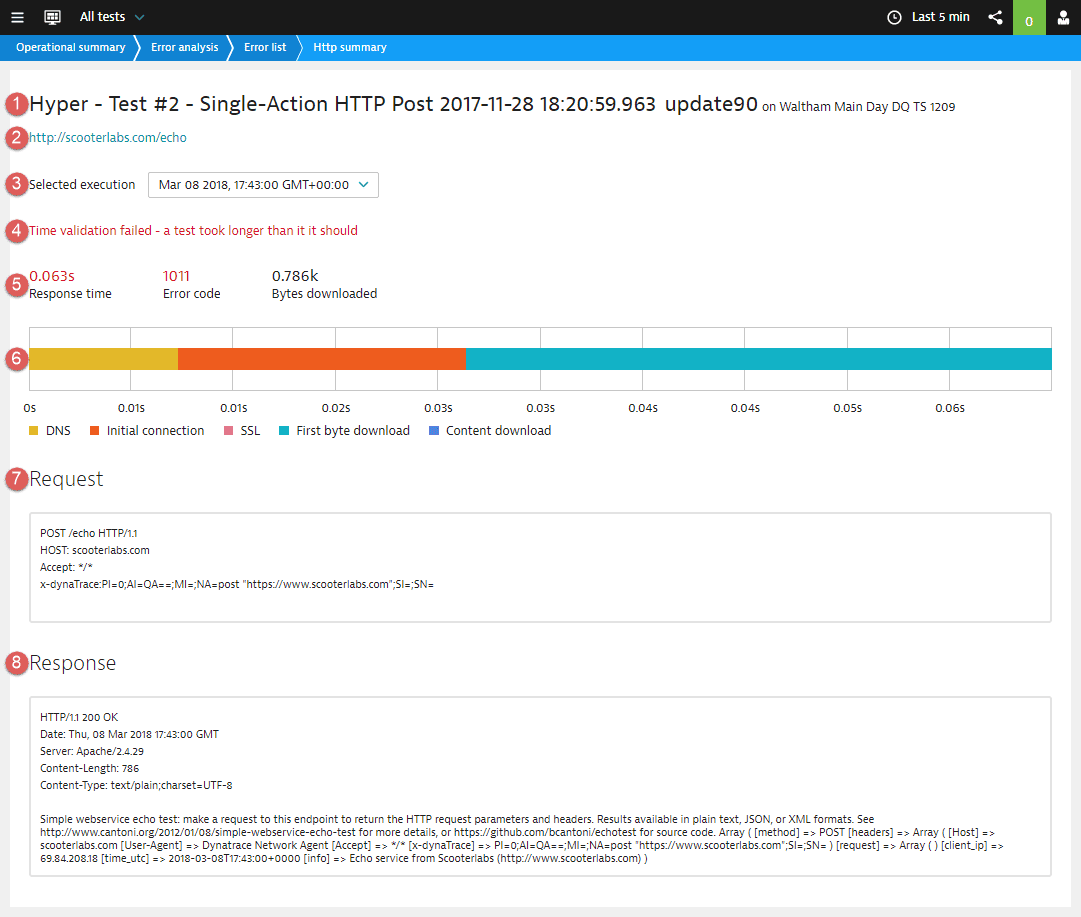 Http summary metrics
Content download – The time spent downloading the total content of the object. If the content is downloaded entirely in the first packet received and no additional packets are downloaded, this metric is not reported.
DNS – The time required to resolve the IP address of the host.
First byte download – The time between the end of the request and the arrival of the first packet of the response.
Initial connection – The time to open a TCP/IP connection.
Response time – Total time for the test to execute.
SSL – The time to establish an SSL connection.