Users with the Account Primary profile can access the User management page to add users, reset a user's password, and edit or delete users.
To go to this page, select 

> User management.
The user table lists all users in your account. You can sort the table by any column:
First Name
Last name
Username
Profiles – The number of profiles assigned to a user.
To view additional details about a user or manage the user, click the expand icon

in the Details column.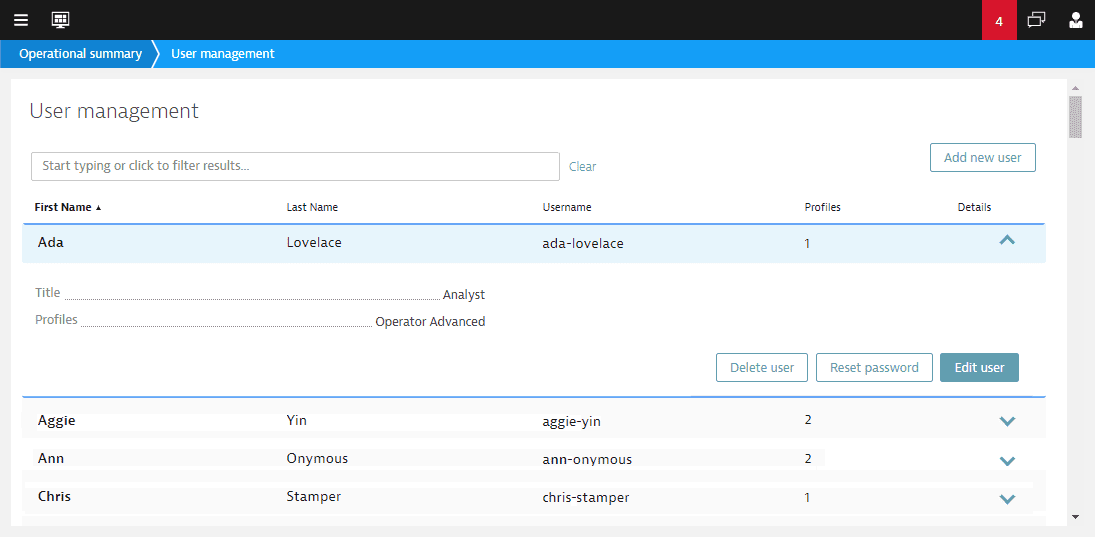 Find a user
To find a user easily:
Click in the filter field above the user table to display the list of column headings.
Select from the column headings list, then select the filter criterion.
If the criterion list is long, type the first characters of the item you're looking for to filter the list. For example, to find user Grace Hopper, select Last Name, type h in the field, and continue typing the name until you see it in the table.
Adding a criterion automatically displays the column list again so you can apply additional filters. Repeat step 2 as needed.
The user table is automatically filtered as you select each filter criterion.
To display the entire list again, click Clear next to the filter field.
Add a user
Click Add new user at the top right of the User management page to display the Add new user page.
Provide the user information.
All fields must be filled in, and at least one profile selected.
Click Add new user at the bottom of the page.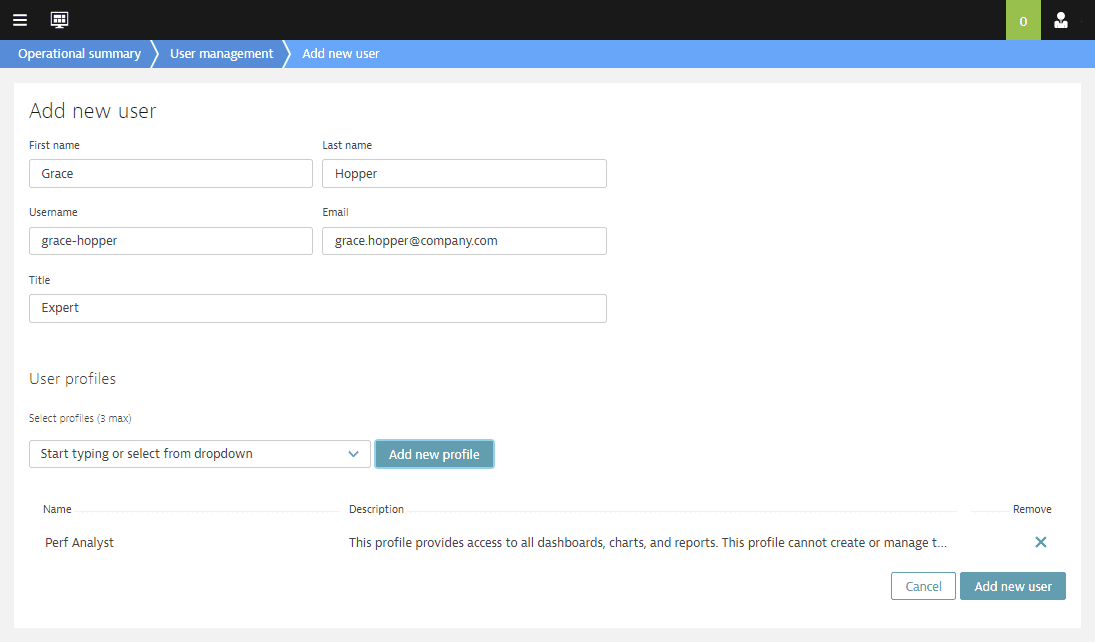 The new user will receive an email message with instructions for completing the registration.
Reset a user's password
When users who forget their password fail to answer their challenge questions, email is automatically sent to the Account Primary user to request a password reset. The email provides the username, first and last name, and email address of the user who needs a reset.
To reset a user's password:
Click the expand icon for the user.

Click Reset password.
An email is sent to the user with instructions for resetting the password.
Only Reset password is available when you expand your own user listing. To edit your own user details, go to the My profile page.
Edit a user
Click the expand icon for the user, then click Edit user to display the edit screen.
Change the user's details as needed.
The username can't be changed.
Click Save user to save the changes and return to the User management page.
Delete a user
Deleting a user can't be undone.
Click the expand icon for the user, then click Delete user.
Click Yes to confirm the deletion.
If reports are assigned to the user, the list of these reports is displayed. You can either delete the reports or reassign the reports to another user. After deleting or reassigning the reports, you can delete the user.