General
---
Recommendations
How can I verify if my existing hardware can still run the latest NAM version?
In order to check if your hardware specs meets NAM 2018/2019 hardware requirements, see the NAM Server and NAM Probe requirements.
Is it allowed to upgrade the Report server and Console to the latest release of NAM without upgrading the Probe until a later period of time?
Yes, but note the backwards compatibility between components in different versions should be considered a temporary setup during the upgrade process. Rule of a thumb is NAM Console and NAM Server are typically backward compatible with NAM Probe running older version, but not vice versa.
We also do not recommend to make configuration changes to your monitoring configuration until all product components are in the same version.
How should verify NAM installation after upgrade?
These are main points for verification:
if you can log in to the NAM server (via NAM console) using built-in SSO mechanism
if the NAM server is up-to-date with data processing from your NAM Probes
if your essential DMI reports work properly
if you are getting all the alarms you need
What procedure should we follow in order to rollback to previous release just in case upgrade fails?
Follow this guide to perform migration rollback.
In a nutshell, the rollback process means:
removing/uninstalling the new product version
re-installing old product version
restoring configuration/settings for the old version from backup
restoring databases (NAM Console, Server) from backup
Therefore it is essential to make backups of the databases and the whole configuration before starting upgrade.
Licensing
---
How to obtain a new license for NAM 2018/2019 ?
Contact License Management team to obtain new license for the NAM release.
All NAM licenses come in eServices format (dcrum_license_xxx.lic) nowadays.
Your existing component-based DLM license will be converted and upgraded to component-based eServices license which you would need to apply to your NAM server after upgrade.
Your existing capacity-based eServices license will be upgraded to component-based eServices license which you would need to apply to your NAM Probe after upgrade.
DLM is no longer used to manage licenses in NAM 2018 and NAM 2019 releases.
Use the NAM Console for all licensing tasks from now on.
See Licensing chapter for more information.
Is there any extra licensing cost is required for migrating from DCRUM 2017 to NAM 2018/2019 ?
There are no license costs related to upgrade to NAM 2018 or 2019 release.
How can we check if we have component based or capacity based license?
Check value of license.type setting in /usr/adlex/config/rtm.confg file on your NAM Probe.
license.type=1_or_2

1 = Component
2 = Capacity
NAM Probe
---
Why is firewall service enabled after AMD upgrade?
NAM Probe 2018 enables a default firewall service in RHEL 7 (firewalld) to control incoming and outgoing network traffic based on configured security rules.
Communication interface is added to public zone that accepts incoming traffic to the following services:
ssh
dhcpv6-client
tcp/443 and udp/514 - redirect ports to rtmgate service ports
NAM Probe uses rtmgate process to communicate with other product components such as NAM Console, NAM Server and Dynatrace AppMon server. It is also used to accept and parse TCAM (Thin Client Analysis Module) sessions mappings data. TCAM is a NAM agent installed on Citrix XenApp servers. The rtmgate service itself listens on high ports: TCP port 8443 and UDP port 9093 and the system firewall is configured to redirect incoming requests from TCP port 443 to TCP port 8443 and from UDP port 514 to UDP port 9093.
Compatibility notes
Citrix 7.x
In general, the NAM ICA decode and TCAM work with all Citrix 7.x releases, but you should be aware of the following limitations concerning NAM and Citrix 7.x:
TCAM reports a loopback address as the client IP address if the client comes through NetScaler.
The ICA decode does not report on Citrix Framehawk channels or on traffic that uses Citrix EDT transport (a Citrix protocol that enhances UDP) instead of TCP.
Can we disable firewall service?
NAM Probe is pre-configured to operate with the presence of the system (RHEL) firewall and we do not recommend disabling it.
Firewall service is enabled by NAM Probe to enhance security of the device. Depending on your deployment scenario, you may require additional firewall exceptions or port redirection for your NAM Probe. If need be you can add one of the NAM Probe communication interfaces to a trusted zone (all network connections will be accepted) and keep the firewall service up and running. You can also add a specific tcp/udp port or the port range to firewall's public zone. Use the official RHEL documentation for more advanced firewall settings.
We have organization specific RHEL 7 image which we want to use. What dependencies we should review before preceding with Probe installation?
NAM Probe installation process is described in this chapter.
Two main sub-chapters for you to review are:
I received NAM Probe build for installation that is greater than the service pack version installed on NAM Server. Can I safely install it?
This is a special case when there is a bug fix implemented for NAM Probe and the version of upgrade.bin file containing the fix is greater than the latest service pack available.
Bug fixes for NAM Probe require to prepare a new upgrade.bin build. Once a service pack is released no new upgrade.bin builds are produced for the same service pack version but with an increased service pack revision number.
For example:
upgrade-amd-amdos7-x86_64-ndw-18-00-03-0063-b001.bin is NAM Probe 2018 SP3 build
some problem is discovered after SP3 release date and a bug fix is created
new NAM Probe build is produced and the service pack revision number is increased by one
new upgrade-amd-amdos7-x86_64-ndw-18-00-04-0011-b001.bin is provided for installation it is okay to install this new build and it will be compatible with NAM Console SP3 and NAM Server SP3, unless noted otherwise in a support ticket.
I am unable to install NAM Probe software as it shows missing dependencies even though --test-system option indicates no errors.
After installing RHEL or CentOS with NAM Probe kickstart file it is not possible to install NAM Probe software and despite upgrade.bin --test-system showing no missing OS dependencies.
Problem details
An attempt to install NAM Probe software:
./upgrade-amd-amdos7-x86_64-ndw-18-00-04-0024-b001.bin --automatic --licenses-type capacity

is not successful due to missing OS dependencies: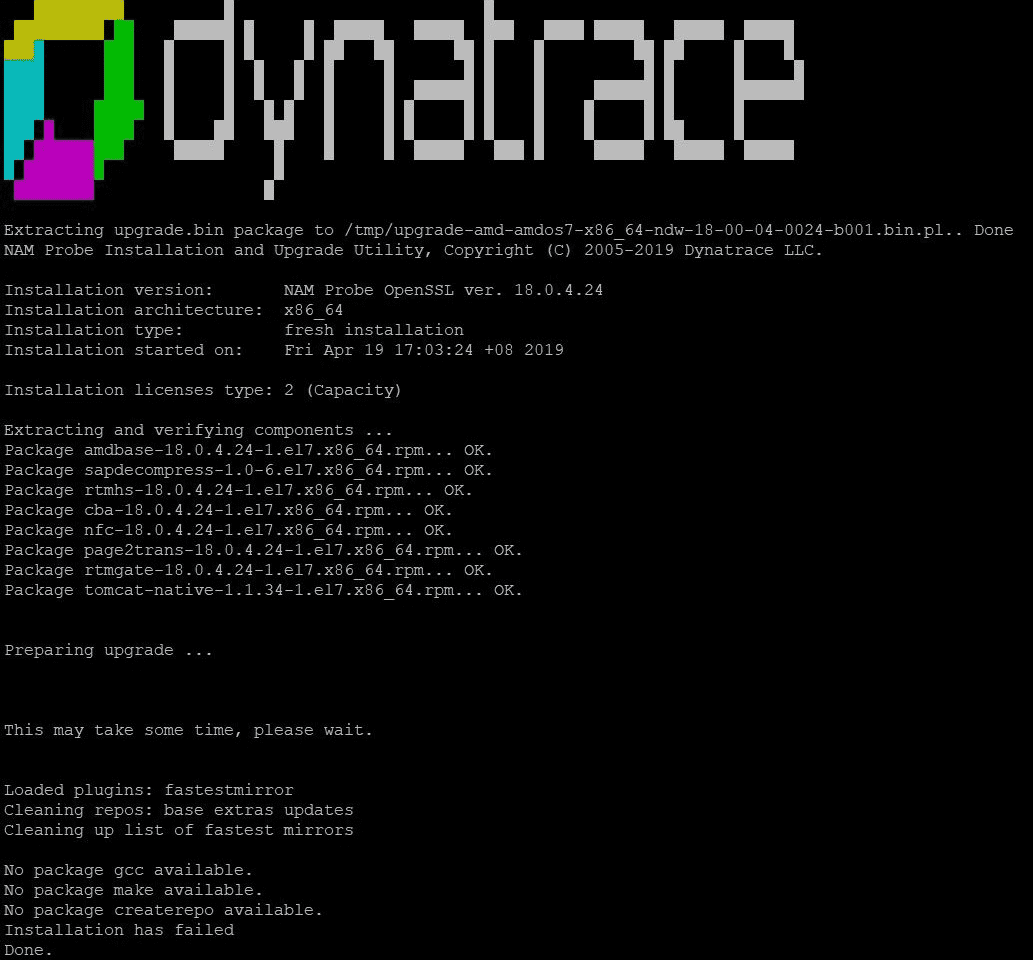 even though OS system check:
./upgrade-amd-amdos7-x86_64-ndw-18-00-04-0024-b001.bin --test-system

shows nothing is missing and that it is OK to install NAM Probe software: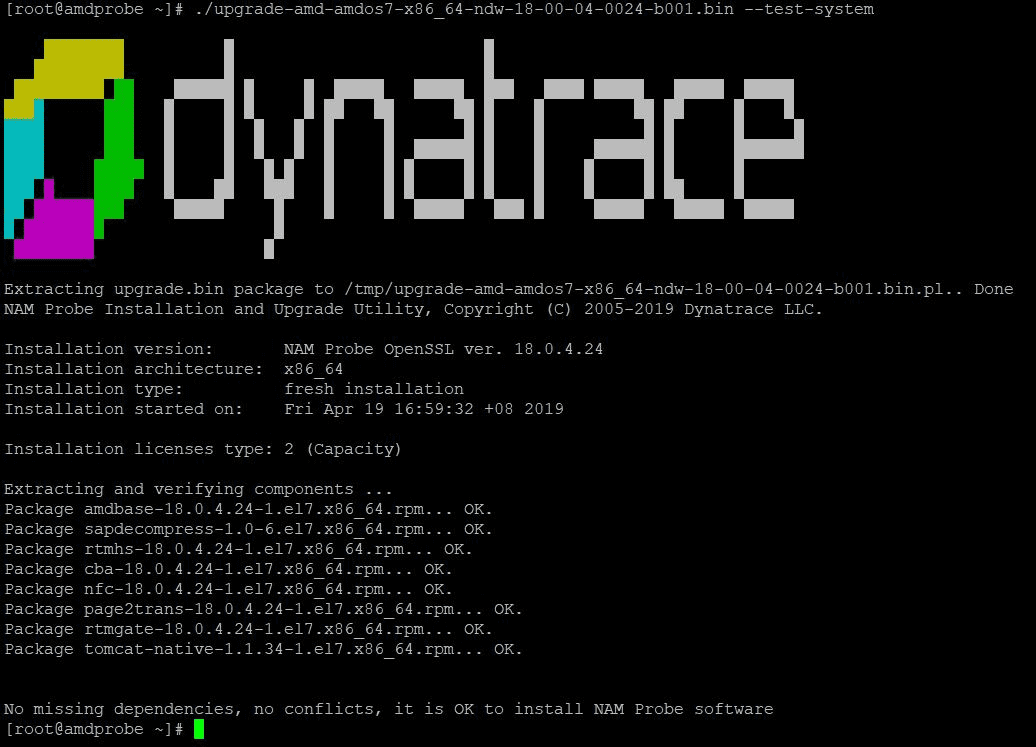 This problem may happen if the NAM Probe has no Internet connectivity. upgrade.bin uses yum to resolve dependencies and to deploy NAM Probe components. The problem occurs when yum cannot access its online repositories: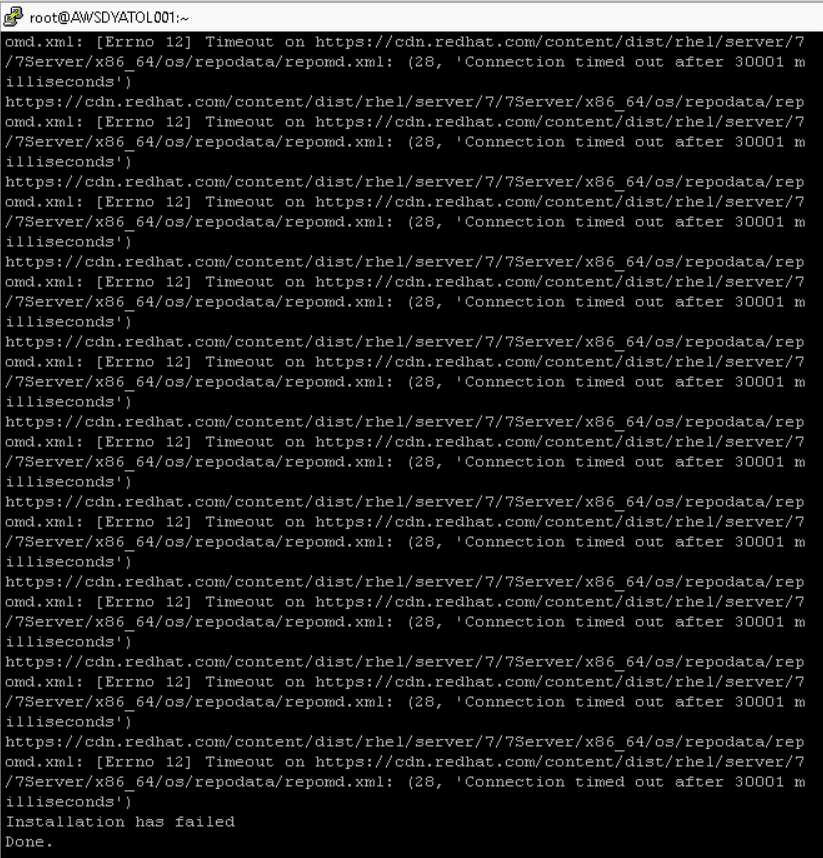 Solution
OR
Disable yum online repositories and plug-ins:
Disable RHEL OS repositories in yum configuration:
yum-config-manager --disable \*

Disable yum plug-ins: product-id, search-disabled-repos and subscription-manager.
Every installed yum plug-in has its own configuration file in the /etc/yum/pluginconf.d/ directory. To disable a given plug-in set enabled=0 in /etc/yum/pluginconf.d/plugin-name.conf file.
Disable CentOS repositories in /etc/yum.repos.d/CentOS-Base.repo file.
Add enabled=0 key to [base], [updates] and [extras] sections.
Disable yum plug-in: fastestmirror
Set enabled=0 in /etc/yum/pluginconf.d/fastestmirror.conf config file.
Does the kickstart script for Linux perform disk partitioning? Does the kickstart script use LVM at all?
During RHEL or CentOS installation using kickstart file (amdrhel7.cfg) disk partitioning happens automatically.
Three partitions are being created:
/boot - 1 GB
swap - auto-sized by RHEL based on amount of RAM in the system (see Table 8.3. Recommended System Swap Space in RHEL documentation).
/ (root) - ext4 partition with the remaining disk space.
LVM (Logical Volume Management) is not used by our kickstart.
Linux kernel upgrade considerations
Before you upgrade the Linux kernel in your NAM Probe, always check the supported versions page to make sure the NAM Probe version you currently have supports the kernel version you intend to install.
If you are running a NAM Probe that does not support this kernel, first upgrade your NAM Probe to a higher version and then upgrade the kernel.
Otherwise, your NAM Probe software may to stop working, especially if you currently use a customized driver; driver compilation may fail after kernel upgrade with older versions of the NAM Probe. In the worst case, your NAM Probe may become unresponsive after OS reboot.
To test your system for missing OS dependencies, execute this command:
./upgrade-amd-amdos7-x86_64-ndw-17-00-08-0036-b001.bin --test-system

These required packages are typically missing when you install a new kernel:
kernel-devel - must be the same version as the new kernel being installed
kernel-headers - must be the same version as the new kernel being installed
gcc,make and createrepo. gcc package must be minimum in version 4.8.5.
What are the disk space requirements for ADOD?
ADOD data are stored on NAM Probe disk for 10 days, by default.
Rough estimates:
| Storage period | Page loads per day | Disk usage |
| --- | --- | --- |
| 1 day | 1 M | 1 GB |
| 10 days | 100 M | 1 TB |
Data storage period is configurable in the /usr/adlex/config/datacleaner.config file: defaultKeepTime = X hours.
In case of insufficient disk space, a data cleanup script running on the NAM Probe will remove the oldest data files and prevent disk to become full.
NAM Server
---
How to check if currently installed patches are still needed after upgrade to a new release?
You are planning an upgrade from DC RUM version 2017 SP4 to NAM 2018 SP4. Your CAS server is currently running with a set of patches installed on top of 2017 SP4 and you want to know if these problems are already fixed in NAM 2018 or if you would still need to re-apply any of these patches on top of NAM 2018 installation.
When a patch is made to fix a problem in product release X, rule of a thumb is:
it is automatically propagated to the next service pack
it is also propagated to the next product release if applicable
To get a list of patches installed on your NAM Server see server.log file:
T ADM	19-04-29 18:07:33.258	Patches (D:\Program Files\Dynatrace\CAS\classes\CustomQueries):
	1	-	Ready	-	amd 2 alm db-modelling.jar
	2	-	Ready	-	use fast locations traversal algorithm 17SP4.jar
	3	-	Ready	-	disable data receive module status on slave nodes 17SP4.jar
	4	-	Ready	-	amd 2 oneagent instr.jar
	5	-	Ready	-	amd 2 udl modelling (1).jar

Each JAR file is a ZIP file and it contains patch-info.xml file.
Read patch-info.xml and retrieve APMODCRUMM-xxxxx issue number.
If the APMODCRUMM-xxxxx is missing (not all bug fixes are listed) contact Dynatrace Support to confirm.
Is there any database schema changes in the new service pack or new release?
Typically we try to avoid changing database schema between service packs X and X+1, unless it is necessary, but then the changes are rather minor, for example a column type change or some additional index may be added. Database upgrade during service pack installation should not take long. The DB schema changes are more likely to happen between product major releases when new functionality is added or changes are made in existing functionality that require database schema modifications. That is why the database upgrade during the new release installation (upgrade) typically takes a couple hours to complete - depending on the number of DB schema changes, size of the database and performance of your SQL Server.
Is there any particular order to upgrade my servers in a farm?
Yes, there is a specific order required to upgrade your servers in a farm or a cluster.
NAM Server installation ends with a warning: database may not be ready.
If your server installation fails with a warning: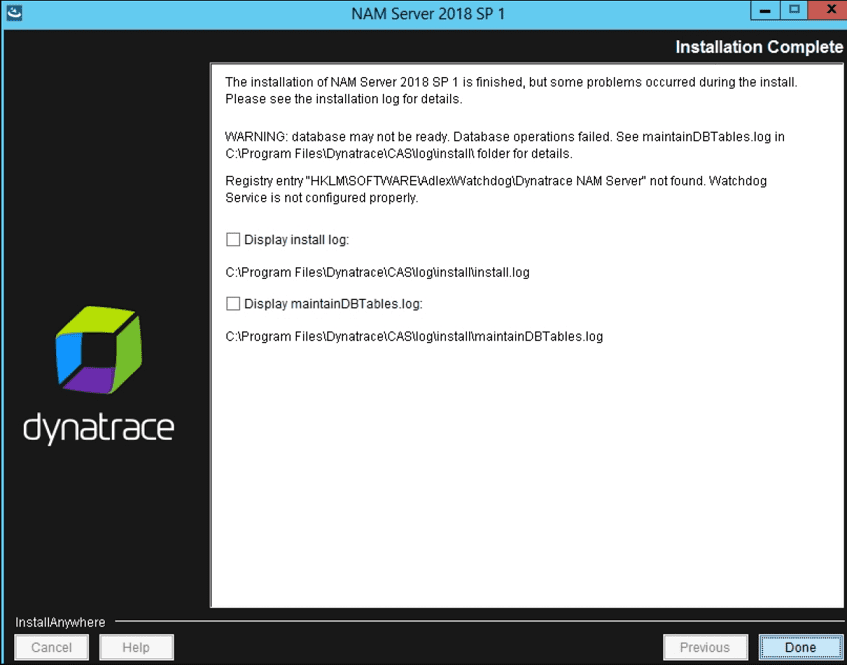 Open a new problem ticket and provide these log files to Support for review:
install.log
maintainDBTables.log