Setting up your test environment
Before you begin
The procedure assumes you want to create an autonomous test environment on your desktop. Prepare the following resources to set up your test environment:
Windows desktop machine with the following pre-installed software:

VM software installed
Supported version of Microsoft SQL Server

Red Hat Enterprise Linux installation image.
NAM installers: NAM Console, NAM Server, optionally Advanced Diagnostics Server (DC RUM 2017).
You will need to create a simplified NAM deployment on your Windows desktop machine. The environment consists of the following components:
Virtual Machine hosting Red Hat Enterprise Linux and the NAM Probe software
NAM Console
NAM Server
The NAM Console and NAM Server are standard components of a NAM installation. They each require their own Microsoft SQL databases.
The NAM Probe is a virtual machine hosted installation with two network interfaces. The standard communication interface eth1 used to communicate with NAM Console and NAM Server. You will also need a second eth2 sniffing interface to replay libcap network captures using the Tcpreplay suite installed on your NAM Probe. This way, you can test your scripts using much larger data traces than small snippets pasted directly into your unit test scripts.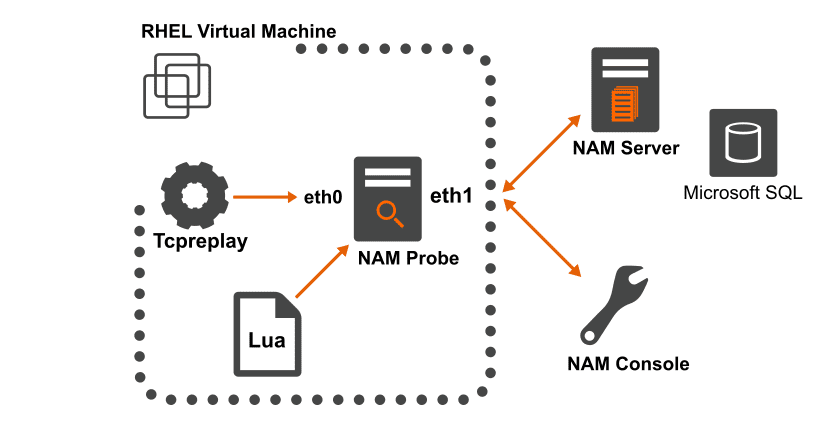 You will also need to create and configure software services based on your Universal Decode scripts. For more information, see Using Universal Decode to monitor TCP-based protocols.
Setting up your test environment
Install the NAM Probe.

After the NAM Probe is installed, perform the standard configuration.

When identifying the interfaces, set eth0 as a sniffing interface and eth1 as a communication interface. For more information, see Preparing Virtual NAM Probe machine.

Install NAM components.

In this order, install the NAM Console, the NAM Server, and then (optional, DC RUM 2017 only) the ADS.

Configure the NAM environment.

Use the NAM Console to connect the NAM Probe to NAM Server.

Create and configure a Universal Decode--based Software Service.

For more information, see Defining Software Services Based on the Universal Decode Analyzer.

Place the scripts on the NAM Probe in the /usr/adlex/config directory.

For more information, see Using and Maintaining Software Services Definitions Based on the Universal Decode.

Use the TCPReplay to feed the packet captures to the NAM Probe.

Note that after you replay the packet capture, you will need to reset the NAM Server database to be able to replay it once more. Otherwise, it will not be reflected in the reports.