NAM 2018 May Release Notes
| Release Date | Release Name |
| --- | --- |
| February 24, 2020 | Get Dynatrace NAM 2018 SP7 |
| October 23, 2019 | Dynatrace NAM 2018 SP6 |
| July 1, 2019 | Dynatrace NAM 2018 SP5 |
| April 12, 2019 | Dynatrace NAM 2018 SP4 |
| March 11, 2019 | Dynatrace NAM 2018 SP3 |
| January 4, 2019 | Dynatrace NAM 2018 SP2 |
| November 8, 2018 | Dynatrace NAM 2018 SP1 |
| September 11, 2018 | Dynatrace NAM 2018 |
| May 22, 2017 | DC RUM 2017 May Release Notes |
Important upgrade information
To be authorized by the NAM Console, all users must have access to both the NAM Server public URL and NAM Console public URL. See Upgrade considerations.
No more ADS server. ADS functionality is moved to the NAM Server as the Advanced Diagnostics on Demand (ADoD) feature and it is enabled by default. See Advanced Diagnostics on Demand.
What is Dynatrace NAM?
DC RUM is now known as Dynatrace Network Application Monitoring (Dynatrace NAM). With its focus on user monitoring for enterprise applications like SAP, Siebel, Oracle, application delivery tiers like Citrix and optimized WANs, Dynatrace NAM ensures great user experience for all your enterprise IT services.
Highlights
---
New packaging and licensing
DC RUM to NAM name changes also apply to the solution's components as follows:


| DC RUM 2017 and older | NAM 2018, NAM 2019 |
| --- | --- |
| RUM Console | NAM Console |
| Central Analysis Server (CAS) | NAM Server |
| Advanced Diagnostic Server (ADS) | Advanced Diagnostics on Demand feature of NAM Server |
| Agentless Monitoring Device (AMD) | NAM Probe |

Dynatrace eServices licensing now replaces the DLM licensing system for both capacity-based and component-based licenses. This will greatly simplify license management during upgrades while also tracking usage.
Dynatrace integration
All software services monitored by NAM can now be integrated with Dynatrace Managed (or Dynatrace SaaS), delivering a single landing spot for all monitored applications and infrastructure.
Bidirectional drilldowns between hosts and servers provide in-context transition between Dynatrace and NAM views.
Continued look-and-feel unification delivers a better solution experience
New SSO support facilitates seamless navigation between Dynatrace and NAM-sourced views and enables NAM integration with your enterprise SSO infrastructure. NAM 2018 supports SAML 2.0 and has been tested with the OpenAM Single Sign-On Identity Provider.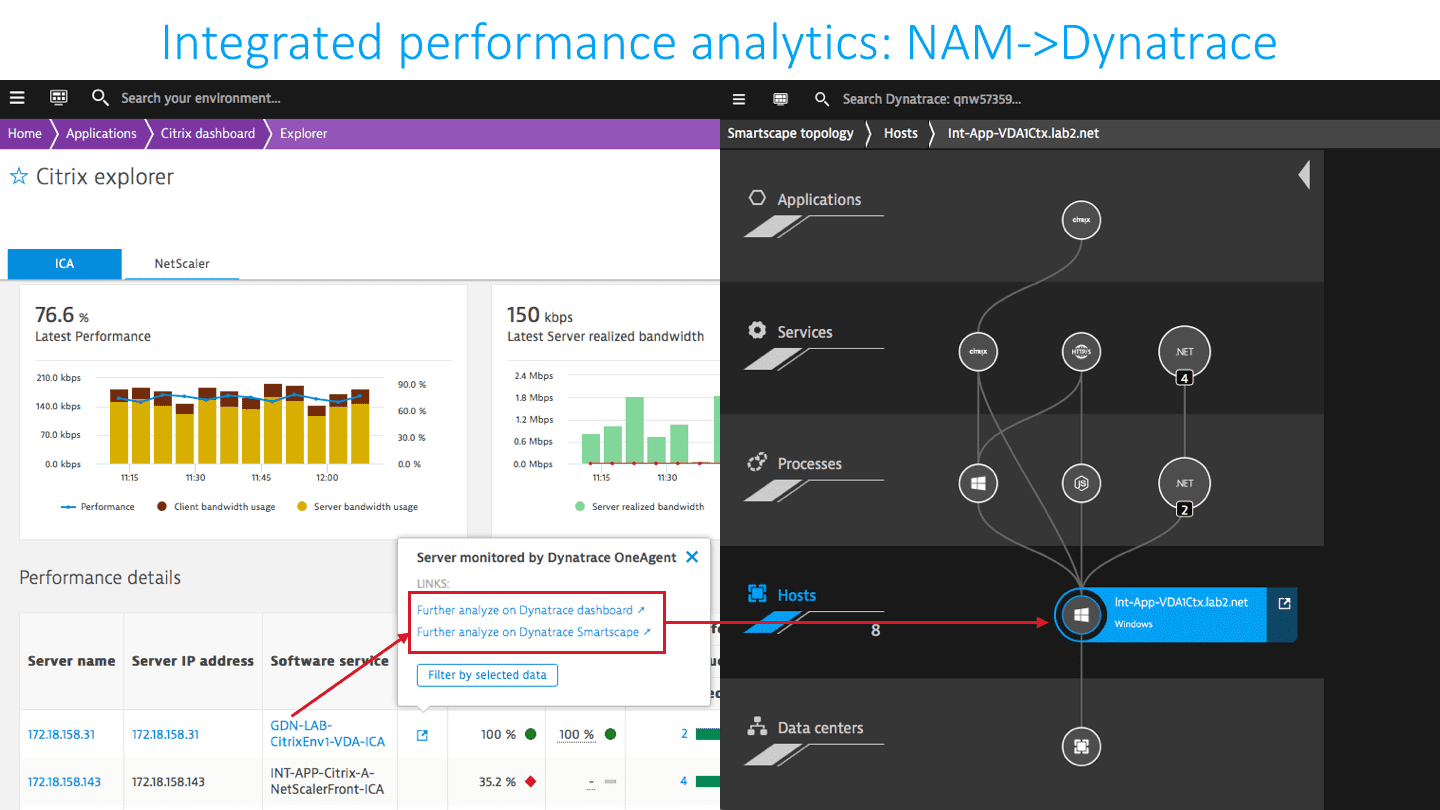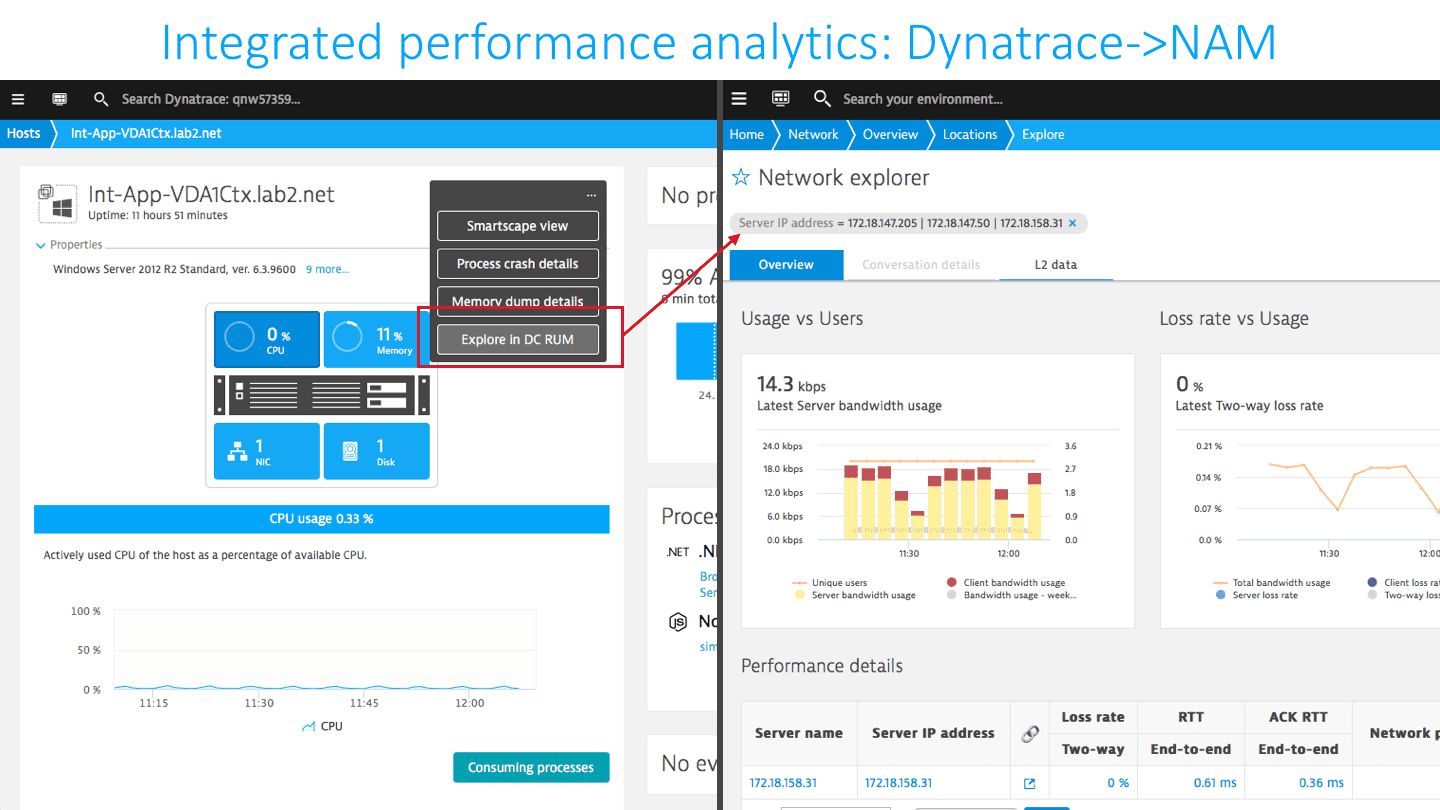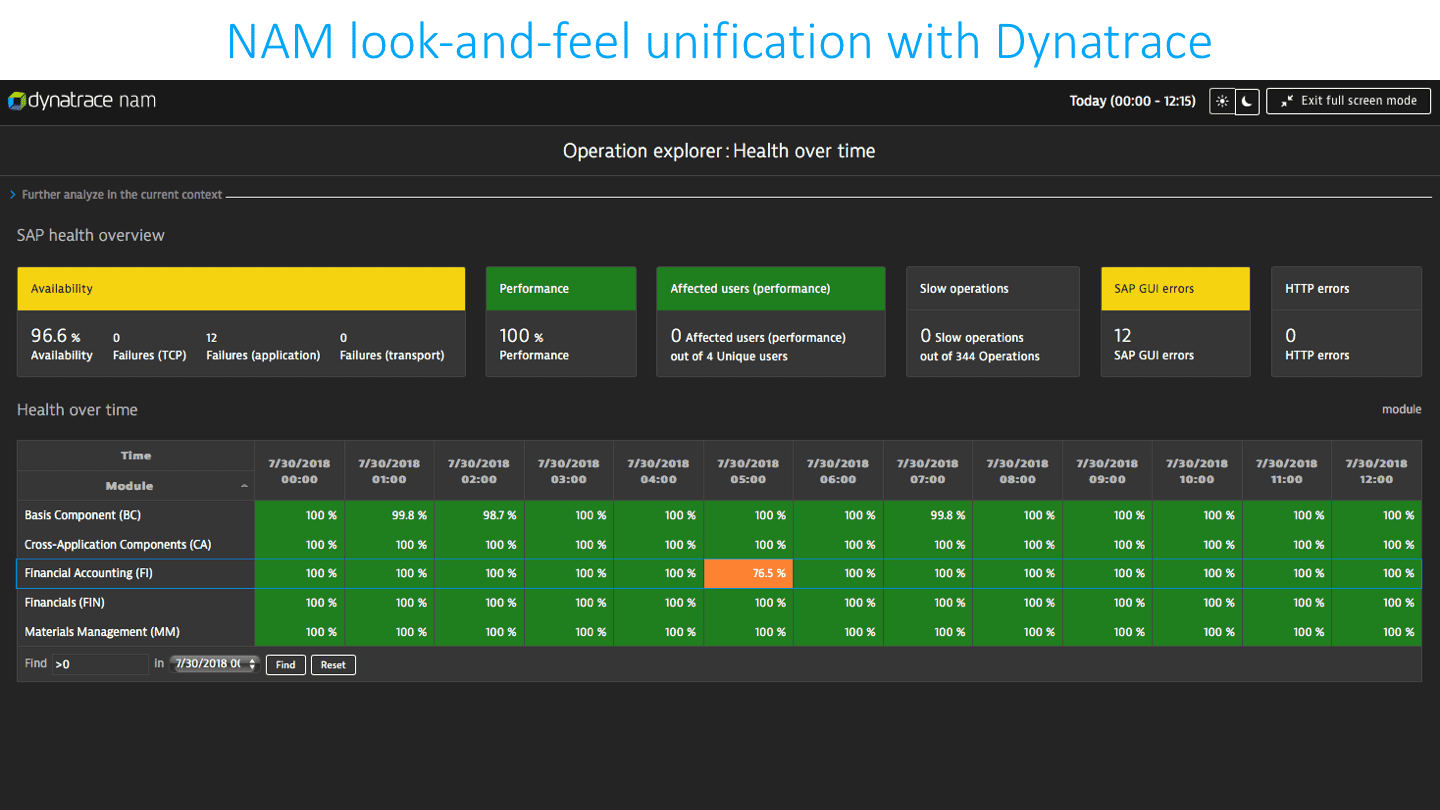 Application and user experience monitoring and analytics
The new Health Dashboard replaces the Application Health Status report, improving interactivity and simplifying presentation. This dashboard provides a high-level view of your application and services landscape, including health, activity, business impact and alerts, easily customizable and with intuitive drilldowns to underlying metrics.
Advanced Diagnostics on Demand replaces the Advanced Diagnostics Server (ADS), offering real-time access to discrete operation details, including load sequence charts. Diagnostic detail data directly uses available NAM probe storage space, eliminating the need for SQL storage and a separate ADS report server.
The new Error Explorer supplements NAM's existing workflows by delivering interactive insights into the source and scope of errors and availability problems.
The Network and Citrix Explorers and Dashboards have been extended with new metrics, streamlining the workflows.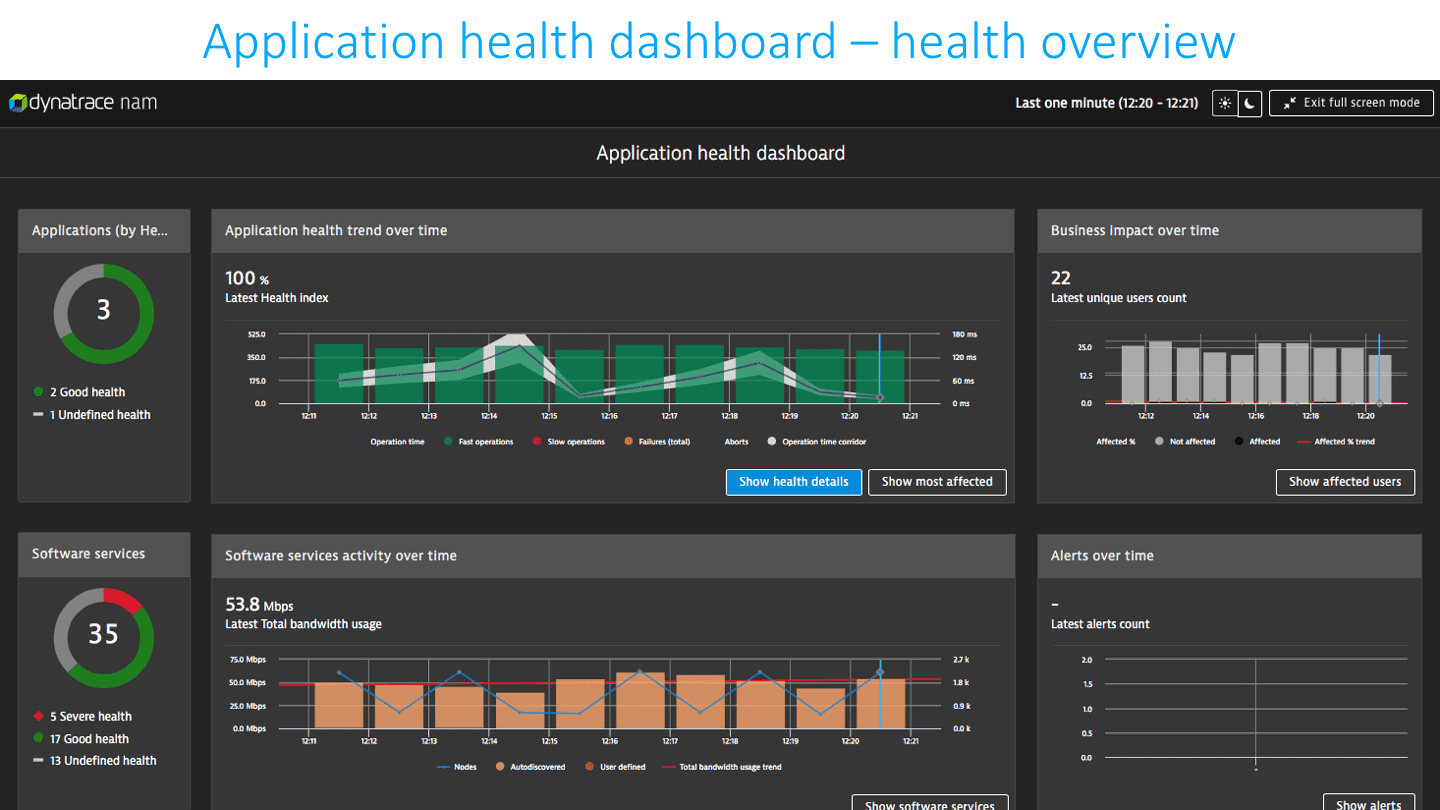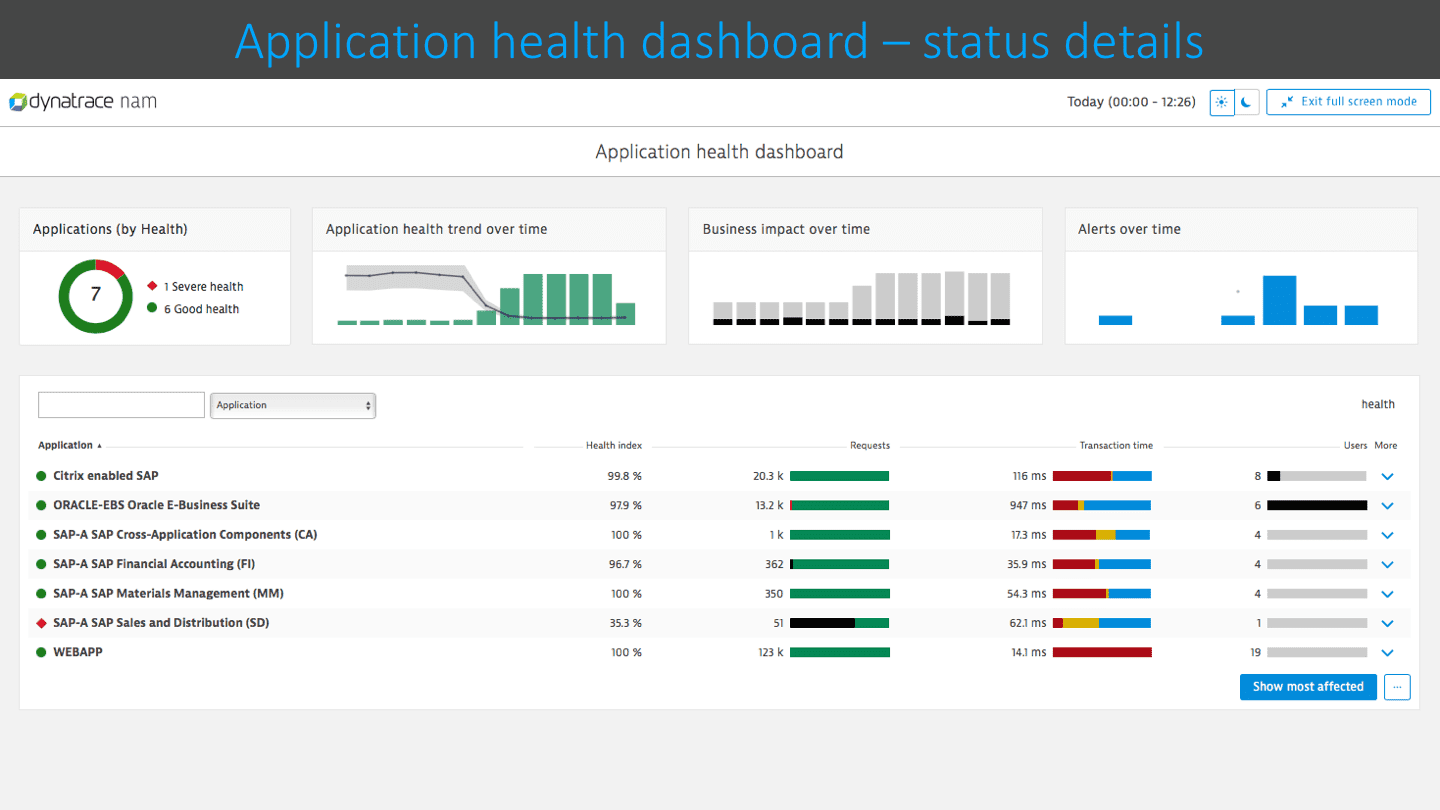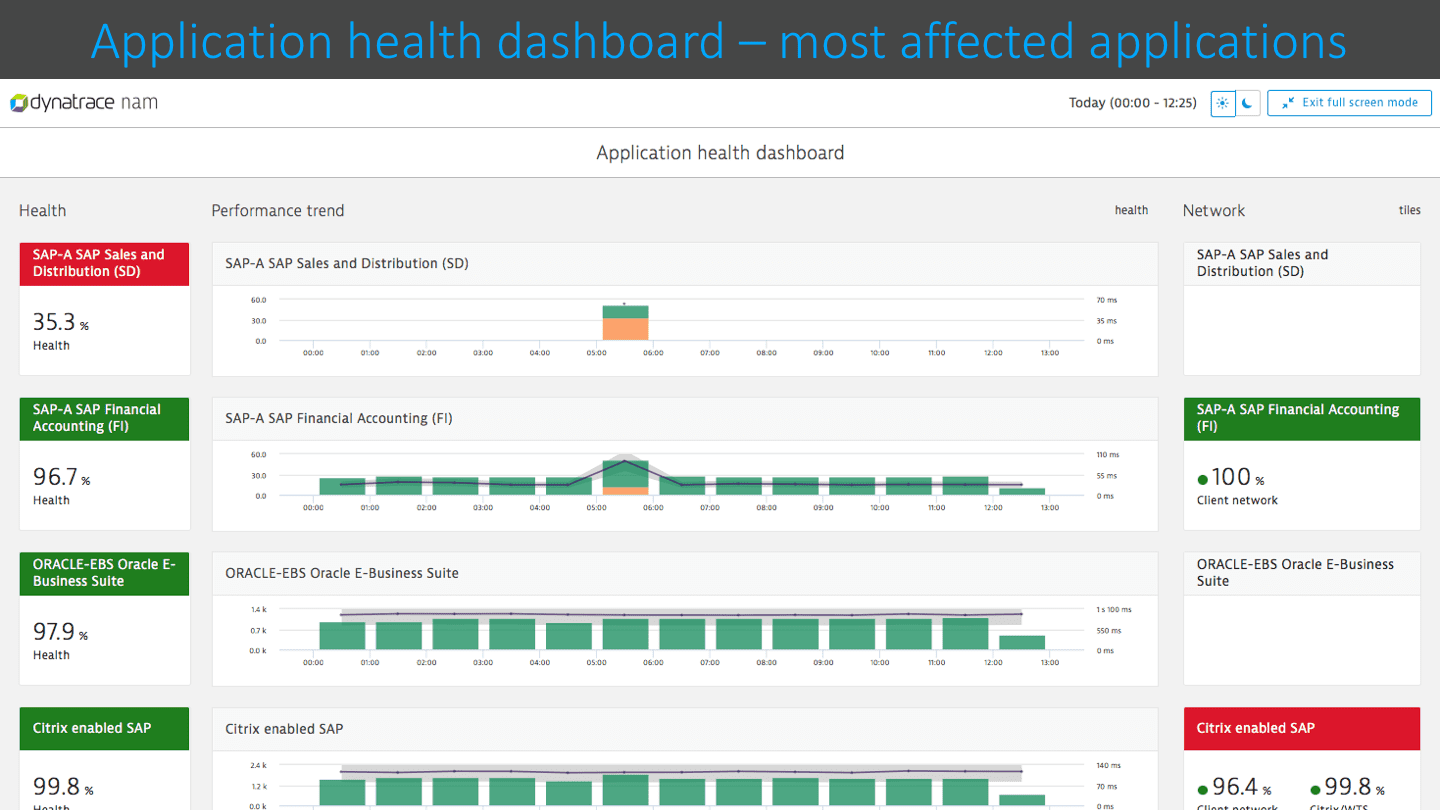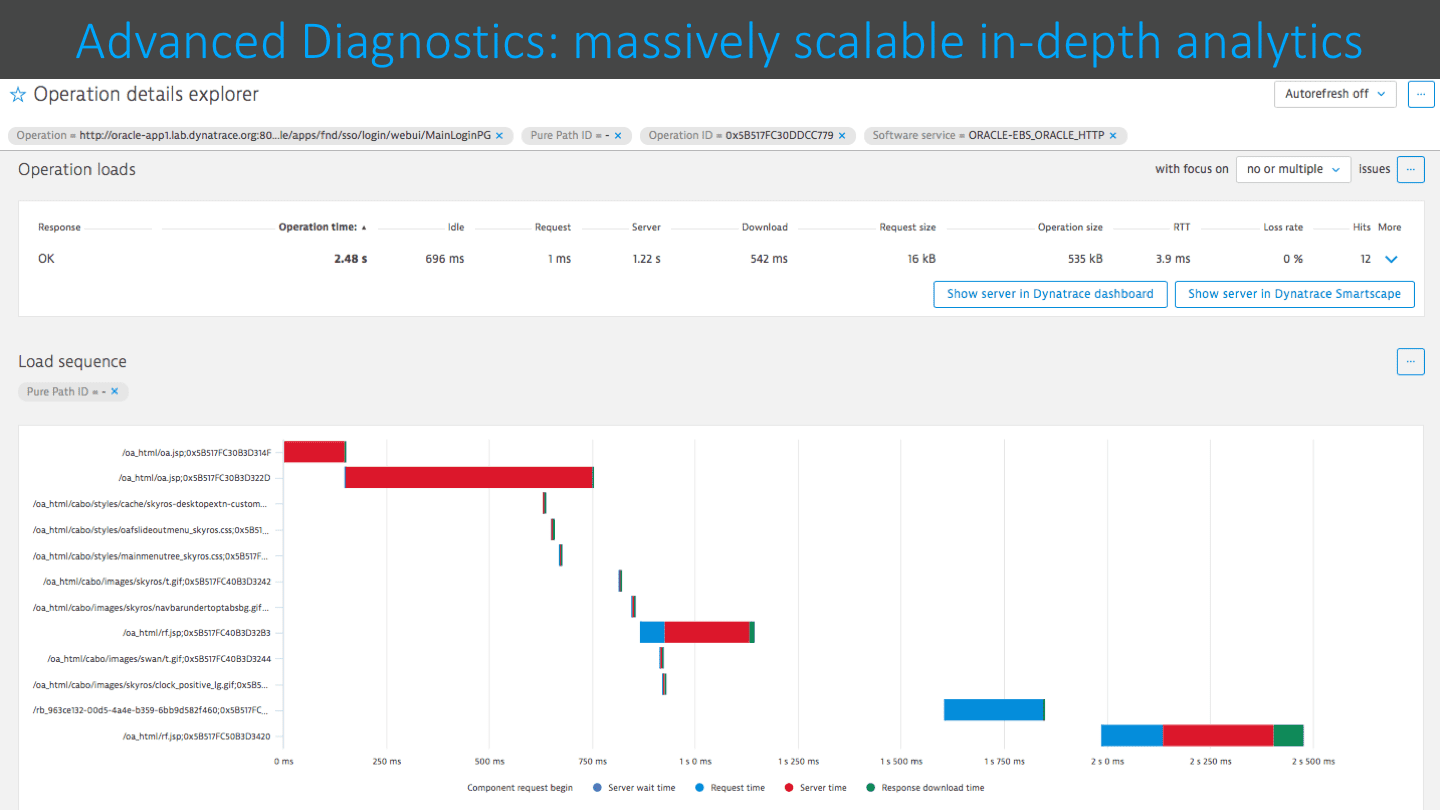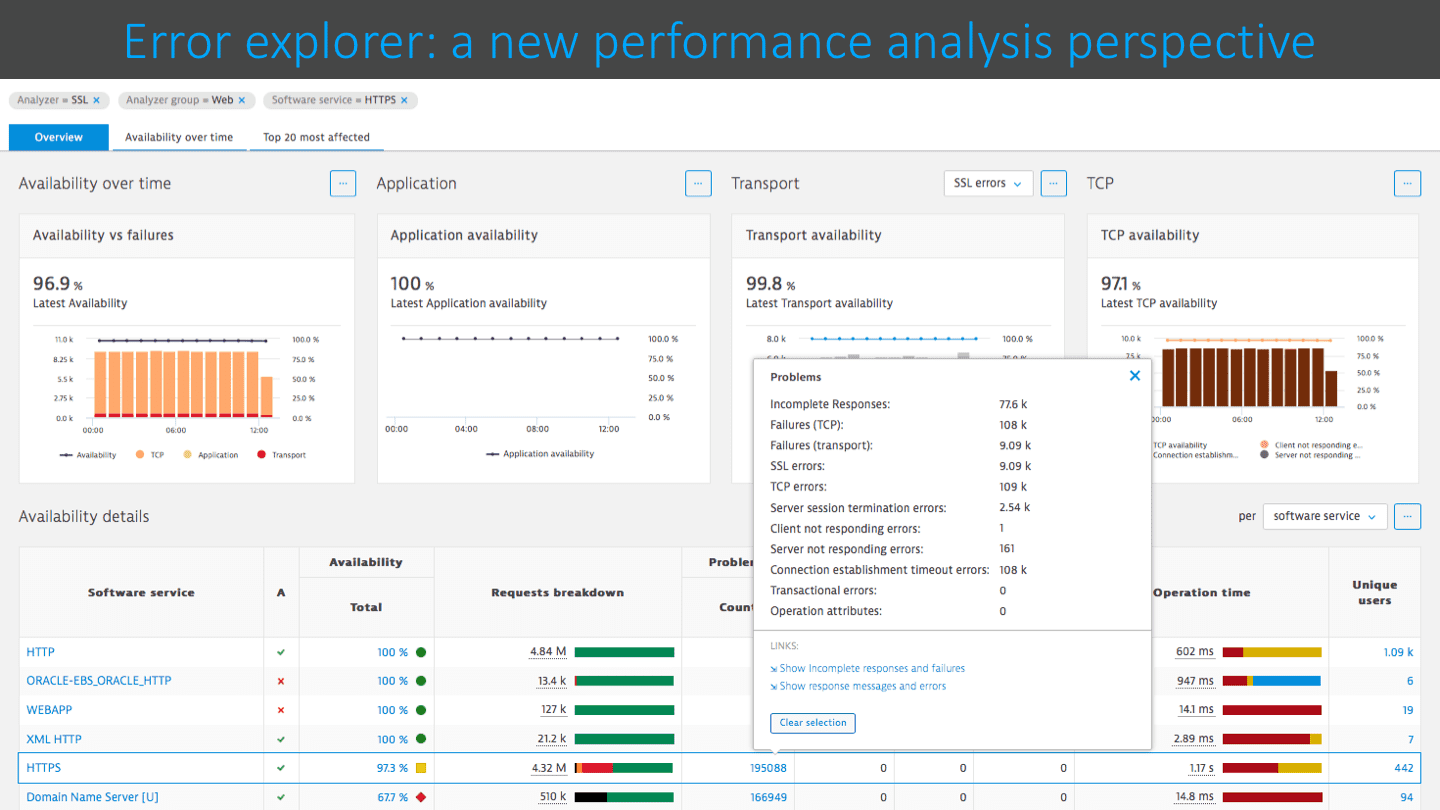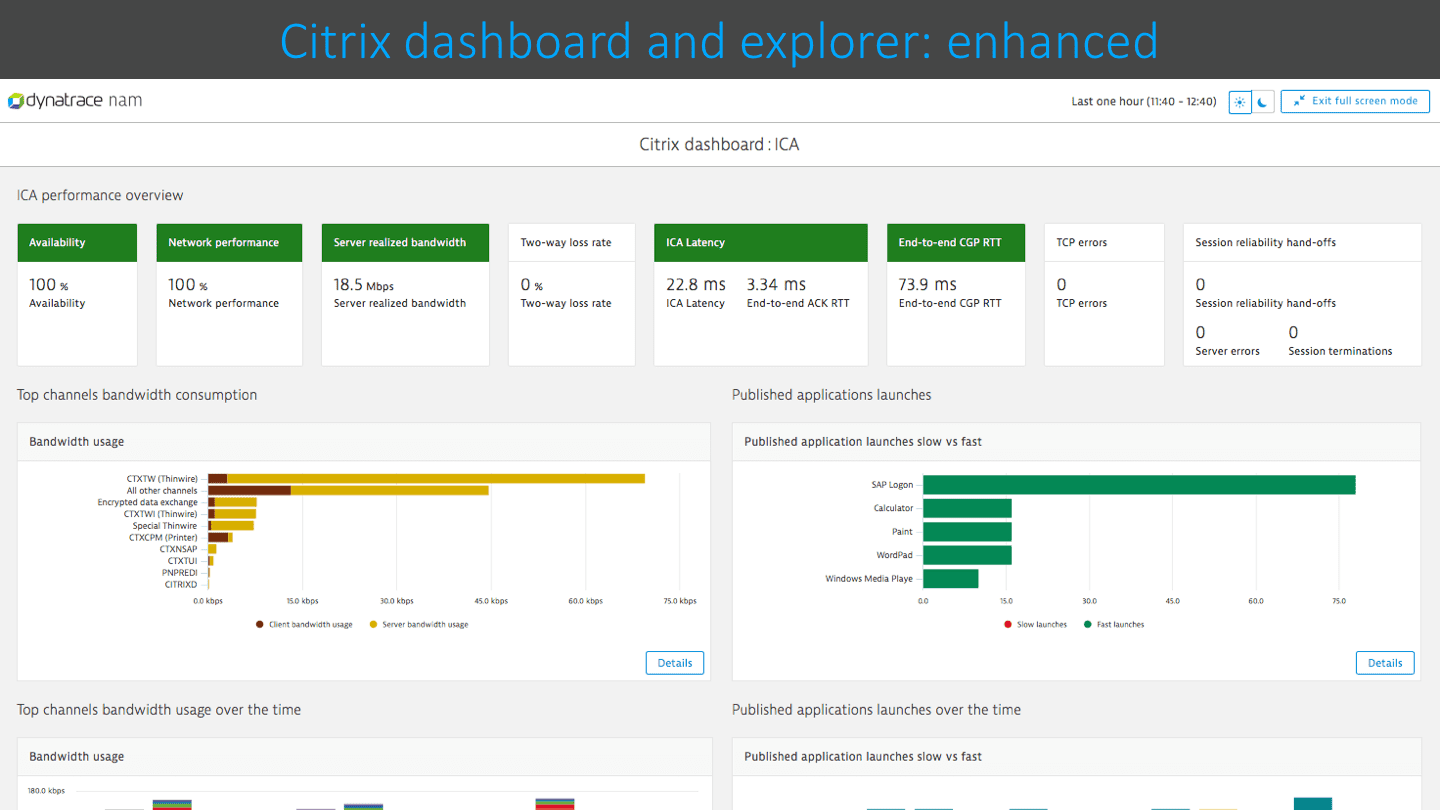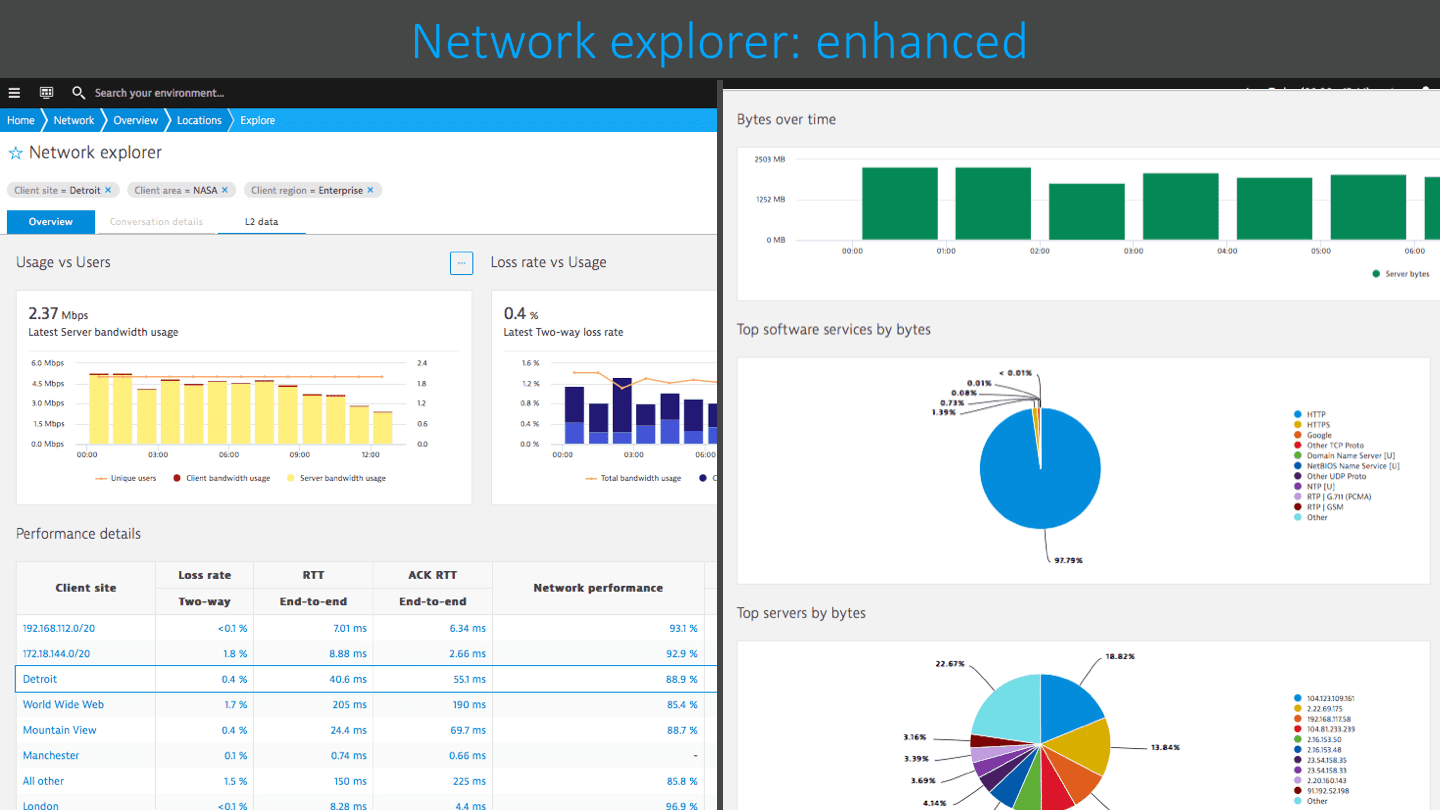 Reporting engine (DMI) improvements
Integrate complex analytics directly into your NAM reports. Calculated columns allow you to improve and customize insights into reported metrics through DMI's new expression-based column calculations, applying regular expressions, enhanced conditional statements, and row filters to NAM Server report metrics.
Rich tables deliver high-density tabular reports with instant one-click charts and graphs.
The Universal Diagram supports the visualization of additional metrics via tooltips, dot size, and dot color.
Passing filters on metrics. Advances to DMI's filtering and time controls improve context persistence for custom drill-down definitions in DMI reports.
Search has been enhanced to support custom vocabularies, including the user-defined #TIME. Autocorrection and a new results interface improve relevance.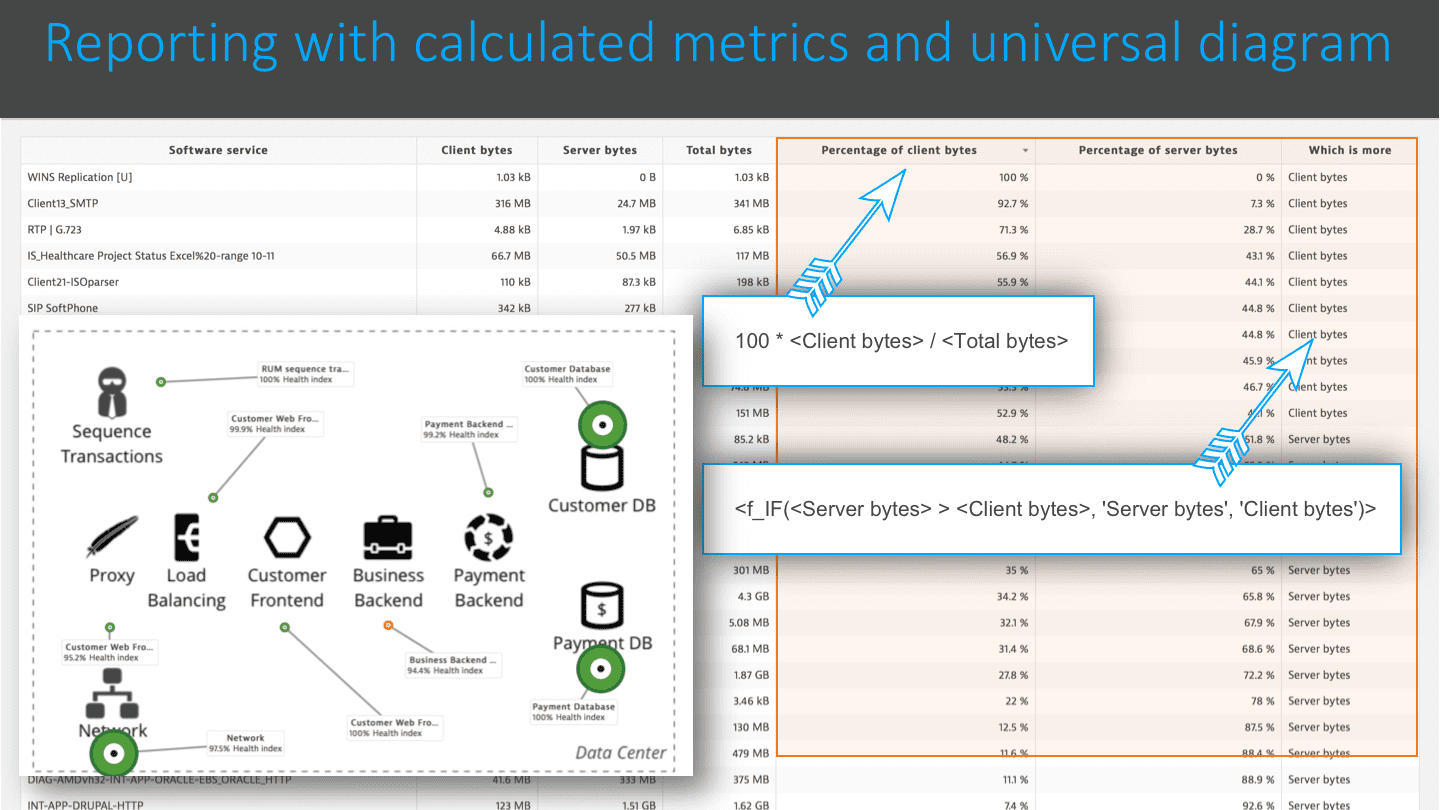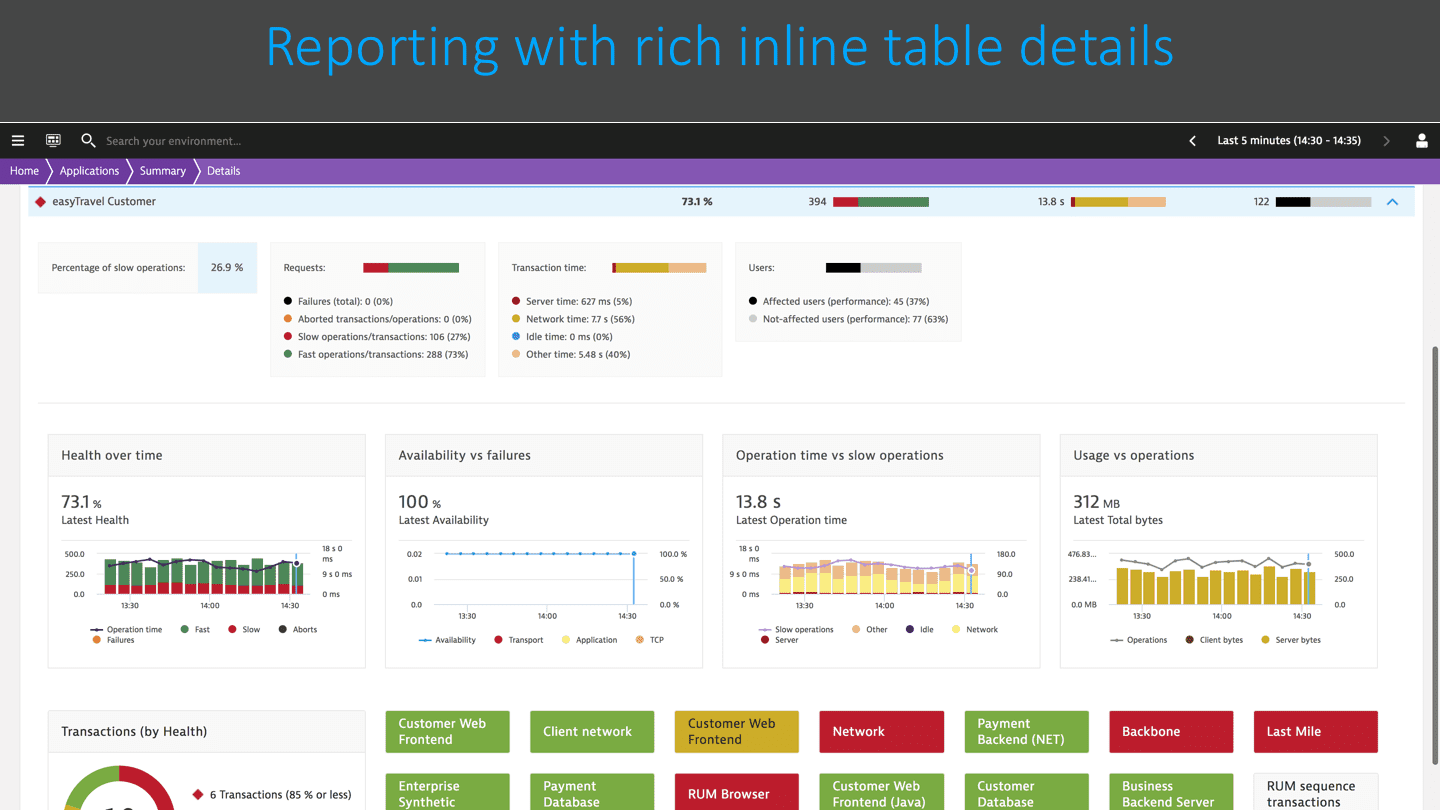 Operational efficiency and ease of use
Enhanced alert configuration gives you easy access to an extended set of metrics. We've completely redesigned the alert engine, basing it on the familiar and flexible DMI.
The new operation sequence wizard simplifies the configuration of monitored operational sequences for Siebel and other complex web-enabled apps of record.
NAM provides a secure way of pseudonymizing and encrypting end-user names to protect user privacy. User anonymization is one of the privacy-enhancing techniques recognized by the European Union's new General Data Protection Regulation (GDPR), and anonymization has been a recommendation of the United States Federal Trade Commission since 2012. User name anonymization and encryption provides a secure way of limiting casual access to personally identifiable information while preserving user-specific troubleshooting depth for authorized users.
New granular role definitions limit access to user names to specialized roles, preserving NAM's ability to deliver user-specific diagnostic details to authorized users when required.
nCipher softcard support has been extended to support HSM soft keys, an optional functionality of nShield Connect that lets the host restrict the use of keys managed by the HSM.
As noted above, the new Advanced Diagnostics on Demand simplifies NAM's deployment architecture by serving diagnostic details directly from the NAM Probe, eliminating the need for the ADS Server.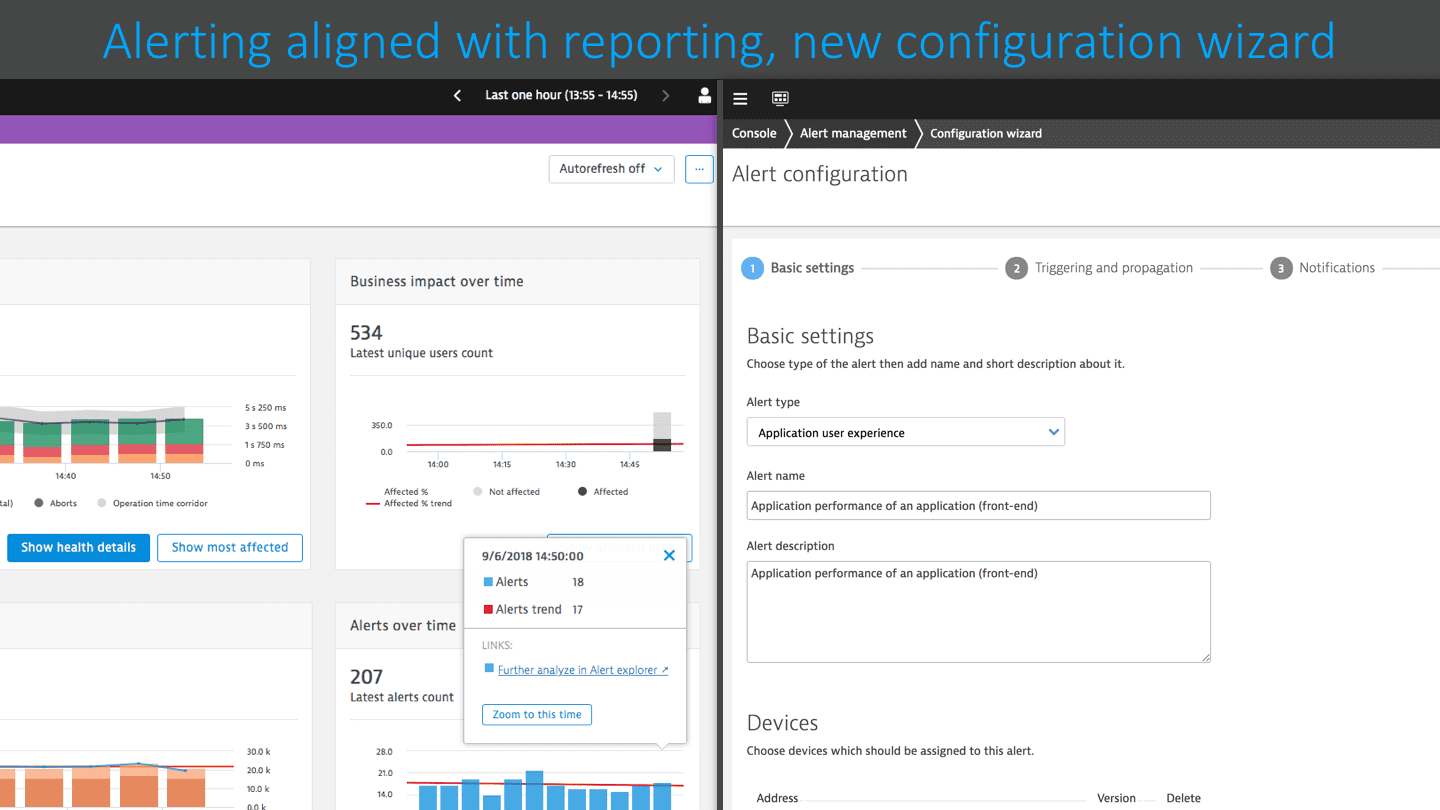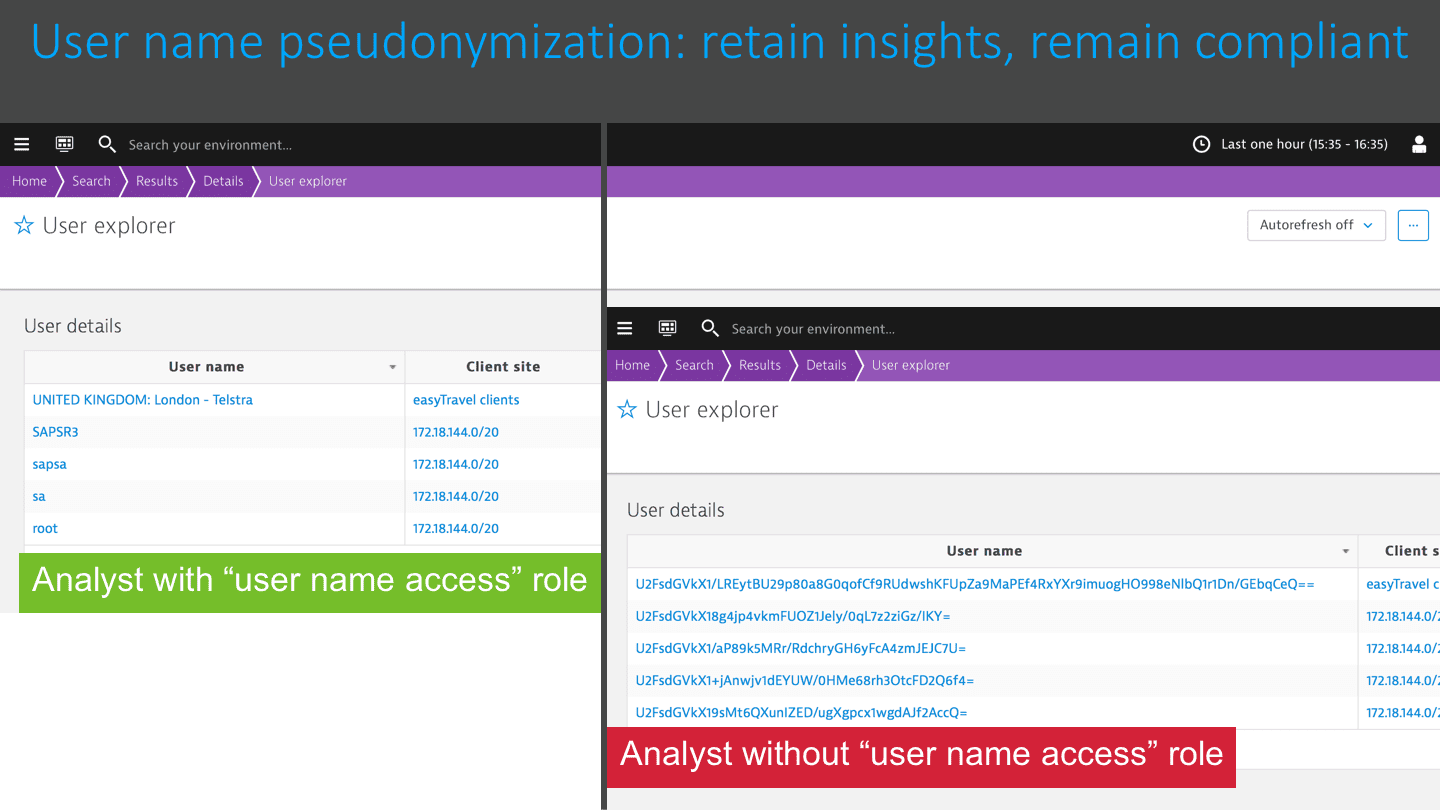 Deprecated features
---
Native mobile access. As we continuously optimize DMI reports for mobile web browsers, and Dynatrace NAM 2018 alert notifications can be delivered to third party services, e.g. the Slack mobile app, we will discontinue support for the Mobile App with the 2018 release. Integration with Slack will be supported for all currently supported NAM and DC RUM releases. The mobile application will be removed from the AppStore and Google Play.
Synthetic monitoring integration. The Dynatrace platform is now the primary interface for all Dynatrace customers, including users of the classic products. As Synthetic Classic customers upgrade to Dynatrace Synthetic, Dynatrace NAM 2018 Server will continue to acquire and process Synthetic Classic data; however, alerting on Synthetic Classic data will no longer be supported.
AppMon integration. We encourage customers to migrate from integration with AppMon & UEM data sources towards new integration within Dynatrace. Integration with AppMon & UEM data sources will be removed in the NAM 2019 release.
VoIP and Tuxedo. We have transitioned VoIP and Tuxedo decodes from the price list to the customer growth price list (formerly known as Maintenance and Capacity). We will continue to support them for customers currently holding licenses for those decodes until their end-of-life in June 2019.
Responding to your product ideas
---
At Dynatrace, we take pride in our customer-first focus, and your feedback is invaluable. Your product ideas listed below have driven NAM 2018 development decisions. Many of them translate to modified product features, while others have been taken as ideas that have spurred new development work:
Upgrading and getting started with this release
---
See upgrade paths, compare it against your inventory, and download all required installation packages at their latest service pack release.
Information about changes the upgrade will bring to your deployment.
Information designed for customers who have their Dynatrace products at releases that support a direct upgrade to current release.
System Requirements
---
To achieve optimal and reliable performance from your NAM software, ensure that your system meets the specifications of platforms and cards described in Hardware Recommendations.