Alert definitions provided with NAM
The following alerts are supported by at least one of the NAM report servers (CAS or ADS). Unless specified otherwise, the alert definitions apply to the CAS.
They are the alerts listed on the Predefined tab.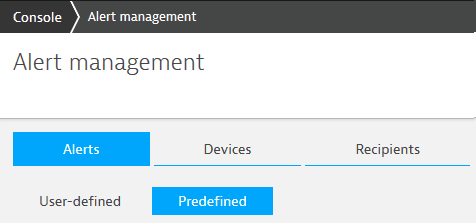 Listing predefined alerts
Open the Alert management screen.

Click the Predefined tab to list all predefined alerts.
This is your starting point for managing all predefined alerts.

Some predefined alerts are installed as disabled.
By default, disabled alerts are not listed, so be sure to select the Show disabled check box if you want to see all predefined alerts, whether they are enabled or disabled.
Use the Type to display list to narrow your list to a certain type of alert.
Use the Filter box and OK button to narrow the list to alerts that match your string.
Working with predefined alerts
Unlike user-defined alerts, the editing options for predefined alerts are limited.
For a predefined alert, you can modify (on a device):
Alert basic settings

Alert name
Alert description

Triggering and propagation settings

Detection settings
Output filters
Propagation settings

Alert notifications

Alert recipients

E-mails
Trap Recipients
Mobile
Script
Other differences between user-defined and predefined alerts include:
Unlike metric-based user-defined alerts, the extended editor functionality is not available for predefined alerts and the detector parameters and their values are displayed in the form of a simple list.

By default, some predefined alerts are enabled and some are disabled.

You can edit the detector and notification settings for a predefined alert only on a single CAS.

You cannot change the default assignment of an alert to a given report server.

Some of the pre-defined alerts cannot be deleted from the system, including:

INCORR_LOGIN

LOW_OPER_4_SYS_MOD

LOW_OPER_4_CAP_MOD

DATABASE_SIZE

DISKS_STORAGE

HOT_IP

SYS_STATUS

SUSP_CLI_TRAFF

SUSP_URL_TRAFF

EXC_ACT2

Enabling and disabling of the definitions works in the same way as for the user-defined alerts.