Once the License Management team creates your license, you can view the license details by choosing My Licenses from the eServices menu. The My Licenses page contains three tabs: AppMon Licenses, UEM Volume Vouchers and Dynatrace NAM Licenses. Select Dynatrace NAM Licenses to view your NAM licenses and perform actions such as:
Activate your temporary license
Download activated license file
Upgrade license to new version
Create an emergency license
If you cannot view licensing information or access license management features, contact the License Management team to have your user account added to the license.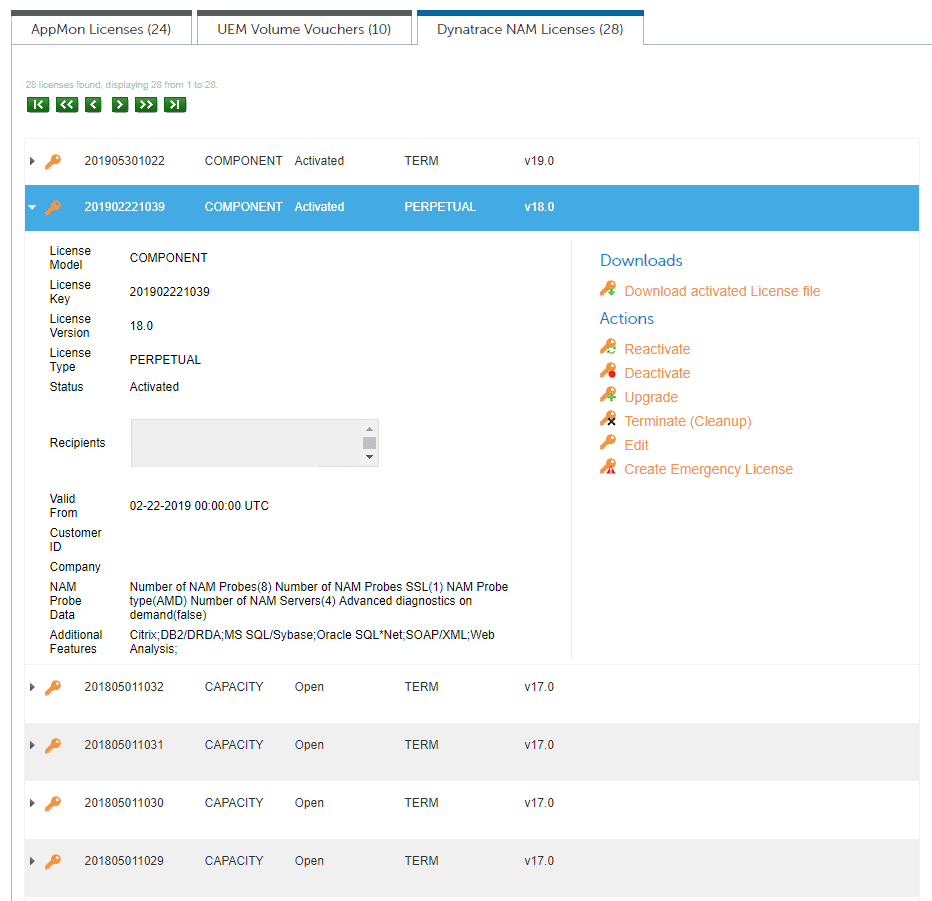 Item Name
Explanation
License Model
COMPONENT or CAPACITY.
License Key
License key ID. For example: 201604211053
License Version
NAM product version this license is valid for.
License Type

POC - temp license used during product demo (POC = proof of concept)
TERM - license with a fixed expiration date
PERPETUAL - license with no expiration date

Status

Open - After a license is created, it's assigned open status until it is activated.
Issued - The issued status is assigned only to POC licenses. When the expiration date is reached, the license is automatically disabled.
Activated - A license is assigned activated status after it has been installed on a server and a license file has been applied. An activated license is bound to the machine on which it was installed.
Deactivated - A license that has been deactivated can be reactivated on a machine other than the machine on which it was originally activated.
Terminated - A terminated license can't be activated again and is removed from the list of available licenses on the eServices My Licensing page. Licenses that exceed their expiration date are automatically terminated. Perpetual licenses can be terminated manually. Terminated licenses can be filtered from certain lists for clarity.

Recipients
Contains a list of email addresses of the license owners. A license may have more than one owner.
Valid From
Date the license was issued.
Valid To
License expiration date.
Customer ID
Your account ID at Dynatrace (for example, 012332344xmfLQFD).
Company
Your account name at Dynatrace.
NAM Probe Size
Field is only valid for a CAPACITY license. Possible values:

Small (up to 0.5 Gbps)
Medium (up to 5 Gbps)
Large (up to 20 Gbps)

NAM Probe Data
Field is only valid for a COMPONENT license. It shows the type and quantity of NAM components included in this license:

Number of NAM Probes (X) - number of licensed NAM Probes
Number of NAM Probes SSL (Y) - nuumber of licensed NAM Probes with SSL decode
Number of NAM Servers (Z) - number of licensed NAM Servers
Advanced Diagnostics on Demand (true/false) - whether the license includes ADoD

Additional Features
A list of product decodes included in the license.
SAP GUI
In case of SAP GUI decode, the number of SAP GUI users the NAM Probe is licensed to monitor.

Downloads

Click to download activated license file.

Actions

Activate - turn your temporary license into a legitimate license. You need an Activation key from NAM Console.
Deactivate - deactivate your existing license. You need both Activation and Deactivation keys to perform this action.
Reactivate - reactivate your license once again in case of a server move to new location or a hardware replacement.
Upgrade - upgrade your existing license to new product version. Action to be performed after product upgrade.
Terminate (Cleanup) - Delete deactivated or expired licenses from your profile. Only terminate old licenses you do not need anymore, since once deleted they will not be available for reuse in the future. For example, you can delete licenses for product versions which are no longer used in your company.
Edit - you can edit two fields here: list of Recipients (license owners) and Company/Purpose field.
Create Emergency License - creates an emergency license with a fixed expiration date. You can create only one emergency license at a time.
If the information on the eServices website does not update after making changes, click Refresh on the My Licenses page.