Contact licensing team
The eServices license management website is the central platform for viewing NAM licensing information, performing licensing management tasks, and managing your eServices account profile. We strongly recommend that you contact the Licensing Team during the initial licensing process.
Overview
Some of the licensing features provided on the eServices website are integrated and accessible from the NAM Console. For example, you can activate a license directly from the NAM Console to automate the process of downloading and importing a license file. As a result, the recommended method for performing any supported licensing task is to use the NAM Console to initiate the licensing task whenever possible.
The licensing features of the NAM Console require Internet access. If you are unable to connect to eServices from the NAM Console, you may need to configure a proxy server on the Console settings screen (Deployment > Settings) or use the offline license management option.
Not all licensing tasks can be initiated from NAM Console. For example, the following tasks must performed on the eServices website:
Upgrading a license
Creating an emergency license
Reactivating a license in the event of an unexpected hardware failure or forced move of the Dynatrace server
Viewing information about your Dynatrace licenses
Managing your eServices and Dynatrace Community account profile
On the eServices website, you can perform the following license management tasks:
View your eServices profile
To view the current roles assigned to your eServices profile, choose Home > Profile. In addition, you can change the website's default time zone to match your current time zone.
Change your password
To change your APM Community user account password, choose Home > Change Password. Note that changing your password on the eServices site changes the password you use to log into the Dynatrace Community to access the product downloads page and Customer Support.
Manage newsletter subscriptions
To subscribe to the APM Community Newsletter, which contains information on Dynatrace APM product best practices, tips & tricks, product updates, and news from our labs, choose Home > Manage Subscriptions.
View license information
To view the license details (after your license has been created by the License Management team), choose My Licenses from the eServices menu. The My Licenses page has two tabs:
Licenses —to view the details of your license
Volume Vouchers —to view the amount of volume
In addition, you can select actions such as downloading a license file, creating an emergency file, and redeeming or upgrading volume.
If you cannot view licensing information or access the license management features, contact the eServices team to have your user account added to the license.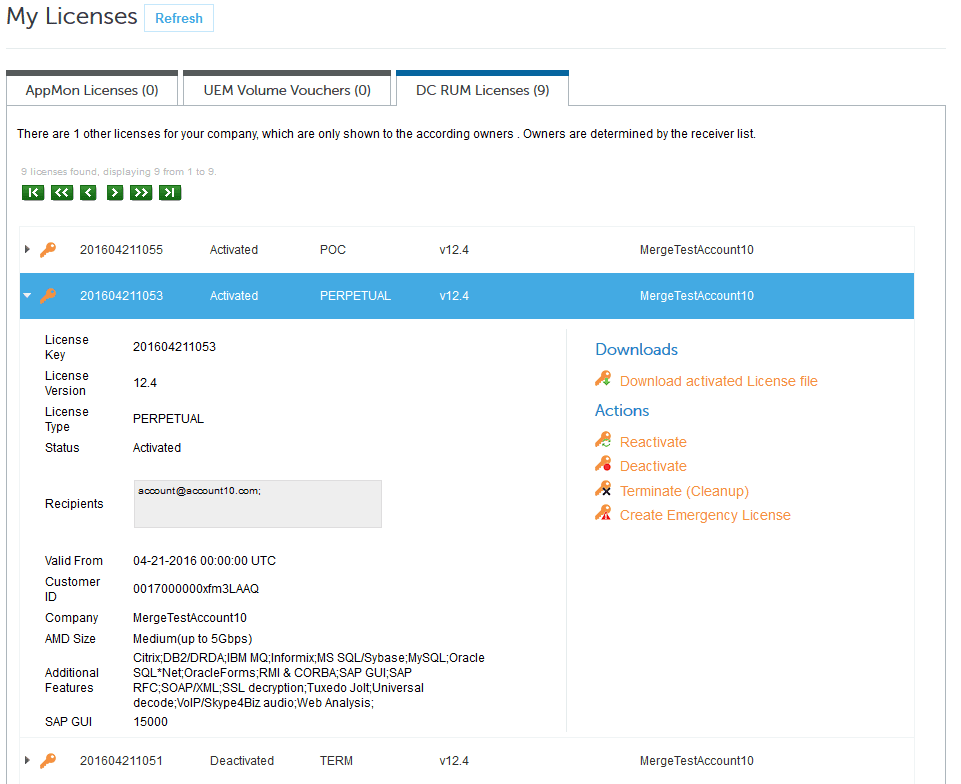 Item Name
Possible Values
Value Shown in Screenshot Above
Explanation
License Key
201604211053
License version
12.4
This license was issued for Data Center RUM version 12.4.5
License Type
POC, Evaluation, Term, Perpetual, ISV
Perpetual

POC - Proof of Concept
Term - time-limited
Perpetual - not limited in time

Status
Open, Issued, Activated, Deactivated, Terminated
Activated

Open - After a license is created, it's assigned open status until it is activated.
Issued - The issued status is assigned only to POC licenses. When the expiration date is reached, the license is automatically disabled.
Activated - A license is assigned activated status after it has been installed on a server and an license file has been applied. An activated license is bound to the machine on which it was installed.
Deactivated - A license that has been deactivated can be reactivated on a machine other than the machine on which it was originally activated.
Terminated - A terminated license can't be activated again and is removed from the list of available licenses on the eServices My Licensing page. Licenses that exceed their expiration date are automatically terminated. Perpetual licenses can be terminated manually. Terminated licenses can be filtered from certain lists for clarity.

Recipients
Mail address
account@account10.com
Can contain multiple email addresses for the license owners. A license may have more than one owner.
Valid From
04-21-2016 00:00:00 UTC
Issue date of the license.
Customer ID
0017000000xfm3LAAQ
Company
MergeTestAccount10
NAM Probe Size
Small (up to 0.5 Gbps) Medium (up to 5 Gbps) Large (up to 20 Gbps)
Medium (up to 5 Gbps)
The NAM Probe can achieve processing throughput of up to 0.5, 5, or 20 Gbps of the transactional TCP analysis. The capacity thresholds are reflected in the NAM license.
Downloads
Download License File, Download Activated License File
Download License File
If you must perform licensing tasks manually (via file): You can (re-) download the dcrum_license_20YYMMTTHHMMNNNN.key file you initially received by email. After you imported it in the Client, choose Server Settings > License to see your license data including the activation key.
Activation Action
Activate, Deactivate
Activate
With the Activation Key you can manually activate the license here and then import the ..._activated.lic pressing the same button in the same Client dialog box as you did with the Unactivated key before. Deactivate manually by pressing the button in the Client licensing dialog box and copying the Activation and Deactivation Keys to the eServices Deactivate dialog box
Terminate (Cleanup) Action
Terminate
Terminate (Cleanup)
Delete deactivated or expired licenses from your profile.
Create Emergency License
Create Emergency License
Create Emergency License
Click this link to create a one-time emergency license.