Choosing a report section type
Use the Section type setting in DMI to determine the general format and functionality of a report section.
Changing the section type
When you create a new section, use the section type icons on the Sections and layout tab to initially determine the section type.
Later on, you can check or change the section type in the report editor.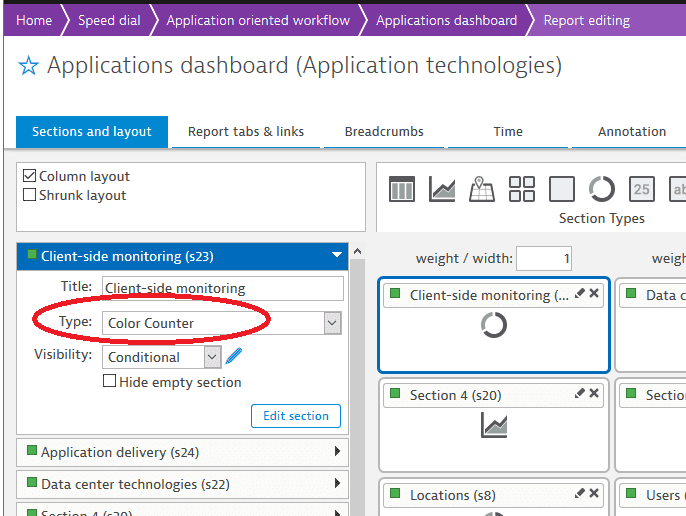 You can do the same thing at the top of every tab in the section editor.


Use either control to change the section type. Remember that different section types may have different requirements.
You can sometimes save yourself a lot of work by making one section and then copying it and editing the copy. For example:
Make a section of type Table, give it a name, select the dimensions and metrics, perhaps define a conditional setting for whether to display it, and so on.
On the Sections and layout tab, make a copy of that section.
clones the selected section and inserts the clone in the first empty placeholder from the top or, if there is no empty placeholder, it adds the clone to the end of the report. If you accidentally add a section in the wrong place, just drag it to the right place.
Open the copied section for editing and change the section type of the copy to Chart.
Now your report shows the same data in two ways. You may have to adjust the chart-specific settings on the copy, but the dimensions, metrics, conditional setting, etc., are already done.
Available section types
On the Sections and layout tab, use Section Types to determine the format of a report section.