After you set the section type to Chart, you need to say exactly which kind of chart you mean on the Chart settings tab.
The sections below show sample chart types and describe any special requirements. (General chart requirements are described in Chart settings tab.)
---
Pie chart type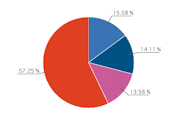 If more than one series is required, you can select to have a number of pie charts by using the Single chart per control on the Chart settings tab.
For pie charts, instead of selecting a whole series, you can (on the Chart settings tab, General view) set Show top to the number of data points to show.
---
Gantt chart type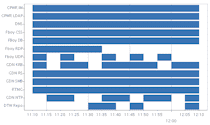 Gantt chart settings contain a slightly different set of options and requirements than other charts.
The main requirement in Gantt chart settings is a time dimension selected in a report definition.
The Gantt chart settings options vary from other charts the following ways:
Grouping
If Grouping options (on the Chart settings tab) are set to single chart per, only the charts containing a time dimension are displayed. If you do not select a time dimension and you select a chart Type of Gantt, you will see the message:
Error: Gantt chart requires that one dimension is time type .
X-axis
The X-axis is set to Proportional and cannot be changed.
Y-axis
Only the left side is configurable, because only the left side is applicable to this chart type.
The Scale and Range options do not apply to this chart type.
When Aggregate sibling events is selected, consecutive events are shown on the chart as one event. Sibling events occur when a particular event is immediately followed by another event, such that the end of one event is the start of another event. This option is beneficial when the chart contains links to a detailed drilldown report because the aggregated sibling events can have one drilldown link.
Sample Gantt chart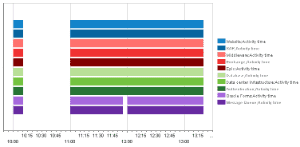 Stacked Gantt chart type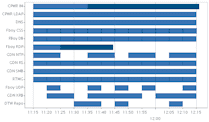 ---
Scatter chart type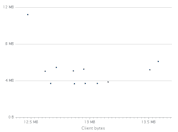 A scatter chart is used to graphically demonstrate relationships between the values of two metrics or a metric and a dimension. When the chart type Scatter is selected, the Scatter chart X-axis list enables you to select the X-axis values for the scatter chart: either a metric or a dimension.
Example scatter chart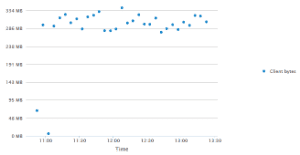 The scatter chart will not be displayed until you complete one of the following in the Chart settings panel:
Assign a dimension to the X-axis and choose a metric as a series.

Assign a metric to the X-axis and choose another metric as a series.
---
Columns chart type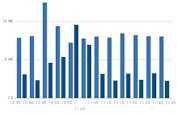 Stacked columns chart type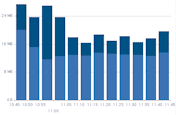 Columns 3D chart type

---
Bars chart type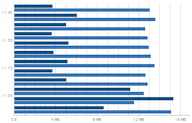 Stacked bars chart type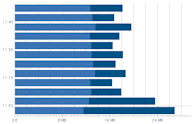 ---
Areas chart type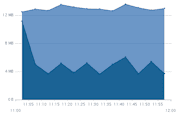 Stacked areas chart type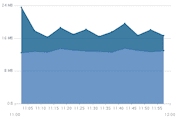 ---
Lines chart type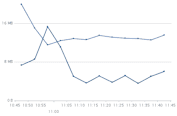 Stacked lines chart type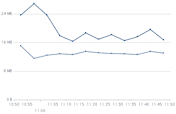 ---
Ribbons chart type