TCAM administration via GUI
TCAM is a Windows service, so it can be started and stopped using the Control Panel applet called Services.
TCAM can be launched by selecting Start > Control Panel > Administrative Tools > Services.
The TCAM Manager configuration tool performs all configuration actions.
Figure 1. TCAM Manager GUI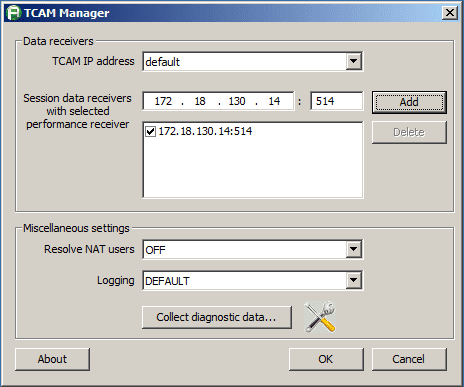 To run TCAM Manager, select it in the Windows Start menu.
Data receivers
TCAM IP Address
IP address to be used as a server IP.
This is an IP where the TCAM is installed, it is especially important if a server has more than one IP address.
It is set to default if Citrix uses only one IP address. It is should be set to front-end if more than one IP address is used.
Session data receivers with selected performance receiver
Mappings receivers address list.
An IP address list of the NAM Probe and a port number on which the NAM Probe listens to TCAM session mappings data. If the port is not specified, the default port number of 514 is assumed.
Once the IP address is specified, use the check box to designate which data receiver becomes a performance data receiver. There can be multiple data receivers and only one performance data receiver.
Miscellaneous settings
Resolve NAT users
Enable/disable user names resolution in configuration where there is Network Address Translation (NAT) device between Citrix user and Citrix server. For more information, see NetScaler Network Configuration.
Logging
Default : normal operation when only critical errors are logged during TCAM operation
Off : turns off logging completely
All : logging is enabled for troubleshooting TCAM by support
Collect diagnostic data
Creates a ZIP package with log and configuration files.
NAT resolution setting
NAT resolution setting enables correct user name assignment for network configurations where users connect through an NAT device. For more information, see NetScaler Network Configuration.