Customizing query definitions
The search engine supports queries described in casey-questions*.json files stored in your NAM Server/config directory.
The default queries are described in the casey-questions*.json file that installs with the NAM Server.
Warning
The default queries file is overwritten at upgrade, so do not make any changes there. Keep a separate file in the same directory and keep a backup file somewhere secure.
Overview
Each casey-questions*.json file defines a list of "intents" – actions you intend to take based on "utterance" patterns.
The order of intents matters: define more specialized utterance patterns first.

The Data Center RUM 2017 May release comes with 29 intents which cover almost 2M question variations.

Utterance patterns, and therefore questions, can be defined in any language, but this release supports #TIME phrases in English only.
Syntax
For each report you want to open using queries, you need to:
Name the report. This is the exact report name in the NAM Server.
Describe the "utterances" (statements) that will invoke the report.
Describe how information extracted from the question should be mapped to report filters.
Definitions are structured like this: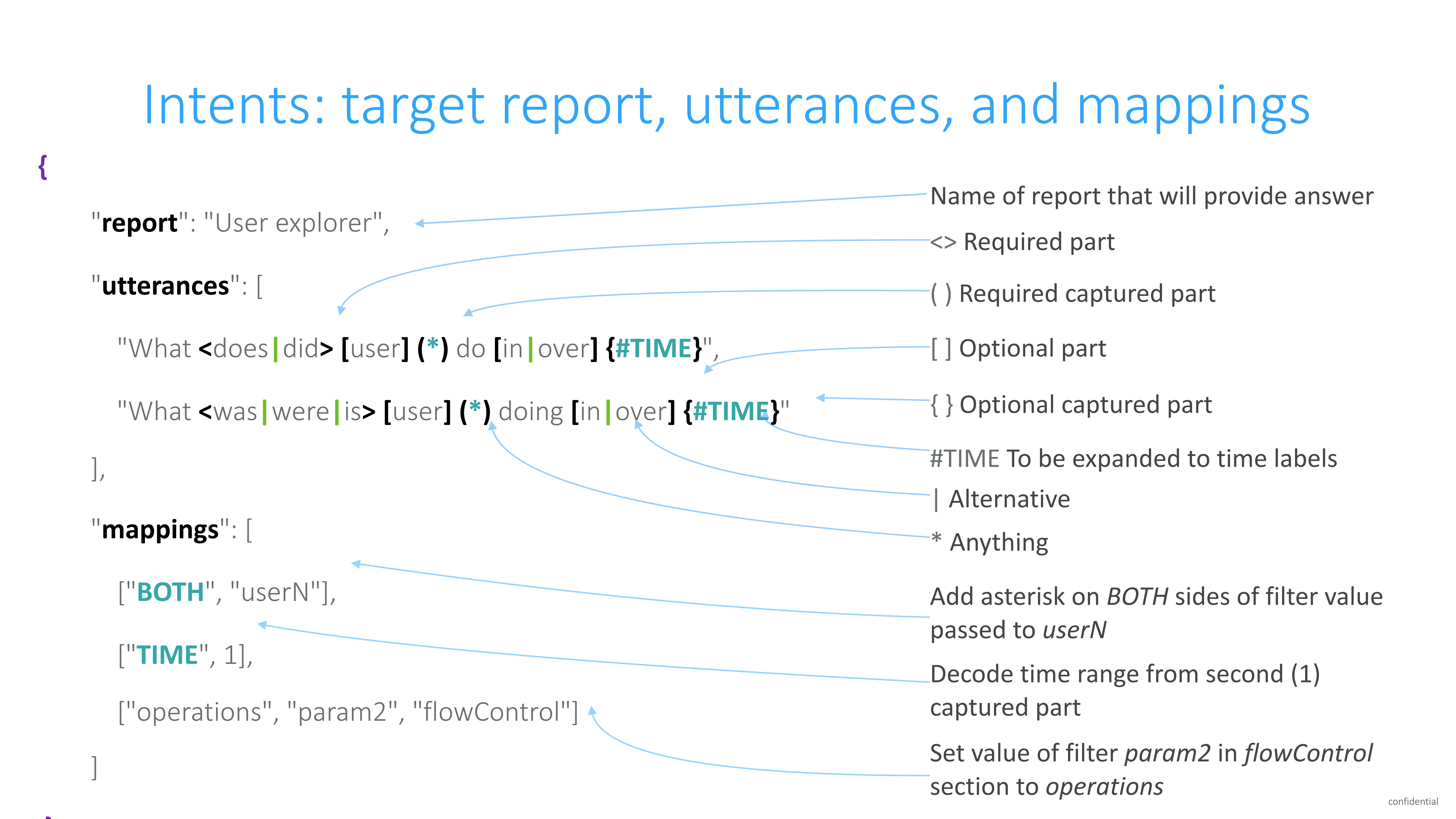 This example shows how a report called "User explorer" can be opened using either of two utterances:
{     
	"report": "User explorer",       
	"utterances": [  
		"What <does|did> [user] (*) do [in|over] {#TIME}",
		"What <was|were|is> [user] (*) doing [in|over] {#TIME}"     
	],
	"mappings": [
		["BOTH", "userN"],
		["TIME", 1],
		["operations", "param2", "flowControl"]
	]
}


In the syntax definitions:
[] = not required, not being captured
<> = required, but not captured
() = required and captured as a filter
{} = not required, but captured as a filter
| = or
#TIME = a time phrase matching one of strings below