Applies to DC RUM 2017
NAM Server ► Reports ► Synthetic ► Overview
The Synthetic overview reports enable you to monitor the performance of applications, transactions, and sites.
Access options
On the NAM Server main menu

select Reports ► Synthetic ► Overview or
On the NAM Server Dashboard

click the Synthetic overview tile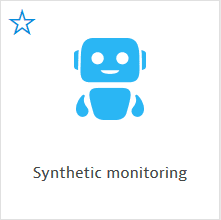 Overview
This menu item is visible only if you have configured at least one of Enterprise Synthetic Agent Manager or Dynatrace Performance Network account as a data source for the NAM Server.
If you configured just one synthetic data source, opening Synthetic overview places you directly in the dedicated report.
If you configured both Enterprise Synthetic and the DPN as a data source for NAM Server, the overview for both is presented in one window.
Details
See the Enterprise Synthetic help for details on these reports.
Enterprise Synthetic - 5 slowest applications
A chart. Drill down from any point on the chart to view the Application performance report.
Enterprise Synthetic - 5 slowest sites
A chart. Drill down from any point on the chart to view the Application performance report.
Enterprise Synthetic applications
A table of applications. Drill down from the Application column:

Analyze application performance
Analyze site performance
Review test executions
Review unavailable test executions
Analyze test results with metric charts

Enterprise Synthetic sites
A table of sites. Drill down from the Client site column:

Analyze site performance
Review test executions
Review unavailable test executions