The Operation explorer is a tool for identifying slow operations that may require your attention. Use it for analyses inside the data center.
How to find it
In the NAM Server search box

type "run operation explorer" and press enter to open this report with no context.
Drill down to this explorer in context from other reports. For example, open the Applications dashboard, then click an application and zoom to this report within the context of the selected application.
This explorer has the following tabs.
Overview
The Overview tab offers you a quick overview of operations so you can see at a glance whether any operations are particularly troublesome. Start with the Overview and move on to the other tabs if you see anything that requires your attention.
Charts:
Health vs response time
Availability vs failures
Page load time vs slow operations
Usage vs operations
Click in any of these charts to see details and zoom the report on the selected time slice. For example: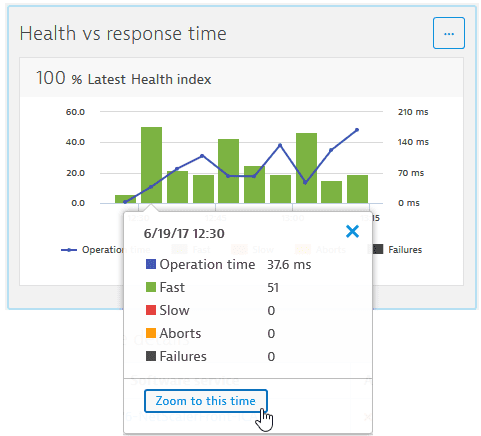 You can look at the Performance details table from a number of perspectives.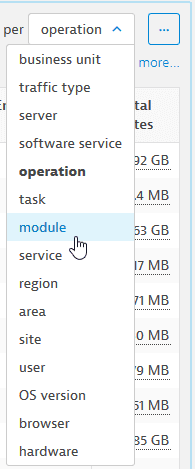 Health over time
This tab has two parts:
A series of tiles display health at a glance. Click any tile for details and drilldowns.

You can look at the Health over time table from a number of perspectives.
Top 20 most affected
This tab shows the 20 most affected operations, sites, or users, depending on your selection in the list: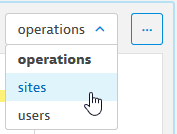 Slow operation cause breakdown
This tab displays a table and charts showing reasons for slow operations.
Multiple reasons
Application design - Redirect time
Application design - # of components
Application design - Response size
Application design - Request size
Network - Other
Network - Latency
Network - Loss rate
Client/3rd party
Data center
Response time distribution
This tab charts operation response time over time and lists response time statistics.
Click the charts to see details or filter the data to the selected time.