Applies to NAM 2018+
NAM supports a number of useful workflows. Where you start and how you proceed will depend on your needs.
Primary workflow in NAM 2018+
The reporting workflow in Dynatrace NAM 2018 has changed only slightly compared to Dynatrace NAM 2017.
The major changes include new reports:
Dashboard tiles
In Dynatrace NAM 2018, the NAM Server Dashboard has been updated to feature three new reports:
Let's walk through some report workflows in NAM 2018.
Health status walkthrough
If your primary use case of Dynatrace NAM 2018 is to monitor performance of your applications, health status is the starting point for you, in which case you should go to the Health dashboard and work from there through other dashboards and explorers to suit your needs.
One of the goals behind building the Health dashboard was to deliver a report that would replace the Application Health Dashboard (AHS) and Applications dashboard reports to answer the same questions with a single report.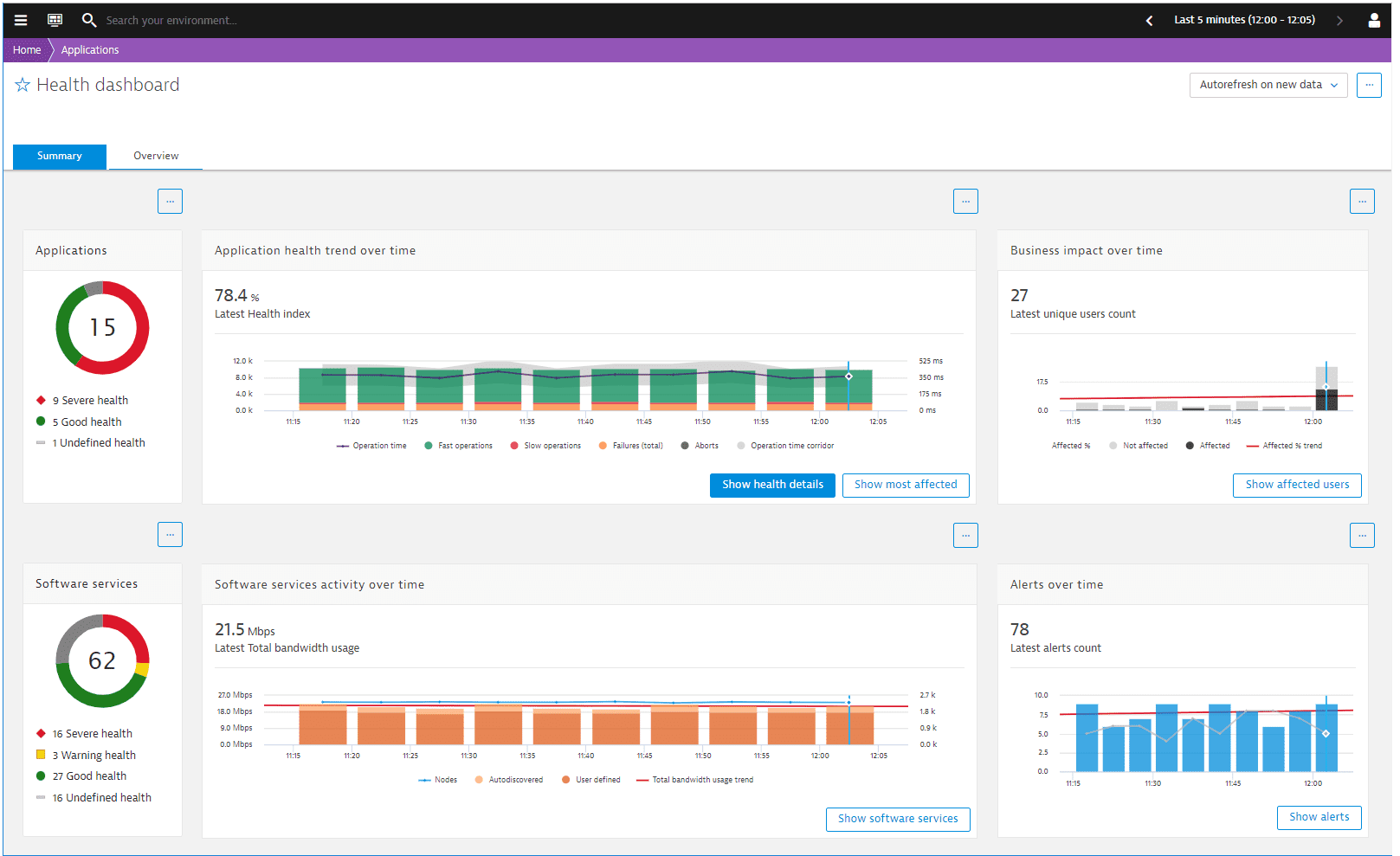 The default landing page (Summary tab) helps to answer key questions about your environment:
What is the health distribution among your applications and software services (and how many of them are currently present)?
How has health, business impact (number of affected vs unaffected users), and traffic volume in the whole environment changed?
How has the number of alerts changed up to the current time?
This dashboards Overview tab offers an alternative view of all your applications, where each application is represented by a tile indicating application health by color.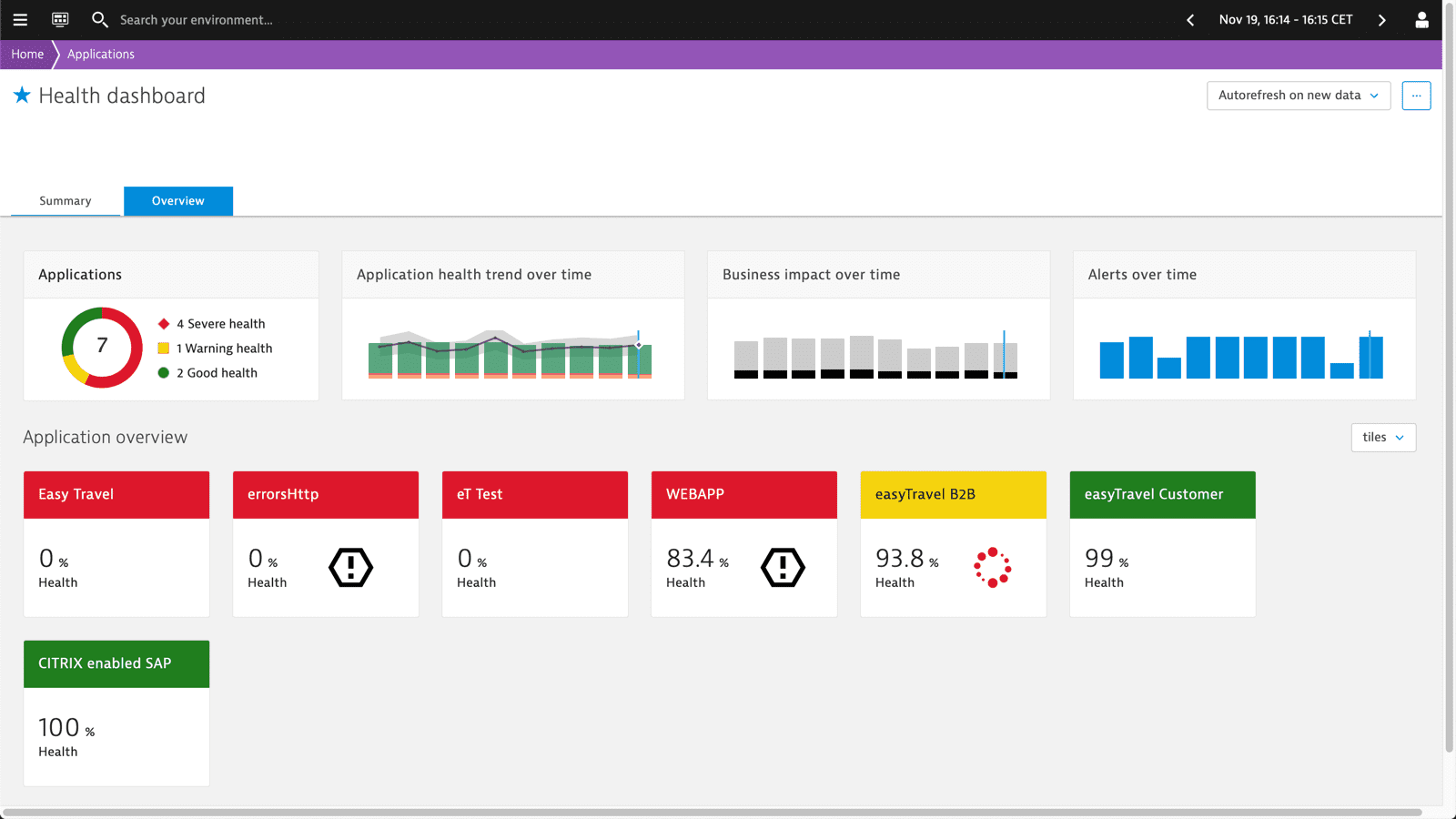 Healthy applications are green. Less healthy applications are yellow or red and have an indicator for the main reason they are in poor health (primarily slowness or a high number of failures or aborts). This view has been optimized for network operations center (NOC).
Use the menu options in the Application overview section to change the focus of the tiles: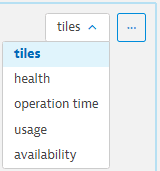 For each application in the report:
tiles (the default perspective) shows compact tiles with health expressed as a percentage and a simple graphic indicator of reason for less than optimal health.
health shows the recent health history, with special tiles that extend the previous health NOC-style view with charts showing recent health and operation time for each application.
operation time plots the operation time breakdown over time for each application.
usage shows a usage breakdown over time.
availability shows a failures breakdown over time.
In any of these views, you have quick access to further analysis.
You can quickly select one of the applications to show its detailed information, show tiles for transactions defined for this application, or further analyze the current state of this application in one of the explorer reports. For applications affected by slow operations, a dedicated link to the Slow operation cause breakdown report is available. Similarly, when there are failures or aborts, you can quickly jump to the Error explorer to further analyze those failures.
Regardless of whether you choose to show the overview tiles or detailed tiles charting health information over time, the same set of interactions is available.
Details
Select the Details button on an application tile to drill down to the details perspective, where the overview charts are reduced and rendered at the top (just as in the NOC view) and information about your applications is rendered in an interactive table.
At a glance, the table shows you the health, root cause of problems, requests and transaction time breakdowns, affected vs unaffected users, and health of all client and network tiers through which your application is delivered.
You can change the perspective through which you analyze the state of your applications:
health focuses on general application health
slowdown focuses on reasons for slowdown, including transaction time
availability focuses on application availability, including errors
network focuses on the network, including loss rate and RTT
business impact focuses on business impact, including transaction time and users affected
Transactions
Select the Transactions button on an application tile to show transactions defined for the application.
Expanding rows and drilling down
Depending on which perspective you choose to review your applications, when you select a table row representing one of the applications, the row expands to show more detailed information tailored to the perspective of your choice. In addition to a number of charts showing your application status over time, you can also review the health of transactions defined within each application and the health of the tiers through which your application is delivered.
Hover your pointer over any chart in an expanded row to see details for the selected time and, depending on the perspective and the chart you choose, drill down to explorer reports (for example, Data explorer, Operation explorer, Error explorer, User explorer) and dedicated application dashboards (for example, SAP dashboard, Web dashboard, Database dashboard).
Navigation tips
Click on the Applications breadcrumb at the top of a report to go back up from the details level to the applications level.

Open the quick-access menu at the bottom of the table to switch to explorer reports or to select whether to show or hide currently inactive applications, whether to show only affected applications, and whether to show only those applications that are in a given health state.

You can't save changes to the Health dashboard directly, but you can save an edited copy under a different name.

You can select the Health dashboard as a favorite on your NAM Server Favorites tab, in which case the currently selected view is remembered. When you open it from Favorites, it opens to the view (Overview, Details, or Most affected) that was selected when you favorited it.
Show most affected
Select the Show most affected button from the Summary tab (for a general report) or from a the Details page (filtered by the selected application) to display a detailed NOC-style view of the most affected applications.
From here, you can easily assess the health of your apps, the root cause of their problems, and the history of changes in the health, availability, operation time, and usage up to now. Depending on how your apps are delivered, you will also gain access to an overview of key tiers: a Citrix, (worst-performing) Network tiers, and Data center tiers overview for each app. For network tiers, you can chart network performance, loss rate, and RTT changes over time.
When rendering network status over time, you can choose which tier to analyze on the time charts.
Most affected shows the top 25 most affected applications by default, but you can select applications in the Applications section to focus the report.
If you have synthetic tests you would also like to show on the Most affected view, open the report for editing, select the Global parameters tab, locate the Show synthetic tiles row, and change User filter for that row to true.
Error explorer walkthrough
Any time you need to analyze in detail what kind of problems, errors, or failures are affecting your applications, the new Error explorer in NAM 2018 should come in handy.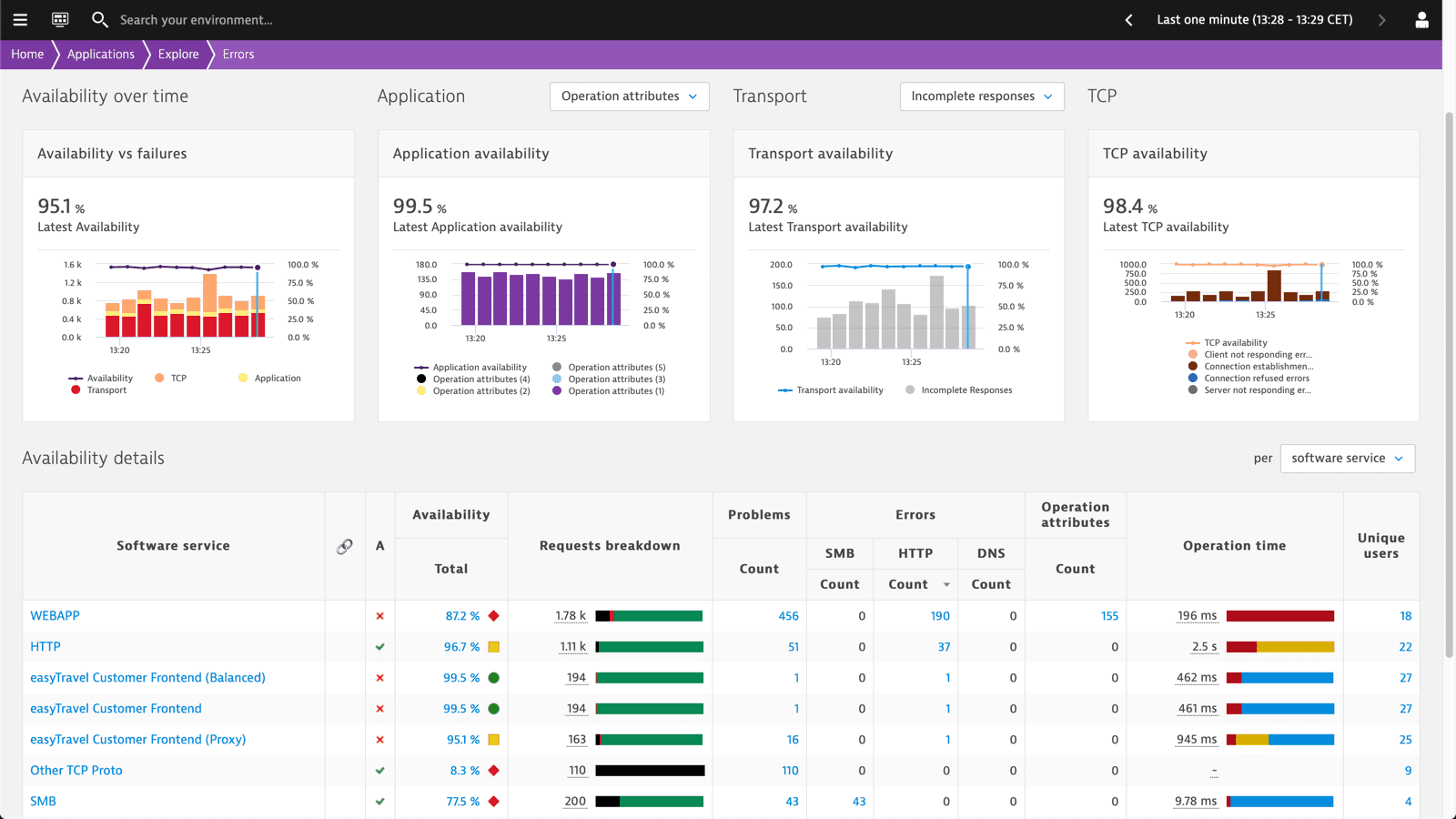 Error explorer charts the number of failures for quick analysis.
Error explorer charts
The Availability over time overview chart combines a breakdown of the three categories over time.
Additional charts (Application, Transport, and TCP) show breakdowns of the selected type of errors, failures, or operation attributes within each category.
Focusing the Application and Transport charts
For the Application and Transport charts, you can select an error, operation, or attribute type. The menus are automatically adjusted to show only the categories that apply to errors, failures, and attributes reported within the selected time range of the charts. The first available category from the list is always pre-selected.
Focusing the time range
As in other explorers, you can focus the Error explorer time range by clicking in one of the charts at the top and selecting Zoom to this time.
Changing the table perspective
You can change the perspective of the Availability details table.
Error explorer table
The Availability details table presents availability, including all kinds of error and failure counters, together with an operation time breakdown from any of various perspectives (including software services, locations, business units, technical hierarchy, and user and client identification).

By default, only errors and failures aggregated into a given type are presented, and only those types that report a non-zero value for at least one row.
You can choose to show details for availability:
Showing or hiding additional columns For any error or failure type separately:
Showing or hiding additional columns Use the Show all additional columns and Hide all additional columns buttons to show or hide additional data columns.
Error explorer - further analysis
Analyzing error details You can easily continue your analysis by switching to other explorer reports or dashboards. For most types of errors and failures reported with ADoD enabled, you can select Analyze error details...
...to open the Operation details explorer with the type of error or failure preselected from the context you drilled down from.
Displaying availability over time Select the Availability over time tab to review (and compare between software services, servers, and so on) how availability has changed over time.
Displaying the most affected Select the Top 20 most affected tab to view the most affected entities within each supported dimension.
Operation details explorer walkthrough
Operation details explorer (ODE) is a new report designed to unlock the full potential of the data made available through Advanced Diagnostics on Demand (ADoD).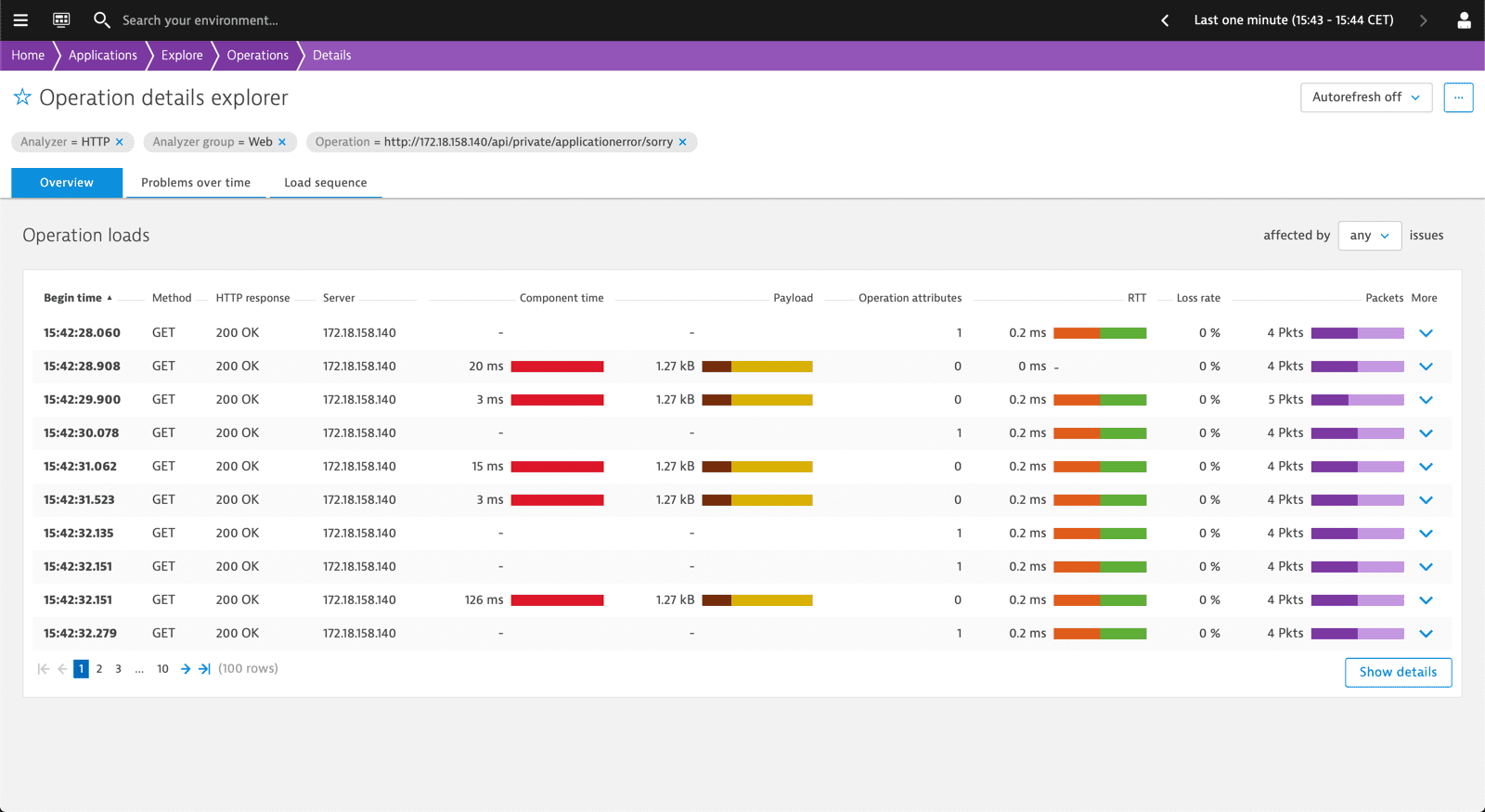 ODE is the only report in the workflow that cannot and should not be called directly. You need to apply some filters for it to render any information. Most Dynatrace NAM 2018 reports, however, offer a link to ODE with the proper filters. For example:
In Error explorer, click an entry in the Problems, Errors, or Operation attributes column and select Analyze error details (available for most types of errors and failures reported with ADoD enabled).
In Operation explorer, on the Slow operations cause breakdown tab, links from the table open ODE to show slow operations.
In relevant search results (for example, search for private operations), click an operation and select Analyze operation loads for the last monitoring interval.
The design of this report enables you to analyze each operation load within a given time range, for a given set of filters, from the perspective of performance, availability, network health (RTT, Loss rate), and usage metrics.
Expanding a row
Click a table row to expand the row and display complete information for the selected operation load.
Displaying a hit load sequence
When hit load sequence data is available, Operation details explorer displays the hit load sequence for the selected operation load if you select a single operation load from the table or if you open this explorer with the ID of a single operation load.
Displaying header data
When header data is available, Operation details explorer displays header data for the selected hit when you request detailed information for a single hit.
Reviewing errors, failures, or operation attributes
You can also use this explorer to review when errors, failures, or operation attributes were reported within a given time range. It also helps you understand at second resolution when operation loads were executed within the selected time range. This view opens up by default when you drill down from Error explorer.
Plotting the operation loads as transaction breakdowns
Additionally, if not opened for a single operation load, it also possible to plot a sequence of the first 20 operation loads as transaction breakdowns. This view loads by default when drilling down from the Sequence explorer.
Navigating up to the Dynatrace dashboard
When you are analyzing data that is also made available to Dynatrace SaaS or Managed, you can drill up from Operation details explorer directly to the corresponding Dynatrace dashboard.
Filtering by root cause
Whenever one or more types of root cause details are identified, you can filter the list of presented operation loads to show only those matching a given type of root cause, to show any root cause, or to show those operation loads for which a root cause was not identified.
Showing or hiding additional columns
Use the Show details and Hide details buttons at the bottom of the table to show or hide all data columns in tables.
Additional workflow details and links
For most people, the main workflow in NAM 2018 starts with the Health dashboard (the purple Application Health Dashboard in the diagram). From there, you can drill down to a relevant dashboard or other specific report, and eventually end with the Operation details explorer for a focused and detailed analysis.
Health overview and analysis:
Explore menu:
Operation analysis:
Additional explorers and reports:
Supporting workflows:
Report workflows after upgrade from DC RUM 2017
This diagram shows workflow details of NAM 2018 compared to the workflow in DC RUM 2017.
Reports that are translucent were present in DC RUM 2017 and remain so after upgrade, but they do not exist in NAM 2018 and are no longer supported.
Solid borders are the supported workflow.
Dashed borders are deprecated.
Workflow changes of note: