What's new in Keynote Web Monitoring - 2015
This document describes new features in the Keynote Web Monitoring - 2015 releases.
MyKeynote (version 13)
Keynote Service Center (KSC) (version 6.5)
MyKeynote
Script timestamp in scatter plot data point
When viewing a Mobile App Monitoring data point in a scatter plot, hover over the data point to view the script timestamp, i.e., the time that the measurement script was published.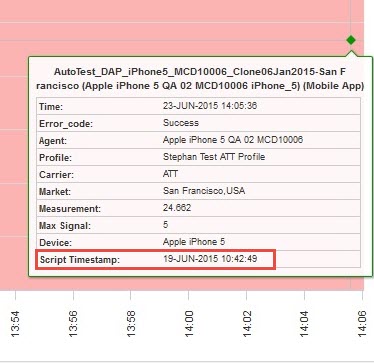 New metrics in Test details for Android devices
Users can drill down into a data point to view the Test Details page in MyKeynote. The following new metrics are displayed (below the screenshots) on this page. These metrics are only available for Android devices.
CPU Utilization
Memory Used
Memory Free
Signal Strength (broken down by cellular network type)
Command-by-command results
In the Test Details page for a specific MAM script run (data point), users can now click a link to view detailed command-by-command results.

The MAM Detailed Results page shows all script commands executed in a tree view, including the command at which the script failed.

Click on a command to view detailed command results, including command execution timestamp, run time, and screenshots (first and last screen of the device during command execution). Click on a screenshot thumbnail to view an enlarged versions and scroll through screenshots for the command.

KSC
Mass edit for scripts
When updating several scripts at the same time in KSC (Mass Edit > Mobile App Edit ), scripts now display the current publication timestamp as well as the timestamp of the newest script version available. Users can easily opt to update scripts with more recently published versions.

Expiration of measurements
New measurements created in KSC release 6.5 onwards will have a default expiry of 20 years in the future.
Script timestamp in KSC
When selecting a script for scheduling in KSC, timestamps are now displayed in 24-hour format, making it easy to select the correct or most recently published script version.

Scheduling multi-device test cases
Mobile App Monitoring supports multi-device test cases for up to two devices, e.g., for sending and receiving a message. When scheduling a multi-device test case in the Keynote Service Center (KSC) portal, use the Two Ended Script option. You no longer have to schedule multi-device test cases as single-ended scripts.