Keynote Web Monitoring release notes - 2015
This document describes bug fixes and known issues for:
Scheduler (September 2015)
MyKeynote (version 13)
Scheduler
Bug fixes
These bug fixes in the scheduling apparatus affect web monitoring measurements.
KAS-21 - expired measurements
KAS-21 fixes an issue with measurements that would continue even after they had been expired.
TXP-92 - miscellaneous errors
Modifying or adding a new measurement would not generate data for an extended period of time, reporting instead 70100 and 70101 errors. This issue has been resolved.
TXP-188 - script not being scheduled
This fix addresses a bug where scripts deployed in KSC would not actually be scheduled for up to 24 hours, generating miscellaneous errors instead.
MyKeynote
Known issues
RUM widgets and settings
New widgets to graph user journeys are available in the Real User Dashboard but are temporarily not able to display any data. Likewise, RUM users can set up user journeys in the Categories, User Journeys, and Funnels settings screens and then use these settings in widgets, but the data required for populating graph widgets is unavailable.
Bug fixes
MYKEYN-1273 - broken links in network diagnostics page
When you navigate to the Agent Diagnostics page in MyKeynote (Diagnostics > Network Diagnostics > click Agent Diagnostics in the Agent section), URLs for diagnostic centers pointed to secure links that did not work. The URLs have been corrected and the links now work.
MYKEYN-282 - empty content type in waterfall graph
The waterfall graph in MyKeynote was not displaying the content Type for certain objects without a slash (/) in the content type. This issue has now been resolved.
MYKEYN-1331 - CApP agent status page
MyKeynote now provides a CApP Agent Status page (Diagnostics > CApP Agent Status ) to check the status of private agents located in a Keynote customer's agent cloud.

MYKEYN-1363 - missing legend for trend with three or more metrics
When you chose to view a Performance Trend graph for three or more metrics in a measurement, e.g., Total Time, Bytes Downloaded, Object Count, the scales on either side of the graph did not correctly display and name graph units. This issue has now been resolved.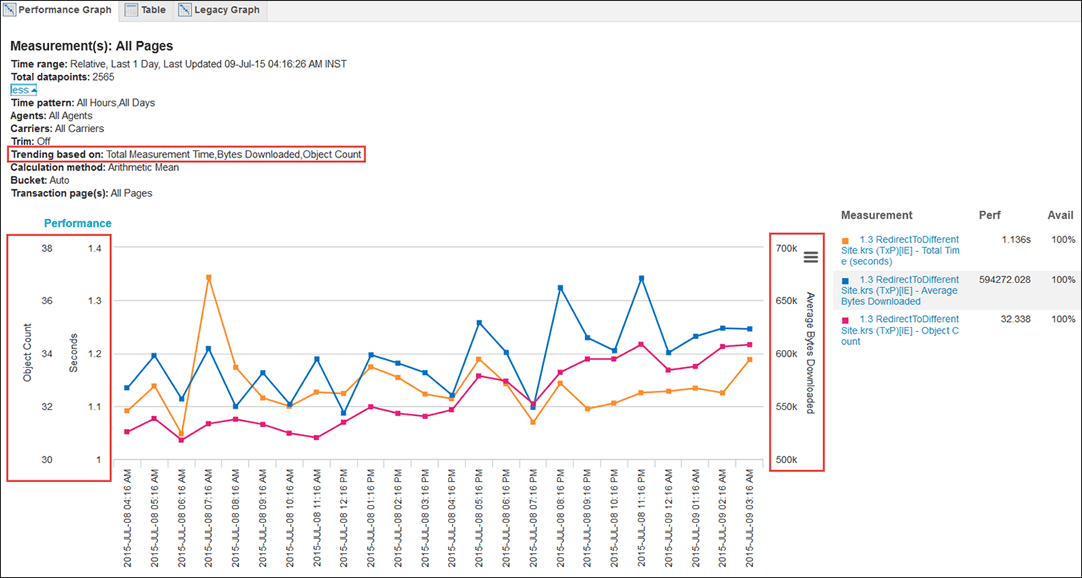 MYKEYN-1304 - adding or editing a report
Users logging in with MyKeynote credentials associated with many measurements (e.g., running into thousands) were not able to add or edit service level reports.
MYKEYN-1355 - extra time interval and table entry for legacy performance trend graph
When viewing a legacy Performance Trend graph, say over a relative period of the last three days, a placeholder for an extra time period (an hour, day, or a few minutes, depending on the time range chosen) was displayed in the Table and the Legacy Graph tabs. This issue has now been resolved.
MYKEYN-176 - deleting saved graphs
Saved graphs with spaces in the name could not be deleted, even though users saw a deletion confirmation message. This issue has now been resolved; graphs with spaces in the name can be deleted.
Known issues
MYKEYN-1297 - performance trend graph start date
When viewing a Performance Trend graph for a measurement, if the start of the time range falls before the date the measurement was deployed, the availability chart shows conflicting date information. The x-axis of the chart shows data points from the start of the time range, even though the measurement was not deployed till later. However, hovering over the data points shows the correct timestamp.