Keynote Web Monitoring component release notes May 2016
The May 2016 release of Keynote Web Monitoring includes changes to the look and feel of MyKeynote as well as resolved issues.
MyKeynote
Enhancements
New logo
MyKeynote has a new logo, aligning its look and feel with Dynatrace's corporate identity and other web properties. All MyKeynote functionality and navigation remain the same.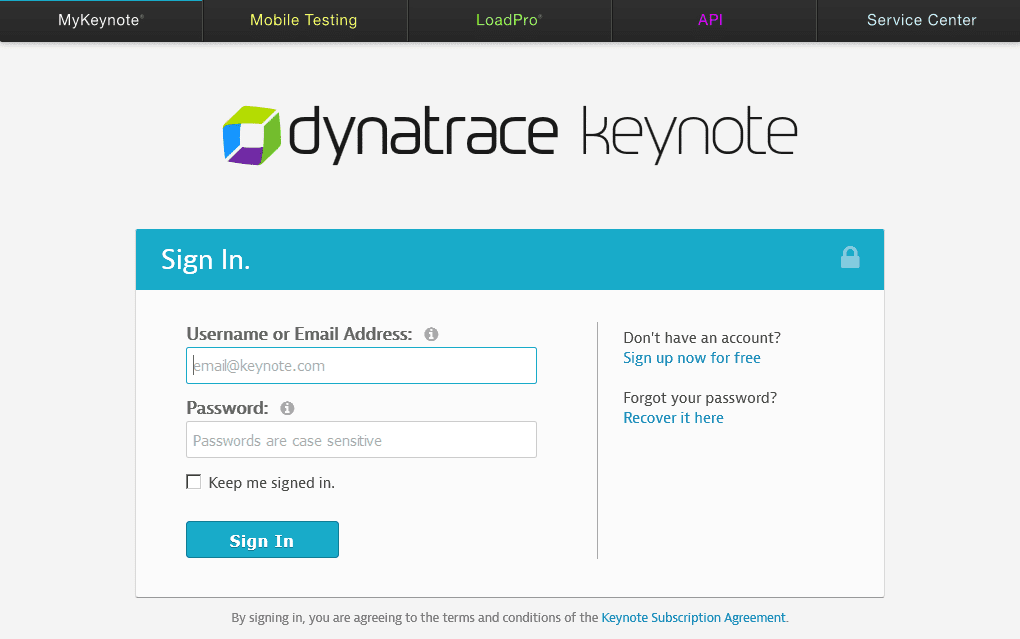 Alarm log pagination
Alarms are now paginated in the Alarm Log, alarms are now paginated. If you have a long list of alarms, you can page through them.
Resolved issues
CSCAS-2366 - diagnostics tab
The Diagnostics tab in MyKeynote is now fully controlled by the Run Diagnostics permission in KSC. If you do not see this tab in MyKeynote, you do not have permission to do so—request your administrator for changes.
CSCAS-2377 - loading the waterfall
In certain cases, the waterfall graph did not load, displaying instead a spinning wheel, when drilling into a data point from a scatter plot generated using Charts > Analyze . This issue has now been fixed.
CSCAS-2366 - performance alarms based on total bytes downloaded
When setting a performance alarm based on the Total Bytes Downloaded component, static warning and critical thresholds must be specified in KB. The maximum threshold level is limited to 2147483 KB.
CSCAS-2335 - color legend in combination graph PDF
The color legend for each measurement is now correctly displayed when you save a Combination Graph report to PDF.
CSCAS-2306 - performance graph issue
Performance graphs for time periods that included the daylight savings time boundary took very long to be generated. This issue has now been fixed.
CSCAS-2031 - MWP graphs from dashboard
From the Web & Mobile dashboard, selecting a time/graph corresponding to an MWP measurement generated an error in retrieving content. This issue has now been fixed; graph are loaded correctly from the dashboard.
Removing quotes from page aliases
In MyKeynote, you can now successfully remove quote marks from page aliases—navigate to the user menu > Settings > Page Names . Click the Edit button next to a page name to change it.
Changing passwords
An administrator was able to change a user's password (user menu > Settings > Passwords ) even though that user's current password was entered incorrectly. This issue has now been fixed.
Furthermore, you can only change a User or Administrator password at a time, not both.
Creating an email group
When adding a new email group (user menu > Settings > Email Groups ), the user had to reload the page and navigate back to the Email Groups page to see the newly added group. The user is now automatically taken to the page, where the new group is listed.