Keynote Web Monitoring component release notes February 2017
The February 2017 release of Keynote Web Monitoring contains the newly redesigned MyKeynote portal and new features in the Web Recorder in the Keynote Service Center (KSC).
MyKeynote features an improved layout and navigation with one-click access to all the features you use. New features include the Operational summary, Error analysis, Custom dashboards, and an updated waterfall graph with several enhancements.
Product versions:
MyKeynote
Resolved issues
These issues have been resolved in the Keynote Web Monitoring patch release of April 2017.
CSCAS 3893 - Drilling into a scatter plot for MAM measurements
It was not possible to drill into a data point from a scatter plot for single-page Mobile App Monitoring measurements (drill-down for multi-page measurements was not affected). This issue has now been resolved.
CSCAS 3841 - Auto refresh in legacy web & mobile dashboard
The auto refresh feature in the Legacy Web & Mobile dashboard has been restored. (Select

> Web and mobile >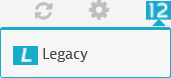 in the top-right corner to access this dashboard.)
CSCAS 3759 - Collapsing the alarms column in the legacy web & mobile dashboard
The list of measurements disappeared when you collapsed the Alarms column in the Web & Mobile legacy dashboard; this issue has now been fixed.
CSCAS 3757 - Lld and new waterfall graphs shown
When drilling down into a data point from a scatter plot, clicking on an error page from the test details brought up the old waterfall graph; clicking a correctly loaded page in the test details brought up the new waterfall graph. From here, one could use the page selector to view the new waterfall graph for the error page. This issue has now been fixed; the new waterfall graph is consistently shown.
CSCAS 4079 - Alarm baseline creation error
Users encountered an HTTP 500 error when creating an alarm baseline for measurements with an ampersand (&) in the name. This issue has been resolved; you can now create alarm baselines.
Updates
The landing page after you log in, previously called the Home tab, is now called the Home dashboard and is accessible from the portal menu. Review the video above to quickly come up to speed with the new navigation in MyKeynote.
The Red Alert and Load Testing dashboards are no longer available.
The Internet Health Report is no longer available.
Waterfall graph
Waterfall graphs have been completely redesigned with enhanced tooltip information for each element's download bar, the ability to scroll through waterfalls from one test page or data point to another, easy identification of first and third party content, and several other changes listed below. More help is available on the Waterfall Graph documentation page.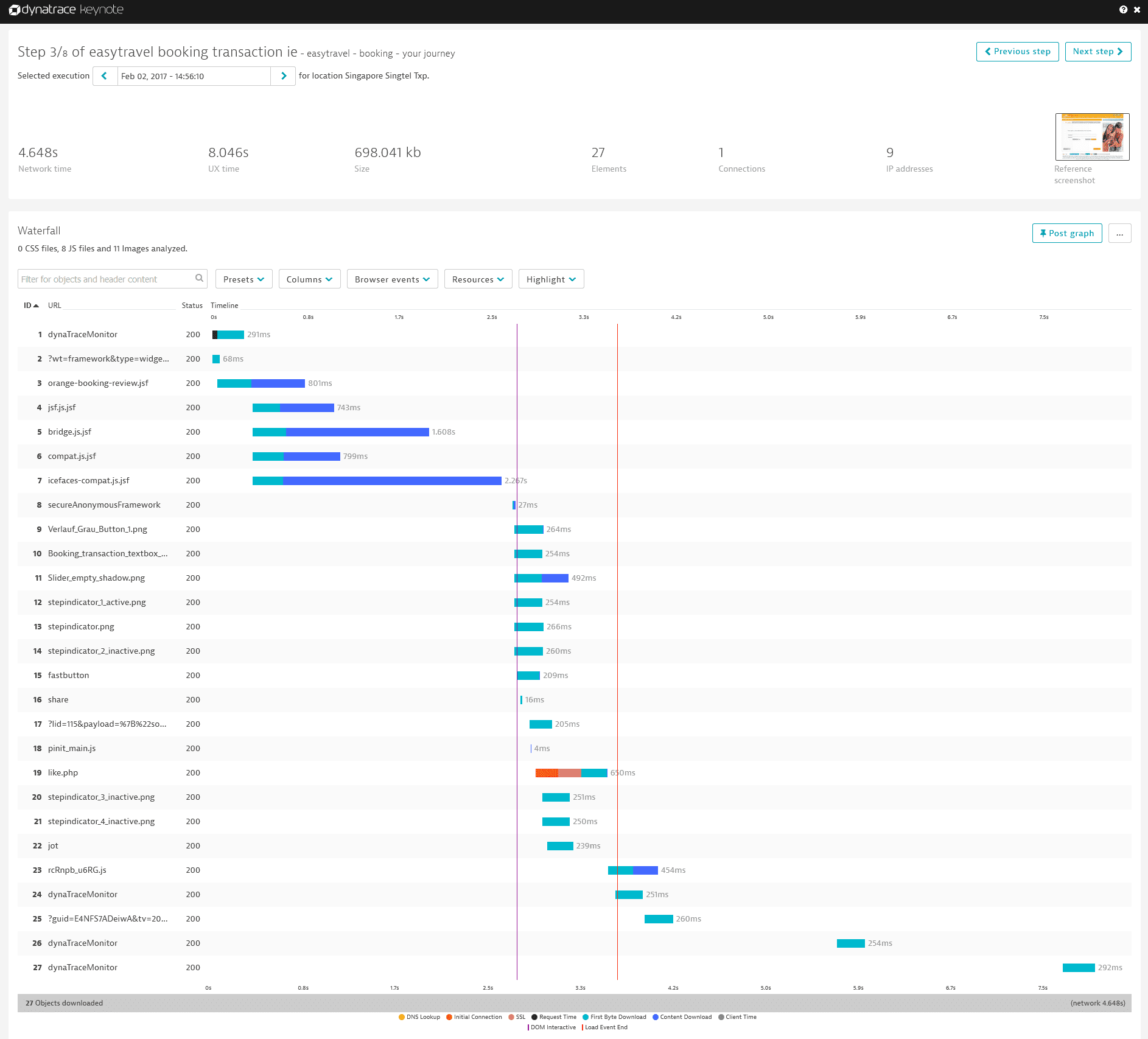 The enhanced Keynote waterfall improves upon the previous waterfall in these ways:
Navigate easily through waterfalls for each page of a measurement.
Enhanced tool tip and third-party resource information when hovering over timeline bars
Object trending graph with performance and availability for the last 24 hours displayed directly when you click a resource URL.
Headers accessible at the resource level (only for MWP error data points)—click on the URL of a resource > View Headers.
Identify first and third-party content by displaying additional columns; view third-party category and vendor.
Number of CSS/JS/image objects
Highlight and filter by CSS/JS/image object type.
Highlight large/small objects.
Filter by any visible column's data, not just by text in object URLs.
Error screenshots captured for all error data points.
Enhanced waterfall for comparing two data points
Waterfall state (settings such as filters, columns displayed, highlighting, sorting) persists between user sessions.
Web recorder
Version 2 of web recorder is now generally available as part of the Keynote Service Center (KSC) provisioning workflow.
New features
Custom cookies
You can insert a cookie in your recorded script by adding a Cookie action. For example, to make your test simulate a return visit, you can add a Cookie action to identify each run as a return visit. Click the sign

 that appears between actions in your recorded script's Transaction Summary to add a cookie.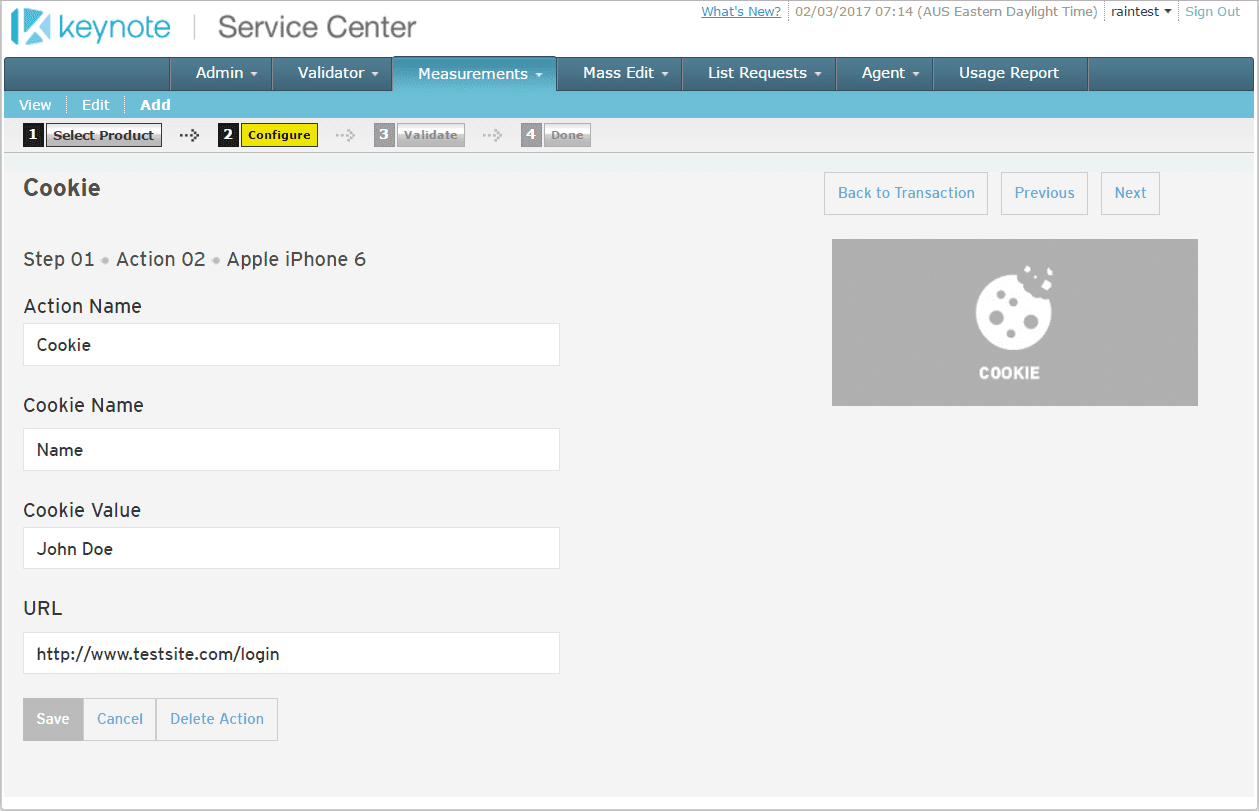 Password and text encryption
When recording a script, the web recorder automatically recognizes masked fields and encrypts them, replacing text with a series of dots in UI. Click the lock icon

next to the password field to save these changes to the script deployed on the agents.
You can also choose to manually encrypt any text field where you have entered keystrokes. And you can edit a script at any time to change any text captured and then encrypt it. See Web Recorder Actions for more information.
Custom header and host mapping support
In the Script Options, you can now define custom headers and host mappings. You can add a custom header to the HTTP headers sent with each request. Host mapping allows you to replace a recorded hostname with an alternative hostname or IP address. This allows you to run the same script against different hosts and is useful for comparing a CDN-enabled site to the original site, or to override DNS by mapping a hostname to a specific IP address.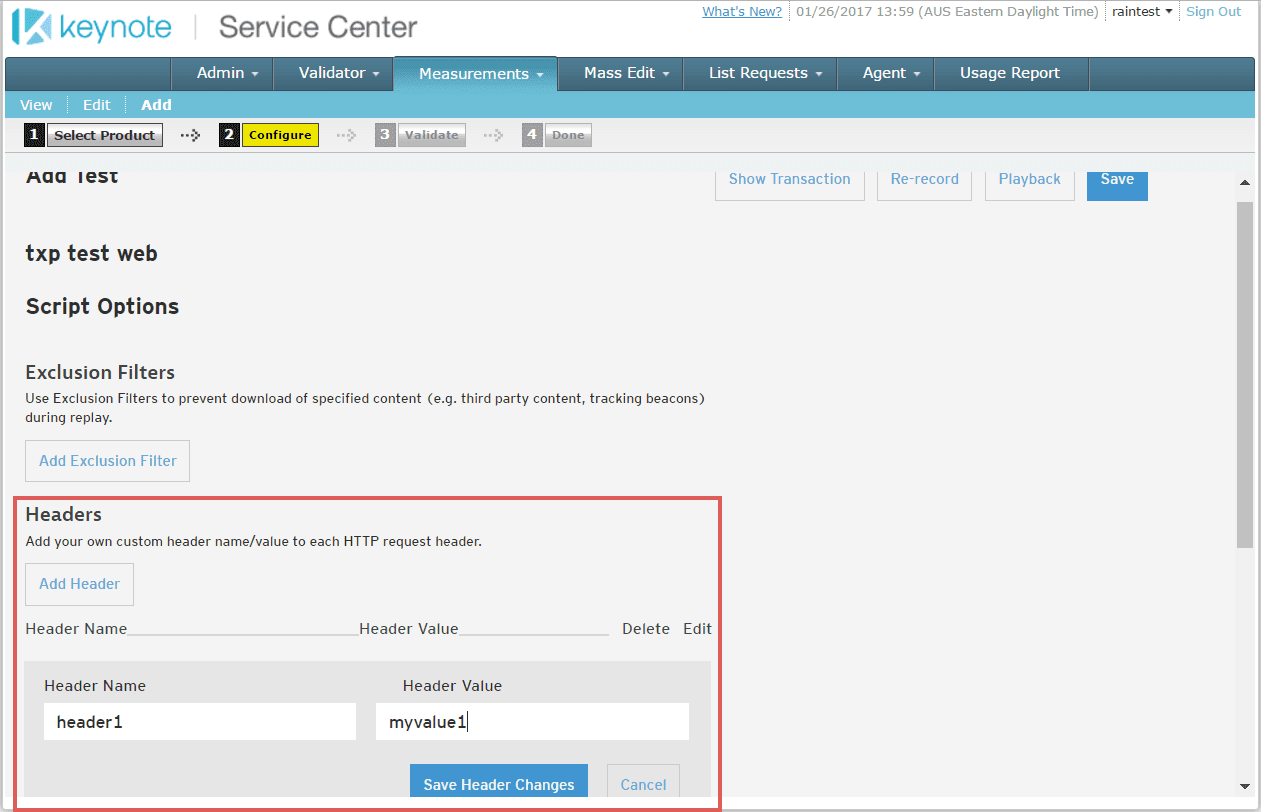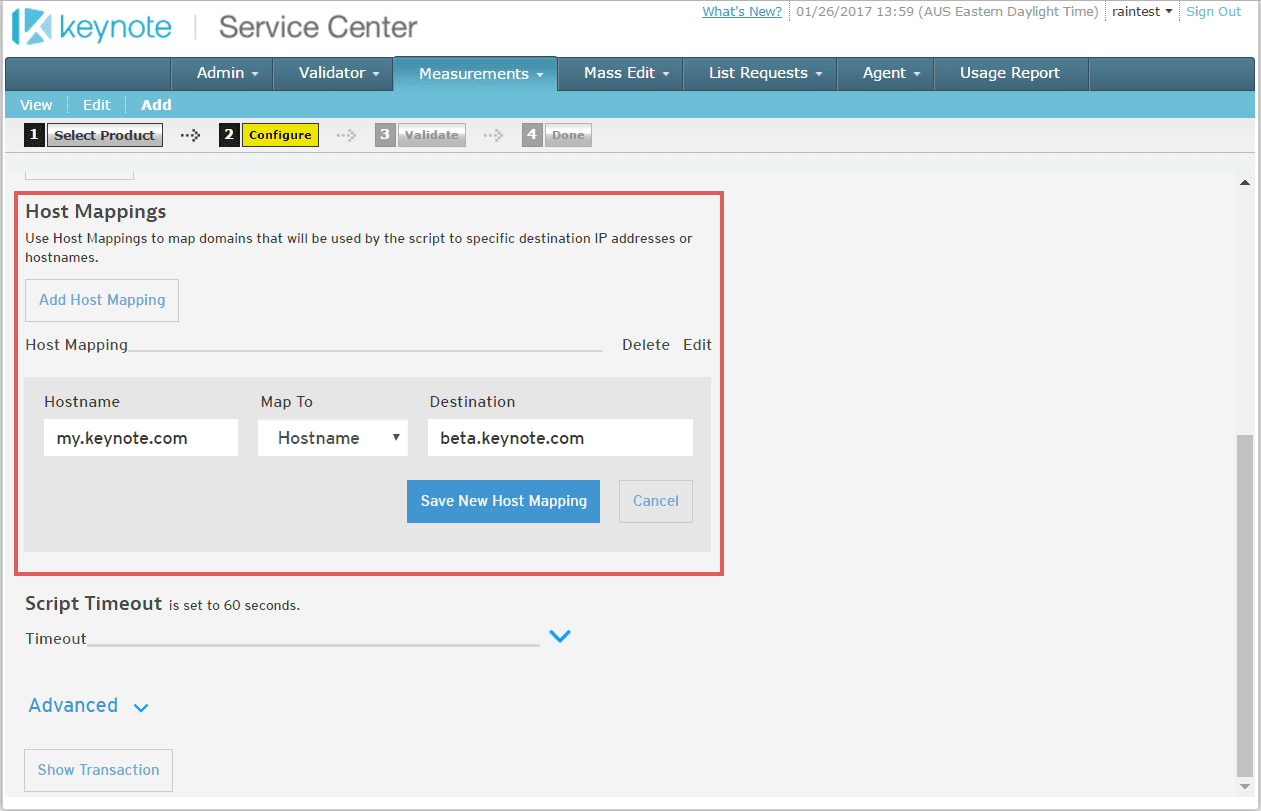 Enhanced mobile emulation
The web recorder now leverages the advanced Chrome mobile emulation capabilities to display a mobile website like the mobile device selected, also changing the cursor to a touch icon, even on non-touch-enabled devices. This allows us to record interactions with mobile web applications as mobile gestures like tap.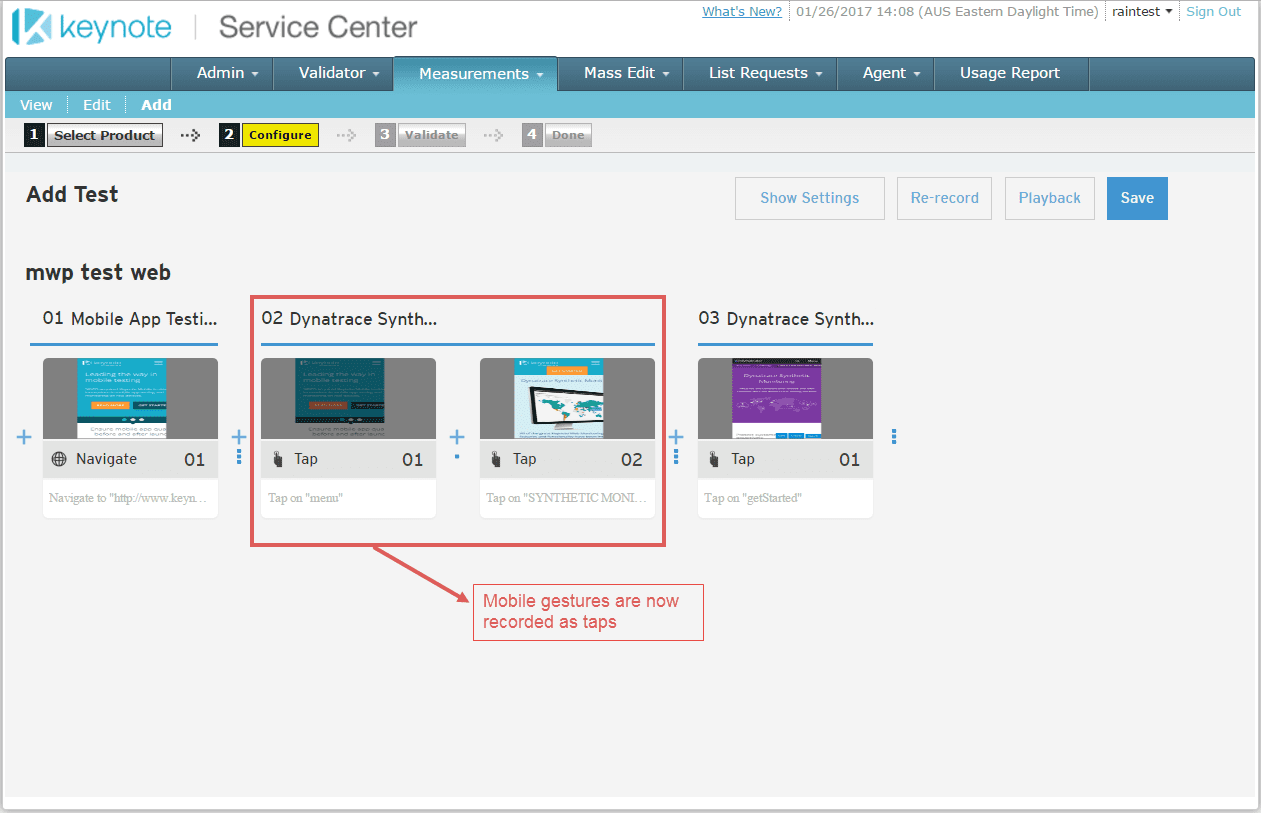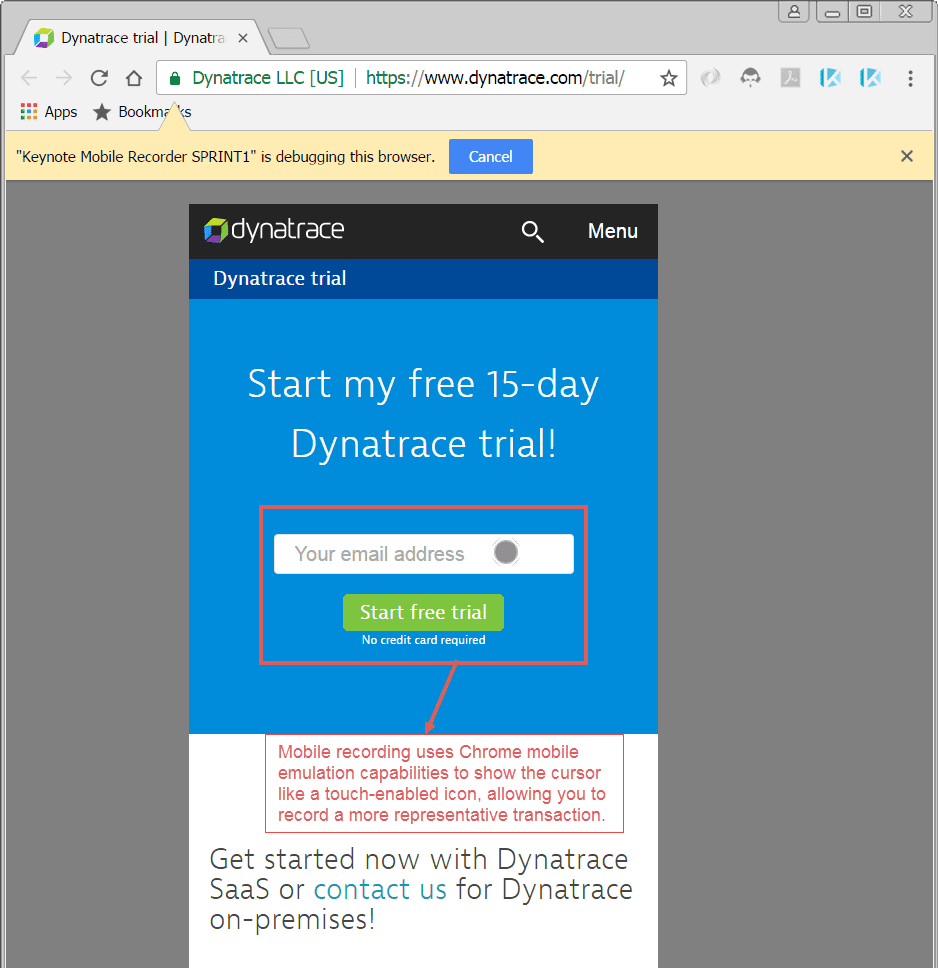 Product notes
Agent versions
These are the browser versions on Dynatrace Keynote agents as of this release of the web recorder:
Transaction Perspective (TxP) agents:
Internet Explorer 11.0
Firefox 31.0
Chrome 36.0.1985.125
The latest browser versions in Mobile Web Perspective (MWP) agents are based on Webkit 538.1 from QT5.4.2.
Using the Web recorder on a laptop or tablet with external monitor
If you are using the Web Recorder on a laptop or tablet that has an external monitor attached, we recommend recording transactions with the recording window on your primary monitor, not on the external monitor.
Recording mobile scripts
When recording a Mobile (MWP) script, do not interact with a web page until it is fully loaded. Waiting for the page to be loaded fully ensures that the actions are recorded in the proper order.
"Invisible" client vertical scroll bars on mobile sites
Some mobile websites have a vertical scroll bar on the right side of the page, distinct from the web page's vertical scroll bar. This scroll bar may be so thin as to be almost invisible. In the mobile recording UI, if the page does not scroll down adequately using the web page's vertical scroll bar, it may be that there is a second, client-defined scroll bar embedded on the right side of the page. It may take precise use of the mouse to click and drag this second scroll bar to scroll down the page.
Known issues
Hitting the Enter key in mobile scripts
When recording a mobile script, pressing the Enter key is not recorded as a Tap action. You must actively tap a screen element instead of pressing Enter. For example, on google.com, tap the Google Search button to submit a search string instead of pressing Enter.