Keynote Web Monitoring 2017 February release notes
February 2017
Dynatrace Keynote is very pleased and excited to announce the launch a new MyKeynote experience in this
Keynote Web Monitoring release of February 2017. In this release:
Easier, one-click navigation to access all MyKeynote features you use (view the video on the right)
New Operational summary for an at-a-glance overview of test performance
New** Error analysis** with error types and failing tests, and locations
New** Custom dashboards** with powerful charting widgets
Redesigned Waterfall graphs
Additional** Keynote web recorder** features for one-stop script recording and provisioning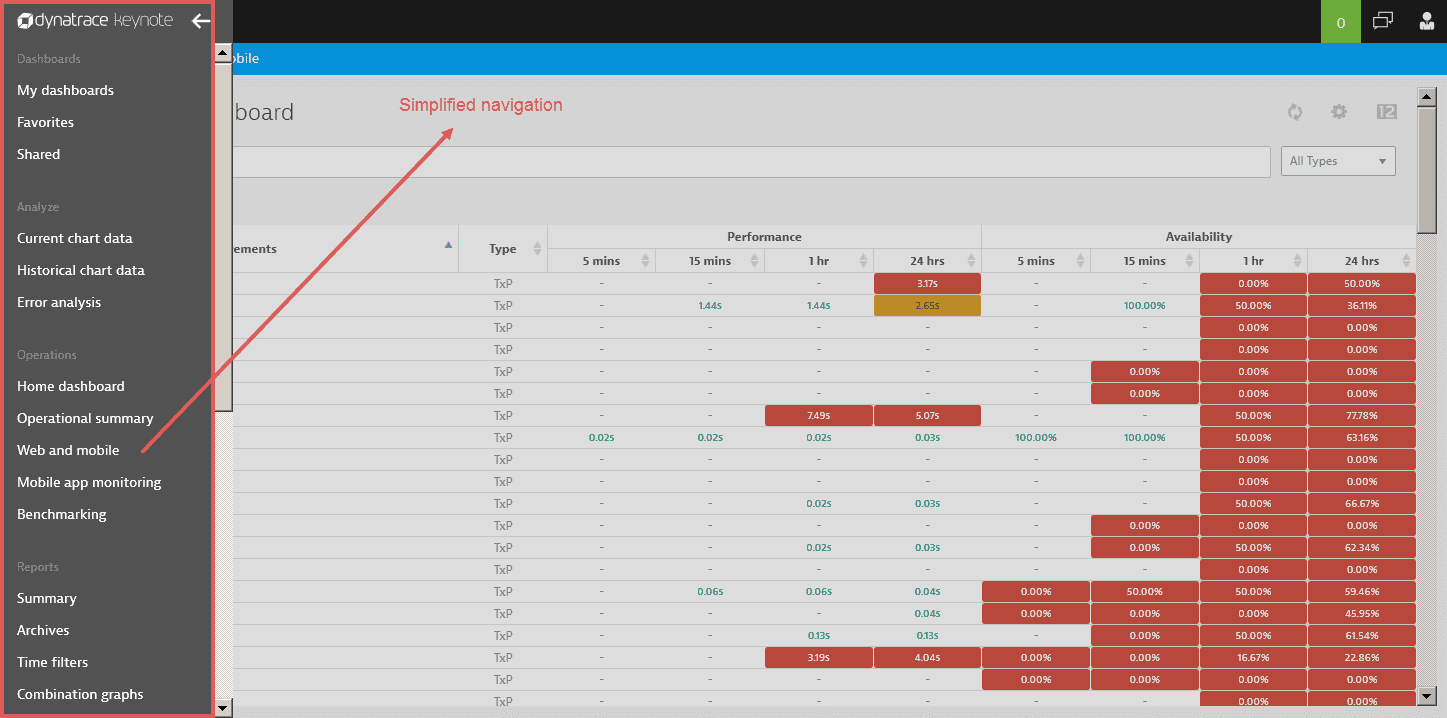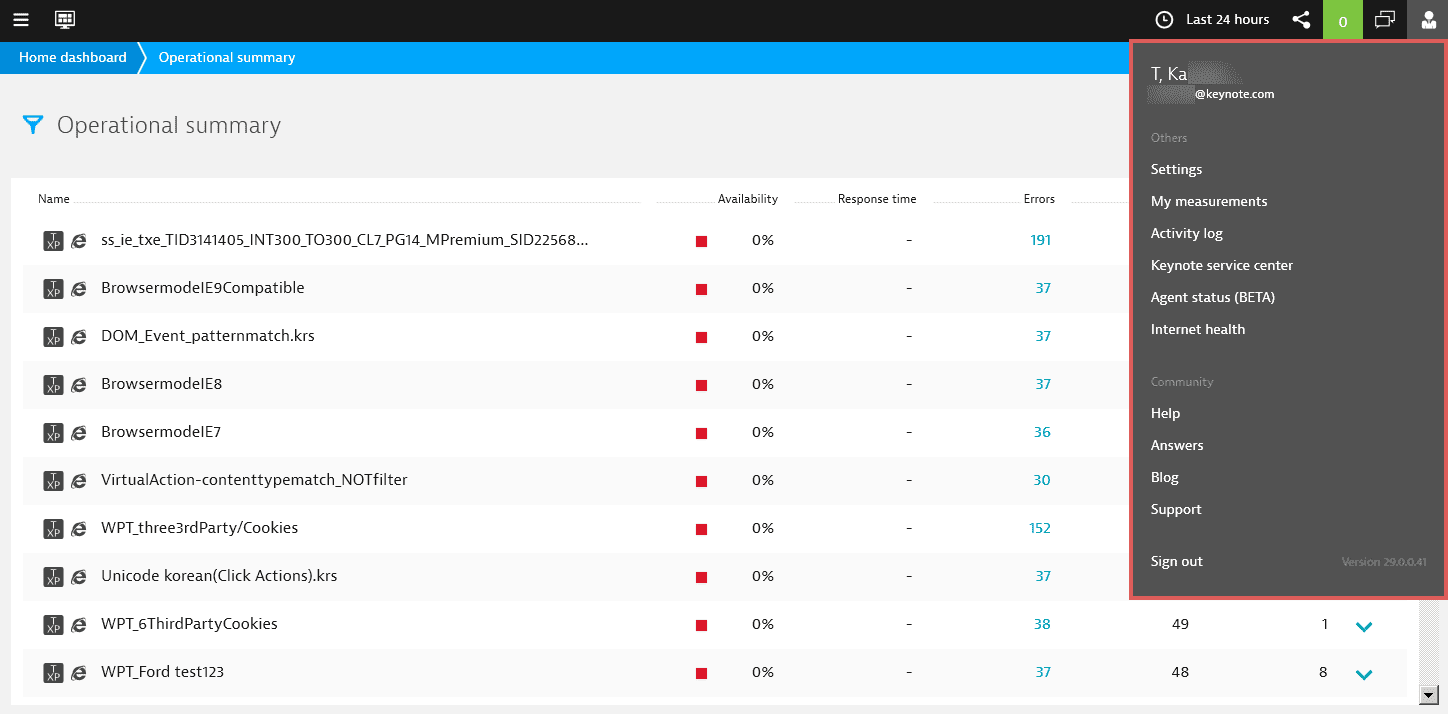 Introducing the New MyKeynote Experience with Enhanced Navigation!
MyKeynote has been updated to streamline your workflows and optimize your time. With our mobile friendly, enhanced navigation , you can now access all new and existing features from any device with one click.
Simply click the portal menu at top left to find the Operational Summary, Web & Mobile Dashboard, test list for charting, Alarm Summary, Benchmarking, and everything you have always accessed in MyKeynote.
The user menu at top right provides access to settings and the Keynote Service Center (KSC), among other things.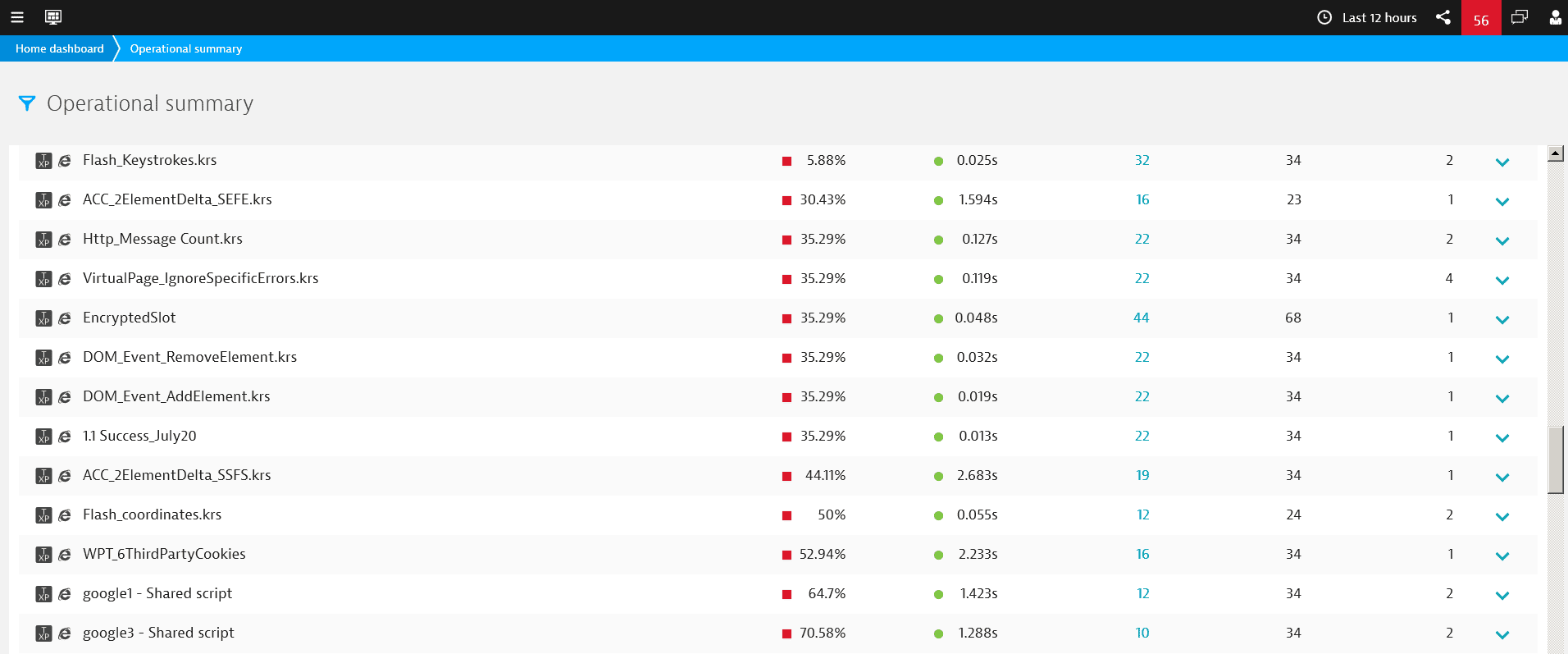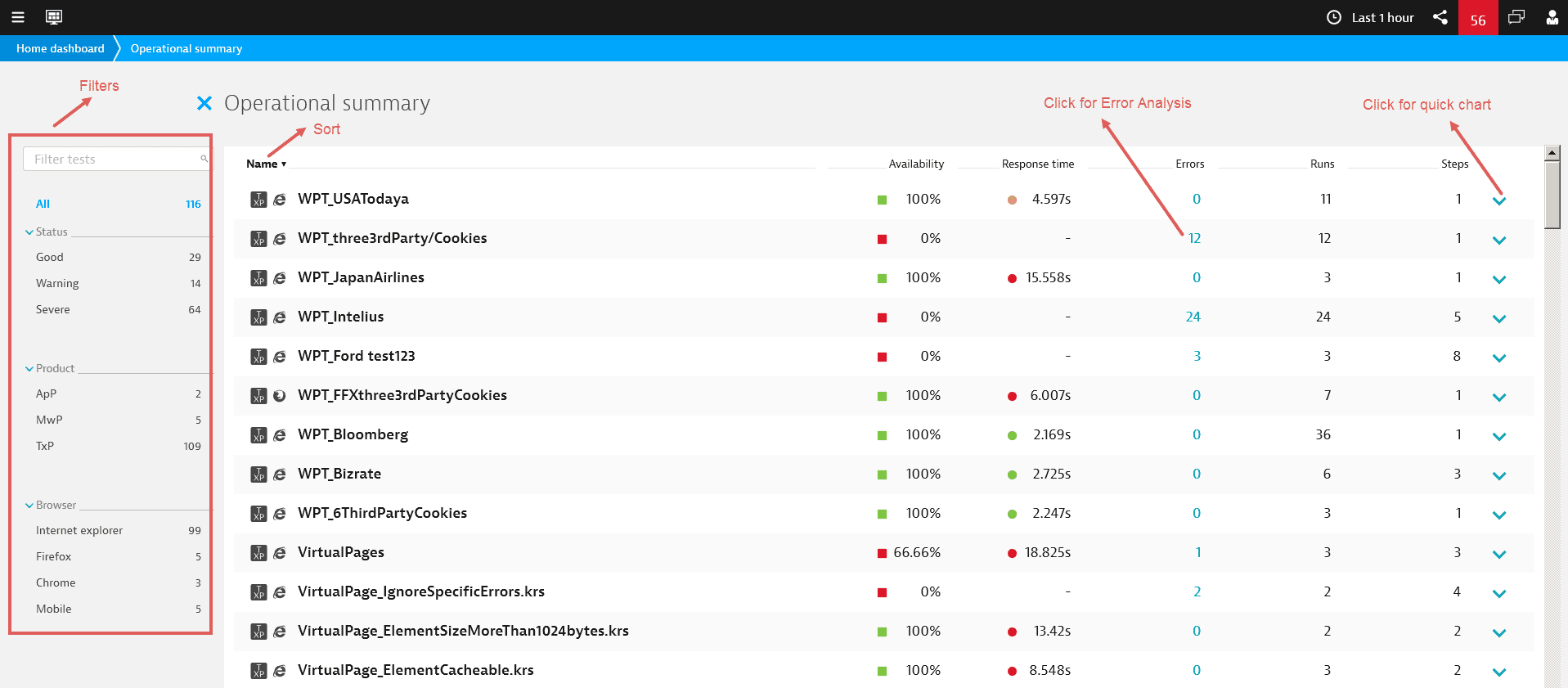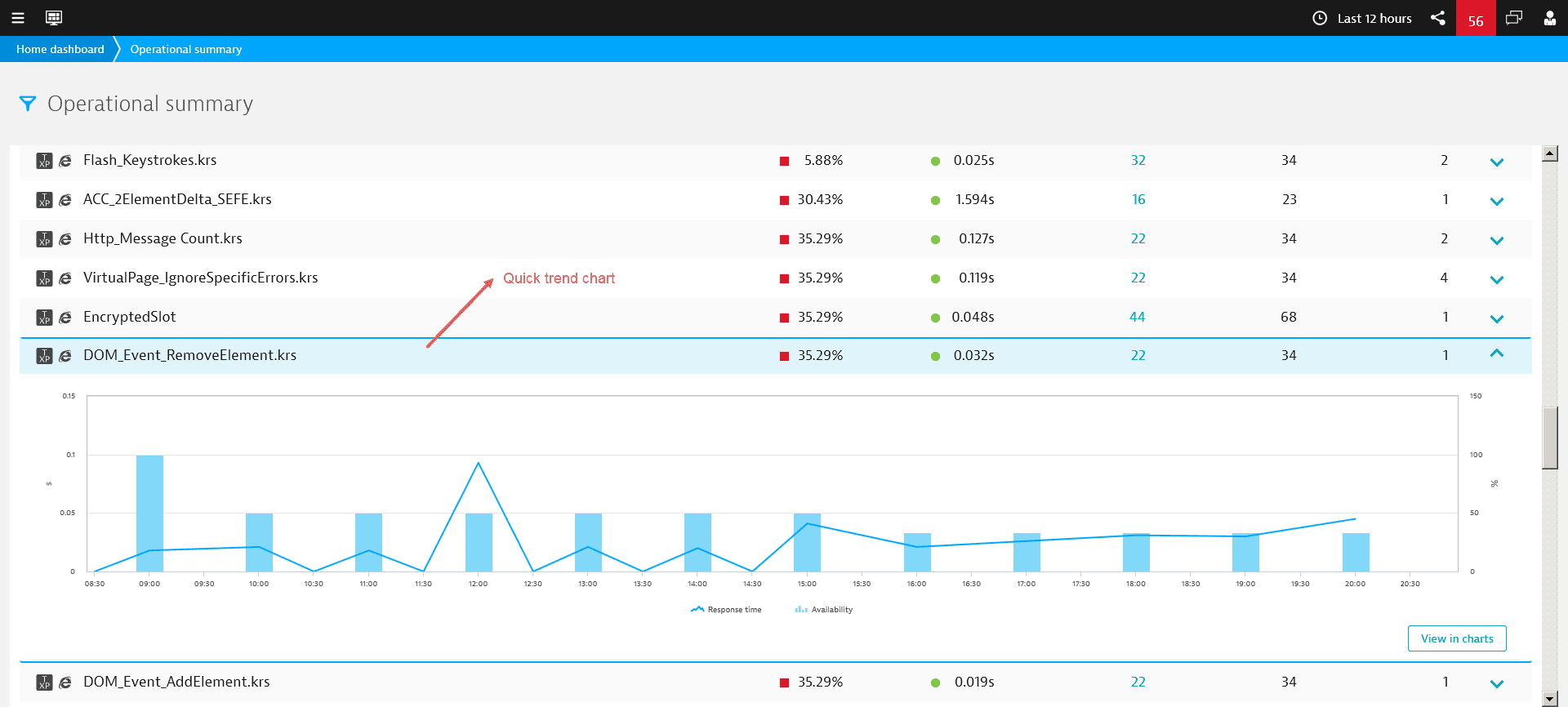 A Single Overview for All Your Operational Needs!
The Operational summary page provides a quick and visually intuitive status overview of your tests to reduce your MTTR for both performance anomalies and availability outages. From the the main tabular view with filters, optimized workflows provide quick trend charts and links to detailed Error analysis, another of our new features.
Performance and availability for each test with status icons for easy identification
Filters to view tests by status, browser, service, or any string
Expandable quick charts for availability and performance
Drill-downs to detailed error analysis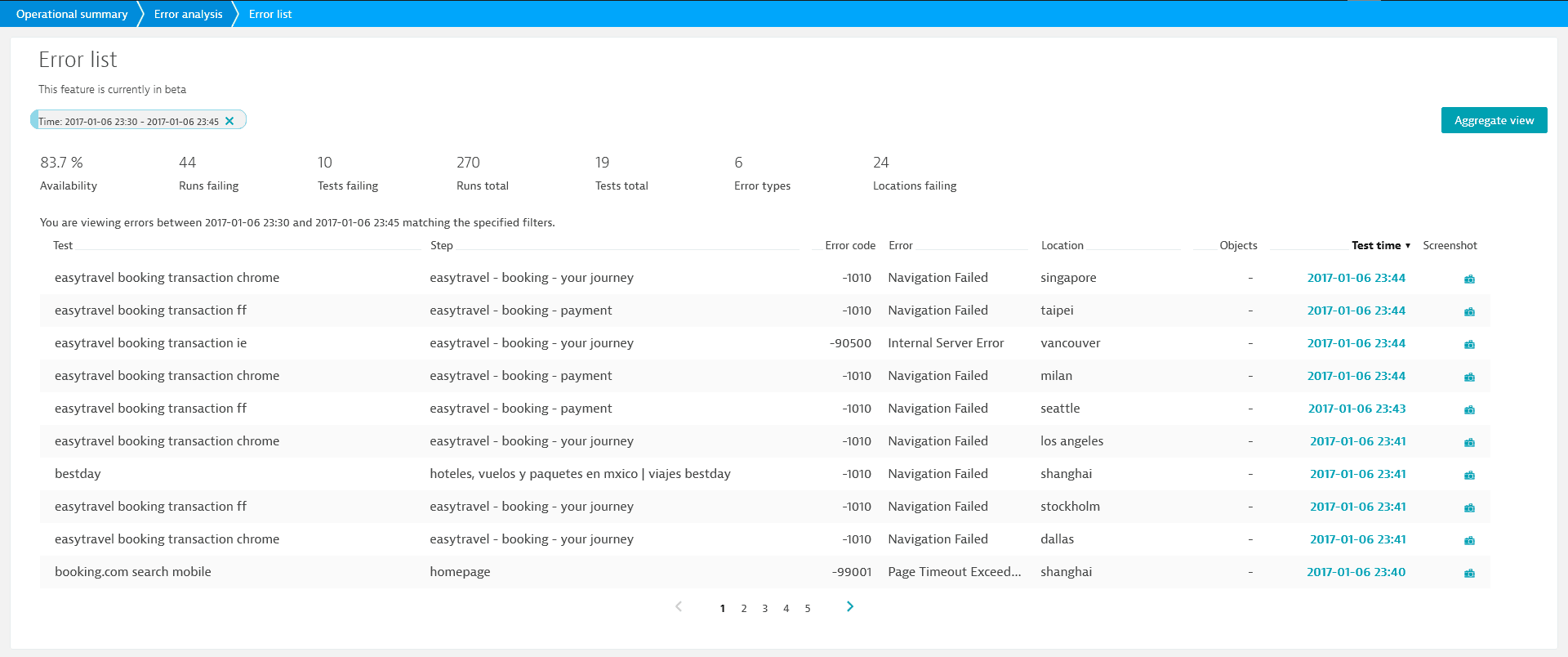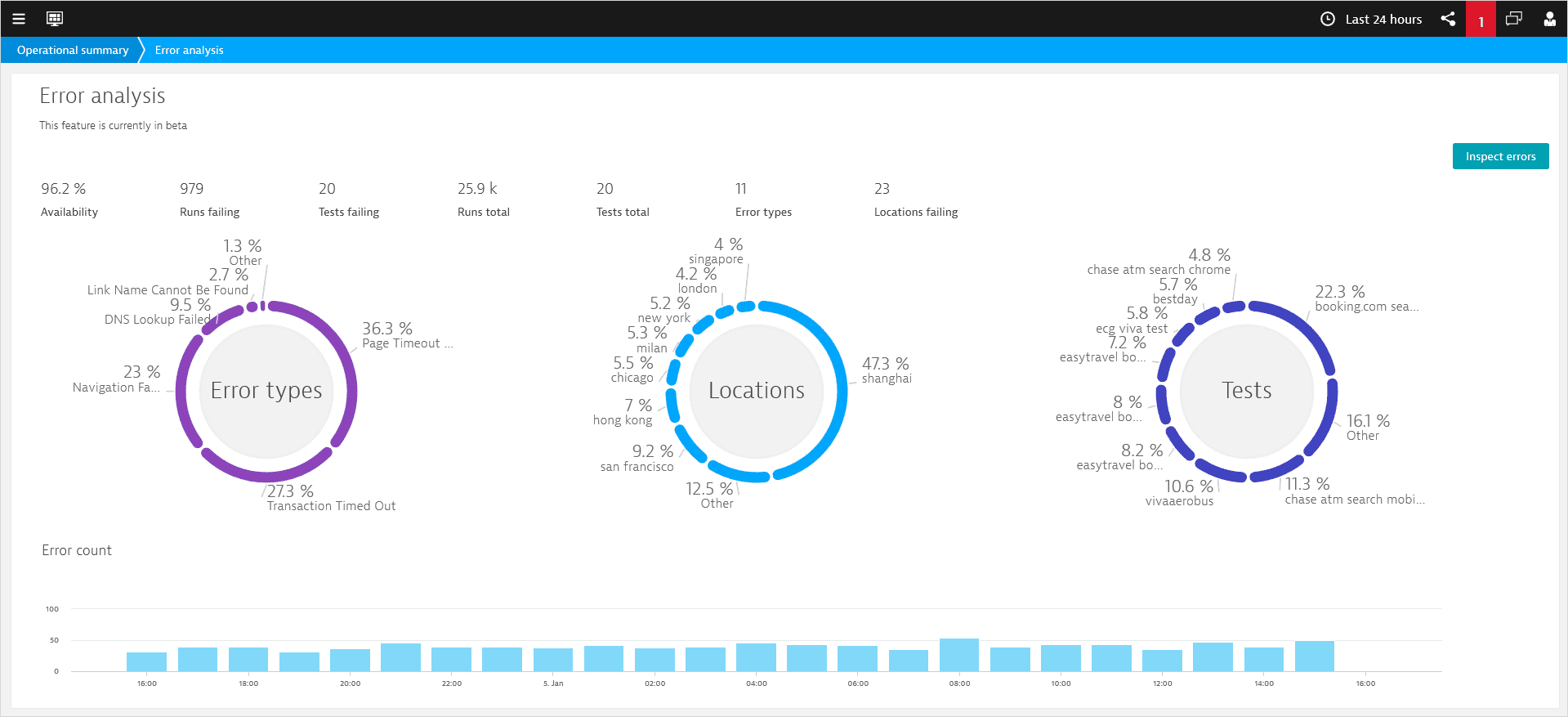 Error analysis
The Error analysis page offers an interactive view of the success of a selected test or all your tests taken together. You can view the availability of all your tests, the error types and counts, and error distribution over agent locations. At a glance, you can identify the most frequently occurring errors, tests, and locations with the most errors. Use Error analysis to troubleshoot tests or locations failing consistently or frequently occurring errors.
Filter by any test, location, or error type.
View a histogram of the error count over a given time range.
See a detailed Error list with details for each failed run.
Drill down into the waterfall graph for a data point.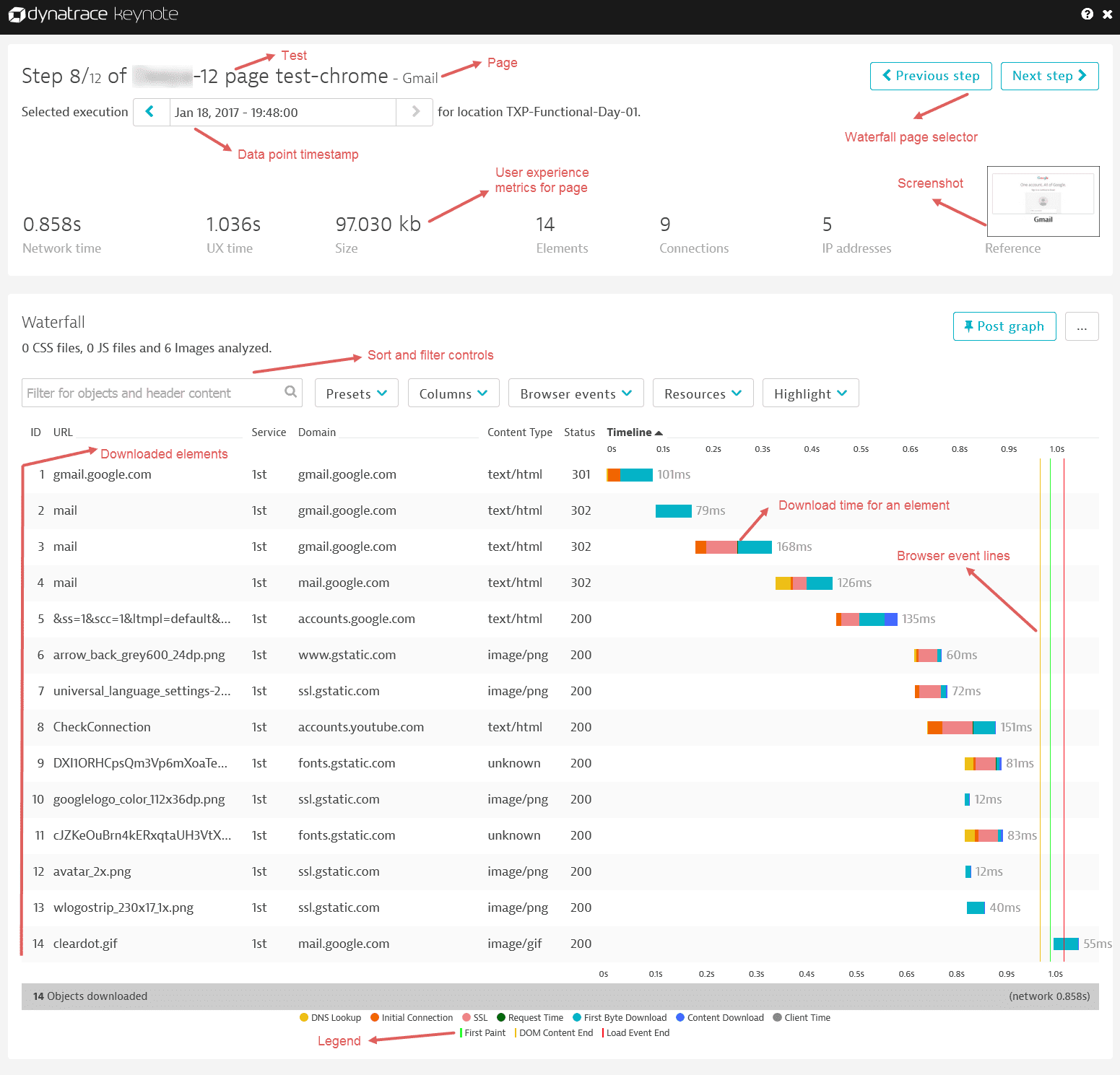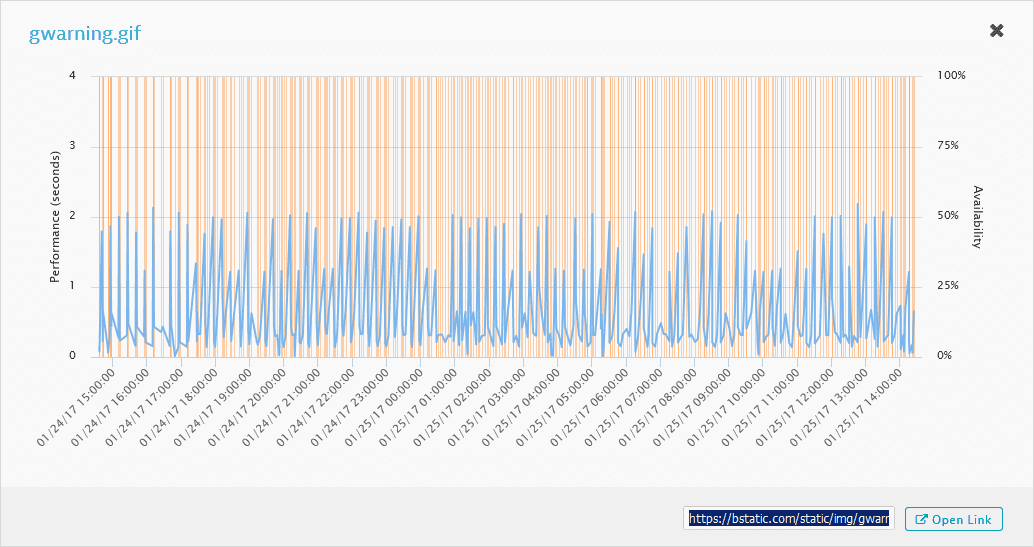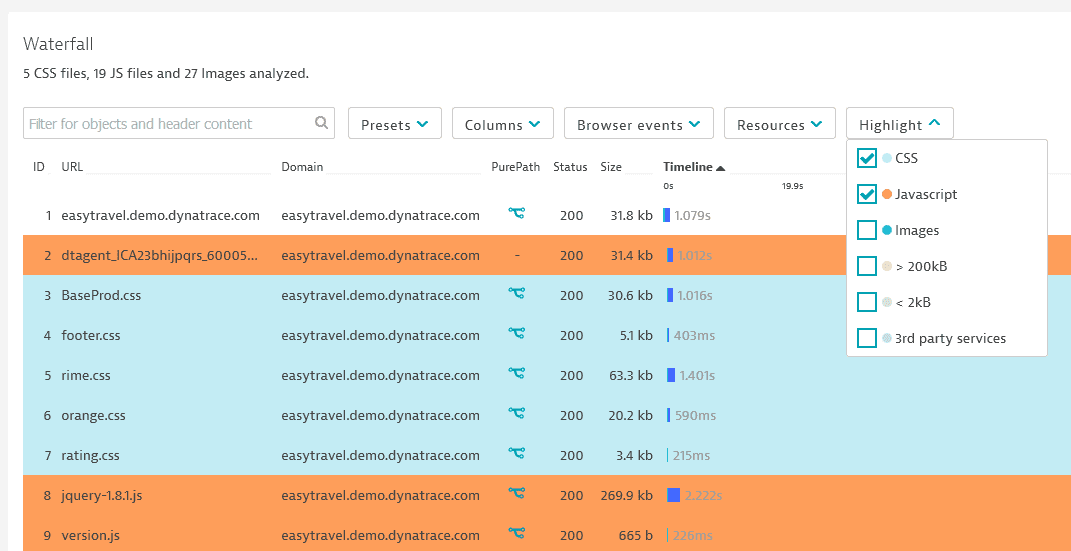 Redesigned waterfall graphs
Enhanced waterfall graphs for each page in a test data point contain these new features:
Navigation—buttons to navigate through waterfalls for each page of a test or from one data point to the next
Enhanced tool tip information when hovering over resource timelines
Identify first and third-party content.
View trend charts for individual resources in a pop-up window.
Highlight and filter by CSS/JS/image object type.
Screenshots captured for all error data points.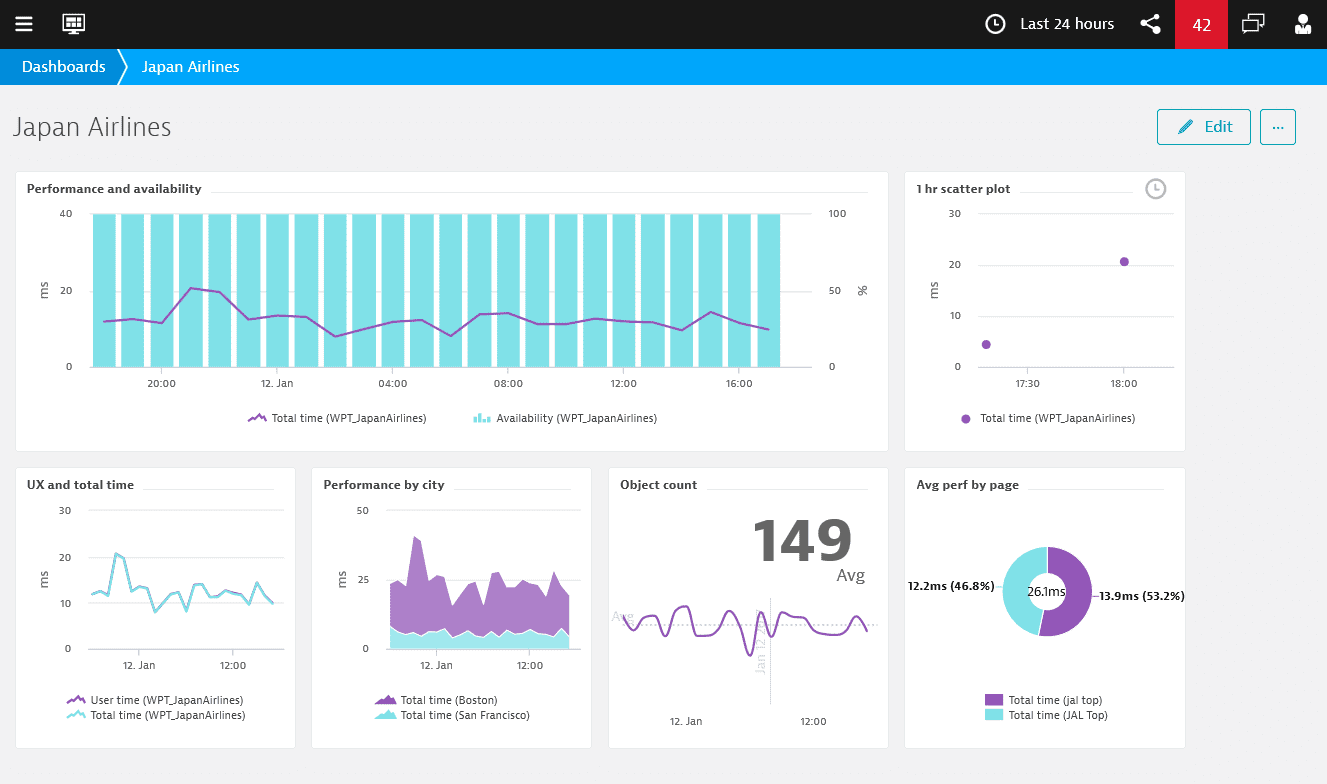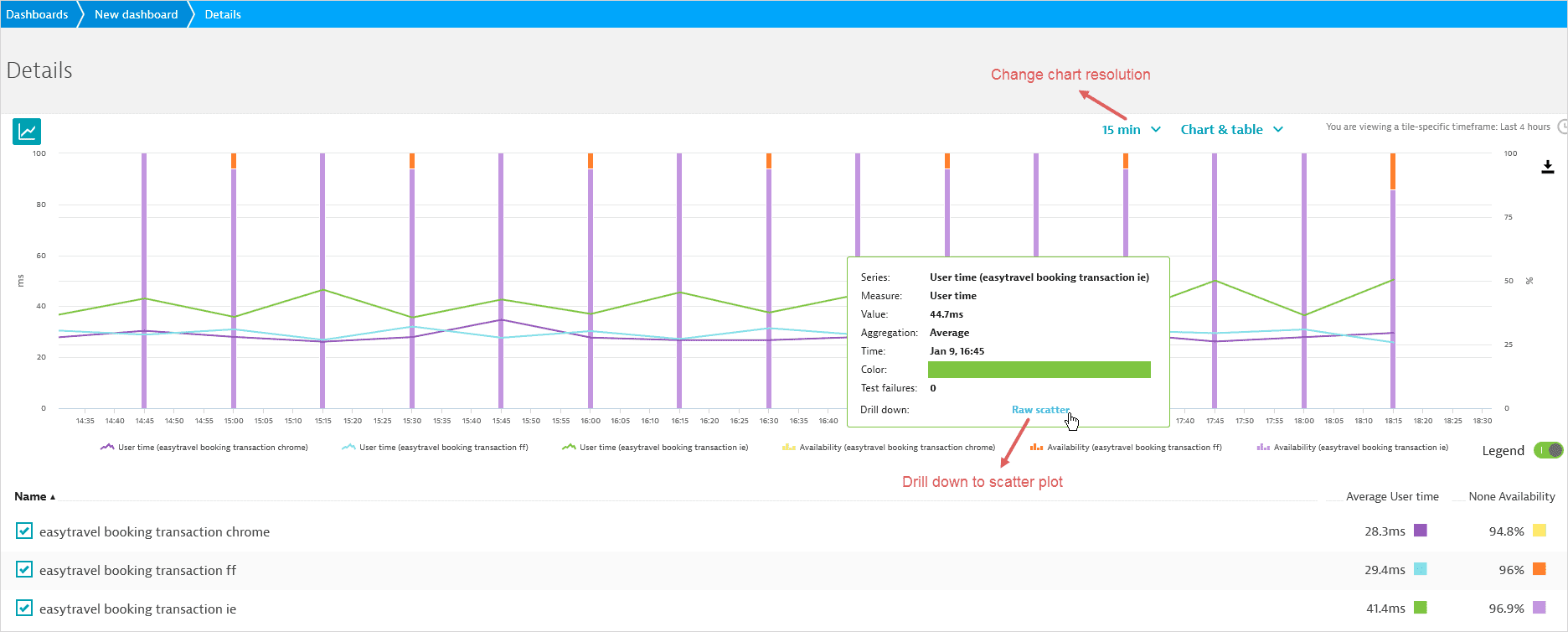 Custom dashboards with optimized workflows
**Custom dashboards ** allow you to visualize the data most important to you and your team by combining powerful graphing tools with data provided by the NextGen API. Choose from any of your tests, metrics, and chart types to create dashboards that simplify performance troubleshooting and resolution.
Choose from from chart types that allow you to focus on trends, composition, and mean values for important metrics.
Break metrics down to display granularity such as performance in different cities.
Drill down from charts into scatter plots and waterfall graphs.
Change chart types on the fly in view mode.
Share dashboards with other members in your team.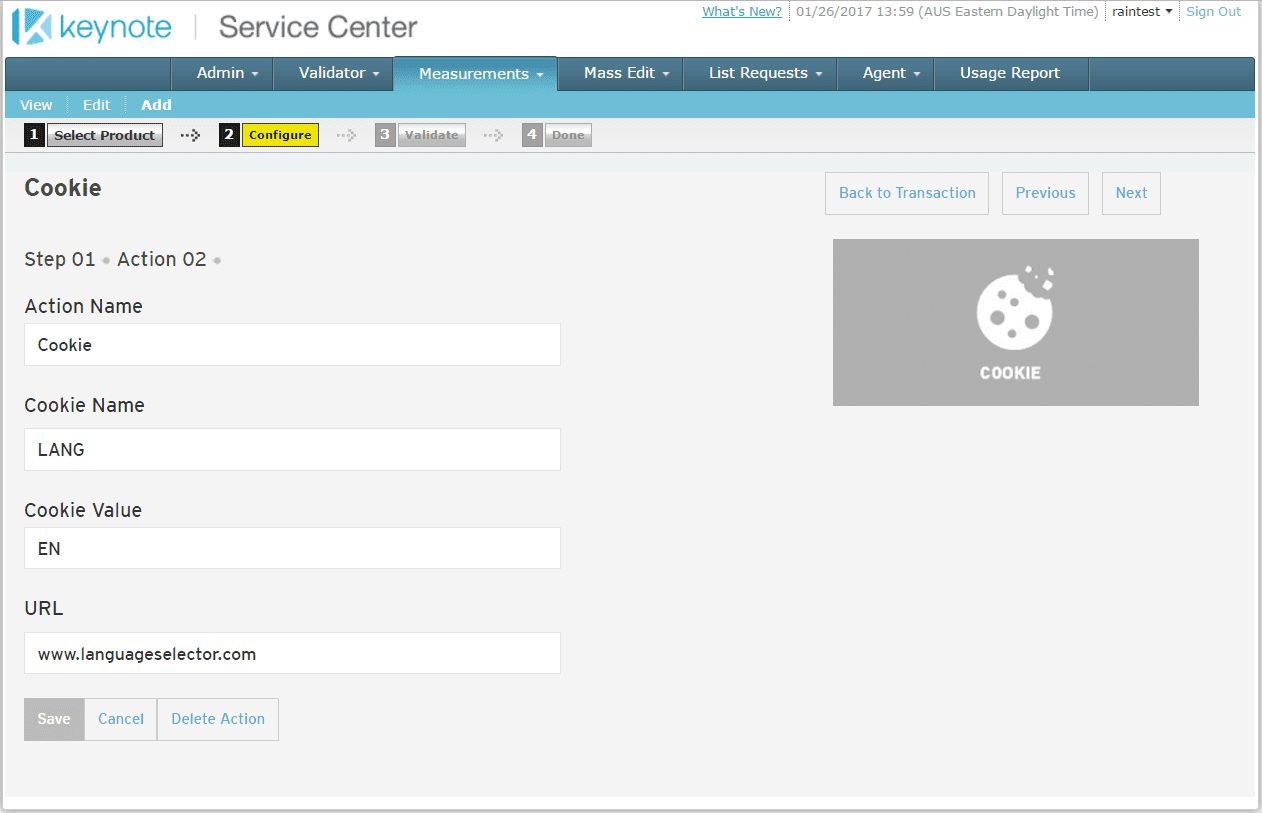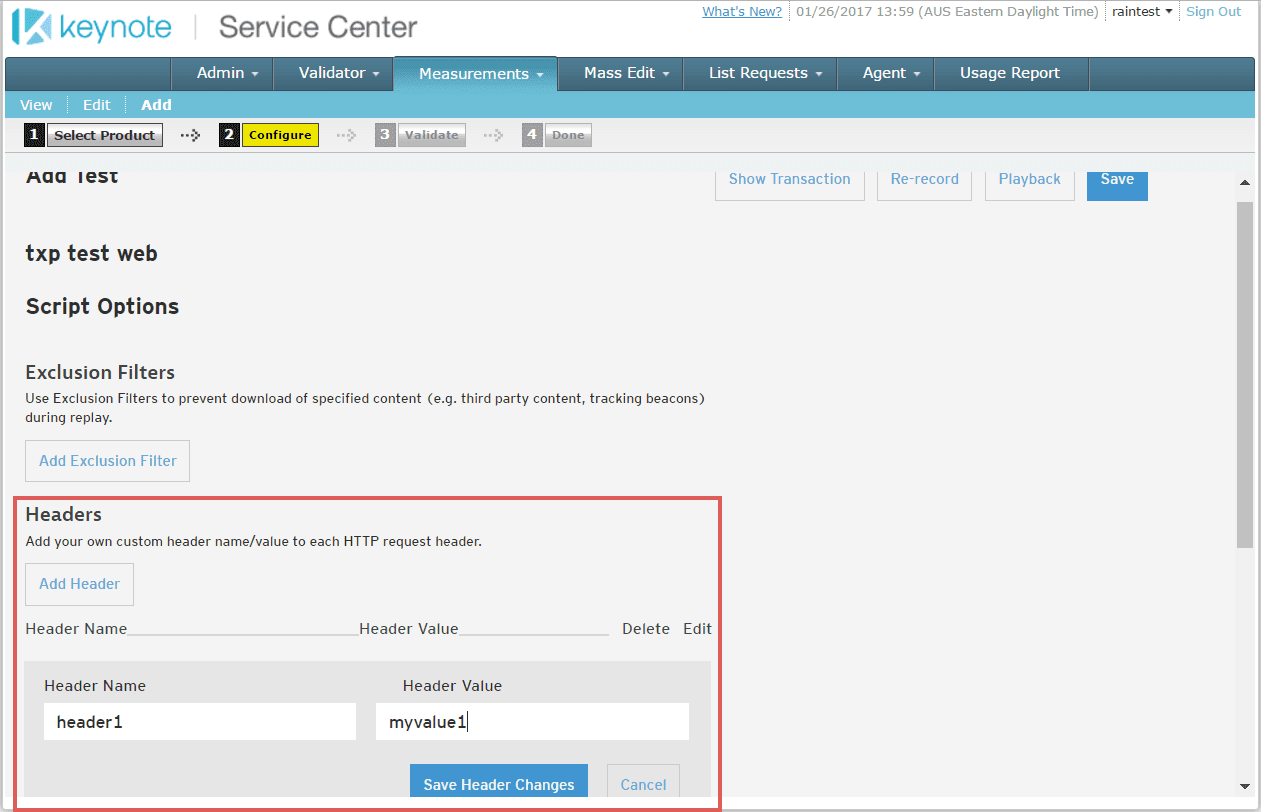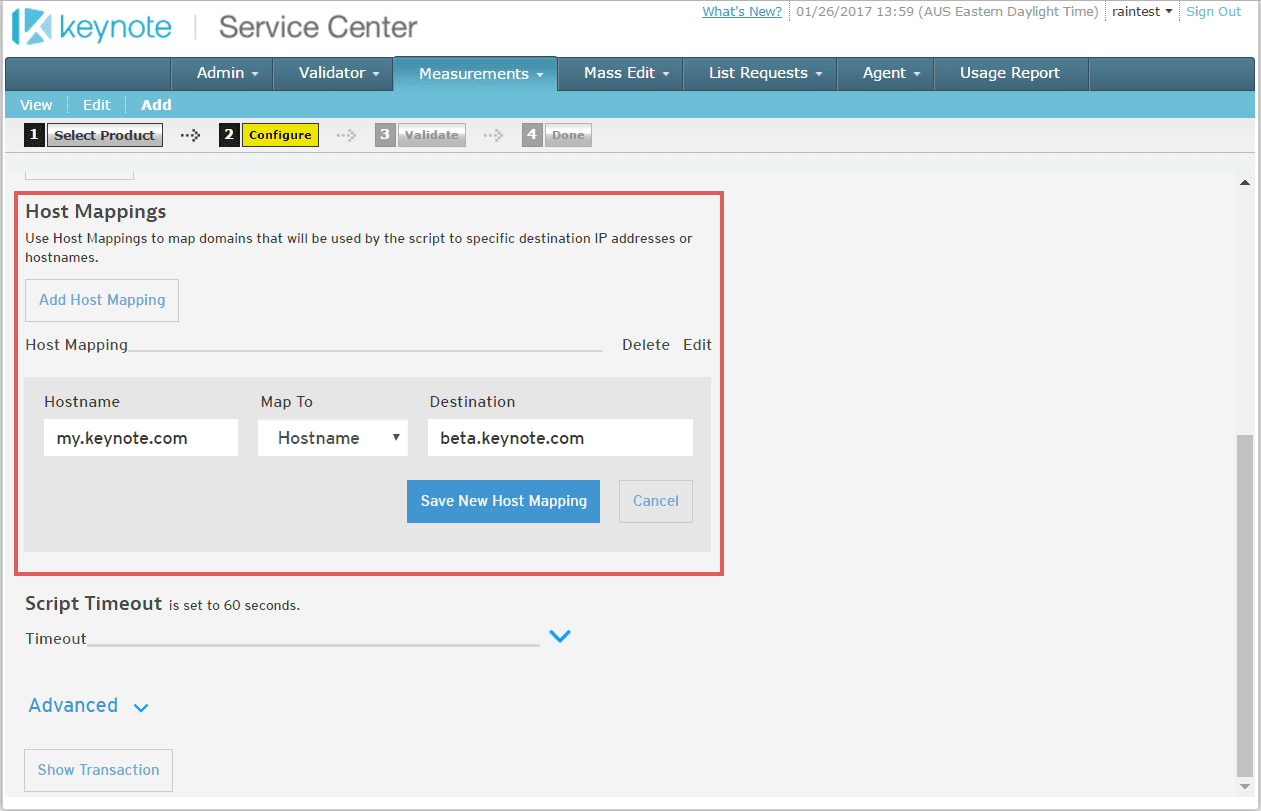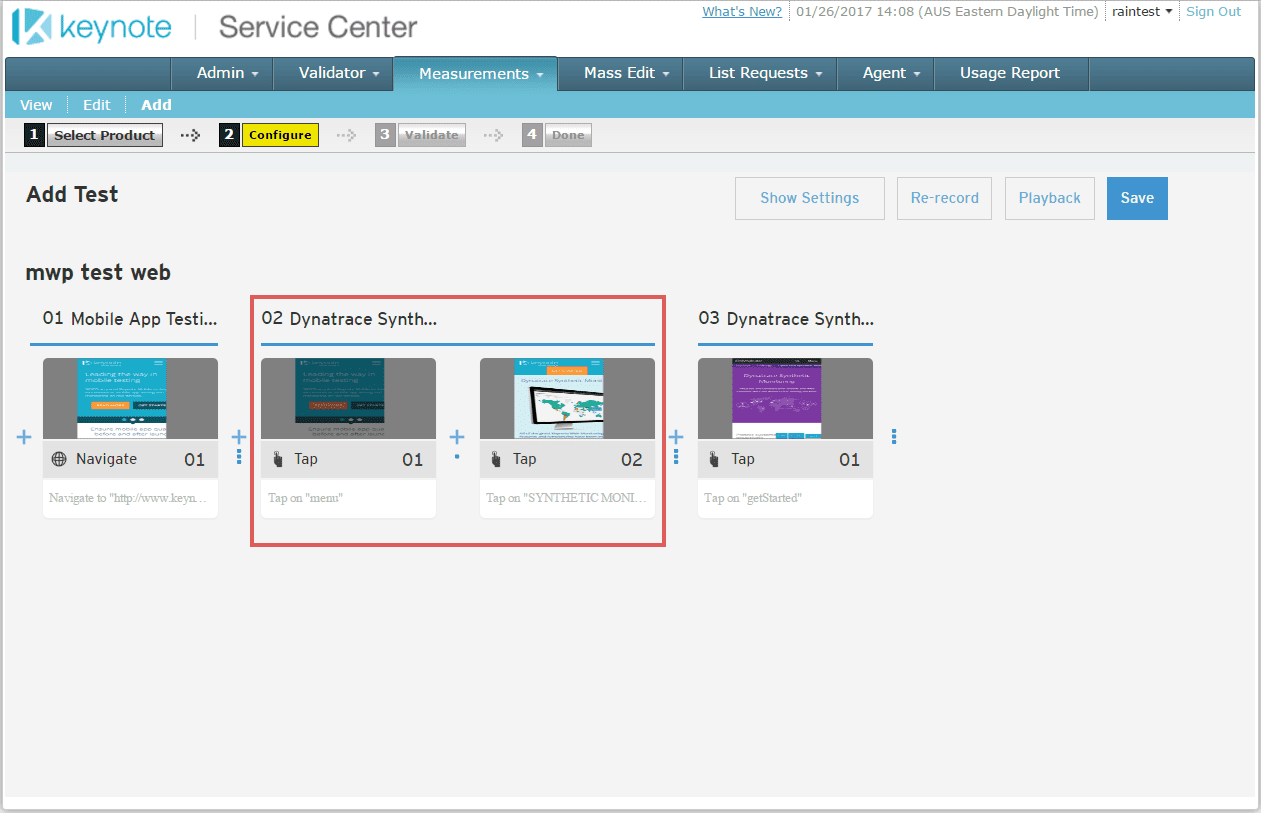 New Web Recorder Capabilities
This release adds a number of capabilities to the Web Recorder to make it the single go-to place for creating and editing tests directly in Chrome:
Custom cookie support
Automatic password encryption
Custom header and host mapping support
Improved mobile emulation while recording
News from the Community
News from the Dynatrace Community
Check out the Keynote Synthetic Monitoring training modules available from Dynatrace University. Look for the updated video on the waterfall graph as well as other training courses that will show you how to become more productive with Keynote Synthetic Monitoring.
Once you've had a chance to use the new MyKeynote, we'd love to hear what you think! If you have questions, please post them to the Keynote Synthetic Open Q&A Forum.
We're not done enhancing the Portal with this release!
Subscribe to the Keynote News feed to receive email notifications of new items. Stay up to date with Keynote monthly newsletters featuring new product information as well as Community updates and promotions.
To be notified of outages, planned maintenance, and scheduled upgrades, click Watch on these pages:
Get tweets about important Dynatrace Community news in the @Dynatrace Twitter feed. To filter this feed and see only Community-related news, search Twitter search for #DynatraceCommunity or bookmark this page. To see product-specific tweets, search for the hashtags #Keynote, #SyntheticMonitoring, #appmon, and #dcrum.