Keynote Web Monitoring 2016 March release notes
March 2016
The latest release of Keynote Web Monitoring platform is available on March 9 2016! This release provides new digital performance insight capabilities to help digital business owners maximize their online investments and introduces a new way to record and provision tests from the Portal to simplify and streamline the test management workflow in addition to a number of improvements across the platform.
**Highlights
**
User Experience Management and Synthetic Insights in one Digital Experience Cockpit
New Web-based Recorder now in beta
MyKeynote and Keynote Service Center maintenance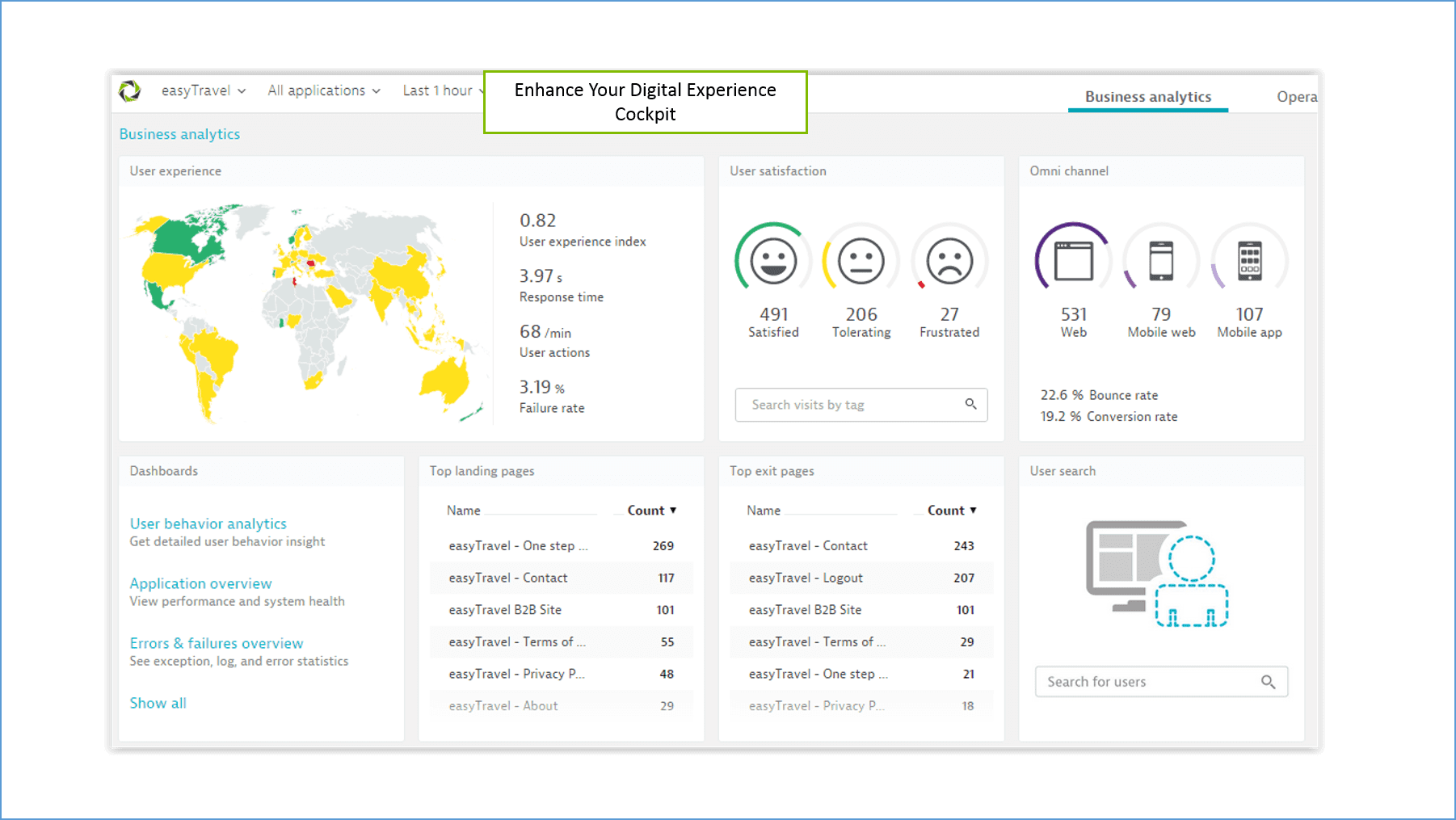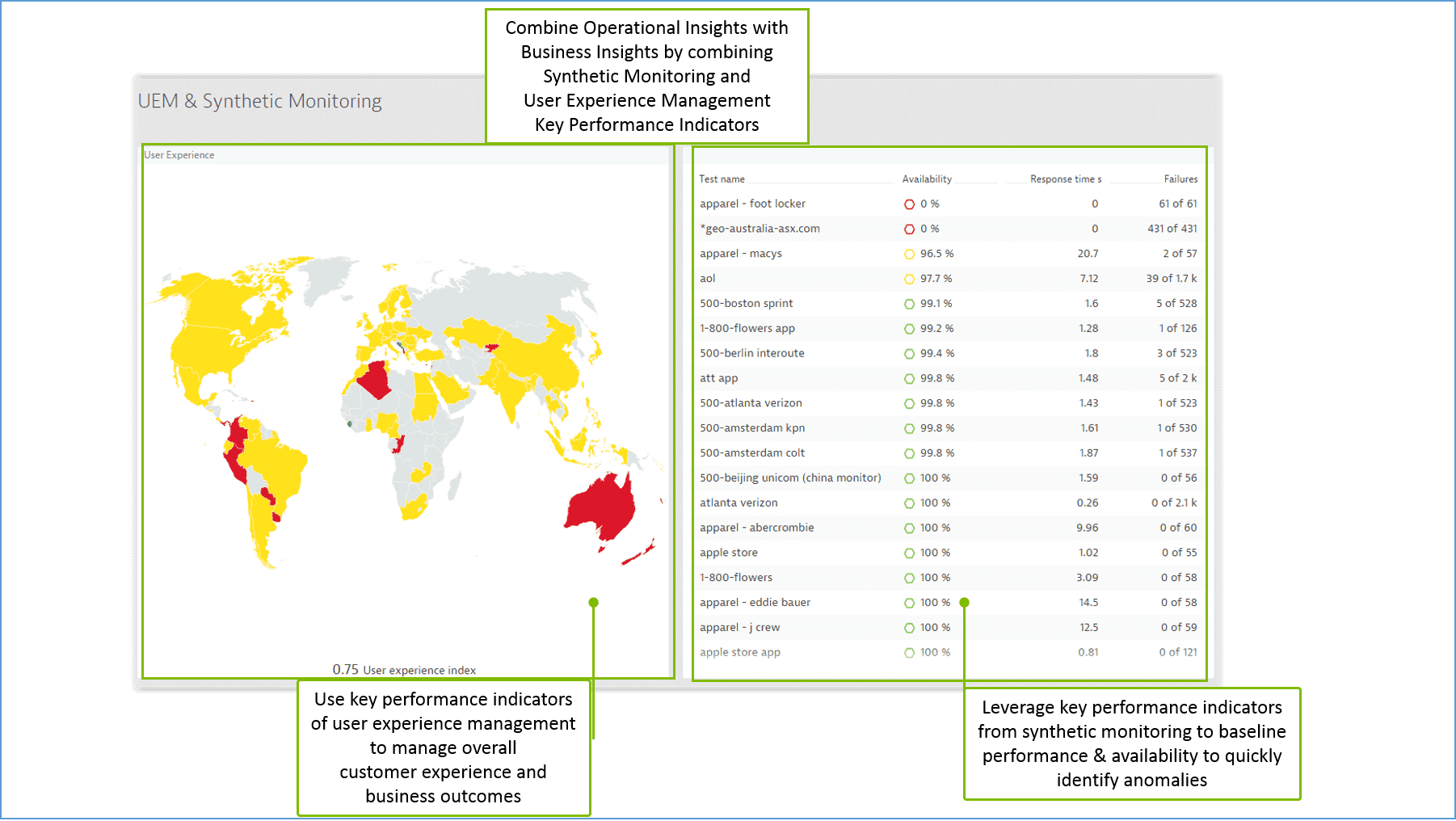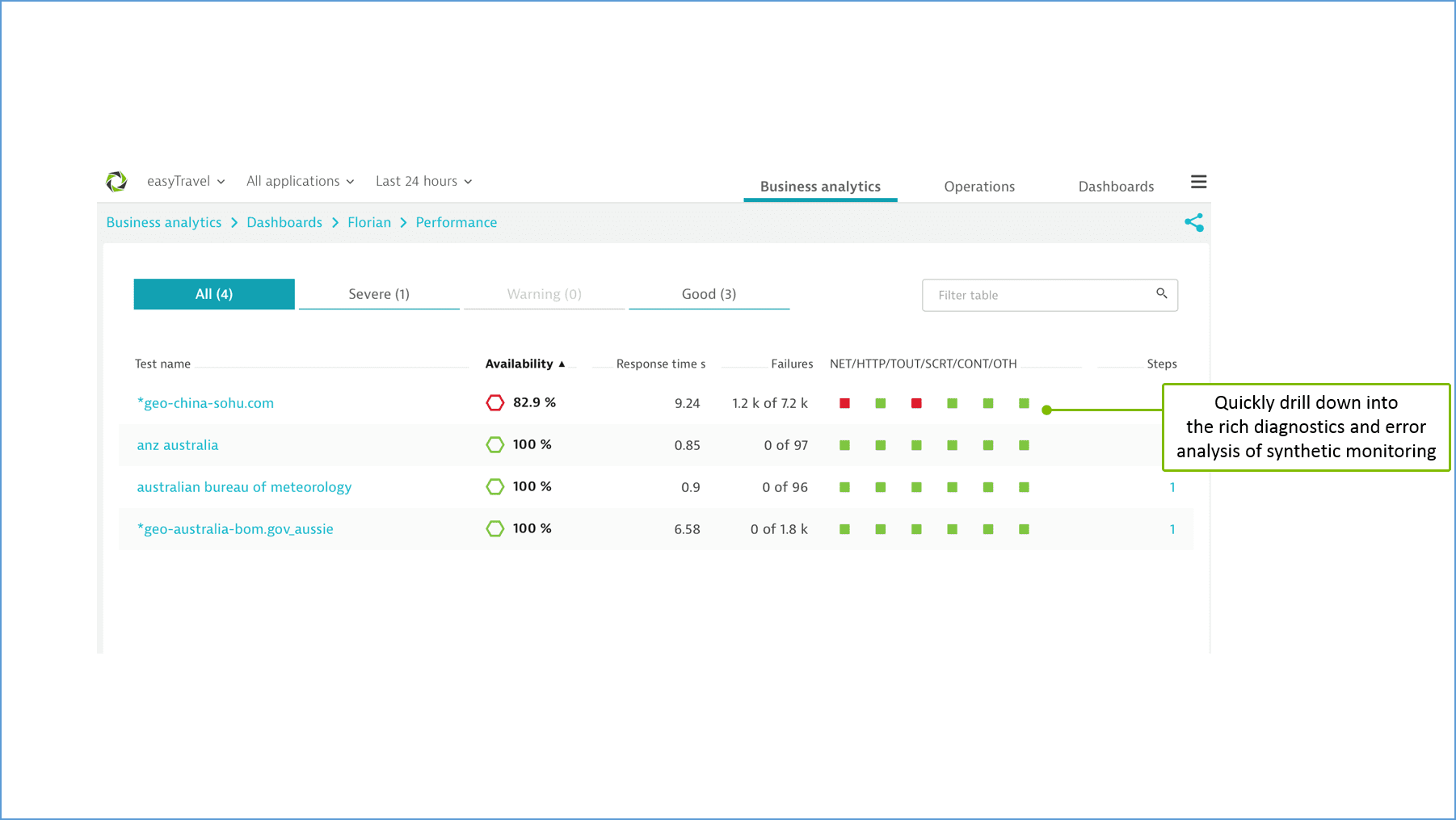 User experience management and synthetic insights all-in-one through the digital experience cockpit
Bring your business intelligence data from User Experience Management together with Operational Intelligence data from Synthetic Monitoring. As an IT professional, how do you find out what the impact is on business outcomes by using Synthetic Monitoring alone? By combining the data in a single interface,
Web Operations teams can quickly identify availability issues that may not be reported by User Experience Management data.
IT professionals can quickly assess the business impact of issues reported by Synthetic Monitoring.
Incident management teams can visualize synthetic monitoring KPIs alongside user experience KPIs to report back to the business on the impact of an ongoing incident.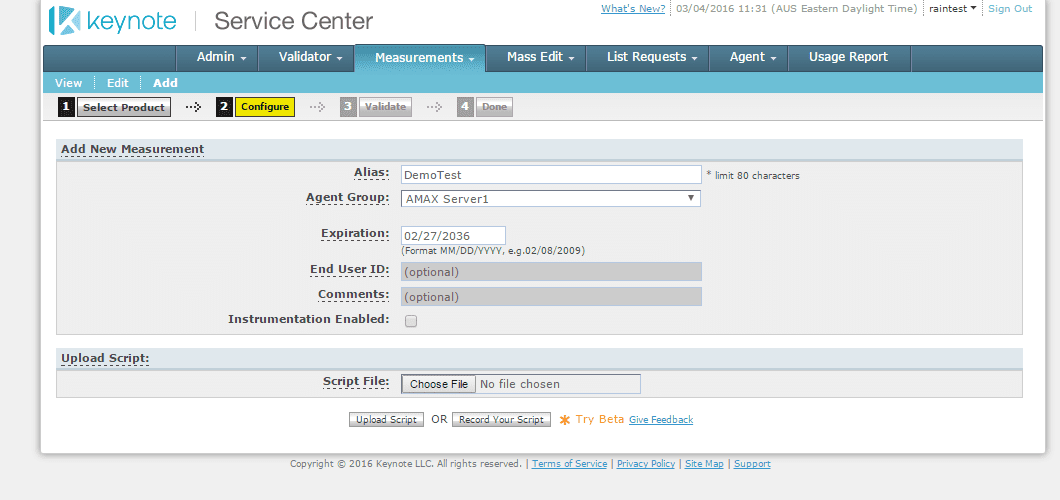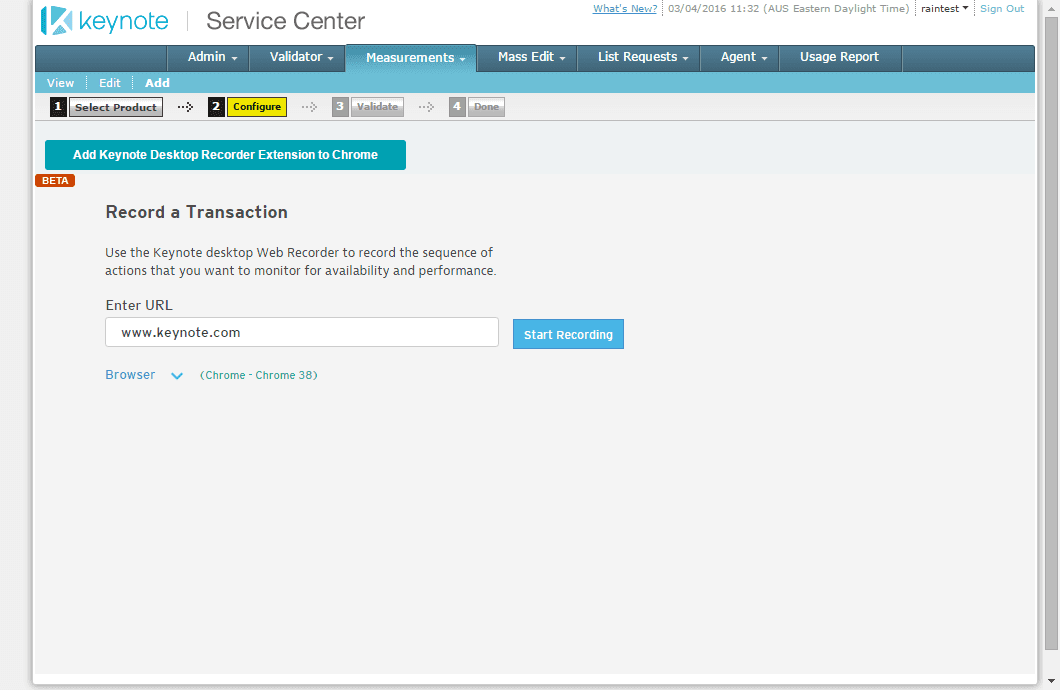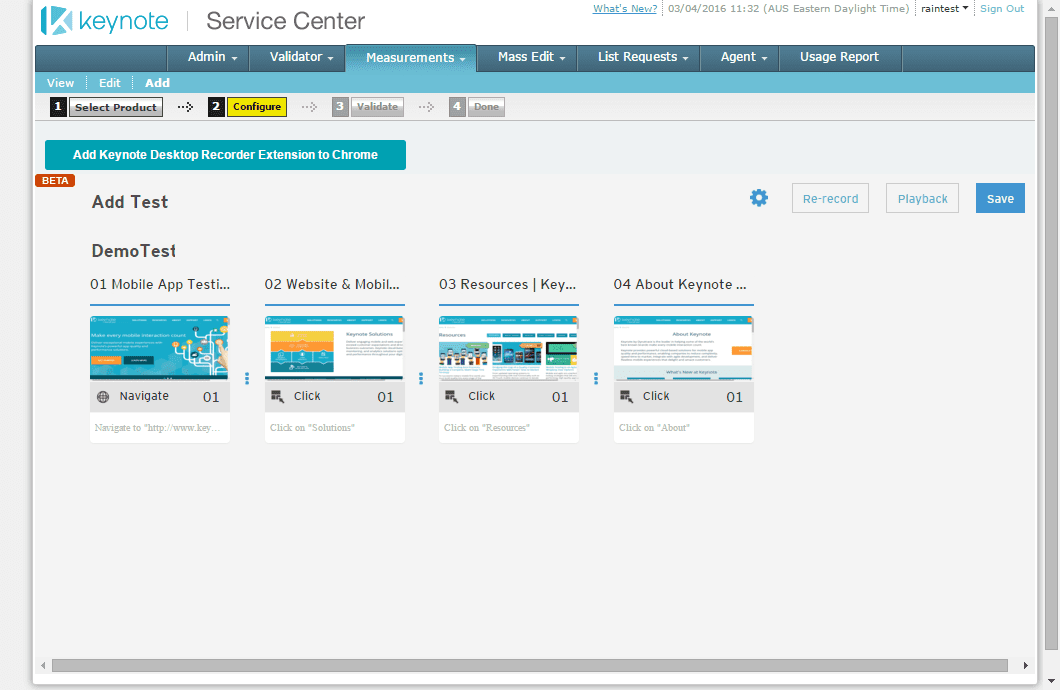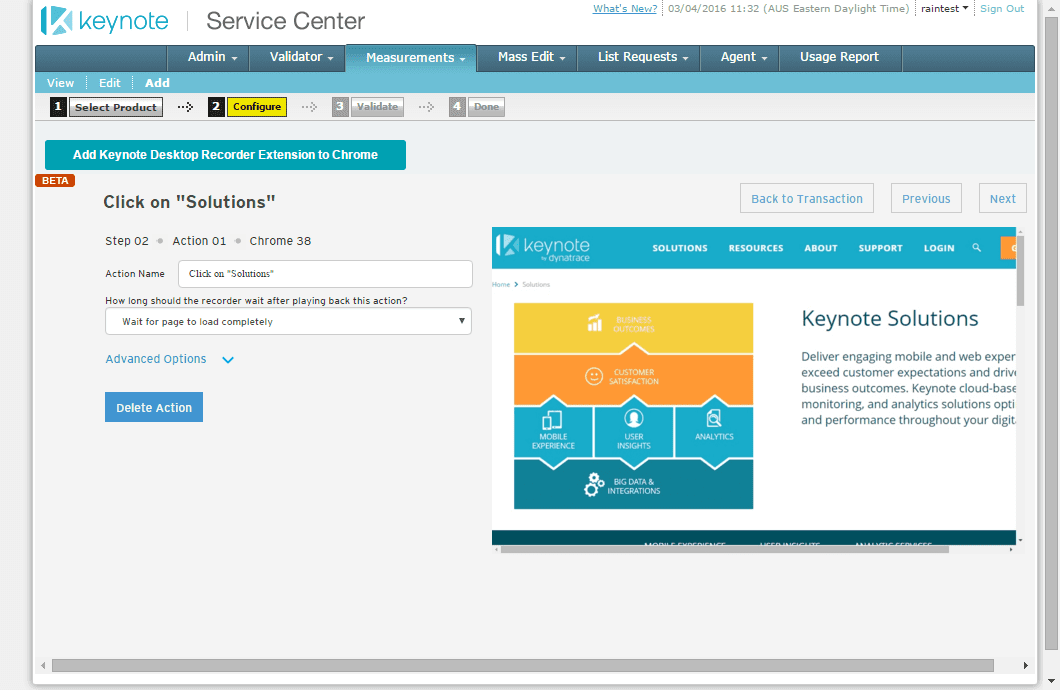 Create Synthetic Transaction Tests from the Browser * BETA
A modern web-based recorder  is now available in Beta from the Keynote Service Center (KSC).
Cross-platform support  for both Windows and Mac users provides capabilities to record, edit, and validate transactions within the browser.
Seamless integration  into the KSC test provisioning workflow improves productivity for new and existing users.
Learn more about the Web Recorder Beta and how to provide feedback here
Feature details, resolved and known issues
Release notes and product documentation
Keynote Service Center

     Web-based script recorder for TxP and MWP


     PORTAL-1264: Security improvements made.

     PORTAL-1170: Ability to delete CApP and CTxP agents without reactivating expired slots


     PORTAL-1335: Fixed View Measurement detail page for End User to show value for Dynatrace PurePath.


MyKeynote

     Support for UEM Synthetic Tiles


     PORTAL-1514: View HTML Source now shows Window and Frame Index.


     PORTAL-1796: DPI - Added multiple saved tab support for the DPI dashboard.


     PORTAL-1566: Added color legend to the map widget in the DPI dashboard.


     PORTAL-1572: Updated the individual component drill-down to show the ten fastest performing global indices.


     PORTAL-1568: DPI map widget mouse over shows all selected measurements.


     PORTAL-1696: Fixed an issue in MyKeynote where Analyze page shows another unselected measurement's page


     PORTAL-2048: Added a Select None button so user can deselect all visible, selected measurements.


     PORTAL-1637: Added a Select All button to the Analyze page so that user can quickly select all the measurements at one time.


     PORTAL-2047: Added the expand/collapse button to the header section for Label Mode view.


     MDW-1488: Fixed issues related to single quote marks in the XML data being passed to JS.


     PORTAL-1047:  Fixed Unknown Slot setting while editing the reports in Label Mode view


     PORTAL-1697: Fixed 'Download to resource' link, which was showing Technical Difficulties page.


     CSCAS-1913: Fixed first reference screenshot not available in data.


     CSCAS-1712: Fixed an issue to ensure Extra Info shows all expected data for Mobile Web Monitoring (MWP) measurements.


     MDW-1667: Change protocol to use SSL always.


     PORTAL-1343: DPI - Fixed and improved axis labels in some graphs.


     PORTAL-1478: DPI Location drop-down list is not appearing after generating a graph for a specific location.


  KITE

News from the Community
News from the Dynatrace Community
Check out the new series of Keynote Synthetic Monitoring training modules available from APM University. Look for the series about the new monitoring best practices as well as other recently recorded training courses that will show you how to become more productive with Keynote Synthetic Monitoring.