Keynote Web Monitoring component release notes August 2016
The August 2016 release of Keynote Web Monitoring contains new versions of MyKeynote and Keynote Service Center (KSC). MyKeynote features an updated waterfall graph with several enhancements. The Keynote web recorder is now generally available as part of the KSC release.
Product versions:
MyKeynote
New features
Waterfall graph
A waterfall graph is available for every data point in your measurement by drilling down from the scatter plot. If the measurement has multiple pages, you will first see the transaction summary, from where you can select a page to view its waterfall. If the measurement has a single page, you are directly taken to the waterfall from the scatter plot.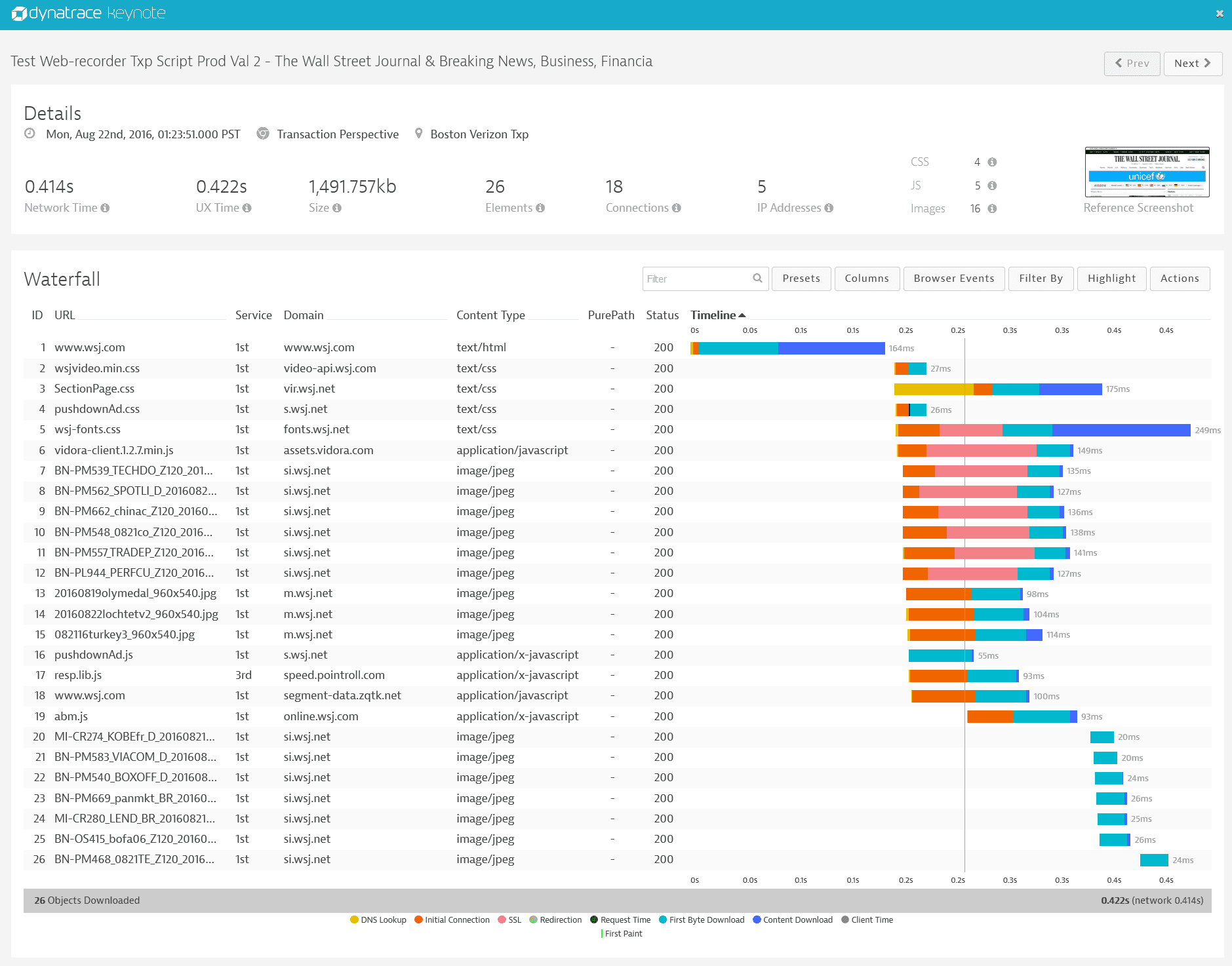 The enhanced Keynote waterfall improves upon the previous waterfall in these ways:
Navigate easily through waterfalls for each page of a measurement.
Enhanced tool tip and third-party resource information when hovering over timeline bars
Object trending graph with performance and availability for the last 24 hours displayed directly when you click a resource URL.
Headers accessible at the resource level (only for MWP error data points)—click on the URL of a resource > View Headers.
Identify first and third-party content by displaying additional columns; view third-party category and vendor.
Number of CSS/JS/image objects and percentage of overall page size
Highlight and filter by CSS/JS/image object type.
Highlight large/small objects.
Filter by any visible column's data, not just by text in object URLs.
Error screenshots captured for all error data points.
Enhanced waterfall for comparing two data points
Waterfall state (settings such as filters, columns displayed, highlighting, sorting) persists between user sessions.
Resolved issues
SUPKEYNOTE-2903, CSCAS-2327 - launching Dynatrace Client for PurePath information
An issue with correctly launching the Dynatrace Client from the waterfall graph for viewing PurePath trace information has been resolved. Previously, the browser could not confirm the security of its connection to the Dynatrace Cleint running on your machine. New messaging when you click the PurePath icon

in the waterfall makes it easier to launch the client.
Click Use webstart client to launch the client on your machine.

If you are unable to connect, you will see this message again. Click accept the SSL certificate .

You are directed to another tab where accept the security exception to connect to localhost . Click the Proceed to link shown below or its equivalent in your browser.

Return to the waterfall and click the PurePath icon again to launch the client.
Saved graph on home page to analyze page
If you navigated to the Charts > Analyze from viewing a from saved graph on the Home page, the measurement(s) in the saved graph were automatically selected in the Analyze page. The saved graph measurements are now no longer automatically selected for graphing in the Analyze page.
CSCAS-2537 - searching for alarms
Searching by any alarm alias string in the Alarms > Configure or Alarms > Create pages produced no results. This issue has been fixed.
CSCAS-2541 - legacy dashboard support in IE 10 and 11
The legacy Web & Mobile dashboard (Dashboards > Web & Mobile > 12 > Legacy ) was not being rendered correctly in Internet Explorer 10 and 11. Support for the legacy dashboard has now been added to these browser versions.
CSCAS-2412 - time zone issues
Accounts set up in the Arabia Standard Time (AST—UTC+03) and Eastern European Summer Time (EEST—UTC+03) had discrepancies in data point timestamps. The time shown for a data point in the scatter plot did not match the data point's transaction summary timestamp after drilling down from the scatter plot. Issues with these time zones have now been fixed.
SUPKEYNOTE-2938 - scatter plots for Mobile App Monitoring measurements
MyKeynote users could not generate scatter plots for MAM measurements that were no longer current. Users could choose the measurement for graphing by unchecking View current measurements only ; however, the scatter plot generated displayed a No Data Available error. The ability to generate other types of graphs was not affected. This issue has now been fixed.
Changing measurement names
It was possible to remove the name of a measurement (User menu > Settings > Measurements > click the edit button next to a measurement name). Users can no longer do this and are warned that measurement names cannot be blank.
Network diagnostics button
On the Network Diagnostics page, the Perform Diagnostics button was enabled when you entered your URL, chose a location, and chose a diagnostics test. However, it remained enabled even after you deleted or deselected some of your settings. This has been fixed so that you must make all field selections before the button is enabled.
Page filters in Analytics dashboard
Results are correctly refreshed in the Benchmarking > Analytics dashboard when filtering by page-based filters (Page Name or Page # ).
Keynote Service Center (KSC)
New features
Web recorder
The web recorder available as part of the Keynote Service Center provisioning workflow is now generally available, with support for text-based validation. See product documentation for details.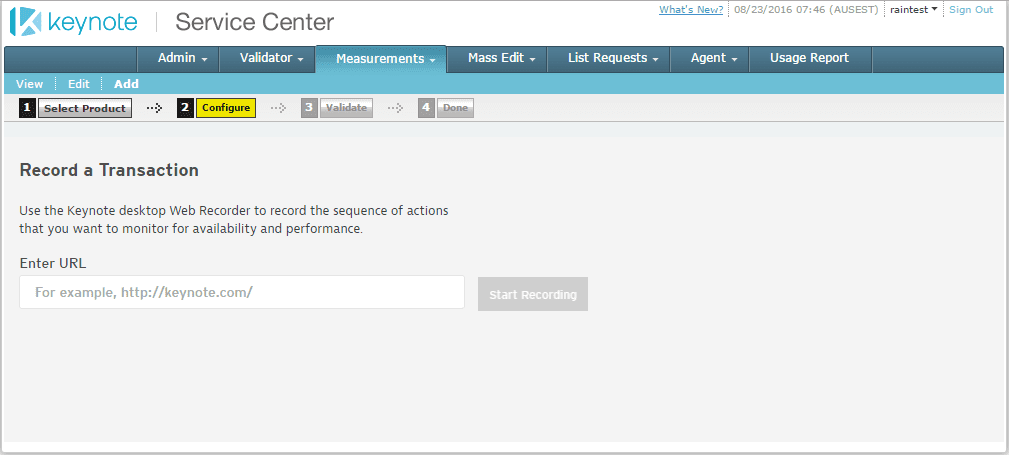 Resolved issues
CSCAS-2783 - recalculation of XF measurements
When FLEX-PREPAID customers log in to KSC, they can see the Measurements Summary table displaying number of scripts and data points run to date, shown with the cost and remaining dollar amount. The way we calculate the XF Measurements number (number of data points) has changed. This value will be a whole number equal to the dollar amount in the row divided by the TxP HF full content price per minute (PPM). This formula will be used for all real browser (TxP) as well as emulated browser (ApP) measurements.
For example, if the amount in the row is $816 and the TxP HF Full Content PPM rate for the customer is $0.018, then the XF Measurements column would display a value of 45,333. ($816 / 0.018).
The Remaining figure is the remaining prepaid dollars. Remaining XF can be calculated the same way, i.e., Remaining amount divided by the TxP HF full content PPM rate.
In a related fixes:
In the the KSC Usage Report , the Total Measurements column has been replaced with the Total XF Measurements column, with values calculated as Total Price / TxP HF full content PPM rate. When you expand a product name, the Measurements column has been replaced with the XF Measurements column, with values calculated as Line Item Price / TxP HF full content PPM rate.
The Cost Calculator on the Start page and estimate usage section on the measurement provisioning screen now allow you enter a value for data points rather than measurements.
The y-axis label of the Monitoring Details chart on the Start page has been changed from Measurements to Data points .