Transaction Perspective proxy options
Use this dialog to select proxy settings for Transaction Perspective scripts.
If your site has a firewall that requires the use of a proxy in order for you to access the Internet, you can specify the proxy Username and Password in the Recorder. The Recorder uses your specifications when verifying, uploading, and downloading scripts. To begin a recording, you must configure your workstation to access the Internet first, and then set the proxy in the Recorder in order to verify, upload and download your scripts.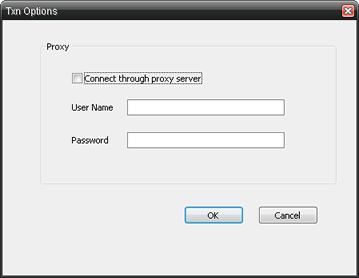 To set a Proxy in the Recorder:
Select Options > Proxy Settings. The Proxy Settings dialog box is displayed.
Select Connect through proxy server.
Enter the Username and Password for the proxy authorization and click OK. The Recorder will submit the proxy authorization data before playing back, uploading, or downloading a script.
Proxy settings will not be used by the Transaction Perspective agent when your transactions are measured. The values you specify are saved in the registry and used in all future sessions.
IE Options - Opens the Internet Explorer Options dialog.