The Chart Preferences page lets Keynote administrators customize a number of MyKeynote settings.
MyKeynote saves any changes you make to Settings when you click the Save and uses the new settings for current and future sessions.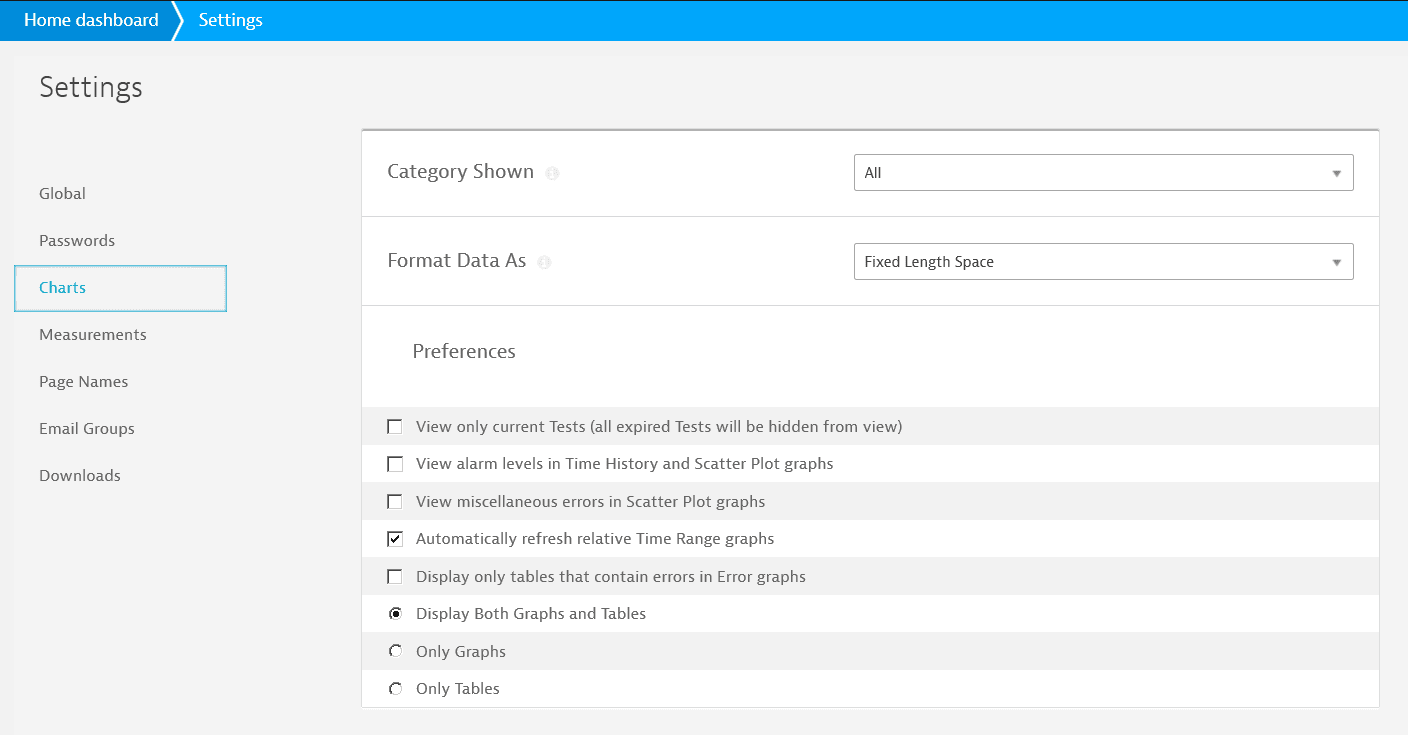 View only current tests
If you select this option, only your company's current URLs will be included on the Graph page URL list. When you specify a Web site or Web object to be measured, you choose options for that URL, such as whether it should be tested as a full page or a benchmark page. If you change measurement options for the URL, Keynote begins recording a new set of measurements for it. For example, if you originally have a URL measured as a benchmark page, then tell Keynote to change the URL to full page measurement, Keynote stops recording benchmark data and begins recording full page data. Keynote continues to store the original benchmark data for a total of six weeks, and content error data for one week.
If you choose the View Only Current URLs option, the URL list in the Graph page includes only the URLs for which data is currently being recorded. If you don't choose the option, the URL list includes any URLs for which data has been recorded in the past six weeks, along with any URLs for which data is still being recorded.
When you change settings for a site, the URL does not change. For this reason, your company may have several sets of data labeled with the same URL. The alias feature is helpful for distinguishing such data sets from each other. For more information about using aliases with MyKeynote, see Change a URL's Alias.
View alarm levels in time history and scatter plot graphs
This option lets you include an alarm line in any Time History and Scatter plot graph. This lets you determine how close the performance level of your site is to the alarm threshold level, as well as the reason an alarm was generated.
View miscellaneous errors in scatter plot graphs
When selected, any miscellaneous errors will appear in scatter plot graphs. Miscellaneous errors (#99900) are errors that are not counted against customer availability rates.
Automatically refresh relative time range graphs
A relative time graph shows data for a specified amount of time relative to the moment the graph is generated. For example, if you choose one hour for a relative graph, MyKeynote graphs the data from the hour previous to the graph being generated.
If you select the Auto refresh relative time range graphs option, MyKeynote will automatically refresh any graphs for which a relative time has been selected. The time interval at which MyKeynote refreshes a graph is based on the measurement interval of the URL. For example, if data is being graphed for a benchmark page, the measurement interval is 15 minutes, so MyKeynote refreshes the graph every 15 minutes. For a full page, the measurement interval is one hour, so MyKeynote refreshes a full-page data graph every hour. If a graph displays data for both benchmark and full pages, MyKeynote refreshes every 15 minutes, to ensure that the most current benchmark page data is always displayed.
Display only tables that contain errors in error graphs
Select this option if you want to limit the data displayed under Error Graphs to be limited to those showing errors. If this option is not selected, the tables will display data for all time segments, whether or not errors where encountered.
Display graphs only/tables only/both
This option lets you limit what is displayed to graphs only, tables only, or both (the default) in graph pages.