Use the Reports section to administer your Service Level Reports. For information about the format and content of Service Level Reports, see About Service Level Reports.
Who can administer and view reports
Reports can be configured only with a Keynote administrator login. Users with read-only login credentials cannot configure reports.
Users with non-administrator logins can only read reports of a login for which an administrator has provided access.
Users with administrator credentials can configure reports as described below.
Summary
This page lists currently available reports for each user login. You can select individual users or user groups to display reports they can access.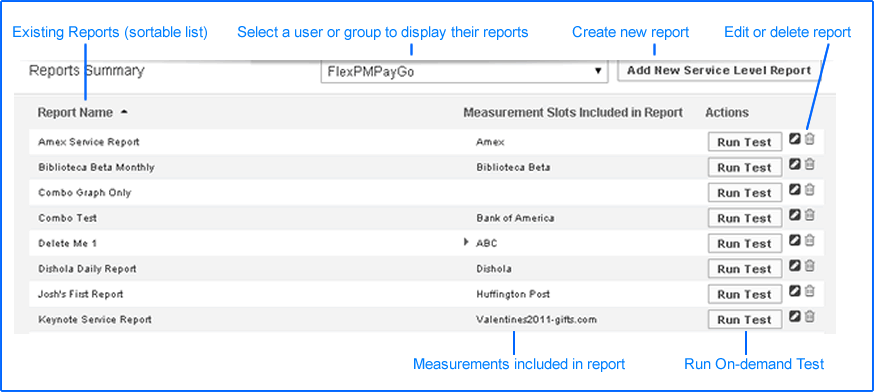 Create new Service level report
You configure Service Level Reports using a multi-page wizard-like interface.
Step 1: Specify basic Service level report options
Select Add Service Level Report to start configuring a Service Level Report, specify identifying information, report type, subject line, and a message that will be included at the beginning of the report. You can also add a combination graph to the report.
Report Alias - Choose a name for this Service Level Report by entering a report alias name. Choose a name that helps describe the contents of the report.
Clone config from - You can "clone" (copy) the configuration options from an existing report.
Report Type - Choose from the standard report types:
Detail - Includes complete summary of the selected measurements, along with comparisons with an appropriate index and including all measurement details (page breakdowns, errors, and time distributions).
Summary - A subset of the detail report that includes only the summary section.
Trend - Compares the performance of selected measurements for the current period with the preceding period.
Subject Line - Provide a short description of the report to appear in the subject line of report emails.
Report Message - Optionally, provide a descriptive message that will appear at the beginning of the report.
Combination Graph - Optionally, embed, or include a link to a graph you have saved. Multiple graphs can be linked or embedded to one report. (For information about setting up Combination Graphs see this help page.)
Include the checked Measurements in the Service Level Report - Select the measurements you want included in this report.
Compare to - In the Compare to drop-down to the right of the available URLs, you have a choice between "Default" and one or more Keynote indexes that you can include in your report for comparison.
Compare with - If you select a Keynote index, you can select how you want to handle mismatches between the agents that measure the index and the ones that measure the site that you are including in the report. If you select All Agents from index, then the index metric will include measurements from all the agents that are measuring it, regardless of whether they are also measuring your site. If you select Matching Agents from index, the index metric will include only measurements from agents that also are measuring the site being included in the report.
Click Next after setting these options.
Step 2: Set format and time options
Report Start Date - Enter the date for the beginning of the period to be covered by the report. You can enter the date manually in MM/DD/YYYY format, or use the calendar button to select a date.
Note
Monthly reports have a default start date of the first of the next month. For monthly reports, you may not select a start date that is after the 28th day of the month. This restriction ensures that reports will be handled correctly in February.
Report Start Hour - Select the hour for the beginning of the period to be covered by the report from the drop-down list.
Report End Hour - Select the hour for the end of the period to be covered by the report from the drop-down list.
Report Period - Select the time period to be included in the report. Your choices are: daily, weekly, or monthly. For example, a daily report will be run and sent on a daily basis.
Time Zone - Select the time zone for the report from the drop-down list. This time zone will be used in combination with the start and expiration times to determine the time range for the Service Level Report. Time zones are identified by the number of hours ahead of (+) or behind (-) GMT (Greenwich Mean Time), by cities within the time zone, and by time zone names (such as Pacific Time, Mountain Time, Central Time, and Eastern Time in the U.S.).
Expiration Date - Enter the date for the end of report coverage. You can enter the date manually in MM/DD/YYYY format, or use the calendar button to select a date.
Message Format - For all report types you can choose HTML or TEXT. For reports that are to be emailed, you can also choose URL, which specifies that only a URL for the report will be emailed. (The URL can be clicked by the email recipient to open the complete report.) The default format for the reports is HTML. HTML format is required if you want your reports to include graphs, unless you want to email the report URL.
Calculation Method - Choose between Arithmetic Mean and Geometric Mean for the method to be used for calculating your report data.
Arithmetic Mean - A simple, arithmetic mean is used. All values are added and divided by the number of data points. See this Wikipedia article for more information about arithmetic mean.
Geometric Mean - A more complex aggregation method for aggregation: the geometric mean is defined as the nth root of the product of all the members of the set, where n is the number of members. Geometric mean may provide a more accurate representation of the data than arithmetic mean, because the effect of outlier values is less. See this Wikipedia article for more information about geometric mean.
Content Errors Count as Page Errors - Specify whether you want any content errors (for example, missing graphics) to cause a measurement to be counted as a page error. (The setting you select for Transaction will affect Application Perspective measurements as well.)
Set Time Filter Options - You can select any pre-configured time periods for which DO NOT want included in your reports. If no Time Filter is selected, none will be used. See Time Filters, below, for more information.
Enter email addresses to receive this Service Level Report - Enter the email addresses to send reports to. You can enter as many e-mail addresses as you want with a total number of characters up to 250, including spaces. Separate addresses with a space or comma. If you need to send reports to more addresses than will fit within the character limit, create mail aliases in your mail system to include multiple recipients.
If your account has email groups set up, an email group can be selected to receive the report.
Click Next after setting these options.
Step 3: Set agent options
Use this page to select the agents that will be used for the Service Level Report. All agents that are relevant to the measurements you have selected for the report are shown in separate boxes, and you can select All Agents or any combination of individual agents.
Monthly reports differ from daily and weekly reports in that you cannot select individual agents to be included in the reports. Monthly reports automatically include aggregated data from all agents.
When you have selected the agents you want used for this report, click Next.
Step 4: Edit the format of your report
The Service Level Report is highly customizable. You can configure it in many ways to provide you with the contents and format that you prefer.
Select the content you would like displayed
By selecting the kinds of information you want included, you can tailor the Service Level Report to your needs. Select from the following content items:
Summary Information - Displays a summary of your alias email list.
Measurement Details - Displays detail information for each alias.
Summary Graphs - Displays graphs within your report summary.
Detail Graphs - Display graphs within measurement details.
After selecting the content you want in your Service Level Report, you can arrange the order of appearance of the content items using the control in the center of the page. Select a content item and them use the up and down arrows to specify its position.
Select graph types
You can choose whether you want graphs included in your report and select the kinds of graph that will be used for each measurement. Up to two Summary graphs and two Detail graphs can be selected for each measurement in your report. All the measurements in your report will include the same graphs.
When you have specified these configuration options, click Save to save this configuration.
Run On-demand report
You can set up and execute on-demand reports for an instant review of site performance. On-demand reports can be emailed to individuals and/or groups within your organization to inform them of issues of immediate interest. On-demand reports are stored in your Service Level Report archives, just as scheduled reports are.
To create an on-demand report, you must first create a regular, scheduled report, as described above. You can then click the Reports > Summary > Run Test button next to an existing report to use as a starting point for the on-demand report. Although you must start from an existing report, you can change most of the options for the existing report before generating an on-demand report.
Note that if your on-demand report is in text format, you may read the report using a word processor such as Microsoft Word or WordPad (many other text editors work as well); the Microsoft Notepad accessory editor will not display the reports correctly.
Edit or delete reports
From the

> Summary page (in the Reports section) you can
Edit any report by clicking its Edit icon .
Delete any report by clicking the trash can icon next to it.
Archives
Your Service Level Reports are automatically archived for up to one year. Archived reports can be used for historical analysis or to check reports that you might have missed.
When you click the Archives button a page is displayed that lists all of your archived reports. Clicking any report on the list opens the report.
Time filters
You can specify any time periods that you want to be excluded from your reports. You can use this feature to exclude maintenance periods when your site is down, or for any period(s) you don't want included in your reports. Periods when time filters are in effect are called time filter windows.
One time time filters are created for a single time period you want excluded from reports. They start on a specific date and time and can be up to one week in length.
Recurring time filters are set up for ongoing use on a specific day of the week and start time, and can be up to 24 hours in length.