The Dashboard Map View provides a geographical view of your measurements. The Map view can be a national (for U.S. locations), regional, or global representation, depending on the location of the measurement agents.
Each location where a Keynote agent is measuring your site is represented on a map. If thresholds have been set, the color of the "K" icon for each location reflects whether the measurements for the selected time period and metric have passed the warning or critical thresholds.
By default this page also lists any Alerts that have been triggered in the last hour. (The alert list can be turned off.)
Slideshow
If the Slideshow option is selected, the Map view will display maps for each of your measurements, rotating between measurements at approximately 10-second intervals.
Customize map view
Click the Customize link to select the option to colorize your Map view. This option causes the state or country areas of the map to be colored with green, yellow, or red if thresholds have been set if any Keynote agent in that state or country is reporting a response time or availability that is beyond currently set thresholds.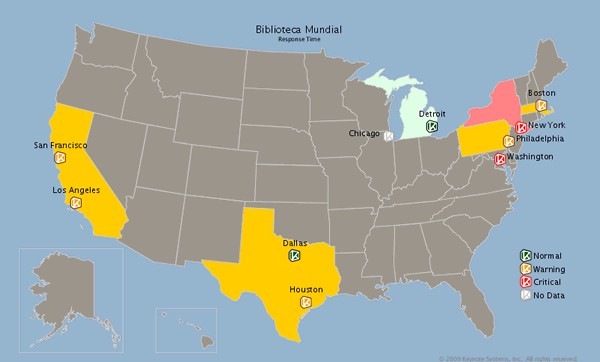 Last one hour alerts
Dashboard views also include a list of all warning and critical alerts that have been triggered in the last hour.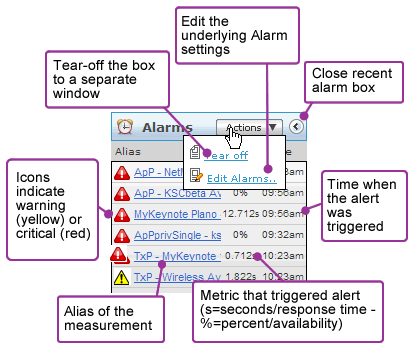 The metric shown in this area indicates the type of alarm and the measurement value that triggered it.
Drilling down
Mouse over any "K" icon on the Map view to display availability, performance, and currently set alarm thresholds (if any).
Click any "K" icon to display a scatter plot graph showing the measurements for the from that agent location for the time period set in the map view.