The Web and Mobile Dashboard view provides a summary of your measurements with aggregated response times and availability data for the last 5 minutes, last 15 minutes, 1 hour, and 24 hours. Up to 350 measurements can be included in the dashboard.
Any of the columns of the dashboard can be sorted by clicking its column header.
Each cell in the dashboard links directly to a scatter plot, letting you easily diagnose performance issues. Simply click a cell to generate a scatter plot for the period included in the cell.
Global and individual thresholds
Thresholds enable you to quickly see any measurements that are at critical or warning levels you have specified. In previous versions the dashboard used thresholds based on alarm threshold settings. Now, the dashboard has its own threshold settings that are independent of alarms.
Thresholds can be set globally for all measurements, or set for individual measurements.
To see or change global threshold settings:**
Click the settings icon: .
Click the Thresholds item.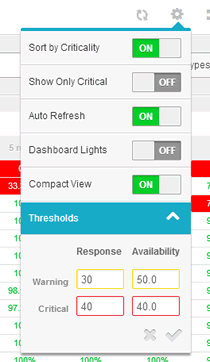 Options icon
Set desired Response Time and Availability Warning and Critical thresholds and click the check mark.
To see and change individual dashboard thresholds:**
Mouse over a measurement name to see its current threshold settings.

Dashboard thresholds
Click the edit icon next to the measurement name to change the measurement's thresholds.

change threshold
Dashboard options
Several options can be changed using the icons in the options bar.