Test results from the global network
This page displays test results from instant measurements based on single-page URLs or KITE scripts.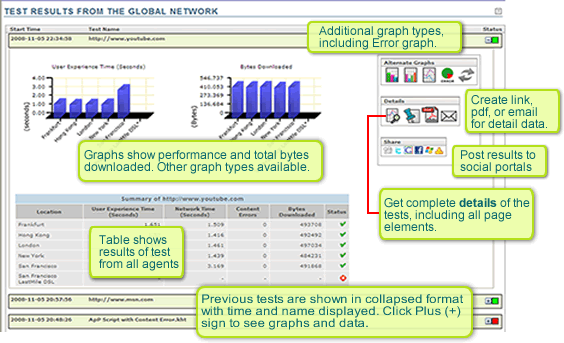 Test results include both graphs showing User Experience Time and Bytes Downloaded (or Errors) and tabular data broken out by agent. More detailed data can be displayed by clicking the Detail button.
Alternative graph types
You can select these graph types:
3-D bar graph

2-D bar graph

Connected Line graph

Error graph
You can also click the refresh icon to refresh the page.
Details buttons
The Details buttons let you access detail data for the test in different ways.
Details button Click to display full measurement details (see below).
Link button Click to create a link to the detail data.
pdf button Click to create a pdf version of detail data.
email button Click to send an email with link to detail data.
Share to social networks buttons

This features enables you to share a link to your test results on several social networks, including Digg, Twitter, Google, Facebook, Windows Live, and Yahoo MyWeb. You will be required to enter your login for the selected network.
Detail view
When full detail is displayed for a test result, an additional summary data detail table and a waterfall graph with its own detailed data table are displayed for each measuring agent below the graphs and summary table. The details for one agent are displayed by default, and the details for the other agents are available by expanding the bars below.
These the measurement details for all page elements included in the measurement.
Summary table
This table shows measurement data for all network and user components as measured by each agent.

Data Detail Summary Table showing measurement details reported by one Keynote agent
Waterfall graph
The waterfall graph includes network components for each page element encountered in the test.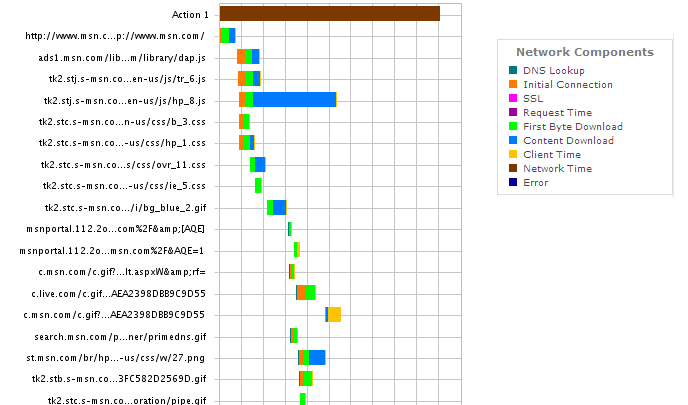 Detailed data waterfall graph
Below the waterfall graph is a table containing complete measurement detail for each measured object.