User experience trend graph
Transaction Perspective measurements running on Internet Explorer 9 automatically capture new browser events that allow you to answer questions about users' experience of your web site or application, such as:
How long does it take until users see the page start to display in the browser window?
How long does it take until users can start to scroll and click on links in the page?
There are a number of ways you can access these new metrics in MyKeynote:
The rest of this section will cover these features in detail.
User experience trend
The User Experience Trend graph allows you summarize user experience metrics or trend User Experience Time over a given time range.  This is a new type of graph that you can generate for TxP measurements on the chart configuration page: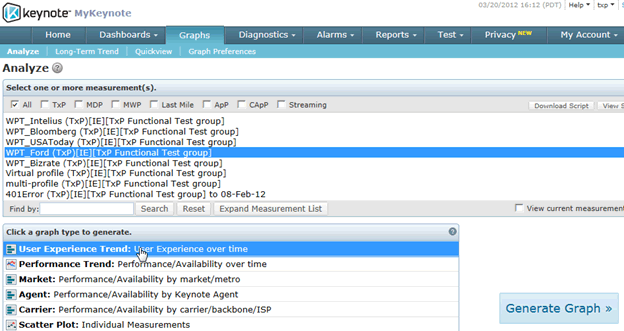 Note
The Time History graph type is now called Performance Trend, to distinguish it from User Experience Trend.
When you generate a User Experience Trend graph, you can view both a summary and trend of data over the time period you specify.  The summary graph displays a page-by-page breakdown of the user experience metrics averaged over the specified time period: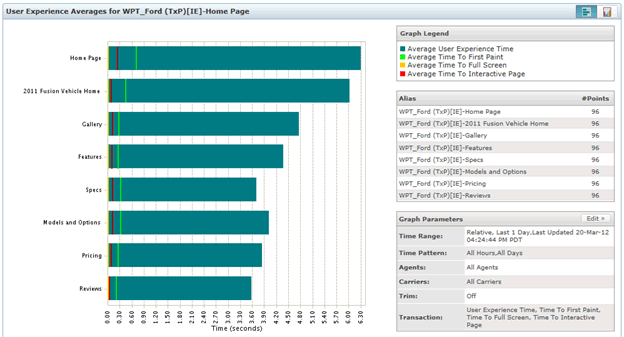 The trend graph displays User Experience Time trended over the specified time period.  It consists of a trend line for User Experience Time of the overall transaction, overlaid with a bar chart showing User Experience Time for each transaction page: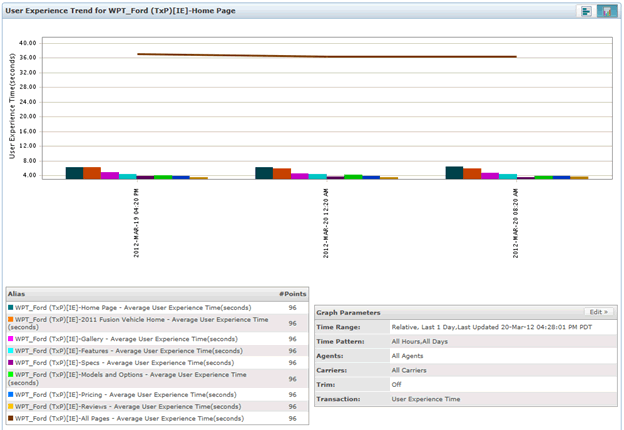 You can toggle between these two views by clicking the buttons at the upper right:

User experience details for single data point
In order to access detailed user experience metrics for a single data point, go to 

> Current chart data. Generate a Scatter Plot graph for a measurement running on IE9.
Click on one of the data points in the resulting Scatter Plot graph: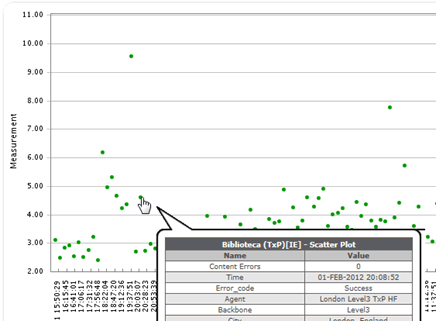 This will bring you to the page detail graph: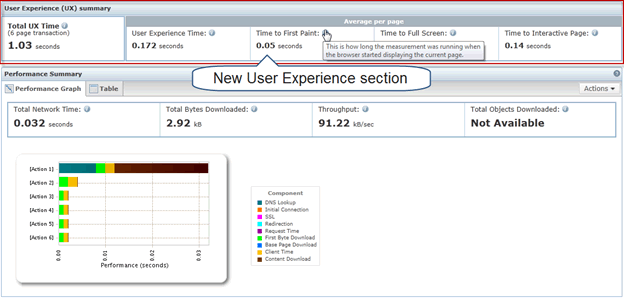 The metrics summarized in the User Experience section include User Experience Time, Time to First Paint, Time to Full Screen, and Time to Interactive Page.
To drill down to the user experience metrics for a single page, click on one of the bars in the page summary graph:
Time to First Paint and Time to Interactive Page are overlaid on the resulting waterfall graph.  This helps correlate these important user experience events with the underlying browser network activity.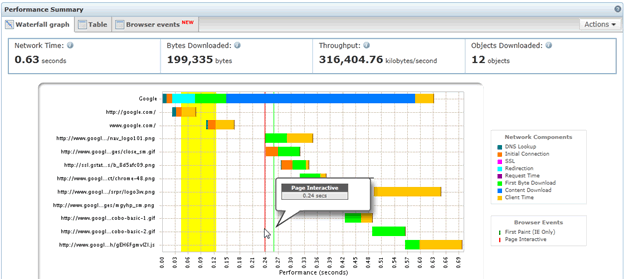 In addition, there is a new Browser Events tab on the waterfall page showing a detailed timeline of the events the browser reported during the processing of the page.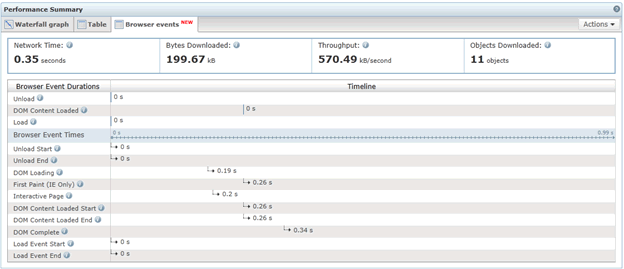 These events are based on the Navigation Timing Specification as implemented in Internet Explorer 9 and include:
| | | |
| --- | --- | --- |
| MyKeynote Term | Corresponding Navigation Timing Metric | Description |
| Unload Start | unloadStart | How long the measurement was running when the browser started unloading the previous page |
| Unload End | unloadEnd | How long the measurement was running when the browser finished unloading the previous page |
| DOM Loading | domLoading | How long the measurement was running when the browser started processing the DOM for the current page |
| First Paint | (None—IE specific) | How long the measurement was running when the browser started displaying the page contents on-screen |
| Interactive Page | onLoad | This is an approximation for when the page becomes fully interactive for the user. This corresponds to when the browser finishes processing the onload event. |
| DOM Content Loaded Start | domContentLoadedEventStart | How long the measurement was running when the browser started processing the DOMContentLoaded event for the current page |
| DOM Content Loaded End | domContentLoadedEventEnd | How long the measurement was running when the browser finished processing the DOMContentLoaded event for the current page |
| DOM Complete | domComplete | How long the measurement was running when the browser finished processing the DOM for the current page |
| Load Event Start | loadEventStart | How long the measurement was running when the browser started processing the onLoad event for the current page |
| Load Event End | loadEventEnd | How long the measurement was running when the browser finished processing the onLoad event for the current page |
The Browser Events tab allows you to analyze the browser's activity during the loading of the page. For example, a long period between Load Event Start and Load Event End suggests that there may have been significant processing required for the JavaScript handling the load event.