Configuring existing alarms
The Configure Alarms page (

> Configure ) allows you to suspend (disable for a period less than 24 hours) or delete existing alarms. You can also select an alarm to edit its settings.
Alarms are listed by Alarm Alias with the corresponding Measurement name and measurement Type (i.e., Transaction for TxP or ApP, Mobile Browser for MWP).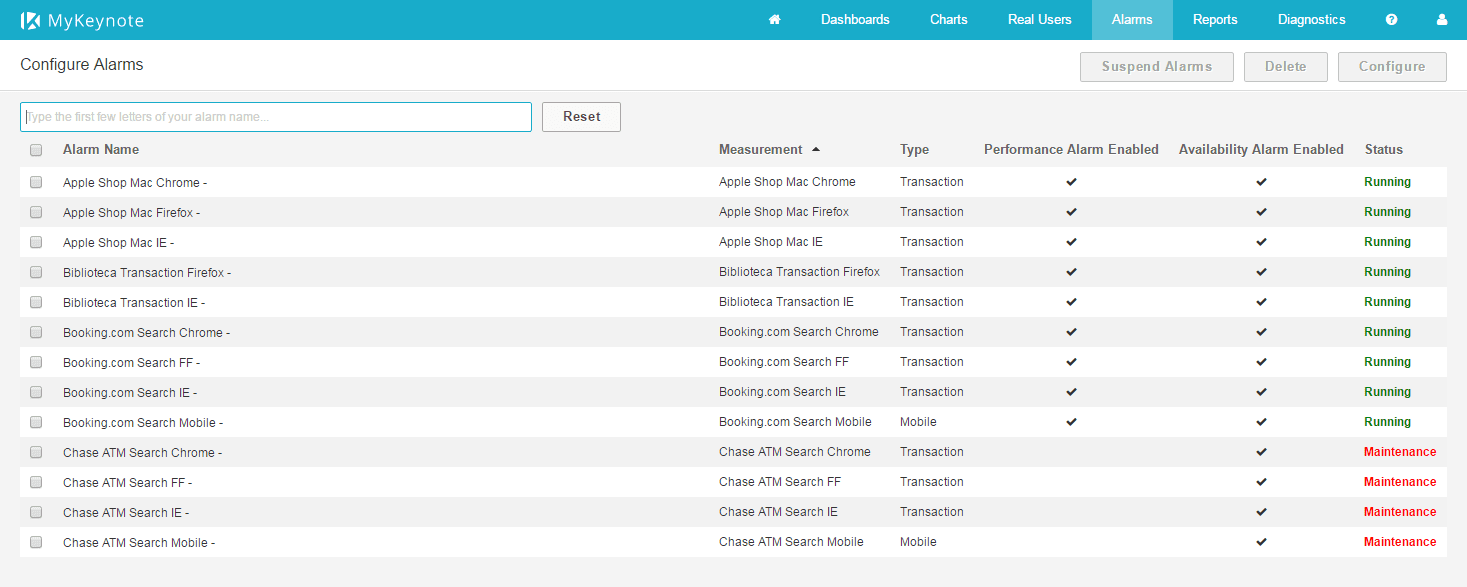 For each alarm you can see whether thresholds for performance and/or availability have been enabled along with alarm Status (Running , Suspended , or in a Maintenance window).
Notes
Alarms for measurements that have expired in the Keynote Service Center (KSC) do not show up on this page. But when the measurement is reactivated, the alarm(s) will be visible again with the last saved settings.
When you edit alarm settings, changes can take up to 15 minutes to go into effect.
Managing Alarms
Check the box next to an alarm to select it. You can Suspend Alarms —select a time period from 1 - 24 hours for alarm suspension and click Submit .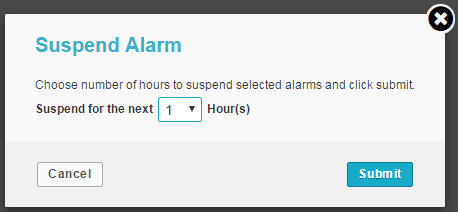 The alarm status changes to Suspended  in the** ** Configure Alarms page, and the alarm shows up as temporarily disabled in the alarm summary.
When one or more of your alarms have been suspended, you can select them and click Resume to re-enable them.
You can also select an alarm and opt to Delete it or edit alarm settings (Configure ).
Manage and view other users' alarms
You can access alarms (view and manage) set up by another login in your account (other users in your company). To do this, an administrator must first create a User Group in the Keynote Service Center (KSC) and assign the appropriate alarms-related permissions.
Mass configure alarms
This feature enables you select multiple alarms on the Configure Alarms page to specify one or more settings for multiple alarms in one efficient process.
The Mass Configure Alarms feature is accessed by selecting the alarms you want to edit and then clicking Configure on the Configure Alarms page.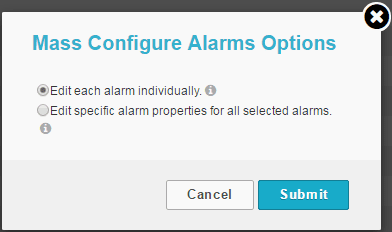 You can choose to:
Edit each alarm individually —you are directed to the alarm settings page for each alarm in turn after you click Submit .
Edit specific alarm properties for all selected alarms :

Select the properties you want to mass configure from the list that appears and click Submit .

The current values for selected alarms and settings are displayed. Click Next .

Enter the changed values for the settings and click Next . These values will apply to all the alarms chosen.

Click Save to confirm your changes. You are then returned to the Configure Alarms page.