You can record (or re-record) a transaction script using the KSC web recorder part of creating or editing a TxP or MWP measurement. This page deals with recording, playing back, re-recording, and saving a script. To review and edit a script, step, or action, see Editing a Web Recorder Script.
Note
If using the web recorder for the first time, you must install the required Chrome extension for mobile web or desktop web recording; see Accessing the Web Recorder.
Recording workflow
Access the web recorder; if creating a new measurement, be sure enter a script Alias for the recording option to be effective.
When you have launched the web recorder for a mobile or desktop transaction, you must:
Provide the starting URL, e.g., www.dynatrace.com, m.yahoo.com, or http://ebay.com.
For mobile tests only, you can change the default device selection, initial orientation, and geolocation option. You can also change these settings when editing your script after recording: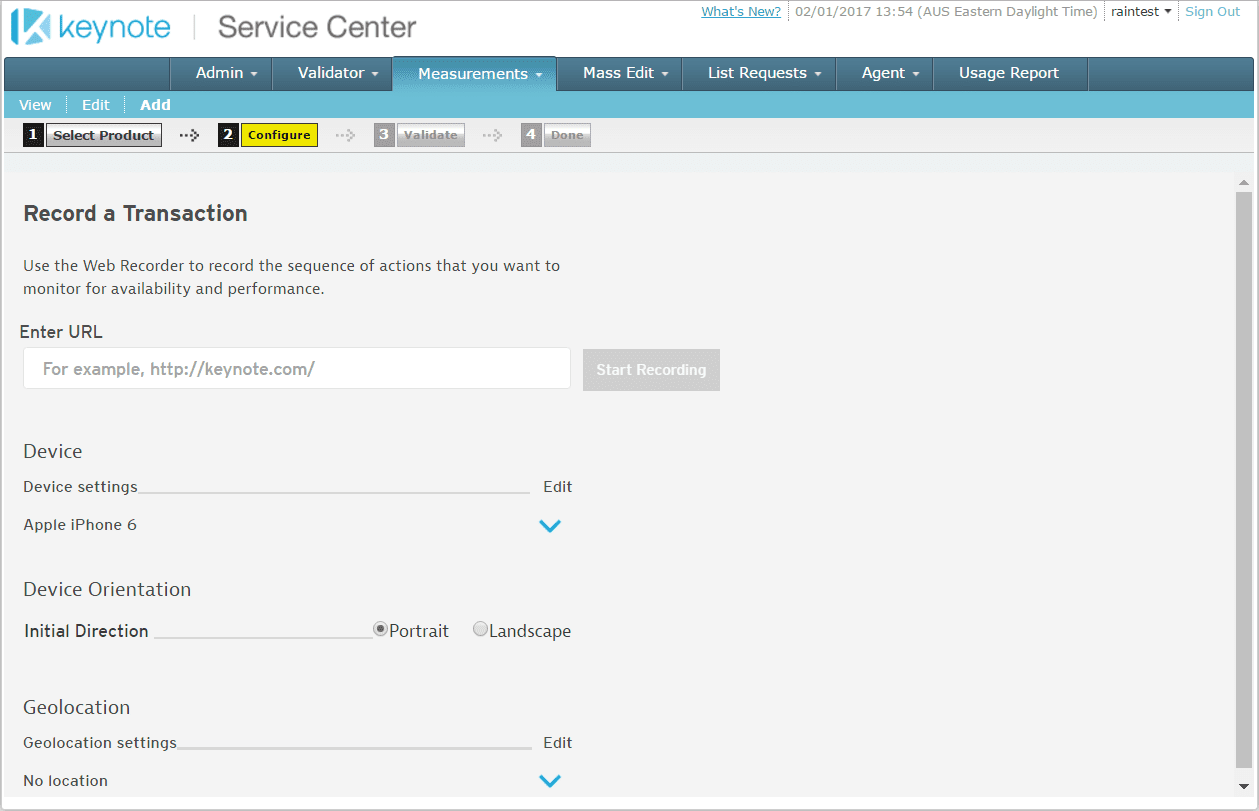 Device—choose a device from the drop-down list and click Save Selected Device.
The following options in the device list map to these specific models:
Samsung Galaxy—Galaxy S4
Samsung Note—Note 3
Samsung Tab—Tab 3
Device Orientation—choose either Portrait (default) or Landscape as the initial orientation for the device. You can change orientation again during recording by inserting a Rotate action.
Geolocation—choose an option for the location of the website and click Save Geolocation Settings.

No location—this is the default option.
Custom Location—provide a Latitude and Longitude.
Use the mobile node location—uses the agent location as the website location.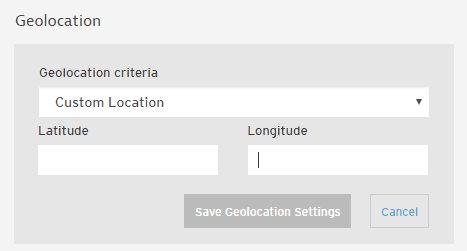 Click Start Recording. A new browser window is launched, sized if necessary, to match your device selection. The web recorder extension icon is highlighted at the top-right of your browser.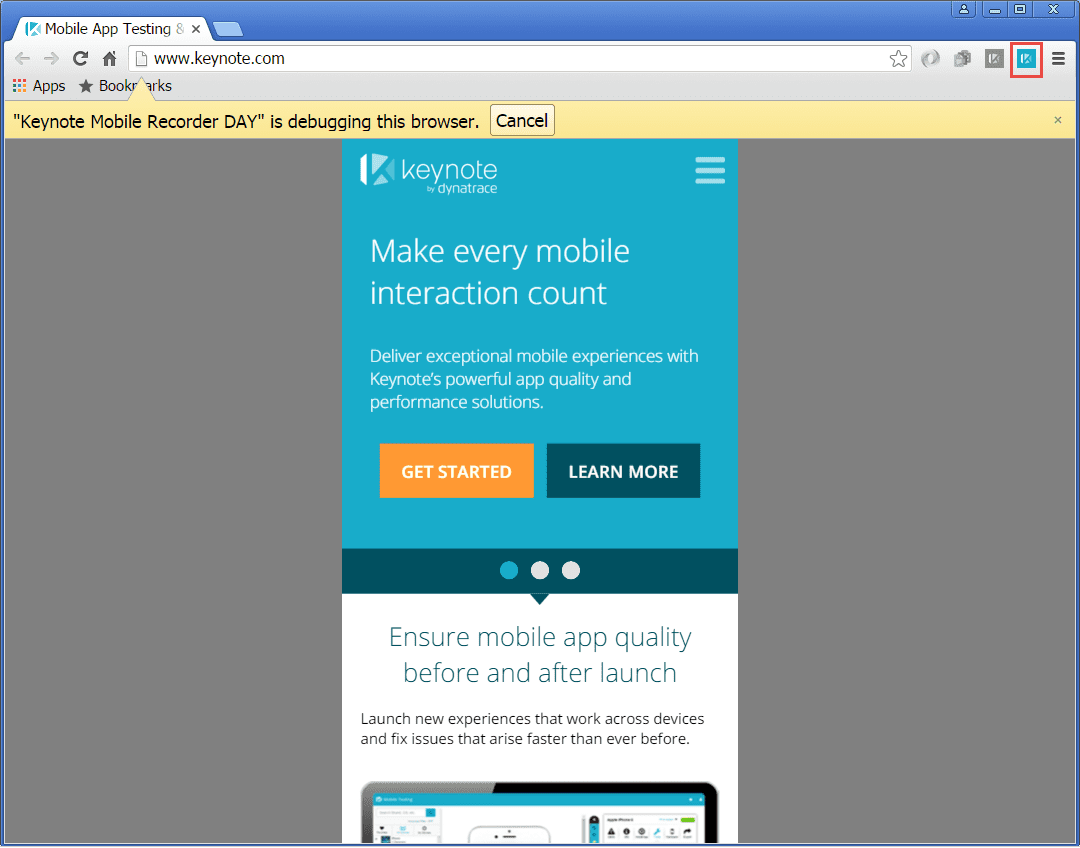 Create a transaction as you would on a real computer or mobile device, clicking links and entering data as needed.
Note
In mobile scripts, you must click to set focus in form fields; pressing Enter on your keyboard does not automatically set focus in the next form field.
Click the extension logo

 to see the number of steps and actions created. An option to change device orientation (select Rotate > Clockwise or Counterclockwise) is available for mobile scripts.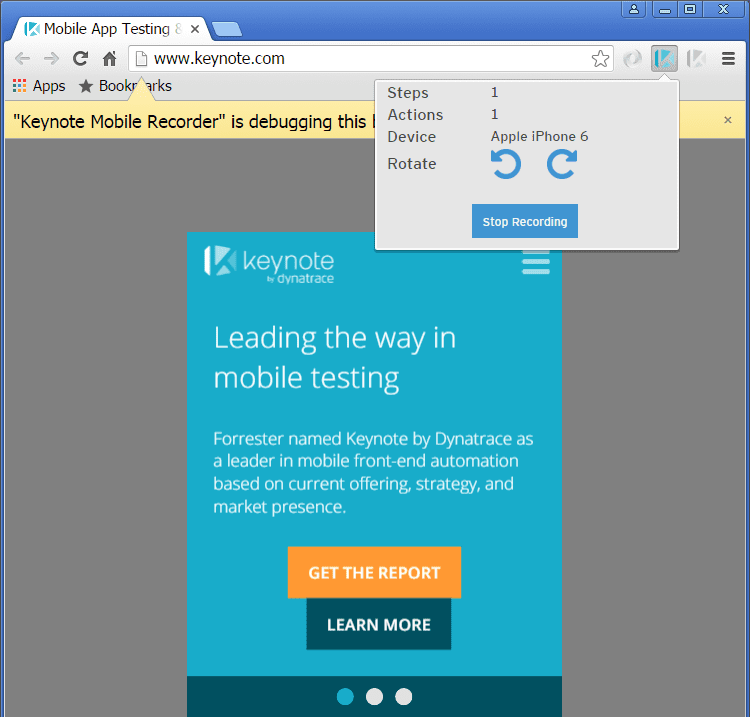 As you create your transaction, different kinds of script actions are created (and displayed in the transaction summary when you finish recording—see the step below.
When you have finished your transaction, click the extension logo

 and select Stop Recording. The recording window is closed; you are returned to main recording interface showing the transaction summary in thumbnails.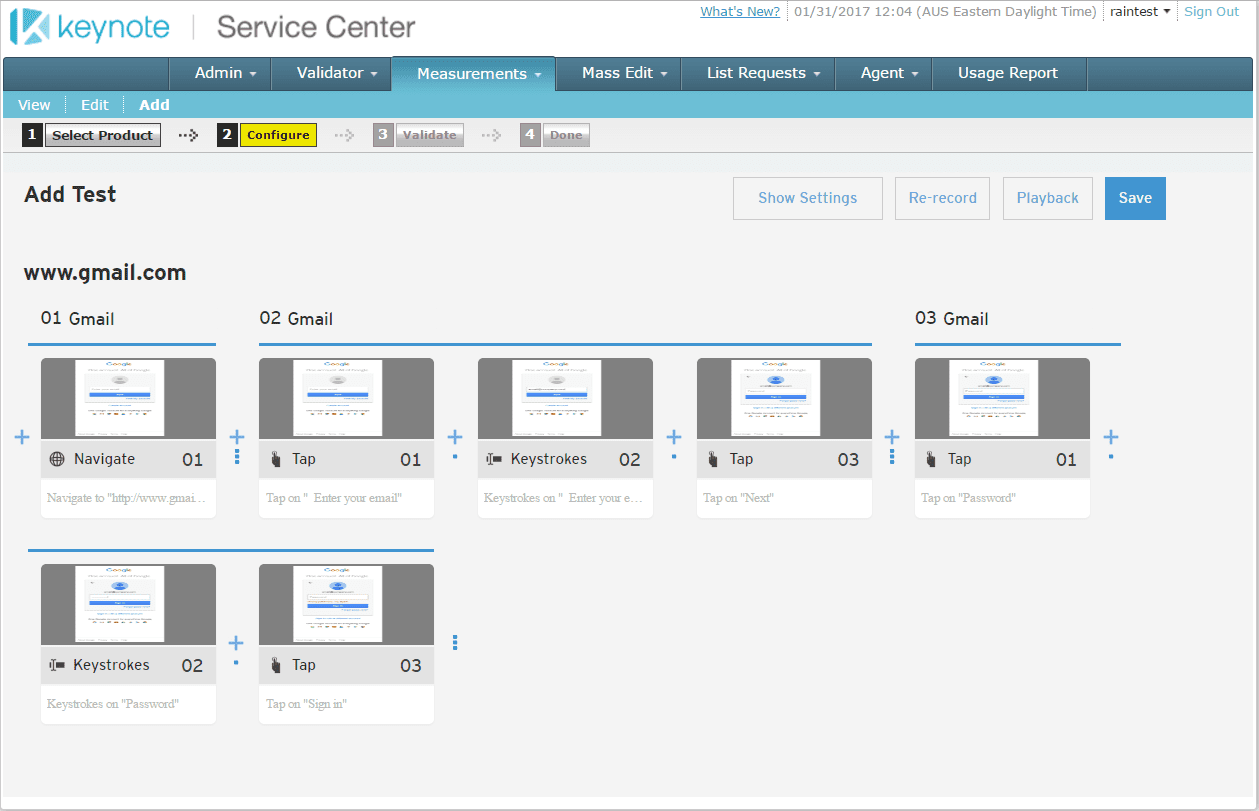 Playback
From the transaction summary in the recording interface, click Playback at top right. As with recording, a new browser window opens to play back the transaction you recorded. When playback is complete, the window closes, and the transaction summary displays a message confirming successful or failed playback.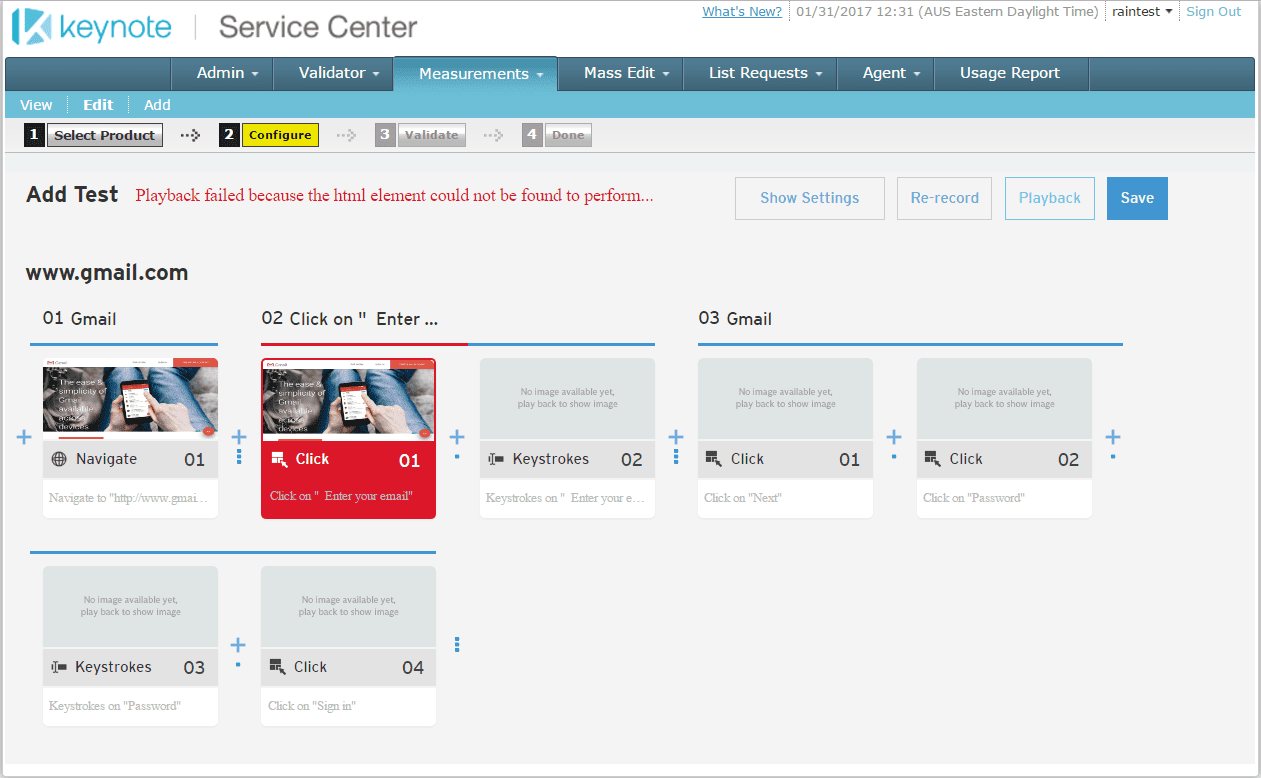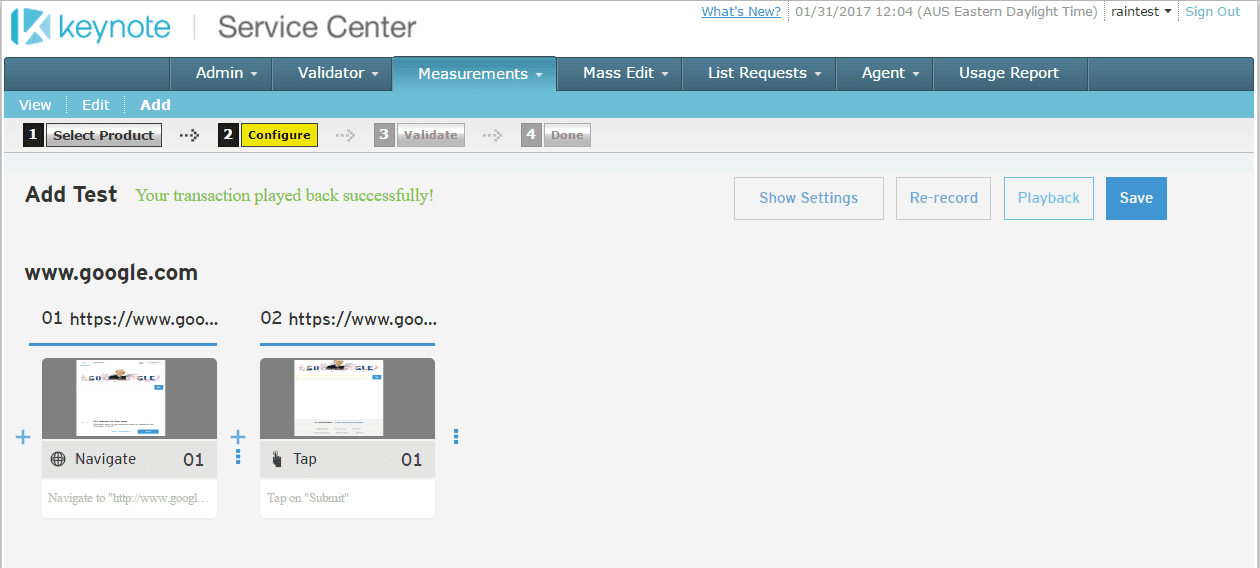 Re-recording a script
After you have recorded a transaction, click Re-Record before you save to record the transaction over from scratch. You will be asked to confirm deletion of all previously recorded steps.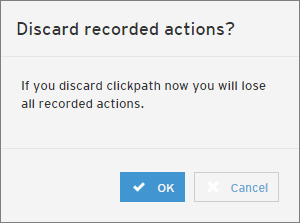 You are returned to the recording workflow where you can specify a different URL, and for mobile scripts, a device and geolocation.
Saving
Select Save at top right.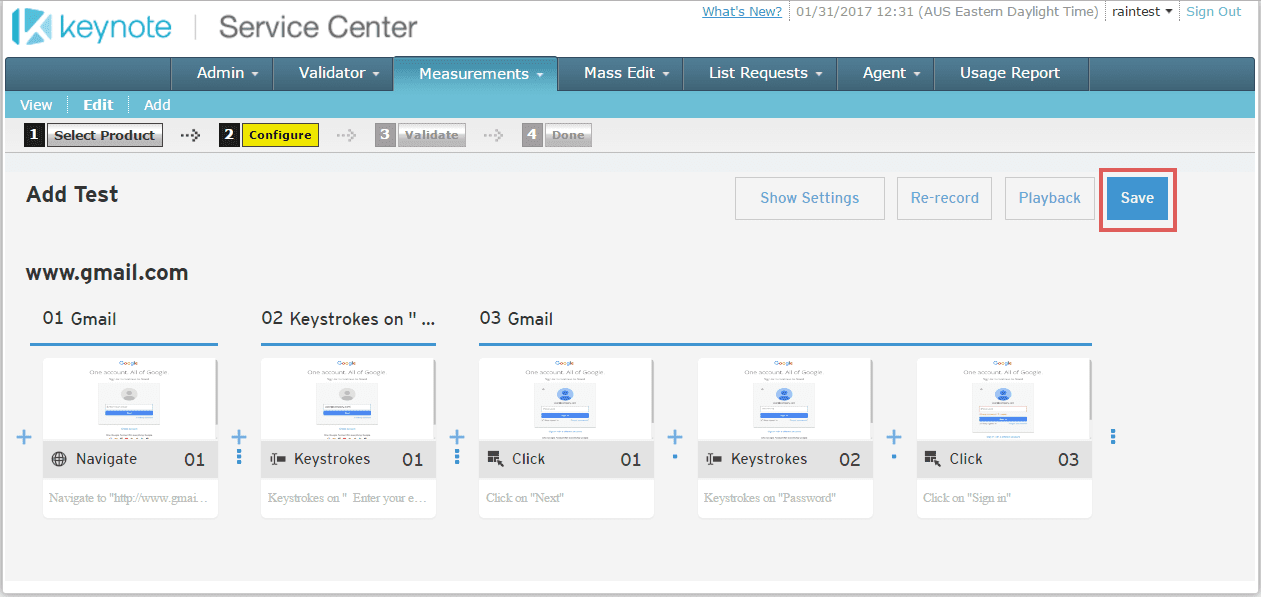 When you click Save, you directed back to the provisioning workflow in KSC.
Before you click Validate, be sure to select an Agent Group that supports the browser you want to run the measurement on.
Likewise, when saving a mobile web recorder transaction, you might find that the Device profile displayed (figure 1 below) does not match the device selection you made in the web recorder. Click Details to expand the Script Details section and view your original device selection (figure 2 below). Select Choose another device in the Device selector to choose the specific device profile you want (figure 3 below).