User groups enable a Keynote administrator to assign logins to different sets of users with selected Keynote permissions. This allows the administrator to easily manage the permissions available to multiple users at once. For example, a user group could contain all of your company's Keynote logins that have permission to manage alarms and reports, or one that is only for MyKeynote users (not administrators). Permissions could be added or removed from these groups all at once, instead of the administrator having to change permissions for individual logins.
By default, each Keynote measurement can be viewed in MyKeynote by members of at least one User Group. You can change the default user group that can view new measurements by selecting Admin > User Preferences.
Note
Only Keynote administrators with the Manage User Groups KSC permission can administer user groups.
A Keynote login can belong to more than one user group.
Templates are provided that contain predefined sets of Keynote permissions, or you can create a user group with your a set of permissions of your choosing.
User groups are created or edited using Admin > Manage User Groups.
Individual logins are assigned to user groups using Admin > Logins.
Managing user groups
Select Admin > Manage User Groups to see existing user groups, edit user groups, or create new user groups. The Existing User Groups table shows each group and whether they are based on a Keynote template or are user defined.
Creating a new user group
Click the Add New button to create a new group.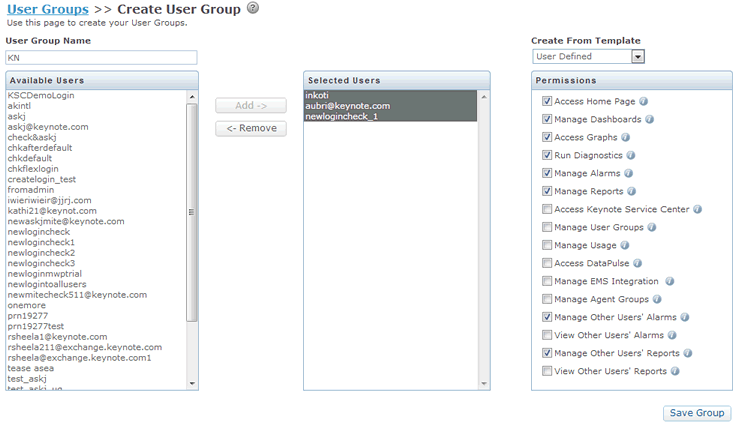 Enter a name for the new user group.
Select from available users (logins) and click Add.
Select from available permissions.
Click Save Group.
Using a user group template
You use one of the proved templates to assign permissions to a user group:
Company Admin - Permissions chosen for the typical Keynote company administrator.
MyKeynote User - Permissions chosen for the typical MyKeynote non-admin user.
Assigning logins to existing user groups
You can manage membership of individual logins to user groups using Admin > Logins.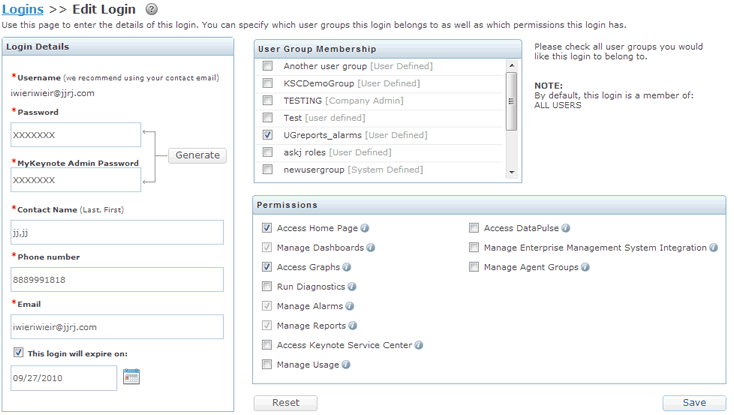 This page shows any user group that the login is a member of. You can remove the login from a user group, or add them to one or more user groups.
Membership in user groups, in addition to individual permission settings, determine which permissions are available for each login. If a login is part of a user group, that group's permissions are shown in the permissions box, and permissions assigned due to user group membership cannot be removed