Keynote Service Center help
Use the Keynote Service Center (KSC) to provision, or add new Keynote measurements, and to edit details for existing measurements for these Keynote services:
Transaction Perspective and Transaction Perspective High Frequency
Application Perspective, multi-page and single page
Cloud Application Perspective
Cloud Transaction Perspective
Mobile Web Perspective and Mobile Web Perspective Over Air
Mobile App Monitoring (Mobile Device Perspective)
Streaming Perspective
KSC also lets you administer logins for the people who access Keynote portals (MyKeynote and KSC itself).
KSC key concepts
These data elements are used to define Keynote accounts:
Keynote Sales Coordination group creates agreements (with unique agreement numbers) for each Keynote customer account.
Each agreement can have one or more individual measurements. Either Keynote Coordination or Keynote customers can add new measurements using KSC. They can also modify existing measurement details, or expire measurements.
Measurements may be single URLs (Application Perspective single-page or Streaming Perspective), multi-page transactions (Transaction Perspective and Application Perspective multi-page).
Multi-page measurements are based on transaction scripts. Scripts for Transaction Perspective and Application Perspective are recorded using KITE (Keynote Interactive Testing Environment). Scripts for Mobile Web Perspective are created using MITE (Mobile Interactive Testing Environment).
Each Measurement has one customer contact and one or more customer logins associated with it, as well as a URL or script and various measurement details (such as measurement frequency, agent group, etc.).
Adding measurements or changing measurement details can affect the cost of your Keynote services. It is important that you understand the cost implications of changes you make. Your Keynote representative can explain the effects of measurement changes. In addition, customers with FlexUse accounts can access several tools within KSC to estimate the cost effects of changes to their accounts.
KSC tab interface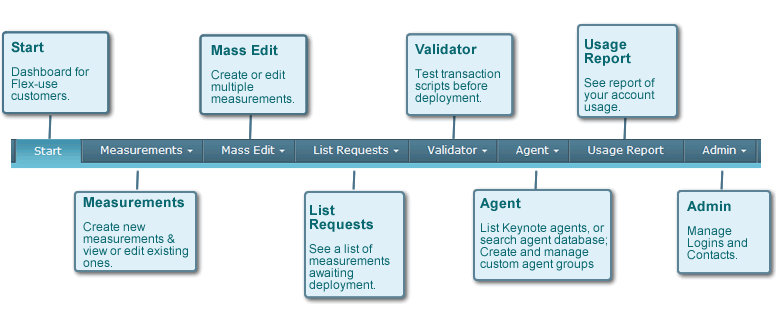 Important
Making changes to your Keynote agreement(s) using KSC can result in increased charges to your account. Before using KSC to make changes to your agreements, be sure you understand the consequences. Your Keynote sales contact can explain these consequences to you.