Dynatrace DC RUM Release Notes
DC RUM Release Notes
May 22nd, 2017 Your applications are becoming more dynamic; so is DC RUM!
Leveraging significant advances in scalability and performance, DC RUM 2017 delivers new capabilities that will empower your operations teams to improve efficiency and deliver peak application performance. DC RUM 2017 will help you:
Control complexity through real-time awareness of changes in your application environments
Accelerate performance insights through increased report granularity
Reduce costs by delivering a consistent, intuitive user experience across all Dynatrace solutions
Improve service levels through Dynatrace application and system insights
| Release Date | Release Name |
| --- | --- |
| June 18, 2018 | Get Dynatrace DC RUM 2017 SP5 |
| March 8, 2018 | Dynatrace DC RUM 2017 SP4 |
| November 28, 2017 | Dynatrace DC RUM 2017 SP3 |
| September 11, 2017 | Dynatrace DC RUM 2017 SP2 |
| July 10, 2017 | Dynatrace DC RUM 2017 SP1 |
| May 22, 2017 | Dynatrace DC RUM 2017 May |
Speed time-to-insight with increased interactivity
DC RUM 2017 adds four new Explorer views – the Network Explorer, the DNS Explorer, the Citrix Explorer and the Alerts Explorer. The existing Explorers – Operation and User – have also been expanded. Explorers supplement DC RUM's predefined workflows – including customer-specific DMI workflows – with flexible and intuitive "Interactive Viewer" reports. Explorers deliver interactive filtering, allowing the user to "slice and dice" data related to an element or time range of interest. Associated metrics are automatically filtered and focused, yielding immediate and relevant insights without switching views. Contextual drill-down to appropriate deep-dive reports takes you quickly to the information you need to identify and isolate problems – no matter where they originate.
The Network Explorer report analyzes network performance, usage and errors

The DNS Explorer report analyzes performance, availability and errors for DNS queries

The Alerts Explorer report delivers multi-dimensional alert navigation to simplify and prioritize alert responses

The Citrix Explorer report makes it easy to analyze and troubleshoot performance issues specific to XenApp and XenDesktop environments

The User Explorer has been extended to support additional use cases, speeding insight into the context influencing user complaints

The Operation Explorer has been extended with new heat charts and slow operation cause breakdown charts
In addition, we've introduced "smart questions" that enable users to quickly jump to the report showing the answer, instead of navigating through a series of workflow steps. For example, just ask DC RUM "Could user X access server Y two days ago?" and the appropriate report – with the right context – is quickly served.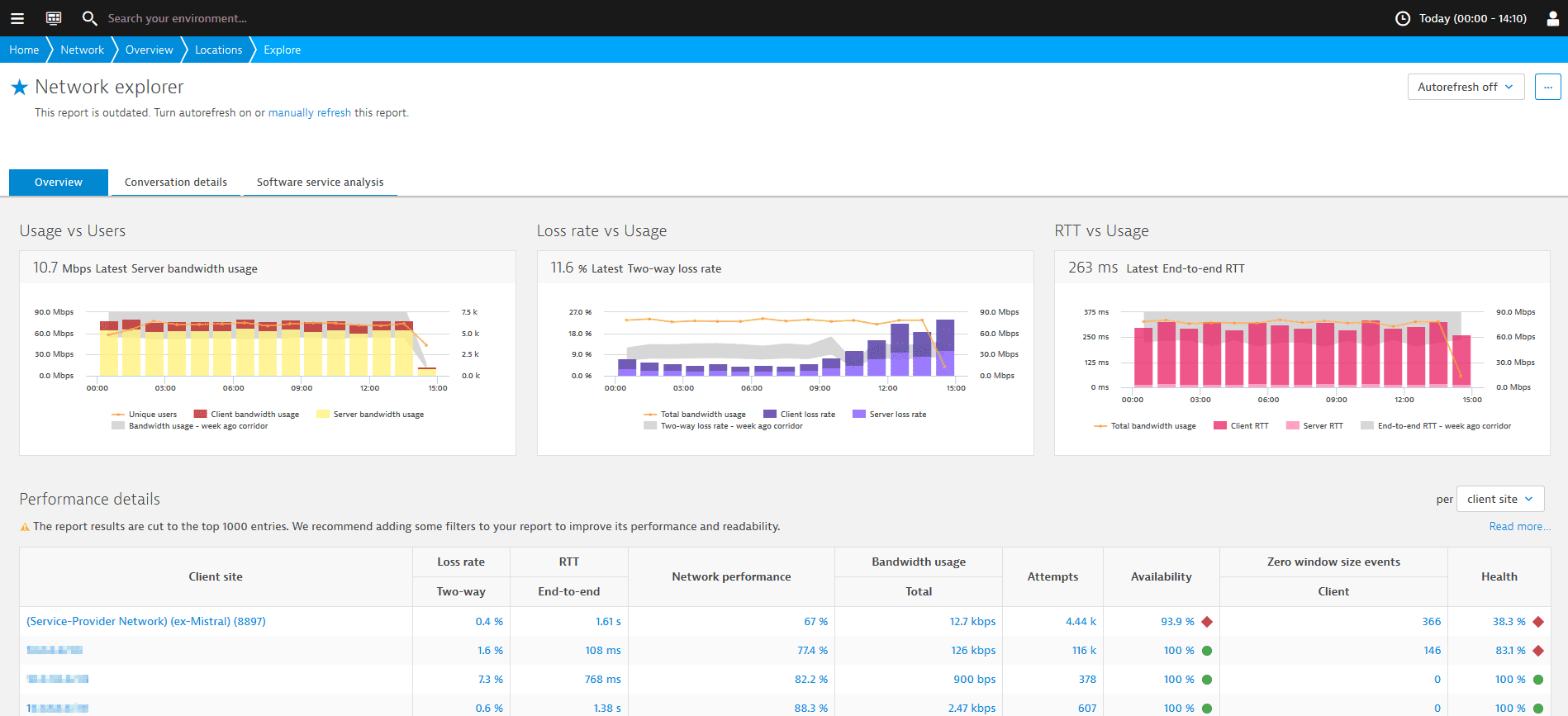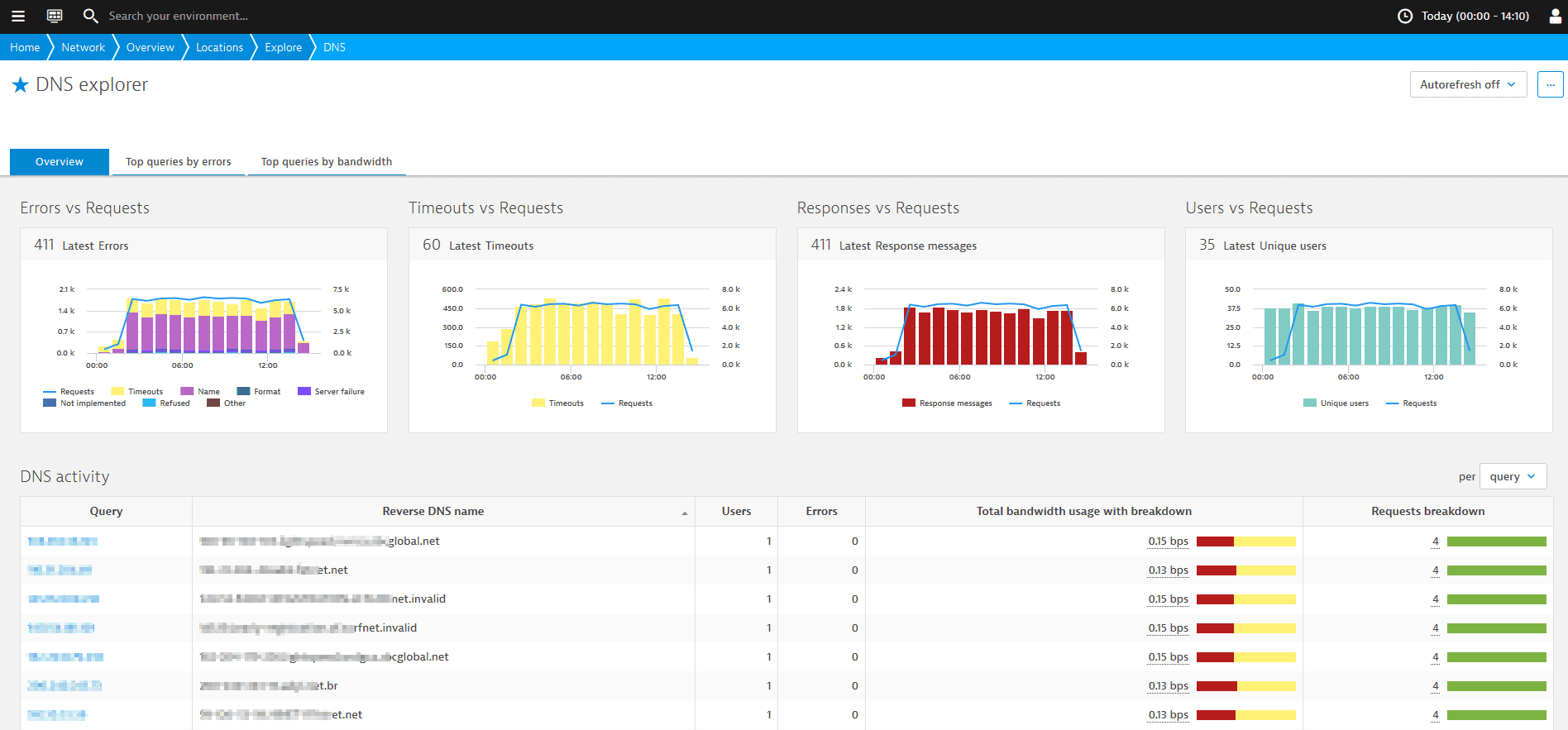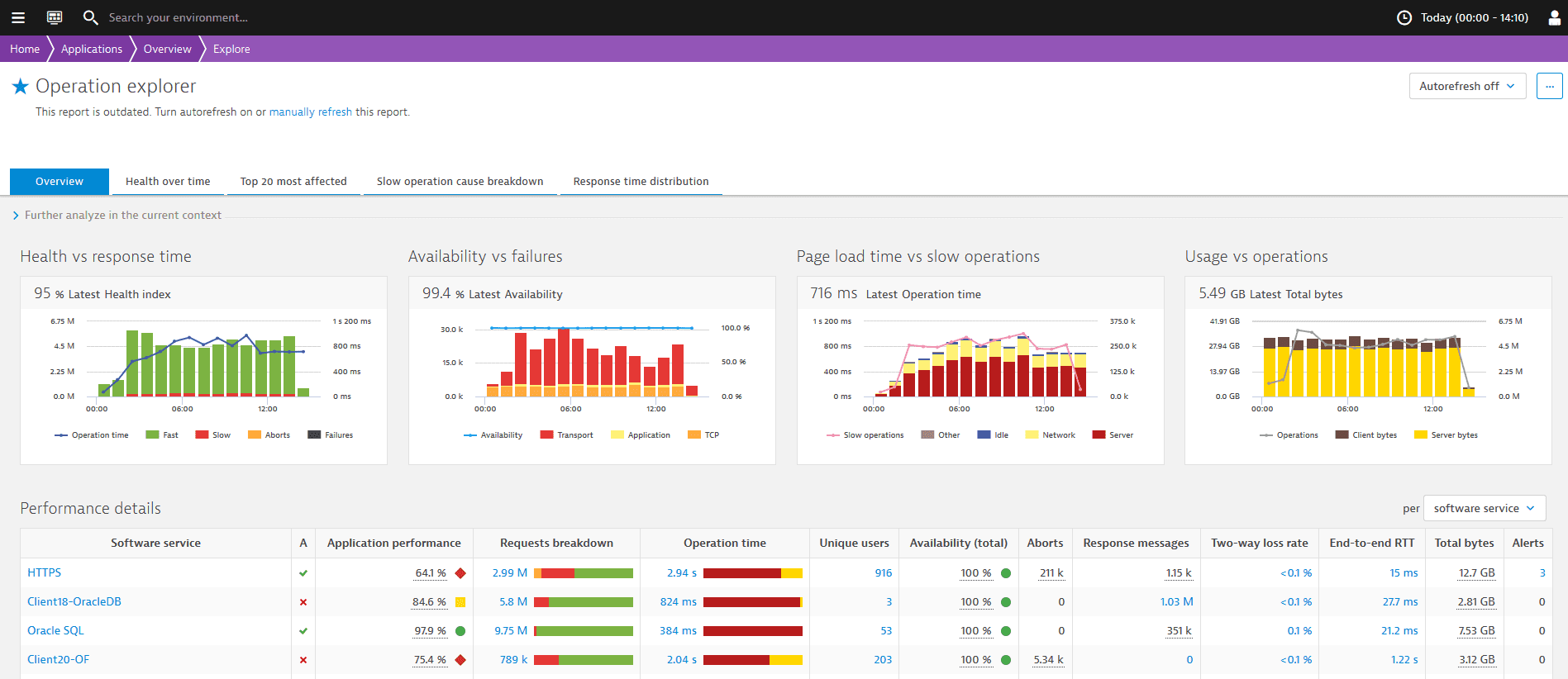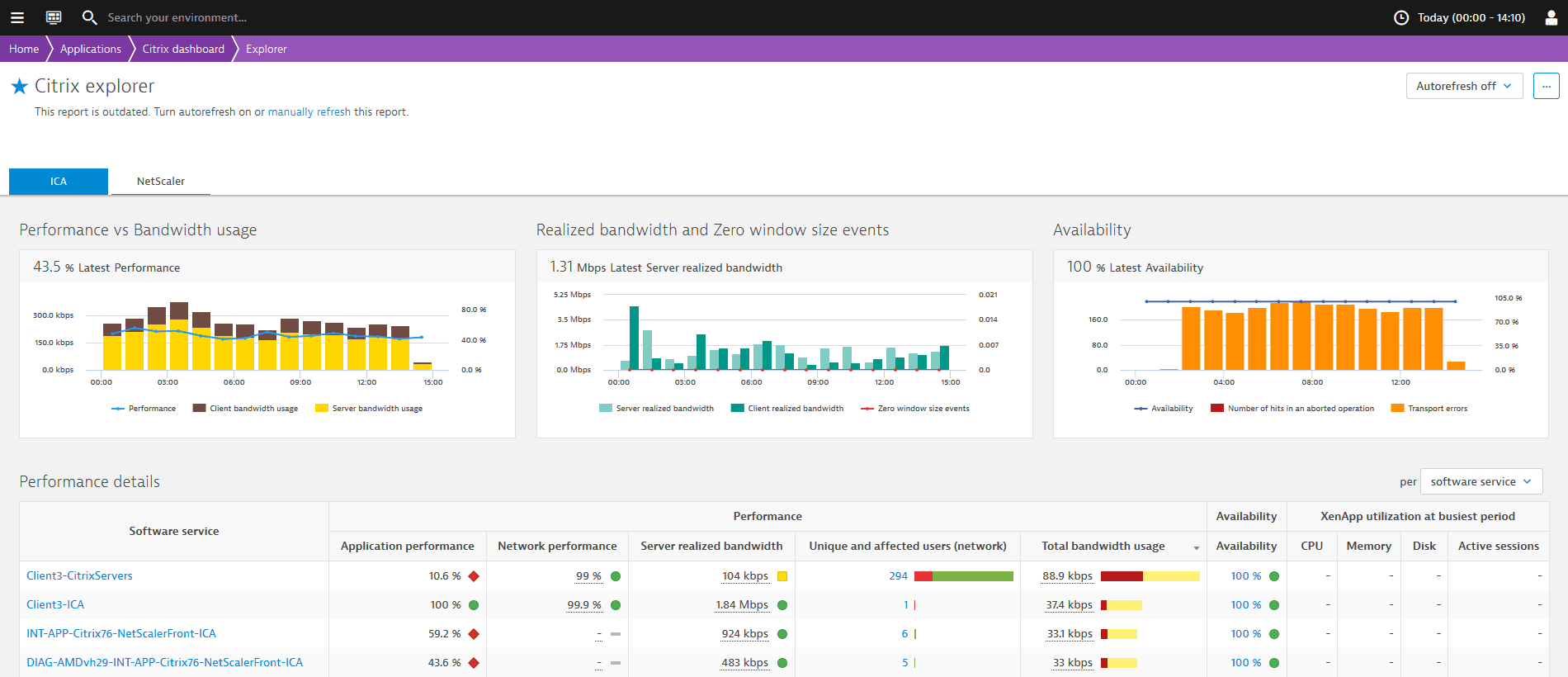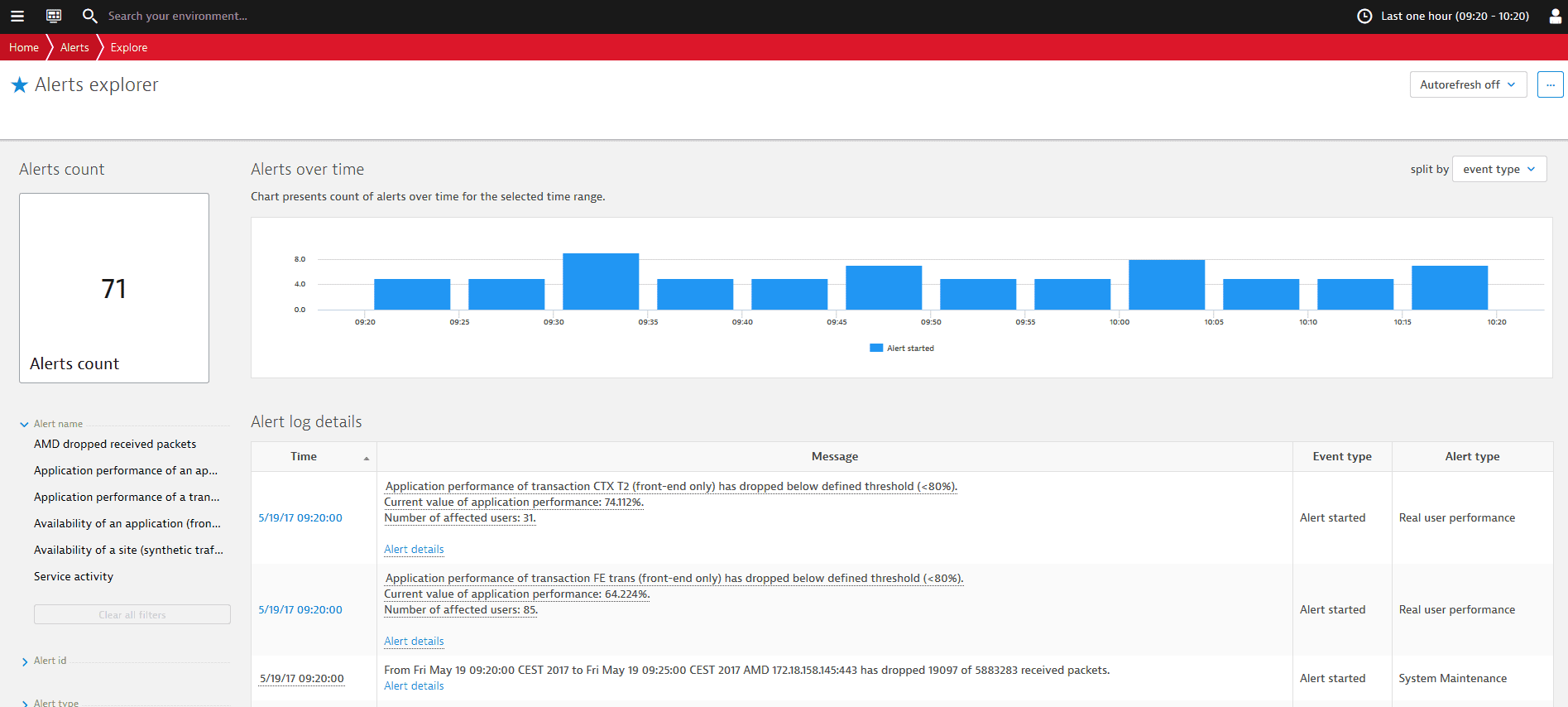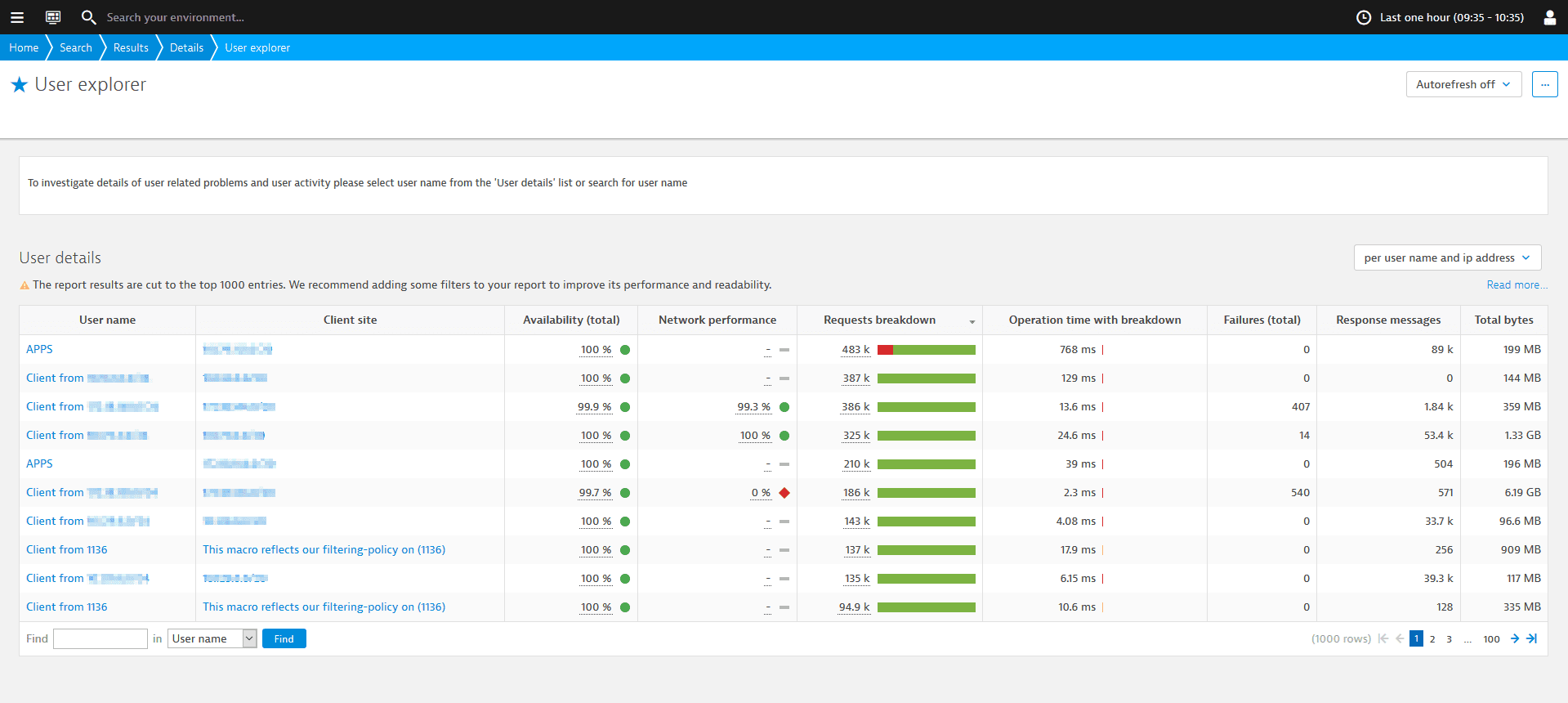 Adopting SAP HANA in-memory database as part of your SAP landscape transformation? We've got you covered!
DC RUM 2017 introduces the HANA database analysis module, enhancing the industry's most comprehensive end-to-end SAP performance monitoring solution. With the HANA DB analysis module, you can:
Analyze performance delivered by the SAP HANA DB to the systems that depend on it, like NetWeaver ABAP and JAVA servers, BI and BW

Evaluate the impact of database modernization on SAP user experience

Dive into individual HANA DB query performance to identify tuning opportunities and isolate performance problems

Report important trends for database usage, performance and availability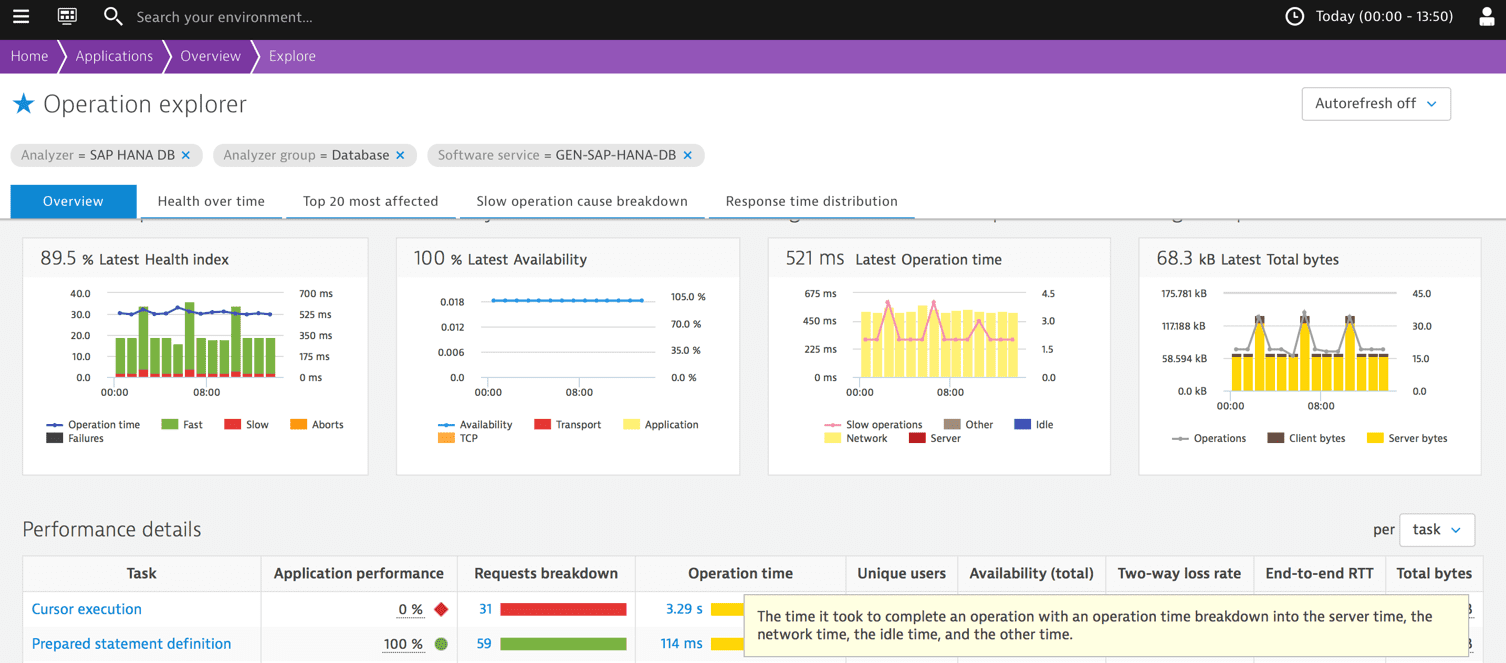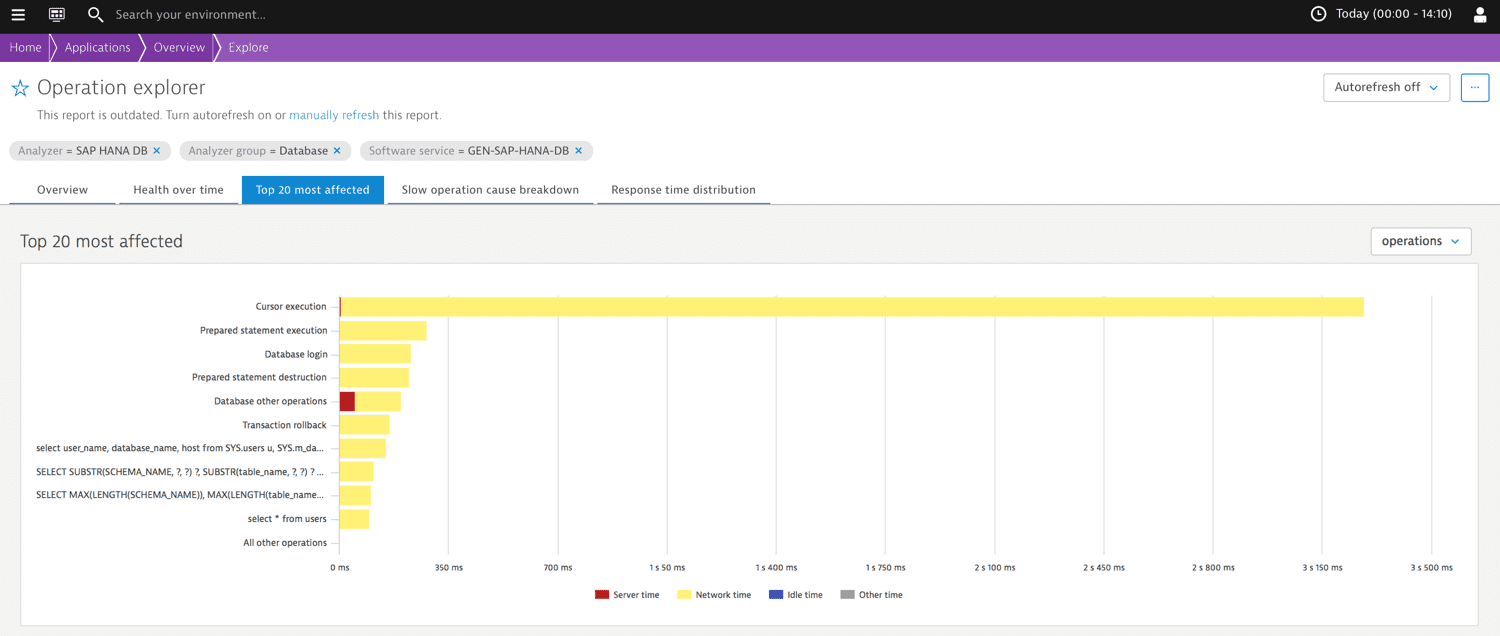 Gain timely visibility into service changes in the agile data center
DC RUM's auto-discovery capabilities gain new value with the Service Activity Change feature, informing you of important changes in your environment.
Discover new – or newly inactive – services and servers through the Service Activity Change feature. With DC RUM, you'll quickly learn when new applications are deployed, or when services are removed – and whether users might still be attempting to use them.

Maintain optimal user experience by tracking new app deployments as they occur, choosing the appropriate monitoring policy to help ensure service delivery excellence.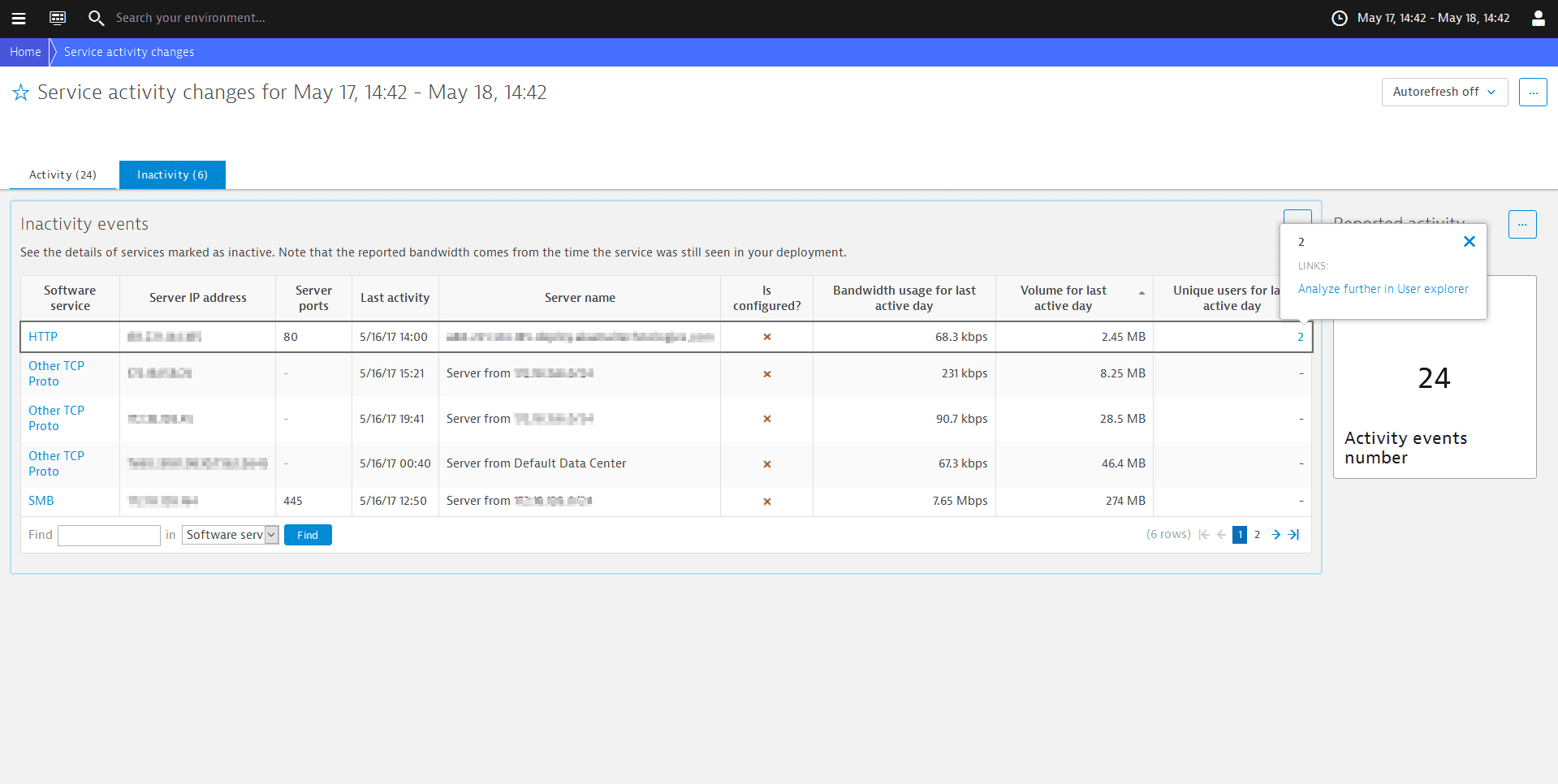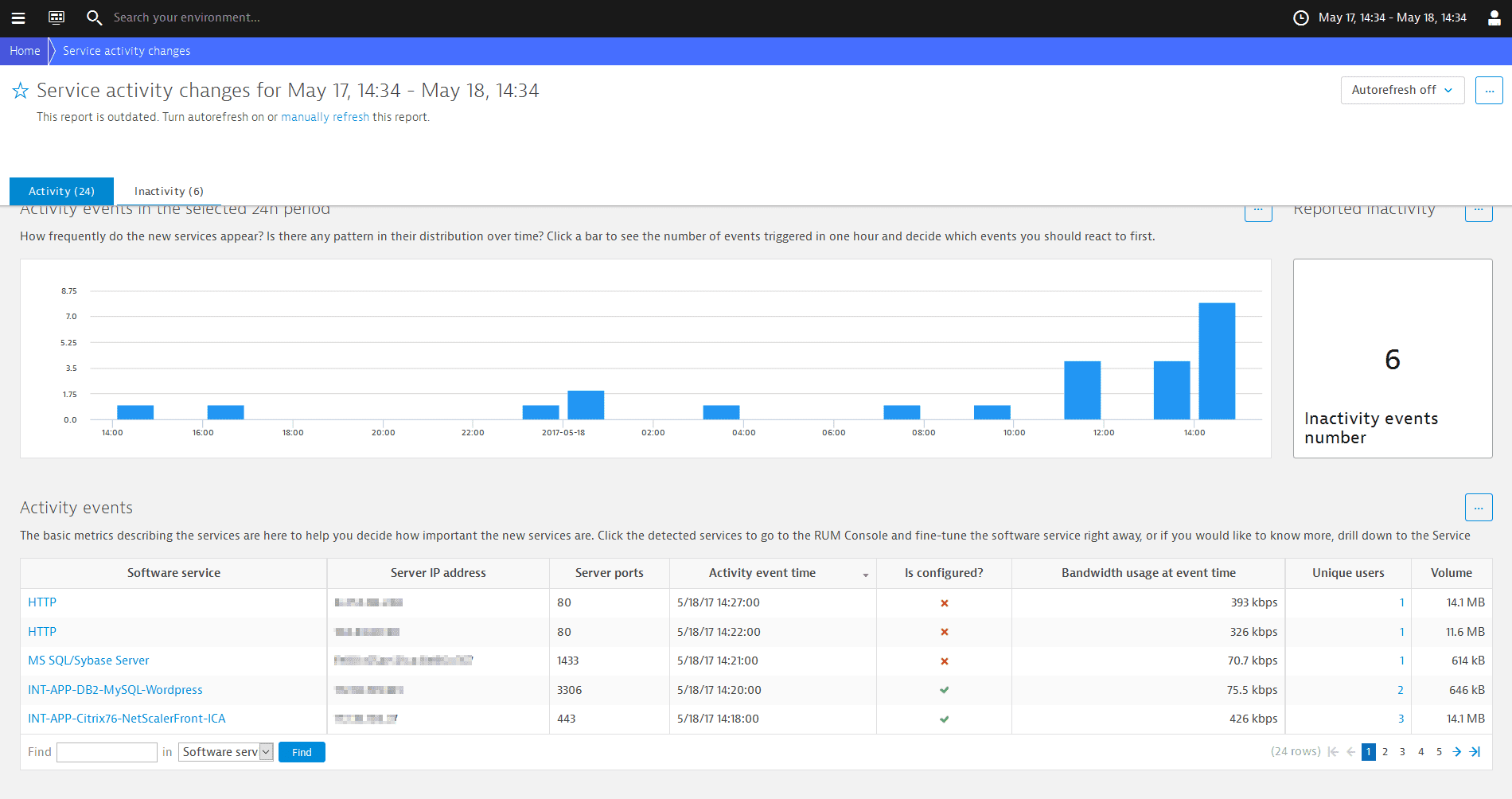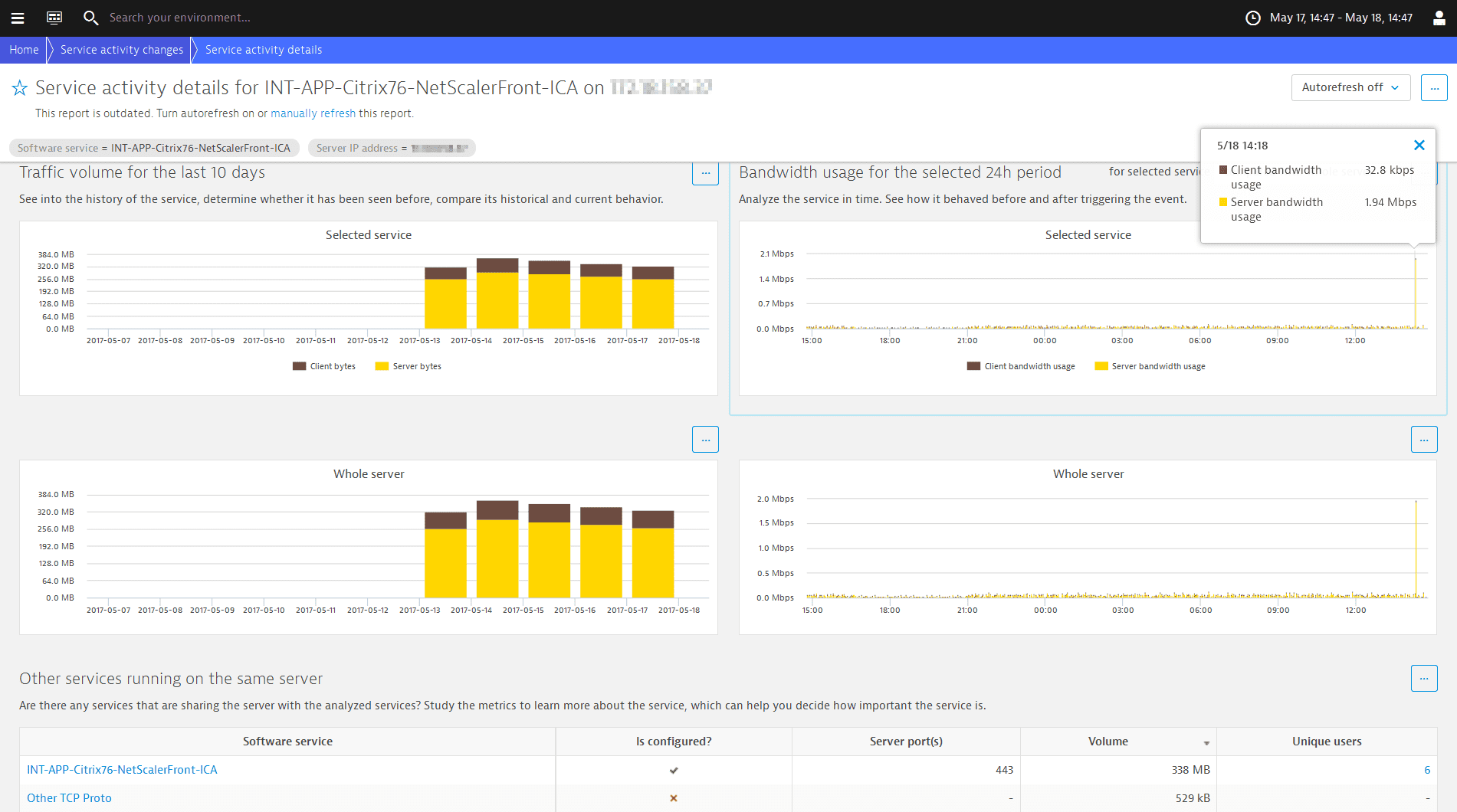 Enjoy an improved Dynatrace-wide user experience
We're continuing to improve your user experience with DC RUM, modernizing the user interface while unifying the look and feel across all Dynatrace products.
Intuitive navigation controls, a faster user interface, and more visual sizzle improve usability, extend DC RUM's value to new stakeholders, and improve your operational efficiency.

You'll find modernized time controls, breadcrumbs for clearer workflow navigation, notifications, filter indicators, tabs, charts, and much more.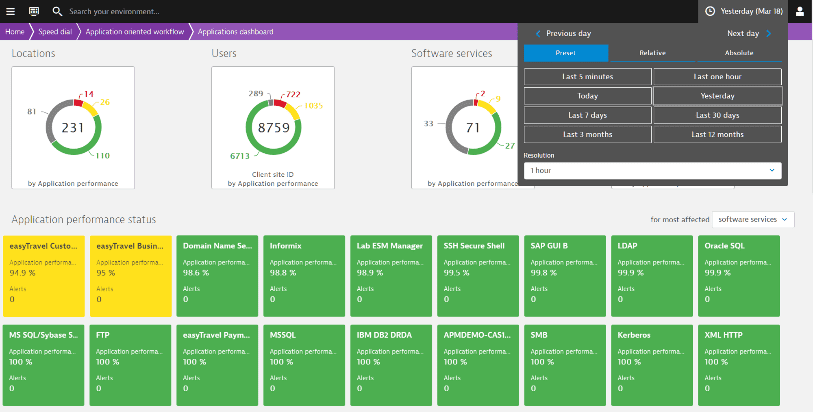 Complement DC RUM's "outside-in" transaction-level visibility with "inside-out" host- and process-level performance, availability and error metrics monitored by Dynatrace OneAgents. Now your operations teams can rely on a single performance management solution that incorporates data from multiple sources – agents, probes, and synthetic monitoring – to ensure comprehensive application coverage at the right depth.
Extend your fault domain isolation capabilities into the application server infrastructure – including OneAgent-discovered dependencies – leveraging Dynatrace's AI-driven root cause analysis.

DC RUM 2017 introduces the Early Access Program for Dynatrace unification, initially supporting SAP, Citrix and HTTP applications by passing metrics to Dynatrace SmartScape where they are correlated with OneAgent host and process information.