User experience management administration
Use User Experience Management (UEM) administration to configure AppMon components for UEM. AppMon has many default configurations. This page describes specific components you must configure to successfully manage user experience:
Firewall constraints
UEM health check
Configure geographic location
Configure streaming media monitoring
UEM for Web Applications
The central component in UEM for web applications is the JavaScript Agent. It gathers user experience data and sends it back to an instrumented web server. The Agent inside the web server intercepts the data and sends it to the AppMon Server.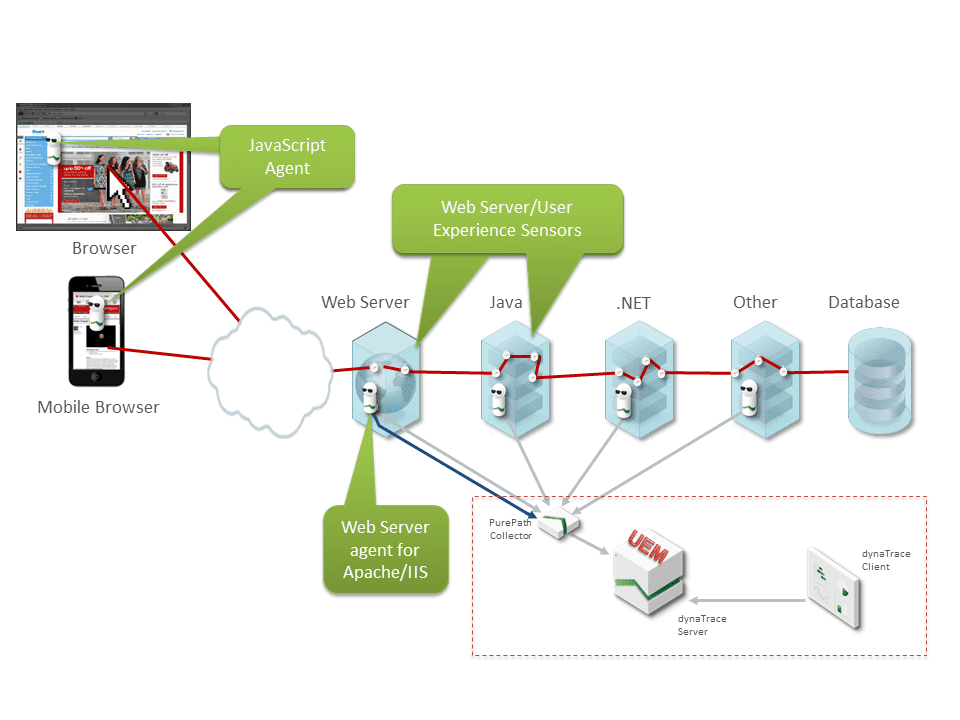 To execute the JavaScript Agent, inject JavaScript code in the HTML response stream that your web server delivers. When you enable UEM in a web site, you see the code that includes JavaScript Agent in your web site's HTML code.

You must inject a server-side Agent to enable UEM in your web site. This is either a web server Agent (Apache or IIS) or a Java Agent. Also, you must place an active User Experience Sensor in the corresponding Agent group.
You must consider the injection and compression points and instrument early in the process. Inject the Agent in your application server and send uncompressed JavaScript even if your web server or a front tier such as a load balancer compresses the outgoing content.
Troubleshooting
There are many components involved in User Experience and it can be confusing. This section discusses common issues, and guides you through a basic UEM scenario. Most of the following settings are configured correctly by default. If you migrate System Profiles or if your system does not accommodate the standard settings, you may have to make additional configuration settings.
Contact Support if you have any other issue.
UEM for mobile applications
Use the Mobile App ADK for Android and iOS to capture transactions that start within mobile apps. To indicate a user action's start and stop, call the library with a simple API in the code of a mobile app. The captured data is sent to a server-side Agent. It is handled analogously to the data that the JavaScript Agent sends as previously described. See Mobile Agent for more information. Use the Mobile App ADK for Android and iOS to capture transactions that start within mobile apps. To indicate a user action's start and stop, call the library with a simple API in the code of a mobile app. The captured data is sent to a server-side Agent. It is handled analogously to the data that the JavaScript Agent sends as previously described. See Mobile Agent for more information.
UEM for Mobile Applications Diagram