AppMon 2018 October Release Notes
Paving the road to your future with Dynatrace
Two releases ago we started a journey with a single goal in mind: to scale with you as you move to the cloud. Along the way we connected the transactions between components covered by AppMon and Dynatrace to close gaps as you co-deploy. Now, we finished unifying the agent technology stack between AppMon and Dynatrace with full technology support for the AppMon agent, now including Java and .NET.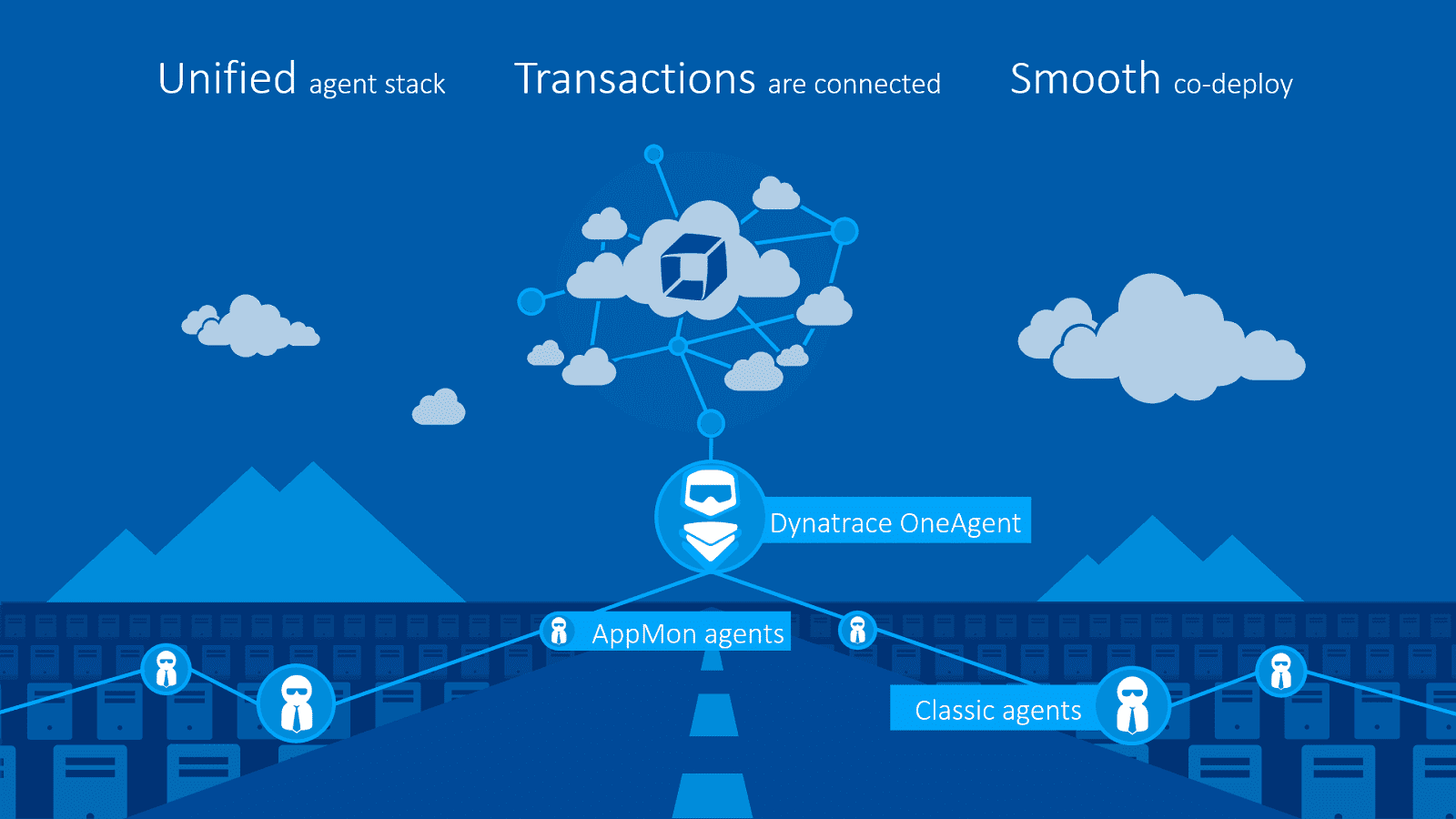 Here's what you get with the AppMon agent
Support for new platforms, technology & features, not covered by the classic agent
Secure connection between agent and collector
Faster startup times
Your key transactions are connected across multiple AppMon system profiles, servers and even Dynatrace
Learn more about supported platforms and technologies
Big data analytics with filter subscriptions
This release introduces dashlet filters which bring a vast performance improvement while analyzing large amounts of captured data and less load on your infrastructure. Learn how it works
Vastly improved loading performance up to 100x by subscribing dashlet filters.
Available for important dashlets like business transactions, errors, web requests and more.
Everybody benefits from subscribed filters as they are applied globally per AppMon Server.
Central management of filter subscriptions in the server settings.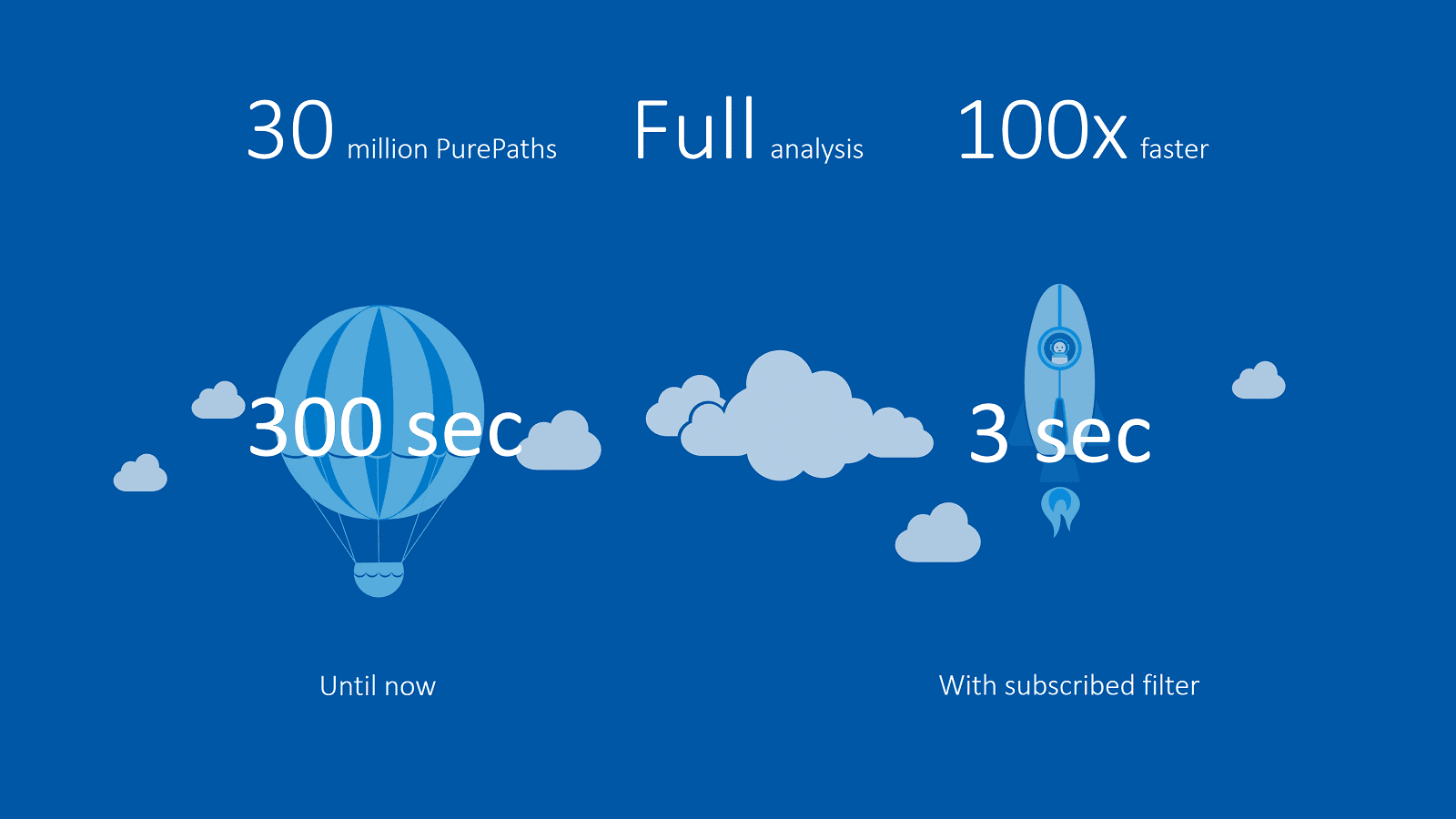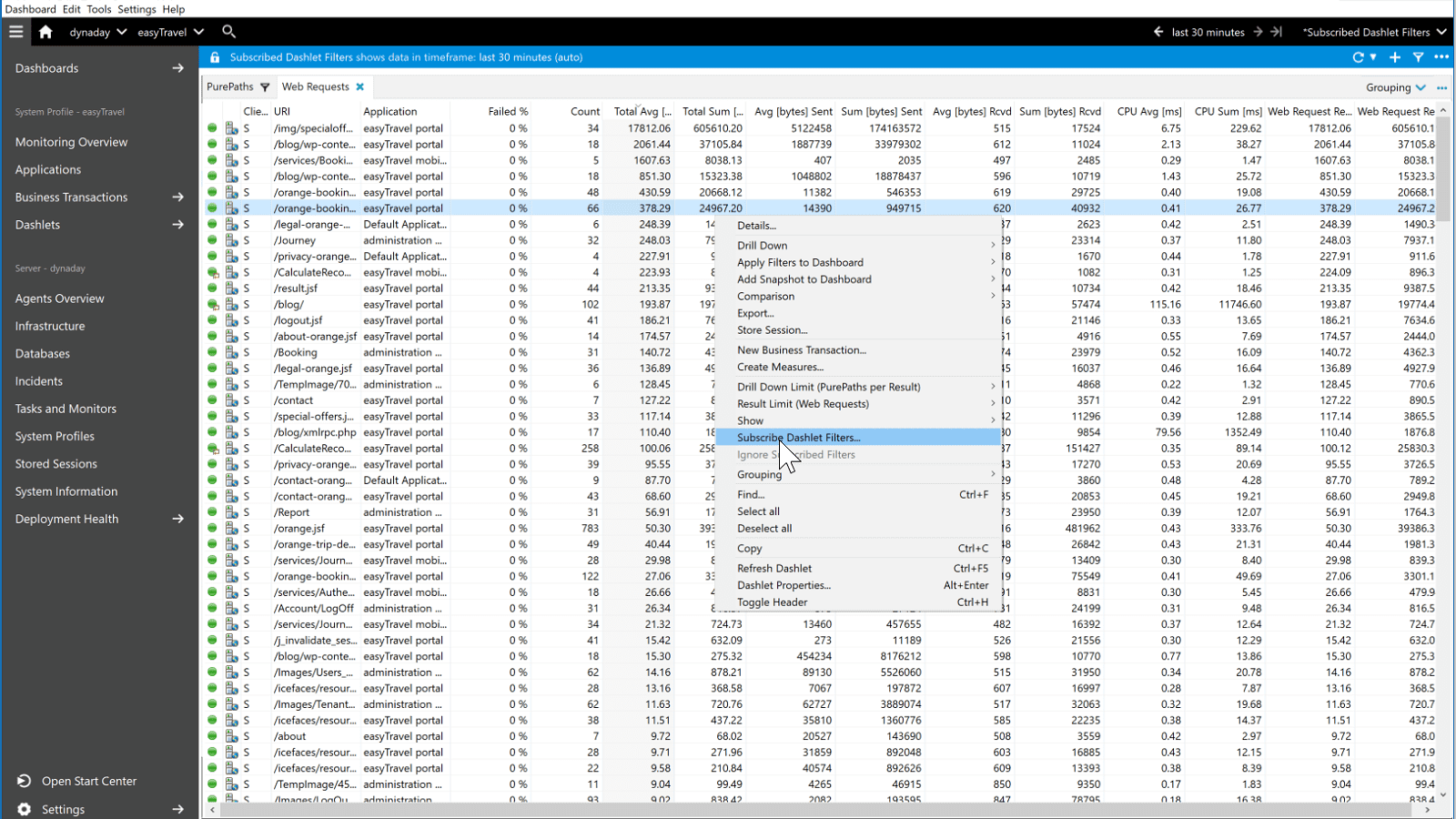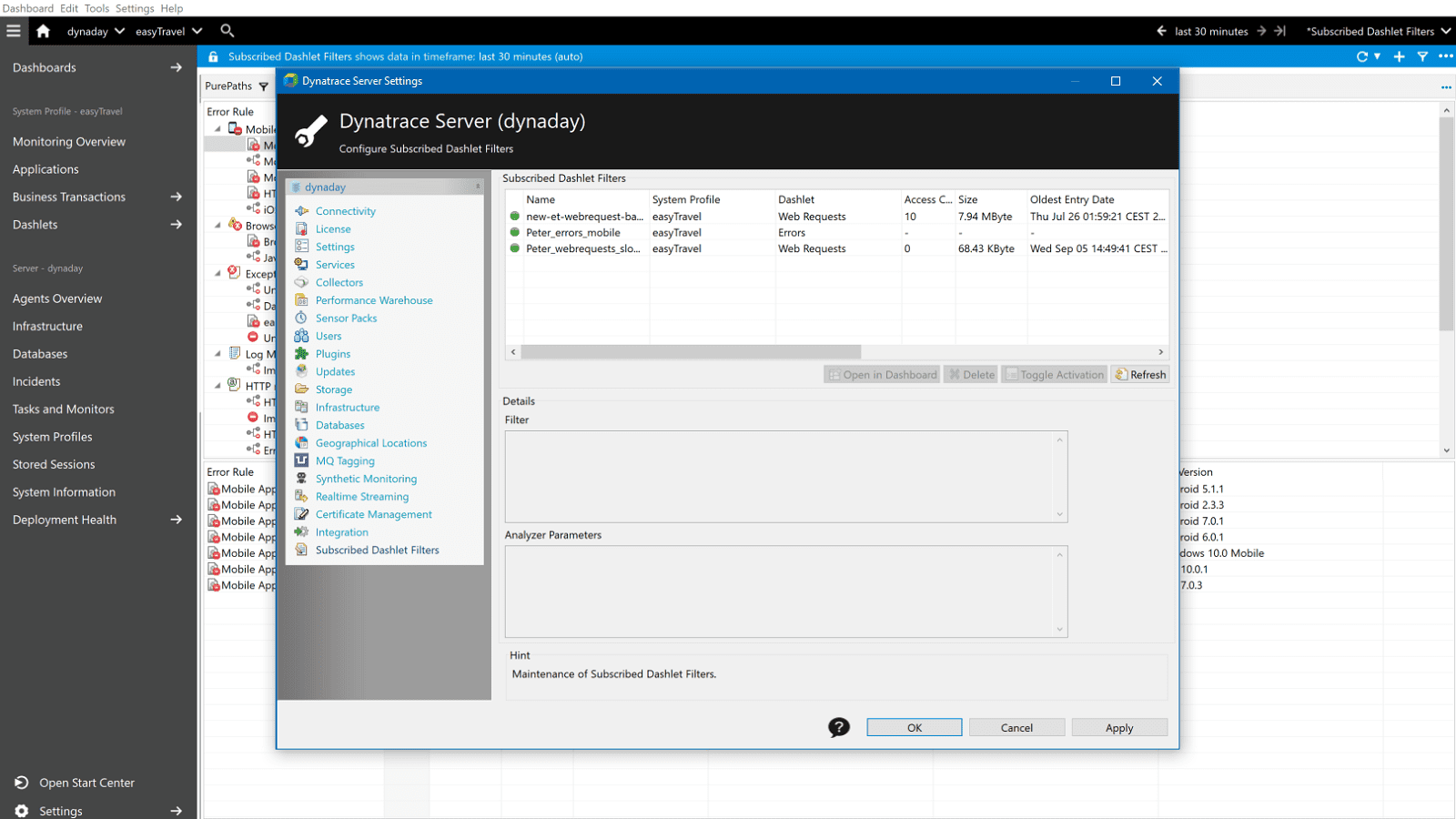 Monitored business transactions and baselines are now available in AppMon Web
As many transactions occur it is essential to know if an important business transaction is affected and whether a call to action is necessary. As analyzing baseline violations for monitored business transactions is now available in the web, every team is able to triage baseline violations down to the server call. Here's what you get:
Analysis of failure rate and response time baseline violations for monitored BTs for everybody
Drilldown in context showing errors or response time hotspots filtered by the violation timeframe and violating monitored BT
Shortcuts to save time
Everything you need to know and everywhere you want to go is just a click away. The newly added global search provides you with quick access to
Any view represented in the navigation sidepanel
Dashboards
Documentation and our vast community of experts contributing to our answers forum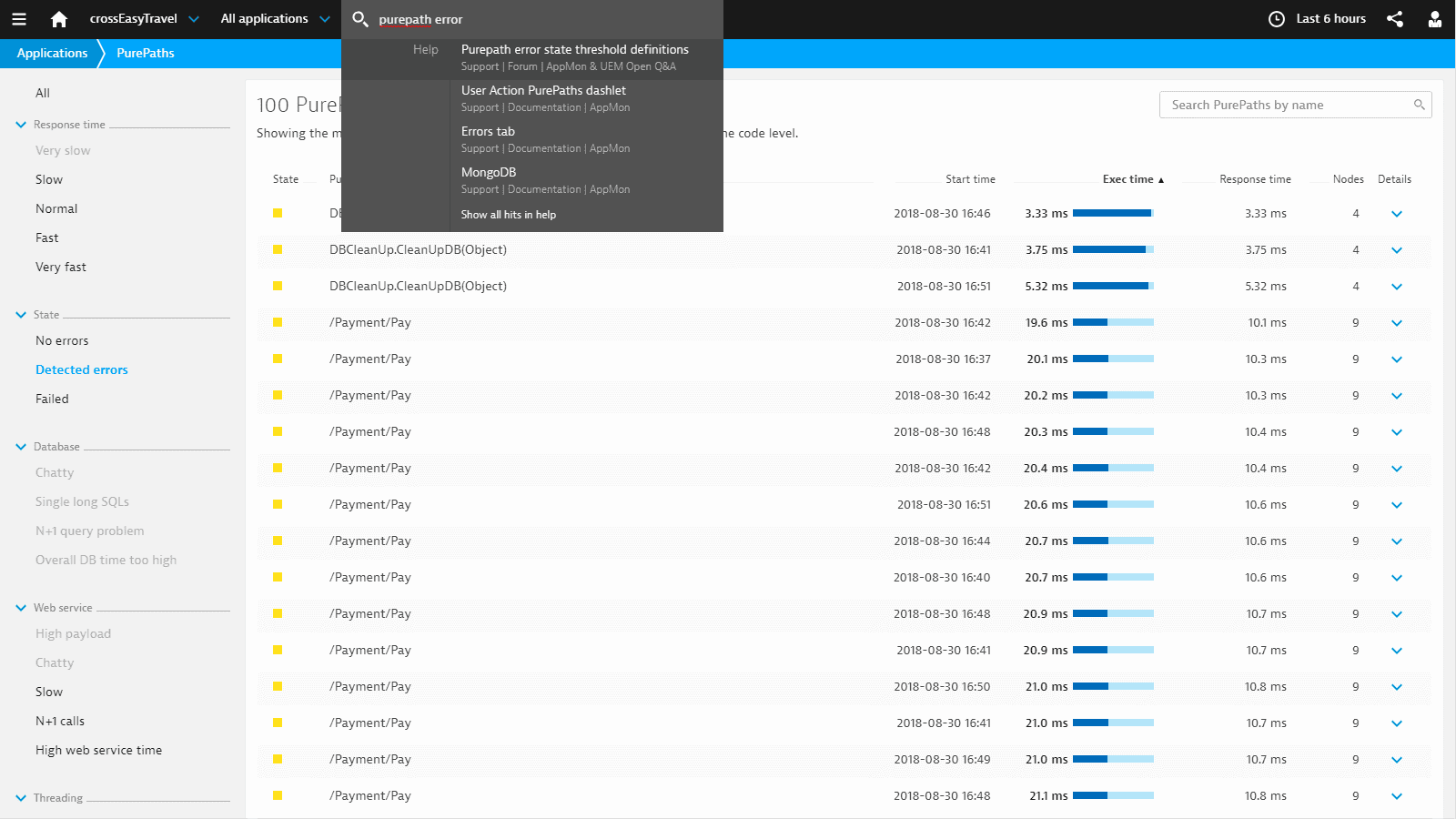 A convenient upgrade path
This release gives administrators full control of which components to update and which to be left untouched, reducing the hassle dealing with slow-moving apps.
Be futureproof with the benefits of AppMon 2018 October and the AppMon agent to get regular updates and cover new technologies such as Java 11, or .NET core and get the latest security updates. Learn about the benefits
No need to wait. Update your AppMon server and collectors to 2018 October and plan the update for each component as it fits your schedule. You have full control over which tiers need to be updated or left temporarily untouched due to older technologies or a limited deployment window.
Automation first. Convenient maintenance is either possible via agent overview or REST.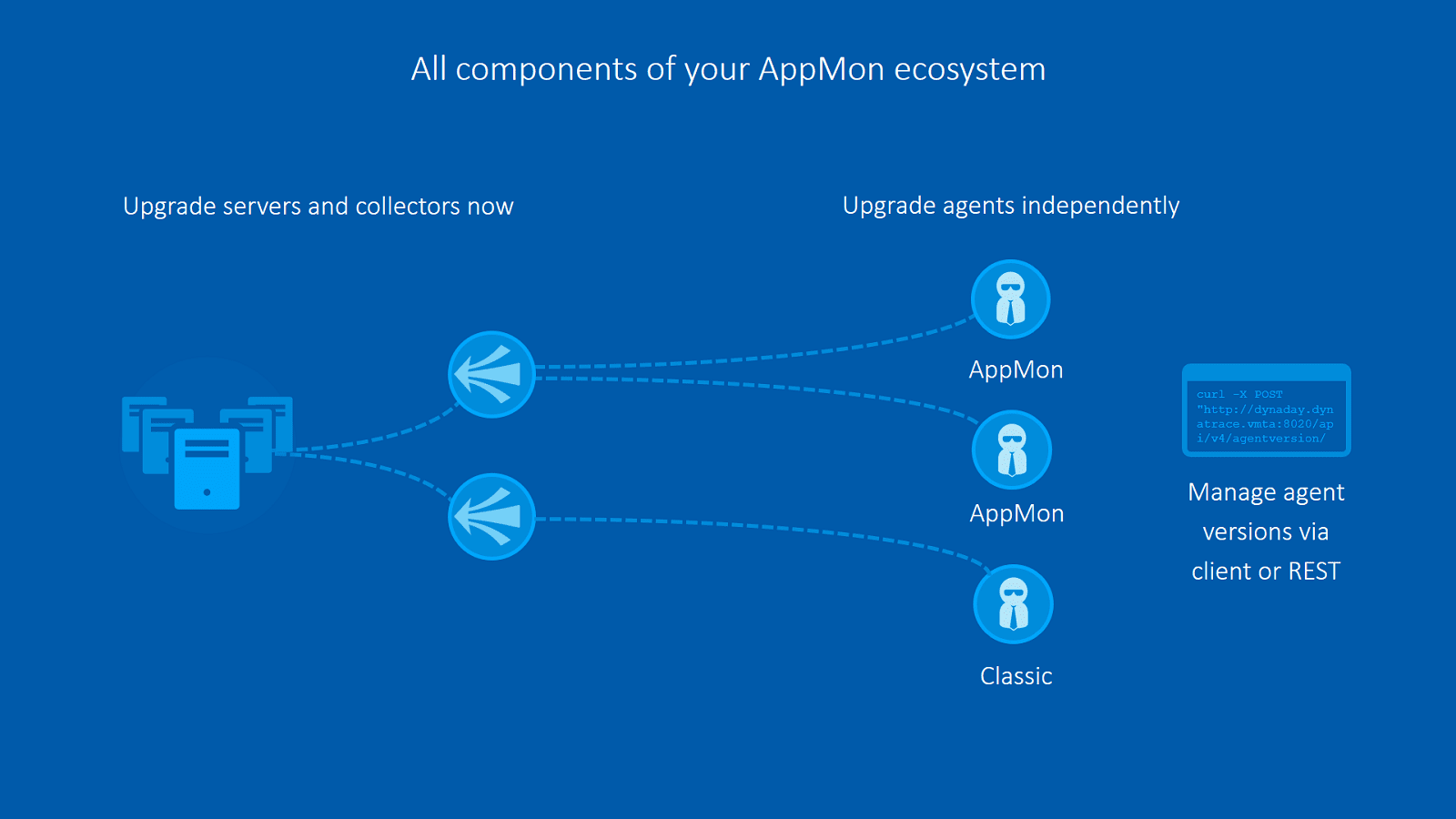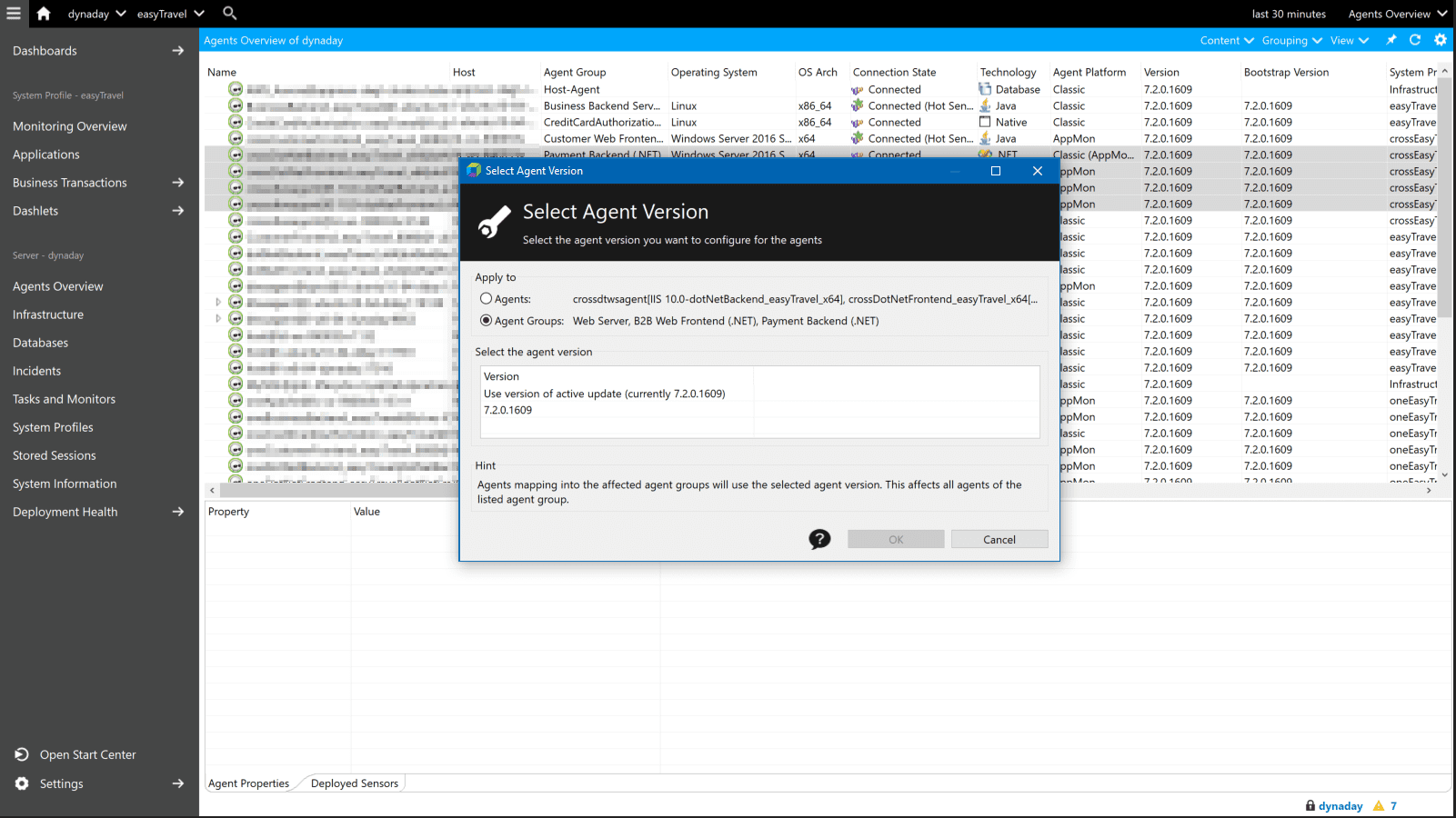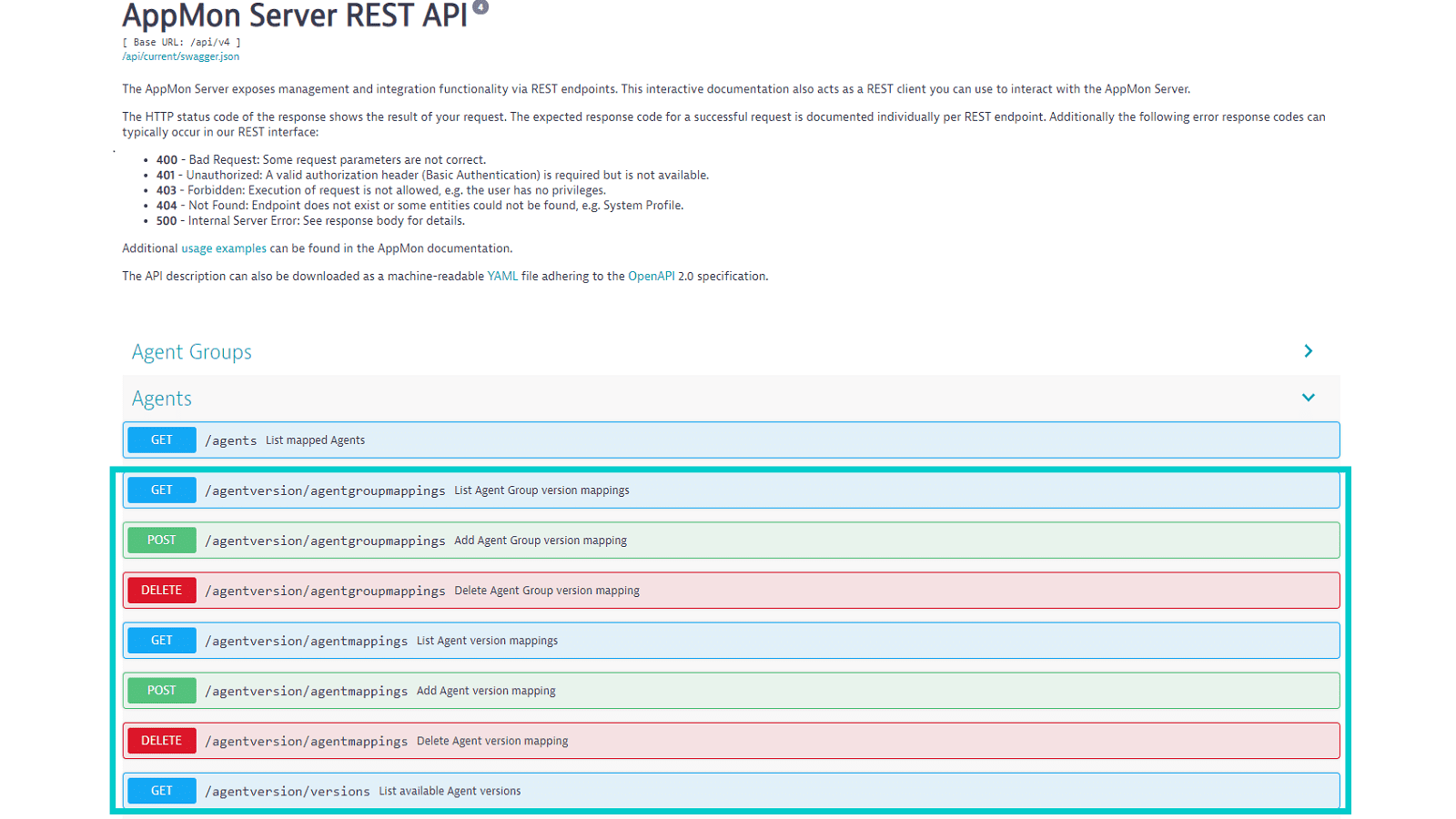 Java Runtime Environment updates
Dynatrace AppMon is already shipping the required Java runtime for convenience and supportability reasons. Due to major changes in licensing for the used runtime, AppMon now has the ability to update the Java Runtime Environment for all components. In other words, an admin can easily update to a free and redistributable Java runtime version with a simple click. It works like the regular AppMon updates with download notifications.
Agent updates
The new AppMon agent agent platform is now used per default for new System Profiles with the remaining possibility to easily switch agent platforms for existing System Profiles.
Java
.NET
Support for netmodules, Oracle Managed Client and Http.SelfHost
Mobile agent
Support for iOS 11.

Limited support for:

Auto instrumentation:

Wrapping web requests into user actions no longer necessary—AppMon is able to display web requests outside of user actions.
iOS Agent is updated to the latest version of KSCrash.

Manual instrumentation:

The support of the JSNativeBridge interface is discontinued due to changes in the latest WebView implementations, which made synchronous calls from JavaScript to native impossible.
Instead use the JavaScript Agent to instrument hybrid apps.
The support for Apache HttpClient in the Android Agent library is discontinued, as Android no longer officially supports it since Android 6.
You can still monitor web requests made with this library by using the standard web request tracing method calls.
Support for endVisit() calls inside a user action is discontinued, as it caused correlation issues.
Instead, simply call endVisit() outside of any user action.
The setMonitorCookie() call is removed and replaced with the more generic setBeaconHeaders() call.
Getting started, licensing and support